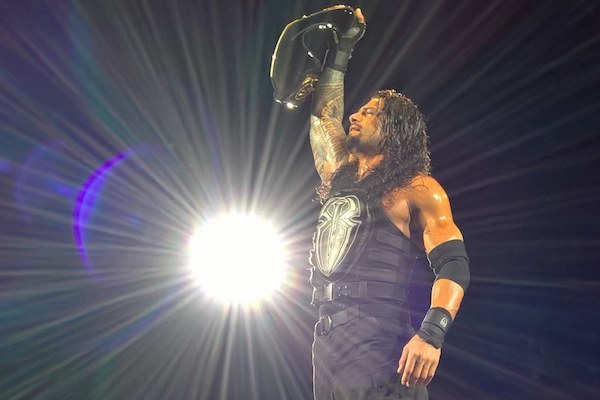 ---
SPOTLIGHTED PODCAST ALERT (YOUR ARTICLE BEGINS A FEW INCHES DOWN)...
---
WWE World Hvt. champion Roman Reigns joined Michael Cole for the weekly storyline-driven sit-down interview on WWE's website.
First, Reigns endorsed his latest foe, A.J. Styles, saying they have "competitive chemistry" that brought the best out of them for their two-match series at Payback and Extreme Rules.
Reigns said competing for the WWE Title also brought the best out of both of them, and their battle was a message to the locker room that if you want the title, you have to bring it at that level.
Asked if the rivalry produced a new edge to him, Reigns said he does think that Styles brought out his killer instinct. Reigns endorsed Styles's in-ring skills and technical abilities forcing him to step up his game.
Asked if he's ready to handle the pressure of being champion after conquering his first foe since WrestleMania, Reigns said he doesn't feel added pressure because he wants to be "center stage." He said he came to WWE "to be The Guy, the top guy, the King of the Mountain.
Second, Reigns discussed the former "guy," Seth Rollins, who never lost the WWE Title. Reigns noted they came into WWE together with no names and then made names for themselves before Seth turned on him.
Cole also brought up what he described as the "greatest MITB cash-in moment" when Rollins cashed in on him (and Brock Lesnar) at WrestleMania 31. Reigns laughed at Cole's histrionics, but noted that he's been sitting on that moment for over one year.
Reigns said he was able to redeem some of that at this year's WrestleMania when he became WWE champion. But, Seth has taken a lot from him. He did credit Seth for helping him grow and become the guy he is now based on that moment (playing up the hero's journey of using obstacles in the fictional storytelling to grow as a character).
Cole noted that Seth believes he is still The Guy after injury cost him the title. Reigns noted that he doesn't think Seth is ready for him, otherwise he would not have snuck up on him after his main event match against A.J. Styles and then ducked a fight on Raw.
The interview closed with Cole wanting to know what Reigns thinks about Seth's accomplishment as WWE champion versus who Seth is.
Reigns said part of him wanted to puke when he heard Seth talking about carrying the company in his Raw TV return promo. But, now that he has been champion for a few months and felt the responsibility of the position, Reigns said he understands what Seth is saying, he just could have said it better to the audience (babyface response to the heel's promo).
Reigns said he respects that Rollins was WWE champion for almost 300 days in his first title reign, while he's been champion three times now and not come close to 300 days.
"Do I respect Seth Rollins? Yeah, I respect him. But, he doesn't respect me. But, after what I do to him at Money in the Bank, he will," Reigns closed the interview.