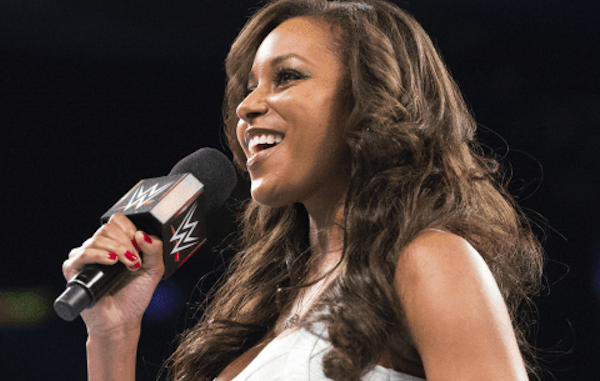 ---
SPOTLIGHTED PODCAST ALERT (YOUR ARTICLE BEGINS A FEW INCHES DOWN)...
---
When does an "independent contractor" feel like he or she is not really independent? Departing ring announcer Eden Stiles (Brandi Rhodes) captured the conundrum for WWE talent in a blog explaining why she is leaving WWE.
"In entertainment we are always working. This is actually work right now. I am now able to earn a profit as a blogger (which I wasn't able to do before with WWE)," Brandi posted.
"The (WWE) contract can be very restricting/limiting. I hate when a good deal floats by because someone tells me I can't do something. There's money on the table and fun to be had, and I just can't?! Just because?! That just gets my goat. I can't be limited. I followed all of the rules growing up. Now in my 30s I can't be told what to do anymore. I'm too creative and awesomely weird to hold that s— in."
Brandi said her WWE contract was set to expire in two months, but after her husband Cody Rhodes decided to leave WWE last week, she decided to ask for her release.
"I've been 'leaving' for a couple of months now. The teasing tweets about the L.A. and N.Y. things? Those were all very real. I have wanted to go for a while and when I make up my mind, it's difficult to talk me out of it," Brandi said.
"What I wanted to do was finish out my contract. It was set to end in two months. When my husband decided to go, it seemed silly to stay somewhere for two more months that I was already planning on leaving.
"So I asked WWE if we could push up the contract end date and they obliged. We parted amicably at the end of a contract. I have come full circle. The flexibility of my new gig is pretty nice. I essentially could start whenever I wanted…and I'll begin in July. Right now I'm just going to be enjoying my life with my family as we head into the next stage."
Eden shouted out to various colleagues in the locker room, while also identifying why rumors frequently pop up that Lana has backstage heat.
"Nattie keep being a beacon of light, Maryse stay sassy, Jojo tear up those anthems, Sasha stay bossy, Tamina's my b—– forever ha! Trin & Summer stay real, Emma and Becks keep your senses of humor," she wrote.
"Lana keep asking too many questions and Charlotte DO YOUR JOB! WWE make-up Divas are some of the best in the biz! Thanks all of you fab ladies, Leslie, Jackie & Ralinda especially.
"Thanks to John Laurinaitis for discovering me back in 2011. He always said he thought I could be a star. Mark Carrano and Michael Cole thanks SO much for believing in me and helping me succeed as a ring announcer."
[ Full Blog & Venture Details at BeingBrandiRunnels.com ]