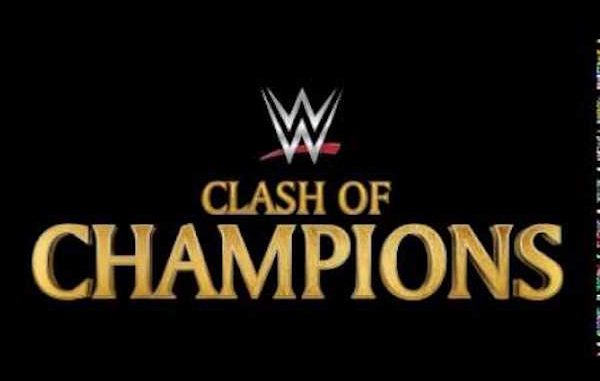 ---
SPOTLIGHTED PODCAST ALERT (YOUR ARTICLE BEGINS A FEW INCHES DOWN)...
---
By Pat
McNeill, PWTorch columnist
Wake the pets and call the neighbors, it's time for our exclusive WWE Network/pay-per-view projections!
DISCLAIMER: Projections are based on what the columnist would do if he were booking this event, instead of Paul "NXT" Levesque, Runjin Singh, Ed Koskey, Ryan Ward and WWE Chairman Vincent Kennedy Trump McMahon. Projections are not predictions, because this is the column where everything's made up and the points don't matter. This preview has been sealed in a mayonnaise jar on Funk & Wagnall's porch since noon today. Some of our departing contestants will receive the new 22 volume World Book Encyclopedia, including research guide and index volume. Easy to use, easy to read. Furnished by World Book. Remember, this is only an exhibition. This is not a competition. Please, please, no wagering. Pat McNeill's wardrobe furnished by Rick Pallack. This lineup is based on the best available information as of this writing. These predictions are based on what the columnist would do if he had creative control over WWE, right after he puts the Cruiserweights back on WWE Network with their own weekly show.
If you're a Pro Wrestling Torch subscriber, you may be sick and tired of us reminding you that three hours and fifteen minutes of WWE Raw every week is way too long to watch a wrestling show. We probably don't need to remind you, because you're a wrestling fan, and because the ratings remind everyone on Tuesday. But let's put the three-hour era in perspective.
WCW Monday Nitro went to three-hour episodes on January 26, 1998. TNT took to show back to two hours on January 3, 2000. That's right. The era of three-hour WCW Nitro episodes lasted less than two years. The first three-hour Nitro drew a 4.7 rating. The final three-hour Nitro before switching the timeslot back drew a 2.9 rating. That's a drop of about 38% of the audience.
WWE Raw went to a permanent three-hour timeslot on July 23, 2012. Which means we've had three-hour shows for FOUR YEARS now. That is a long-ass time. The first three-hour Raw drew a 3.9. Monday's episode? A 2.0 rating. That's a drop of about 49% of the audience. Give WWE credit. The Raw ratings took longer to deteriorate than the Nitro ratings did.
Still the three-hour era for Raw episodes has lasted more than twice as long as the Nitro three-hour era. And the ratings have declined worse than Nitro's did. And, fifteen months after WCW corrected and went back to a two-hour slot for Nitro, the company went out of business.
Can we go ahead and return Raw to two hours now? Please?
Before we preview tonight's show, let's get to this month's edition of the Wrestling History Lesson, because that's why many of you clicked here in the first place. Twenty years ago, on September 22nd, 1996, the World Wrestling Federation presented "WWF In Your House X: Mind Games" live from the CoreStates Center in Philadelphia, Pennsylvania. The show is on WWE Network, but the preshow match isn't. Here is Savio Vega against Marty Jannetty. Vince McMahon, Jim Ross and the late Curt Hennig had the call.

WWF In Your House 10 Mind Games Free For All by wcwAttitude
What was happening in World Wrestling Entertainment fifteen years ago? I'm glad you asked! On September 25, 2001 the World Wrestling Federation taped an episode of "Sunday Night Heat" from the Nutter Center in Dayton, Ohio. The opening match featured "The One" Billy Gunn against Lance Storm. No, really. Michael Cole & Al Snow had the call. (Good luck finding this on WWE Network. Or…anywhere else.)
Did you catch the opening match on WWE Main Event this week? Watch it now (sort of). It's Lince Dorado against Rich Swann in cruiserweight action. I thought the cruiserweights were exclusive to Raw? Tom Phillips & David Otunga have the call.
Michael Cole, Byron Saxton and Corey Graves will be announcing the show. Renee Young, Booker T, Lita & Jerry Lawler will be doing the pre-show while Tom Phillips will be in the social media lounge, hoping to get through the show unnoticed. On with the program!
Alicia Fox vs. Nia Jax (Kickoff Show Match): Nia destroyed Alicia on Raw a couple of weeks ago. Lady Jax is no Matilda the Hun, but WWE could turn her into a killer if they can get her acting more aggressive. Projection? Alicia starts taking a beating, goes into crazy mode, gets in some offense, and gets Jaxxed with a big splash. Sorry, Alicia.
Sami Zayn vs. Chris Jericho: Sami Zayn is a hell of a (or Heluva) wrestler, but the only time he seems to shine in WWE storylines is if he's fighting hild old nemesis, Kevin Owens. Jericho is providing a graduate level seminar on how to stay relevant in a world of overexposed wrestlers and three-hour Raw episodes. Projection? Zayn brings back the top rope brainbuster, and Jericho gets…it. Sami wins.
TJ Perkins vs. Brian Kendrick (WWE Cruiserweight Title):During the Cruiser Weight Classic, Daniel Bryan and Brian Kendrick told a wonderful story about Kendrick's redemption, and how doing well in the tournament was his last chance to get back with WWE after blowing his last run. Don't expect any wonderful stories during this match. Projection? TJP dabs his way to victory, forcing Kendrick to submit to the kneebar.
Cesaro vs. Sheamus (Match 252 in their Best of 503 Series): Sheamus went up three matches to none, and injured Cesaro. So, naturally, Cesaro came back to win the next three. Part of me is hoping we get a double pin so that this feud continues, but I've learned to ignore that part of me. Projection? Cesaro gets Sheamus to tap to the Sharpshooter to complete his comeback. This nets Cesaro a future title match against the United States Champion, Rusev. We need more Cesaro versus Rusev in our lives, don't you think?
The New Day vs. Luke Gallows & Karl Anderson (WWE World Tag Team Titles): Look, we all appreciate what Kofi Kingston, Bir E. Langston and Darnell "Crabman" Turner have done for the WWE Tag Team Titles. But our three heroes need a new challenge. A challenge that might even be bigger than their challenge of getting over in the first place. Projection? The bad guys hit the Magic Bullet on Kofi, Gallows scores the pin, and the former Clubbers take the silly-looking belts with them to Cincinnati on Monday night.
Charlotte vs. Sasha Banks vs. Bayley (WWE Women's Title): We're about thirteen months removed from the Divas Revo…I mean the Women Superstars' Revolution. Becky Lynch has her own spinoff, so Bayley has her spot in the three-way battle. But a lot of people have been left out of this party. Projection? Dana Brooke is at ringside interfering on Charlotte's behalf. Emma returns as a babyface and chases Dana off. During the match, Paige Knight walks out to ringside in her street clothes, drinking a large chocolate milkshake. Someone from security tries to remove Paige. Paige throws the milkshake into the ring, nailing Bayley. In the confusion, Sasha rolls up Charlotte to win the match and the title. Something for everyone.
Rusev (w/ Lana) vs. Roman Reigns (WWE United States Title): We can't have Roman Reigns lose to Rusev, because a certain septuagenarian is convinced the Roman is the long-term answer to WWE's long-term issues. We can't have Rusev lose to Roman Reigns, because the fans in the building might riot and loot the city of Indianapolis. Is there a solution? Projection? Reigns has Rusev in trouble when BAH-RACK LESNAR drops by to beat the crap out of Reigns. The crowd cheers wildly. Desperate times call for desperate measures, and this desperate measure is already under contract.
Kevin Owens vs. Seth Rollins (WWE NBC Universal Title): No, of course Triple H didn't show up on Raw over the past few weeks. It's nice to know that someone in this promotion remembered that American football was starting up. Projection? Hunter comes in and the very last minute and pedigrees Rollins, insuring that Kevin Owens can score the victory and hang on to the Universal Championship. Stephanie McMahon, as before, claims she has no idea what her NXT-loving husband is up to by assisting Big Kev.
Aftermath: Hell in a Cell is happening in five weeks. That's probably how Mick Foley will try to get Triple H from interfering next month to save Kevin Owens. So, let's figure on Owens vs. Rollins in the big cell, plus Reigns vs. Lesnar and Rusev vs. Cesaro. See you there!
Pat McNeill of Greenville, South Carolina has been a PWTorch Columnist since 2001. He likes the Dallas Cowboys to beat the Chicago Bears in tonight's NFL game. You know, if gambling were legal.