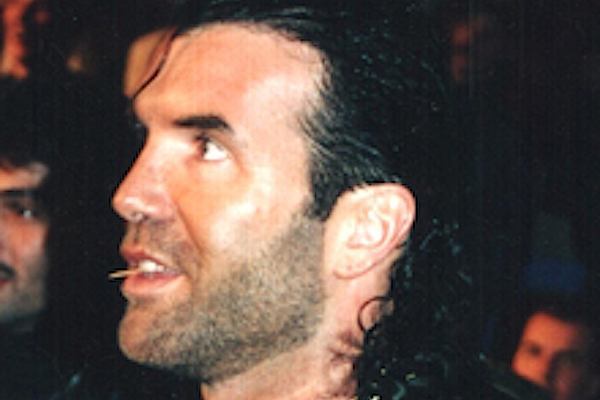 ---
SPOTLIGHTED PODCAST ALERT (YOUR ARTICLE BEGINS A FEW INCHES DOWN)...
---
The following is my report WCW Monday Nitro from 20 years ago this week, originally published in Pro Wrestling Torch Newsletter #415 (cover-dated Nov. 16, 1996). VIP members can read the entire issue including all of this:
This issue includes:
-A cover story on Curt Hennig's surprising jump from the WWF to WCW.
-WWF Newswire reports on drug testing changes and the new Saturday night program.
-WCW Newswire details Hulk Hogan on Regis & Kathy Lee.
-Part five of the Torch Talk with Shane Douglas as he talks about beginning the second chapter of his ECW career after his ill-fated stop in the WWF.
-Wade Keller's End Notes
-WWF Newswire, WCW Newswire, ETC. Newswire.
-Reports on Raw, Nitro, and other TV shows
-Letters to the Torch, and more…
VIP LINK TO ALL-TEXT & PDF VERSION OF THIS ENTIRE NEWSLETTER
Go VIP right now and read the entire 12 page issue packed with fascinating behind-the-scenes details and analysis of the current pro wrestling scene just as the Monday Night War was expanding pro wrestling's popularity: CLICK HERE FOR VIP INFO. 
---
WCW NITRO REPORT
11/11 on TNT
(St. Petersburg, Fla.)… Tony Schiavone & Larry Zbyszko opened the program. They talked about the prospects of WCW signing the "match of the decade" between Roddy Piper and Hulk Hogan… An interview aired with Jimmy Hart and Kevin Sullivan. Hart told Woman one phone call could end the whole thing…
(1) Jeff Jarrett beat Chris Benoit via DQ at 9:08. Late in the match after Jarrett suplexed Benoit out of the ring. Sting came from behind and dropped him to the mat with a reverse DDT. When Benoit got back in the ring, Woman said they didn't know anything about Sting's interference and then told Benoit to help Jarrett to his feet since they know Jarrett is pro-WCW…
After a commercial a guy came to ringside with a package and told Schiavone and Zbyszko to play the tape inside. Security carted him away. Schiavone opened the envelope and read a letter which said the tape was a hit in Europe in '92 and it regarded Piper wanting Hogan… A feature aired on Ric Flair's injury. His doctor explained Flair's rotator cuff injury…
(2) Zero (w/Sonny Onno) beat Malaya Hosaka in a woman's title tournament match at 1:43. Schiavone referred to the envelope incident and told fans not to do that sort of thing if they want to be on TV and to wave from a distance instead. Schiavone acknowledged Zero's past identity as Chigusa Nagayo and said she has undergone a recent transformation, much like Konnan did. Onno added to his lame stereotype gimmick by shooting photos of Zero after the match (on a disposable camera)…
Gene Okerlund interviewed Diamond Dallas Page. Page acknowledged that he used to manage Scott Hall and used to team with Kevin Nash. Page said Hall and Nash shouldn't be getting involved in his matches. Hall and Nash approached. Hall told Page to forget about the past and to seriously consider joining the NWO for life. Page said he would be number eight, insulted that they didn't come to him earlier. Nash said he doesn't get it and that wrestling is full of politics and there was a reason he didn't get asked earlier. Nash brought up that Bischoff lives two houses down from him and they party together. Page was upset they were suggesting he benefited from being friends with Bischoff and brought up that he worked harder in the Power Plant than anyone. Nash said they've been looking out for him all along and to not be upset. Page said he could have understood being number five or six, but couldn't understand being number eight. Nash and Hall left upset. Good segment…
(3) Rey Misterio Jr. beat Ciclope (who came to the ring to a take off on Pearl Jam) at 5:58. Ultimo Dragon sat at ringside with Sonny Onno (still the most embarrassing, condescending character portrayal in wrestling) holding several of his title belts (Schiavone actually didn't know he held eight until later in the match after someone else told him). Rey Jr. launched through the ropes and shoulder tackled Ciclope into the ringside barrier. Rey Jr. called for the frankensteiner, but when he went for it, Ciclope caught him with a lariat. Ciclope reversed a sunset flip attempt into a powerbomb off the apron to the floor. Dean Malenko walked down the aisleway and stared at the match. Shortly thereafter Psicosis walked down the aisle and watched Malenko and the match in the ring. Rey Jr. finally made a comeback at 5:00 dropkicking Ciclope off the top rope and then taking him to the floor at ringside with a flying head scissors. Schiavone said one of these days one of these high fliers will go down and not get up for a long, long time. Rey Jr. won with a flying hurricanrana roll up. Rey Jr. said he is ready for anybody…
A parade of NWO picketers approached the ring. Hall, Nash, and Syxx followed and actually came to the ring through the official entrance rather than through the crowd. Syxx held a Cable Ace Award. Hall said, "This Saturday the Outsiders and Hollywood Hogan are heading out to the West Coast for the Cable Ace Awards because everybody knows the NWO is the reason that TNT is the hottest show on cable." (Actually, TNT is a network, not a show.) They walked up to Schiavone and Zbyszko. Hall said to Zbyszko: "Oh, the living legend. I thought you'd be bigger. I've been watching you since I was a kid." Zbyszko told him not to point his finger at him and not to push his luck. Nash opened up Zbyszko's bottled water and drank from it. Hall said their Web site went up today. Nash then put on Zbyszko's headset. Nash said to Zbyszko: "Nice shirt. Did you get a cup of soup with that?" He then cracked up at his own one-liner. Nash said he wants WCW Nitro to become NWO Nitro in a few weeks. Nash said the NWO takeover is almost complete and then went into a goofy Jerry Lewis impression before he, Hall, and Syxx left. Good segment, especially Hall and Nash's rips on Zbyszko…
Eric Bischoff, Bobby Heenan, and Mike Tenay took over as the second hour began…
(4) Lex Luger beat Scott Norton at 9:19 with the torture rack. Tenay said Norton just won half of the tag tournament in New Japan a week earlier. They talked about Sting's actions in the first hour. Heenan suggested Sting is with the NWO. An inset interview aired with Arn Anderson. He said he underestimated Luger last time and didn't realize he could get mean. He said he's going to ride Luger next time when his tongue starts hanging out and then show him what the DDT feels like. Sting showed up again and watched the match from a distance. Luger clotheslined Norton over the top rope and they brawled at ringside… Okerlund interviewed Luger in the ring. Luger said he can't carry WCW on his shoulders and begged Sting to come back. He admitted he and everyone else was wrong not to trust Sting. Of course, this comes an hour after Sting attacked Jarrett from behind, not exactly the actions of someone who is "trustworthy" and beyond reproach…
(5) Harlem Heat (mgd. by Sherri) fought The Amazing French Canadians (now mgd. by Col. Robert Parker) to a DDQ. During the match they showed the Nasty Boys being turned away from entering the arena by security at the door. Doug Dillinger walked up and told them to leave. Bischoff told them they deserved to be turned away because they tried to sellout to the NWO. They showed the Nastys in the parking lot talking to Brutus Beefcake, although they never referred to him by name and it was tough to tell it was him in the dark. Back in the ring the ref called for the bell as Sherri and Parker entered the ring. Heat held back Sherri from going after Parker…
(6) Konnan beat Chris Jericho at 5:25 via DQ. Bischoff pointed out the seven fans in the front row with t-shirts that spelled out "N-W-O-4-L-I-F-E" and said the Pittsburgh Steelers' defensive linemen have renamed themselves the NWO defense. In the end Konnan dropkicked Jericho into Patrik. Jericho brushed against Patrik's arm, so he DQ'd Jericho. Jericho complained to Patrik about the decision…
(7) Miguel Perez pinned Juventud Guerrera at 3:52. Perez reversed a hurricanrana attempt and powerbombed Juventud off the railing to the floor. Perez rolled up Juventud for the leverage pin after Juventud missed a 450 splash but landed on his feet… Ted DiBiase and Virgil stood in the crowd. DiBiase offered Sting an NWO shirt and wanted him to join the NWO…
(8) Meng & Barbarian (w/Jimmy Hart) beat The American Males (who are the real life New Rockers, oblivious to their geekiness) at 3:30. Bischoff said a Piper vs. Hogan match would be on par with the Holyfield vs. Tyson fight in stature. He said he met with Piper last week and didn't get very far, but did get to meet his kids. He said he will meet with Piper this week to try to sign a match with Hogan. At the end of the match, Marcus Bagwell tripped Barbarian coming off the ropes which caused Scotty Riggz to miss his dropkick and land on his head. Meng then hit a hook kick and pinned Riggz. Bagwell was upset with Riggz for losing… Jimmy Hart complained about the Nasty Boys getting the tag title shot against the Outsiders at World War 3 and said the Faces of Fear should be added to the match and make it a three-way for the belts. Bischoff said, "You know what, he's got a point"…
The video tape that a "fan" dropped off in the first hour then aired. It was a music video dated 10-31-92 titled "I'm Your Man" starring Piper. The tape was VHS and therefore of poor picture and sound quality. Piper sang while he lifted weights and played on a beach with a dog and a woman. Pretty hokey stuff. Bischoff then showed a freeze frame of a sign that read "Hollywood Bowl: The Ultimate Bout – Rowdy Roddy Piper vs. Hulk Hogan Tonight!" apparently proving Piper has wanted to get at Hogan for years. The fans in the background were booing, presumably in response to seeing the video on the big screen…
The show closed with Hulk Hogan, Giant, Vince, and Elizabeth (dressed as a Santa helper to plug his new movie) coming to the ring for an interview. Hogan said his movie will be number one 10 weeks in a row and said major directors have been calling him as a result. He had Vince forcibly lead Elizabeth out of the ring. He said Piper doesn't want what he has for him and he told Piper to bring his skirt on. He wondered why Piper hadn't shown his face in three weeks. Hogan filled the remaining seconds of the show by posing…. [WK]