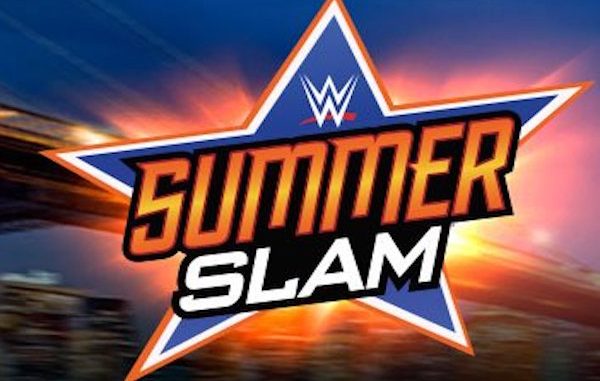 ---
SPOTLIGHTED PODCAST ALERT (YOUR ARTICLE BEGINS A FEW INCHES DOWN)...
---
KELLER'S WWE SUMMERSLAM REPORT
AUGUST 20, 2017
BROOKLYN, N.Y. AT BARCLAYS CENTER
AIRED LIVE ON WWE NETWORK
---
IMPORTANT NOTES: Be sure to subscribe to the new "Wade Keller Pro Wrestling Podcast" which debuted last month on PodcastOne. It's a four-days-a-week FREE podcast with the most timely reviews of Raw and Smackdown you'll find in the podcast universe – available just a few hours after each show ends – plus the Thursday Flagship covering a wide range of topics and then Interview Friday (so far it's featured Jack Swagger, Stan Hansen, J.J. Dillon, former WWE Creative team members Kevin Eck and John Piermarini, and Lilian Garcia).
Wade welcomes a diverse array of cohosts, bringing together some of the top analysts and informed personalities in pro wrestling including PWTorch staff and contributors (Bruce Mitchell, Todd Martin, Pat McNeill, Greg Parks, Travis Bryant, Rich Fann, Mike McMahon, Andrew Soucek)  and wrestling analysts from other places such as Jason Powell from ProWrestling.net, Mike Chiari from Ring Rust Radio, Jason Solomon from Solomonster Sounds Off, and even Jonny Fairplay from Reality TV and TNA fame!
You can stream from their website HERE or subscribe in iTunes HERE or search "Wade Keller" in any other podcast app you use on your phone to subscribe.
If you have comments or questions regarding Raw on Monday night for the recording of "The Wade Keller Pro Wrestling Podcast," send to our new email address: wadekellerpodcast@pwtorch.com. We'll answer questions during the show.
If you plan to attend Raw or Smackdown in person in future weeks, let me know if you are interested in being a guest correspondent who can spend five minutes with us shortly after Raw or Smackdown ends telling us about your live experience and any off-camera matches and happenings.
Read more about the show HERE.
---
KICKOFF SHOW
Announcers: Renee Young, Jerry Lawler, Lita, David Otunga.
-Social Media Lounge: Charly Caruso talked about upcoming interviews with Seth Rollins and Dean Ambrose.
-Sam Roberts was floating around the outside of the arena with fans going bonkers around him.
-Dasha Fuentes interviewed Baron Corbin. He vowed to make John Cena pay for costing him the MITB cash-in on Tuesday night last week.
-In a backstage interview, Shane McMahon said he will ignore an inadvertent strike by Kevin Owens or A.J. Styles, but anything intentional and he'll return the favor.
-A video package aired on the Seth-Dean saga.
-Social Media Lounge: When asked if they have a team name, Rollins said they've been together for a week and they don't need a name. Ambrose said he had a long list of ideas for Seth after the show. When asked what the best moment was for The Shield, Ambrose said opening Barclays Center with the first WWE event.
(1) MATT & JEFF HARDY & JASON JORDAN vs. THE MIZ & BO DALLAS & CURTIS AXEL (w/Maryse)
A lot of fans complaining on Twitter that they were still getting into the building or in line at concession stands. Lots of empty seats as evidence. They cut to an early break. [c]
In the end, Miz blind-tagged in and gave Jordan the Skull Crushing Finale for the win.
WINNER: Miz & Bo & Curtis in 11:00.
(Keller's Analysis: The Jason Jordan push sure seems stalled. Mid deserved a better Summerslam spot with the year he's had.)
(2) TOZAWA vs. NEVILLE – Cruiserweight Title match
The announcers noted that this is the second ever Cruiserweight Title match at Summerslam. Neville and Tozawa had some athletic early exchanges that Neville got the better, followed by some showboating. Tozawa, though, dropkicked him off the ring apron and then shouted, "This is my ring!" He began barking and playing to the crowd. As Neville returned to the ring, Tozawa gave him a running boot to the face and stayed aggressive. The announcers said Titus set up training sessions for Tozawa with Shinsuke Nakamura this week. Tozawa went for a running dive, but Neville backdropped him onto the apron and then snapped his neck over the top rope. At ringside he quickly threw him into the side of the ring. They cut to a break. [c]
Back live, Neville hit Tozawa with a flying dropkick off the top rope. Graves said Neville's probably been more strict with his diet and training than usual in anticipation of this rematch. Neville settled into a chinlock on the mat. Titus led the crowd in clapping for Tozawa. Tozawa came back with a spear through the ropes into Neville at ringside. Back in the ring, Neville rallied and yelled. Neville ducked a tornado kick, but Tozawa nailed him with hard quick suplex. He made his way toward the top rope, so Neville backed away. Tozawa charged instead. Neville avoided him. Tozawa springboard, but landed right on Neville's shoulders. He shifted into an octopus. He made cartoon faces as Titus banged on the ring apron. Tozawa then hit a Shining Wizard for a near fall.
Tozawa hit some rapid-fire kicks and a hurcanrana. Tozawa collapsed in exhaustion after Neville went down and stayed down. Tozawa climbed to the top rope, but Neville popped up and hit him. Then he went for a superplex. Tozawa blocked it and dropped Neville on the mat. Tozawa went for a senton off the top rope, but Neville lifted his knee. Neville then climbed to the top rope and went for a Red Arrow. He landed on Tozawa's back for the pin.
WINNER: Neville to regain the Cruiserweight Title.
(Keller's Analysis: A good match, but Tozawa's cartoonish demeanor makes it hard to invest in this as a serious situation even with good athleticism. I am even more against the Cruiserweight Title change now that it went back to Neville because it reset the days Neville held the title and took away the meaning when he eventually lost it to the right person who was going to be the next identity of the division.)
-Renee Young welcomed Peter Rosenberg to the panel discussion (replacing Lita) and, of course, brought up that Otunga is a Harvard Graduate. Everytime, really???
-Kayla Braxton interviewed Roman Reigns backstage. She asked what he's doing to prepare. Roman said, "There's really no reason to prepare. I was born ready. I was born to reign. That's why I'm the guy around here. I do it big every single night." He said he'll be whopping everybody's ass "and then I'm gonna walk out of Brooklyn the Universal Champion." I think he close with, "Thanks sweetie" with a wink.
(Keller's Analysis: What a cocky and dickish interview and a sexist finish. How is he not officially a heel? How can anyone see that demeanor and delivery as anything but him being a heel?)
-Elias Samson sat mid-ring and strummed his guitar and talked trash about Brooklyn. At first the fans booed so he said he had to restart.
-Back on the panel discussion, Carmella and James Ellsworth joined them. Ellsworth taunted the crowd. There was some talk about podcasts by Lawler and Rosenberg. [c]
-In a backstage promo, Jinder Mahal, flanked by the Singh Brothers, said for the last 91 days he has proven he is the best of the best and restored glory to the WWE Championship and made Smackdown Live the global phenomenon it has become. "Yes some xenophobic naysayers cheered Baron Corbin when he tried to cash in his Money in the Bank contract." He said they shed tears when he beat Corbin. He said he will rise above their "disrespectful ignorance" and defeat "their latest beacon of hope," Shinsuke Nakamura. He said Nakamura is a world class athlete, but he's not in the same league as The Modern Day Maharaja. He said he fights for himself and the glory of the 1.3 billion people of the great nation of India. He said nothing and no one can stop him. He then finished with some talk in Punjabi.
(Keller's Analysis: That was more of a babyface interview than Reigns's earlier. Seriously. Not even close.)
-The panel talked about Shinsuke vs. Jinder. Lawler said Jinder has to feel the pressure of letting down 1.3 million people. Rosenberg asked when was the last time two people "so early in their careers" had such a big night. Uh, both guys are long-time veterans, especially Nakamura. That statement is hard to understand.
(3) BIG E & XAVIER WOODS (W/Kofi Kingston) vs. THE USOS – WWE Smackdown Tag Team Title match
Tom Phillips, JBL, and birthday boy Byron Saxton handled commentary. Kofi said Brooklyn was the place where the original Francesca was born and where they began a 483 day championship reigns, the longest reigning tag team champions in the history of WWE. Kofi vowed they would retain the tag titles. They cut to a break a few minutes in after Jimmy caught Xavier with an uppercut as he flew off the top rope. [c]
The Usos went on sustained offense against Xavier. Xavier eventually countered an atomic drop and slammed Jimmy Uso face-first to the mat. Big E got the hot tag and went after Jey right after he tagged in and tossed him around with power moves. New Day went on sustained offense. Xavier dove through the ropes with a dropkick onto Jey. Jey, though, surprised him with a flying clothesline off the barricade. Big E played to the crowd and then teased a dive through the ropes, but was caught with a superkick. The Usos each climbed to a top turnbuckle. Jimmy leg dropped Big E and then Jey splashed Xavier for a believable near fall. The crowd popped.
Xavier caught Jey in a head scissor across Jey's neck. Big E yanked Jimmy out of the ring before he could interfere. Jey leveraged Xavier's shoulders down for a two count. Xavier hit a quick Shining Wizard for a two count. Xavier and Jey battled in the ring. Big E blind-tagged in. Xavier gave Jimmy a DDT at ringside to knock him out of the picture. Xavier then leaped off the top rope and drove Jey's head into the mat off of Big E's shoulders. Jimmy managed to make it back to the ring to break up the count. A "This is awesome"! chant took hold.
Everyone took a while to stand up. Jimmy tossed Xavier over the top rope and he flew over Jey and landed with a thud. When Kofi went to check on Xavier, Uso threw him into the ringside steps. Big E dove through the ropes and took Jey down hard. Back in the ring Big E led the crowd in a "New Day Rocks!" chant. The Usos double-teamed Big E in the ring. They each delivered super kicks. Then a stereo superkick. Jey officially tagged in and the Usos flew from opposite corners with a double splash for the win.
WINNERS: The Usos to win the Smackdown Tag Team Titles in 19:00.
(Keller's Analysis: Really good tag match. It filled 20 minutes well. Hot action the final six or seven minutes that totally got the crowd engaged, although even the first two-thirds of the match was good.)
-The panel discussed the full Summerslam main card line-up.
-They did a skit with various wrestlers auditioning to be Col. Sanders. They brawled.
-Live in the arena, Shawn Michaels's music played and he came out dressed up as Col. Sanders with a huge KFC logo on the big screen in the background. He stood on the announce desk and danced around.
(Keller's Analysis: I'm not sure what part of my brain this will lodge itself.)
-The panel reacted and then had the final words before the main show began.
MAIN SHOW
Announcers: Phillips, JBL, Saxton for Smackdown matches.
Announcers: Michael Cole, Booker T, Corey Graves for Raw matches.
-A video featured aired on the Summerslam main card line-up.
(1) JOHN CENA vs. BARON CORBIN
Cena went to the announcers and said that Corbin is still thinking about Tuesday instead of tonight. Corbin chased after him, but Cena went right back into the ring. Corbin mouthed off to Cena. A loud "Let's Go Cena / Cena sucks!" battle chant broke out. Corbin kneed Cena aggressively in the ring, then stomped away at him. He yelled at the ref, then yelled at the crowd. Cena battled back, but Corbin fired right back himself with a hard clothesline for a two count.
Saxton said Corbin is in a state they've never seen him in before. JBL said Corbin's temper can work against him sometimes, but right now it's working for him. Corbin yelled at the fans some more, giving Cena an opening to dropkick Corbin. Corbin just popped him in the face and dropped him right afterward. The crowd taunted Corbin with "Where's your briefcase!?" That's better than either "Skinny Fat" or "Dumpster Fire."
Cena rallied and signaled for a sudden You Can't See Me fist drop. Corbin obviously moved out of the way because it was way too easy to expect Corbin to lie on his back after Cena postured to the crowd for a minute. Corbin hit a nasty looking chokeslam backbreaker for a two count. Corbin lifted Cena to the top rope and then set up a superplex. It was a night of blocked and reversed superplexes last night. Cena blocked this one, too, with a headbutt and then a flying DDT. Cena went back to You Can't See Me and more quickly went for and landed a fist drop. Corbin came right back with a Deep Six for a two count. Corbin stomped away at Cena. Cena avoided his charge. Corbin charged back at Cena, but Cena clotheslined him and then hit the Attitude Adjustment for the clean win.
WINNER: Cena at 10:15. (**1/2)
(Keller's Analysis: Odd seeing Cena in an "opening match," although really the fourth of the night. Decent enough match. I liked Corbin's aggressiveness and that chip on his shoulder. He lost, but he looked good here. Cena just phoned it in, though, going to his You Can't See Me routine twice and he didn't do much else memorable. The clean win keeps Cena in his place as a future PPV headliners, but Corbin looked fine here and doesn't get hurt too bad. It is Cena, after all.)
-An ad aired for Rocket League featuring wrestlers playing video games together. Neville was in the mix with a bunch of babyfaces.
(2) NAOMI vs. NATALYA – WWE Raw Women's Title match
Natalya slapped Naomi at the start. She hither with a barrage of blows in the corner. The ref pushed her away. Natalya absorbed a Naomi elbow and gave her a springboard slam. Naomi countered with a head scissors. Nice opening minute. Naomi slid up to Natalya and slapped her. Natalya took a break at ringside to regroup. Naomi went after her with a kick, then leaped off the stairs with a blockbuster.
A minute later Natalya took over. She catapulted her off the ring apron edge into the turnbuckle. Natalya rolled Naomi into the ring and scored a two count. She stayed on offense for a while. They showed Carmella and James Ellsworth watching on a monitor backstage. They made the requisite facial expressions that conveyed how interested they were in what they were watching like someone reacting to taking a bite of food in a restaurant commercial. Natalya eventually settled into an abdominal stretch.
Natalya went for a superplex. Naomi, of course, blocked it and then gave Natalya a modified Russian leg sweep off the middle rope. Natalya came back with a boot, but Naomi countered a clothesline with a spin wheel kick. Naomi then rammed Natalya face-first into the mat with a head scissors for a two count. Naomi sling shot herself into the ring a legdrop onto Natalya who was lying backwards off the second rope right in position for the move. There is no way to do those moves without looking totally orchestrated beyond anything else in matches, so can they just stop doing them? Natalya lifted her knees on a subsequent Naomi moonsault, then applied the sharpshooter and got the tapout win. Naomi cried afterward, as women are apparently required to do after title losses.
WINNER: Natalya at 11:10 to capture the WWE Smackdown Women's Title.
(Keller's Analysis: Solid match. Nice to see Natalya get a title win. It is moments like this where having two women's titles at once does diminish the impact of title changes. I'm all for the agony of defeat, but women n WWE flat out break into tears too often after losing. There are other ways to sell a loss.)
-A commercial aired for WWE Shop.
-A video aired for WWE No Mercy featuring Alexa Bliss front and center and a bunch of other Bliss's with faceprint clapping and chanting "No Mercy." That looked like an ad for the next season of "American Horror Story."
-They went to Cole, Graves, and Booker T on camera.
-Enzo came out before the match, who said he is "the Al Capone of this microphone." He said Cass should be happy it's a shark cage instead of a shark tank. He said if he had a dime for every time Mark Cuban or one of is friends invested money in Cass, they'd all have zero dimes. Mild applause and some scattered boos. He said he'd put his worst day on the mic against Big Cass's best day in the ring. He said Cass is seven feet tall, though, which is a hell of a hand to be dealt, but the hand that dealt those cards had no heart because he has none. He was interrupted by Cass. Enzo looked infuriated. Graves applauded. Booker said, "Lock him up."
(3) BIG CASS vs. THE BIG SHOW
No matter how much Cass spray tans, his physique isn't getting any more cut looking. There are some really bad camera angles on him, and whatever he's doing since NXT isn't working. He's resembling Buddy Landel's body-type career path.
Enzo was raised above the ring in a shark cage and talked constantly as Show took it to Cass with big chops to the chest early. Show side-slammed Cass, but he landed on his injured right hand that was all taped up. Cass went on offense for a while, focusing on Show's hand. The crowd chanted "Boring!" Cass smiled and raised his right arm straight in the air. He applied an armlock.
Enzo got restless in the cage and made a lot of noise. Eventually Enzo attempted to get out of the cage. Cole laughed and said, "Ah, Enzo, the cage is built so you can't get out. Enzo took off his shorts revealing his boxers. Then he pulled out some body oil he had stashed and wiped it all over himself. Then he took out black gloves and used them to get a better grip and slip between the rungs of the cage. Cass looked up and saw Enzo on the loose. Graves asked what Enzo would do now 15 feet above the ring. Enzo dropped down. Cass gave him a big boot immediately. Show got up, but Cass gave him a running Big Boot for a two count. He delivered another running big boot and then an Empire Elbow for the win.
WINNER: Big Cass in 10:30. (1/2*)
(Keller's Analysis: Not good. The whole thing with Enzo in the cage just wasn't worth it. No room for Sami Zayn or Miz in an Intercontinental Title defense, but this? I understand Vince McMahon wants to showcase Cass in a big win at a big event in case Cass can elevate to a top tier heel sooner than later, but this just wasn't good.)
-A commercial aired for a movie.
-The director chose to show Kurt Angle on his phone backstage. What's the presupposition for why the director show the audience that? It's so stupid. In walked Daniel Bryan who asked how he is enjoying his first Summerslam as G.M. They ended up arguing over who had the more prestigious major title match.
(4) RANDY ORTON vs. RUSEV
Rusev attacked Orton from behind before the bell. The ref made Rusev back off. The ref checked if Orton was ready. He was. Rusev charged. Orton side-stepped him and hit an immediate RKO and scored a pin.
WINNER: Orton in 0:10.
(Keller's Analysis: I wasn't sure how they'd get out of this match with a clean finish since I assumed they had interest in keeping both guys strong. This gives Orton a "satisfying" clean win but it comes across as more of a fluke than anything from Rusev being reckless, so in a strange way, it could be less of a burial than a hard-fought clean loss. But we'll see, as the key with most things in WWE is the follow-up and how it's framed on the next TV shows. Who had their money on Orton's match this year being more one-sided and shorter than last year?)
-During ring entrances, they showed more international announce teams.
(5) ALEXA BLISS vs. SASHA BANKS – Raw Women's Title match.
JoJo did formal ring introductions for this match. Back and forth rapid-fire blows in the corner. The ref told them to take it to the middle of the ring. Bliss took advantage of that to cheap shot Banks with a punch to take control. Banks came back with a flurry. Bliss returned fire with a neck snap over the middle rope and then a crossbody off the ropes. They exchanged quick two counts. Cole said it was a frantic pace, and it was. Bliss dominated for several minutes.
Banks teased a comeback and scored a two count with a roll-up, but Bliss took over again. Bliss stopped another Banks comeback a minute later. Banks eventually slammed Bliss off the top rope and then nailed a running basement knee to the face of Bliss. Both were slow to get up. Banks hit a couple flying clotheslines and a dropkick. Not the crowd pop you'd want here. She scored a two count. Bliss fired back with a face driver into her knee for a two count. Bliss showed frustration. Banks catapulted the back of Bliss's head into the top turnbuckle as a counter to a sunset flip. That looked cool. She followed up running knees for a two count. Then a back stabber into a Bank Statement. Bliss reached for and grabbed the bottom rope. Graves said the diminutive stature of Bliss could cost her, but it didn't. Bliss yanked the ring skirt, knocking Banks off the ring edge. Banks landed hard.
Bliss threw Banks hard through the ropes to the floor. Banks grabbed at her left shoulder. The ref counted to nine before Banks returned just in time. Bliss attacked Banks's shoulder and arm. Bliss stepped on Banks as she moved over to the top rope. She landed her Twisted Bliss turning splash for a believable near fall. Banks surprised Bliss with a Bank Statement. Bliss reached for the bottom rope, but couldn't reach it. Then she tapped.
WINNER: Sasha Banks in 13:10 to capture the WWE Raw Women's Title. (***1/4)
(Keller's Analysis: That finish felt like it was a bit out of nowhere, especially since Graves said right before Bliss tapped that with the injured shoulder, she couldn't fully apply her finisher. Really good match, though. Definitely the spark the show needed after the previous half hour.)
-They replayed the Col. Sanders skit with Shawn Michaels and other wrestlers that also aired during the Kickoff Show.
-The announcers laughed and discussed the Col. Sanders skit.
-A video aired on the Finn Balor-Bray Wyatt feud.
(6) FINN BALOR vs. BRAY WYATT
Bray came out first. Then the full Demon ring entrance for Balor. Balor dominated early. The announcers talked about this being the longest Bray has been on defense early in a match. Bray took over about five minutes in. "Let's Go Balor!" chanted fans. Balor immediately made a comeback with a kick and a side slam for a two count. Balor hit a running dropkick at ringside, sending Bray into the barricade. Bray caught a charging Balor with a clothesline sends later and got a two count. Bray did his crab walk. "Look at this freak," said Cole. Balor popped up, not intimidated. Balor hit sling blade, a dropkick, and then a double stomp off the top for a three count. The crowd counted along.
WINNER: Balor at 10:50. (**1/2)
(Keller's Analysis: That's called getting your win back. Bray is, in a way, beyond any loss meaning that much since he always seems to talk big and ultimately lose. This win, though, is a statement win for him, sending a message he's headed toward bigger things than feuding with Elias and losing to Bray, which is where things stood after Monday.)
-The announcers plugged the Mae Young Classic Bracketology.
(7) CESARO & SHEAMUS vs. SETH ROLLINS & DEAN AMBROSE – WWE Raw Tag Team Title match
Seth came out first to his music. Then Ambrose came out. Back and forth action early, with the announcers focused a lot on this being the first time Seth and Dean have teamed in years. Not counting recent house show matches, that is. Cesaro and Sheamus regrouped at ringside after a flurry by Dean and Seth. At ringside, Sheamus surprised Dean with a Brogue Kick. Seth did a running dive through the ropes, but Cesaro and Sheamus caught him and threw him hard to the floor. The heel duo worked over Seth for a while as Dean recovered from the Brogue Kick at ringside. Cesaro settled into a chinlock. Seth came back with a Blockbuster on Cesaro. Both were slow to get up.
The crowd began playing with a beach ball. Cesaro got mad and went into the crowd and popped it. The crowd cheered. The announcers drew attention to it. Graves said Cesaro won't be disrespected like that. When Sheamus and Cesaro double-teamed Seth, Dean leaped off the top rope onto all three. Graves made note of Ambrose landing Seth. Dean threw Seth into the ring and ran to his own corner. Seth dragged himself toward Dean for a hot tag. He somersaulted over and hot-tagged Dean. Not the pop they'd want. Dean rallied against Cesaro in the ring, then dove onto Sheamus at ringside. Then he went right back after Cesaro with rapid-fire offense. He played to the crowd briefly and climbed to the top rope. Four-way action broke out. Dean and Seth clotheslined Sheamus and then Cesaro both over the top rope. Dean and Seth played to the crowd, then did running dives through the ropes onto Cesaro and Sheamus at ringside.
Sheamus broke up a double-team move from ringside, then Cesaro gave Dean a big uppercut. Cesaro set up a Neutralizer. Dean escaped. They exchanged blows. Dean landed the (former) Lunatic Clothesline. Cesaro tagged in Sheamus before Dean could tag in a fresh Seth. Dean went for a superplex on Sheamus, but Sheamus battled back. Dean eventually hit it. Then Seth landed a frog splash for a near fall, broken up by Cesaro. They cut to a crowd reaction shot.
Seth and Dean stomped away at Sheamus in the corner. Dean and Set looked at each other intensely. Ten they went back at Sheamus and lifted him up top and set up a big running powerbomb. Instead, Cesaro entered and broke it up. Cesaro backdropped a charging Seth over the top rope. Seth landed in a way that made me worry for his surgically repaired knee. Meanwhile, Sheamus landed a tilt-a-whirl slam for a near fall. Cesaro dove at Dean off the top rope with a crossbody, but Dean rolled through. Dean then set up a Dirty Deeds, but Cesaro countered with a Cesaro Swing. After three turns, he promptly shifted into a sharpshooter mid-ring. Sheamus gave Seth a rolling senton at ringside to prevent him from breaking up the hold. When Dean got near the bottom rope, Cesaro transitioned into a crossface mid-ring in a nice sequent. Dean leaned back and got a one count on Cesaro. Cesaro let go, then tagged in Sheamus. Sheamus gave Dean a clothesline off the top rope off of Cesaro's shoulders for a near fall. Booker T said that was it before the kickout. Cesaro and Sheamus gave Dean a double crucifix for a near fall, broken up by Seth. That was too close.
The heel duo stomped away at Seth and tossed him to the floor. Then they went after Dean two-on-one. Sheamus set up White Noise. Seth gave Cesaro a huracanrana off the top rope, knocking into Sheamus to break up the White Noise. Cool spot. Seth superkicked Cesaro, but the director cut to a crowd shot and missed it. Seth superkicked Sheamus, and then Dean hit Dirty Deeds for the win.
WINNERS: Seth & Dean to capture the WWE Raw Tag Team Titles. (***3/4)
(Keller's Analysis: Really good tag match. This show needed that match.)
(8) A.J. STYLES vs. KEVIN OWENS – U.S. Title match
Shane McMahon came out first as special referee with "Shane O'Mac" on the front. Two of his kids were in the front row wearing referee shirts. Styles caught Owens with a standing dropkick to stop early Owens's momentum. Owens came back with a nasty clothesline. JBL said Ric Flair has held the U.S. Title six times, and sent him good wishes in his health battle. JBL observed that Shane is calling it right down the middle. Styles came back after several minutes with a fast buster. Owens took that bump well. Styles set up a Styles Clash. Owens backdropped out of it. Owens then hit a superkick and went for a Pop-up Powerbomb. Styles countered with a fireman's carry neckbreaker for a two count.
Styles climbed to the top rope. Owens stumbled into Shane, and knocked him into the ropes, knocking Styles off balance. Owens climbed to the top and lifted Styles, but Styles countered into a sunset flip powerbomb. They replayed Owens knocking Shane into the ropes and wondered. Styles went for an inverted slingshot 450 splash, but Styles landed on both Owens and Shane. Shane was checking on Owens' condition. Styles checked on Shane as fans chanted "A.J. Styles." Owens threw Styles into the ropes and hit a Pop-Up Powerbomb. Shane counted, but Style kicked out. Owens was frustrated. He blamed Shane, who was clutching his back in pain, for not getting over to count sooner. "Where were you?!" he asked. "You fall of buildings and you get back up, but you can't get over for a three count." He got in Shane's face. Shane went nose-to-nose with Owens. Owens went after Styles, but Styles moved out of his way. Styles then rolled Owens over into a Calf Crusher. Owens raked Styles's eyes to break it up.
When Styles grabbed Owens' legs, Owens kicked Styles into Shane. Shane fell through the ropes. Styles applied a Calf Crusher again. Shane was very slow to get up. Owens tapped. Styles let go and noticed Shane was still at ringside. Shane struggled to get back into the ring. Styles got in Shane's face and shoved him and told him to do his job. Shane shoved back. Owens rolled up Styles and Shane counted two. JBL said Shane is trying to call it down the middle. Styles caught a charging Owens with a forearm to the head. Then he suplexed Owens into the turnbuckles.
Styles went for a huracanrana off the top rope, but Owens blocked it. Owens then cradle suplexed Styles off the top rope for a near fall. Owens and Styles battled mid-ring, exchanging blows. The crowd was into it. Styles went for a Pelé kick, but Owens moved. Owens connected with a superkick. Owens charged. Styles lifted his boot for a weak looking boot to the face spot. Styles went for a roll-up, but lifted Owens and hit a Styles Clash for a believable near fall. Styles complained to Shane briefly about the two count. Styles then went for a Phenomenal Forearm, but Owens ducked and then hit a Pop-up Powerbomb for a three count. Shane waved off the count, though, because Styles's boot was on the bottom rope. Owens was, of course, not pleased. Shane explained. They went forehead to forehead. Owens had none of it and shoved Shane and told him not to touch him. Shane shoved Owens right into a schoolboy from Styles. That got a two count. Styles hit a Pelé kick. Styles then connected with a Phenomenal Forearm. Finally, he hit the Styles Clash and scored the three count.
WINNER: Styles to retain the U.S. Title. (****)
(Keller's Analysis: That was the right mix of Shane getting involved given the hype. I'd have gotten a kick out of the match going totally smooth and Shane not factoring in at all. Owens has reasons to be upset, but none that stand up to objective interpretation. But a heel shouldn't care about whether he's right or not, he should insist he is no matter what.)
-A video package aired on the Jinder Mahal vs. Shinsuke Nakamura match. First it focused on Jinder's reign. The narrator said Jinder has made himself "an undeniable reality." The narrator then turned to Nakamura. "Any day can be the dawn of a new dynasty." He described Nakamur as an abstract artist who became a worldwide sensation with an undesirable aura. The clips included Nakamura dropping Cena on the back of his neck. The narrator said Nakamura has his sights set on "the one title he's never held." So he's held the IC, U.S., and Universal Title? The GFW Title and ROH Title, too? The conclusion was Jinder was looking to cement his legacy while the other was looking to prove he belongs at the top.
(9) JINDER MAHAL (w/The Singh Brothers) vs. SHINSUKE NAKAMURA – WWE Title match
Nakamura's ring entrance included a live violinist. After formal ring introductions, the wrestlers approached each other. Nakamura broke up a delay in a test of strength with a kick. Jinder took a break at ringside after a couple minutes. They cut away to the Japanese announce team to hear their commentary on the match. Nakamura nailed Jinder with a wheel kick to the face and then a knee drop. The crowd sang Nakamura's song. Jinder bailed out again. Nakamura went after him and threw him back into the ring. He shot the Singh Brothers a look when they got mouthy. That distraction gave Jinder just enough time to recover and then knock Nakamura off the ring apron with a forearm. Jinder threw Nakamura back into the ring quickly and stomped away at him.
Jinder settled into a chinlock. Nakamura eventually broke free and kicked Jinder. He showed some fire and then threw several hard round kicks to Jinder's chest. Jinder applied a triangle mid-ring. Phillips sold it as a big moment. Jinder reached the bottom rope to force a break. Nakamura went for a suplex, but Jinder blocked it. Nakamura kneed Jinder in the gut and then dropped him face-first to the mat. Shinsuke went for a running knee, but Jinder moved and rolled up Nakamura with a yank of the tights. Nakamura kicked out. Jinder gave Nakamura a running knee for a near fall. Nakamura hit an enzuigiri. He avoided a charging Jinder, who went shoulder-first into the ringpost. Nakamura then gave Jinder a running knee from behind. JBL said the one you don't see is the one that knocks you out. Samir Singh jumped onto the ring apron. Nakamura took care of him. Then he beat up Samil Singh. That gave Jinder time to give Nakamura the Khallas for the win. JBL said Jinder has shown he's not a flash in the pan by beating one of the greatest Japanese performers of all time. They cut to crowd reactions of fans in dismay.
WINNER: Mahal at 11:25. (**1/4)
(Keller's Analysis: This finish, while not clean because of the Singh Brothers' interference, did seem like trolling the fanbase who knows and respects Nakamura's history before WWE. The match was more mediocrity, and Nakamura maybe takes some blame for that as the magic just isn't there. Or maybe Jinder is just that mediocre. Vince McMahon had to enjoy this, though – shoving his sports entertainment guy over the New Japan guy on a big show in New York. That all said, I wouldn't rule out that Nakamura eventually beats Jinder for the title. I don't think it'd matter as much if it happens, though, than if it happened here. We might be talking a year from now about Jinder's expectedly long title reign, too.)
-A commercial aired for WWE Network.
-A video package aired previewing the Fatal Four-way.
(10) BROCK LESNAR (w/Paul Heyman) vs. BRAUN STROWMAN vs. SAMOA JOE vs. ROMAN REIGNS – WWE Universal Title match
Braun came out first. Then Joe. Then Reigns to an explosion of boos. Booker said: "Voted most hated Superstar in 2016." Cole stammered after hearing that. Graves chimed in, likely repeating what Vince McMahon said in his headset, and said Roman "isn't hated, he's controversial." He said you have to take The Big Dog seriously as a top contender to the title. I wonder if we ever seen Booker again after this. And finally Brock.
After formal ring introductions, the bell rang. Strowman threw Reigns to the floor and battled him there while Joe and Lesnar went at it. Lesnar gave Joe a suplex. Joe rolled to the floor. Lesnar was last man standing in the ring. Reigns shoved Strowman into the ringpost, then looked in Brock. He smiled and Lesnar called him in. Reigns entered the ring. Lesnar took a deep breath of anticipation. He ducked Reigns clothesline and delivered a German suplex. Big pop. Joe charged in. Lesnar suplexed him. Strowman entered. The crowd cheered. Lesnar's facial expressions were great here. Reigns and Joe charged in before Lesnar and Braun could battle. The crowd booed.
Lesnar and Braun cleared the ring. They faced off again and the crowd popped. Strowman lifted and threw Lesnar into the corner, then clotheslined him hard over the top rope to the floor. Big pop. Reigns clotheslined Strowman, but Strowman barely budged and shoved Reigns aside. Big cheers. Strowman charged, but Reigns moved. Strowman dropped to the floor. Joe put Lesnar in the Coquina Clutch. Reigns went to spear Joe, but Joe let go and Reigns speared Lesnar through the barricade. Big pop. "Holy sh—!" chant. Joe chokeslammed Reigns onto the announce table. Strowman charged at and knocked Joe into the announce table. Cole said, "This could be catastrophic tonight." Cole wondered what Strowman has in mind.
Strowman forearmed Lesnar as soon as he stood. "This is awesome!" chanted the fans. Strowman picked up Lesnar and gave him a running powerslam through an announce table. It looked like he barely cleared the edge of the table with Lesnar's head. Graves said, "Someone get FIMA on the phone; I think we're going to qualify after this disaster." A "Strowman" chant broke out. Reigns hit Strowman at ringside with a Drive By. Joe flew through the ropes with a flying forearm and connected with Reigns. Cole said they are flying around like Cruiserweights. Strowman threw the padded office chair at Reigns and Joe. Then he disassembled the announce table and gave another running powerslam to Lesnar through the table. There is little room for error on these big spots.
===
The crowd chanted "One more table!" Strowman tipped one table over onto Lesnar. The crowd popped huge. Graves said it might have broken Lesnar's legs. Heyman begged for Strowman to stop. Lesnar was underneath the desk. They went to a ceiling cam that looked down at the scene of a dozen referees and producers pushing the table off of Lesnar. Heyman cried out at ringside as paramedics put Lesnar on a body board. He was lifted onto a gurney. Cole said Lesnar might be headed to the emergency room. The crowd sang the "Na na na na, good bye" song. Booker said this means we're going to have a new champion. That mean, given WWE's heavy-handed reverse psychology that gives away EVERYTHING, that Lesnar will be back out and win.
Strowman began hitting Reigns and Joe with the ladder base at ringside. A "Strowman" chant broke out. When Reigns began hitting Strowman, the crowd booed loudly. But he's not hated, just controversial. Right. Reigns bashed Strowman with the base of the steps three times, sending Strowman tumbling to ringside after the third. Joe schoolboyed Reigns for a two count. Joe then gave Reigns an inverted atomic drop, running boot, and running senton for a two count. Joe set up a urinage, but Reigns arm dragged out of it and hit a Samoan Drop for a two count. We were 53 minutes into hour four (or six, counting the Kickoff show) at this point.
Reigns signaled for the Superman Punch. Joe ducked and applied the Coquina Clutch. Strowman re-entered and chokeslammed both Joe and Reigns at once. Strowman covered Reigns for a near fall. Strowman was bleeding from around his ear from the ringside step shots by Reigns. The crowd chanted "Un-der-taker!" playing off of Internet rumors circulating all day.
Suddenly Lesnar marched back to the ring, getting a pop from the crowd. Produced tried to talk him out of it. Lesnar went into the ring and speared Strowman and then mounted and pounded away at him. Lesnar knocked Strowman over the top rope to ringside. He ducked Reigns and gave him a German suplex. Lesnar then gave Joe a suplex. Strowman returned to the ring. Lesnar set up a suplex. Graves said, "No way!" Strowman powered out. Lesnar went for a kimura lock. Reigns hit then from behind with a flying Superman Punch. He gave one to Joe, too. Reigns signaled for his spear, then delivered it on Lesnar for a believable near fall.
Reigns signaled again for a spear. Joe came up behind Reigns with a Coquina Clutch. Strowman dropkicked both of them. Strowman then gave Joe a powerslam for a near fall, with Lesnar yanking the ref out of the ring before the third count. Graves called it "situational awareness." Cole said he thinks Strowman had Joe pinned. Reigns gave Lesnar a Superman Punch at ringside. He went back into the ring and gave Strowman a Superman Punch for a near fall. Strowman powered out by lifting Reigns back onto his feet. Cole threw superlatives at Reigns. Strowman caught a charging Reigns with a boot and then delivered a running powerslam. Lesnar burst into the ring and broke up the count. Heyman was worried at ringside. "This is awesome!" chanted the crowd.
Strowman lifted Lesnar. Lesnar, though, slipped free and lifted Strowman. Strowman countered and lifted Lesnar. Reigns speared Strowman, and Lesnar went down. Strowman rolled to the floor. Booker wondered who was in the worst shape. Lesnar lifted Reigns for an F5. Reigns slipped free. Joe threw Reigns out of the ring. Joe put Lesnar in the Coquina Clutch mid-ring. Graves touted the potency of this hold. Lesnar countered into an F5 and delivered it mid-ring and scored a near fall, broken up by Reigns. "Absolutely incredible," said Cole.
Reigns waited for Lesnar to stand, then delivered a Superman Punch. And another.Lesnar got back to his feet, but Graves said he was weak in his knees. Reigns hit a third Superman Punch. Lesnar eventually stood again. Reigns yelled and then went for a spear, but Lesnar lifted him and delivered an F5 for the three count.
WINNER: Lesnar to retain the Universal Title. (****1/2)
(Keller's Analysis: Tremendous payoff to all the build-up. It's most fascinating that Lesnar beat Reigns, not Joe or Strowman, in retaining. That really says something about Vince's belief in Joe.
---
$1 VIP SALE – ACT NOW, EXPIRES SOON
GO VIP TODAY FOR JUST $1 TO UNLOCK ALL SUMMERSLAM FEATURES BELOW (limited time offer) and GET A FULL MONTH OF ALL VIP BENEFITS & ACCESS (including 30 years of insider archives of newsletters, podcasts, and interviews dating back to the late 1980s.
NEW SUMMERSLAM VIP COLLECTION ("This is Awesome!")…
A new Special Section has been added to the PWTorch VIP website this week featuring our coverage of Summerslam over the last three decades dating back to 1988. Below is the list of Summerslam features on our new Summerslam VIP Collection page. The links here won't work without a username and password associated with a current VIP membership. You can become a VIP member for a limited time for just $1 with our 90 percent off sale.
•FULL DETAILS AND LIST OF SUMMERSLAM COLLECTION: CLICK HERE.
•READY TO SIGN UP NOW? GREAT… CLICK HERE FOR SIGN UP FORM – Enter promo code: summersale17
•OR LEARN MORE ABOUT ALL VIP FEATURES: CLICK HERE FOR VIP DETAILS
Over the next week, we will be adding two Summerslam Audio Roundtables per day to a Podcast RSS Feed (compatible with iTunes and popular podcast apps on iPhone and Android devices) that were recorded the night of each event led by PWTorch Wade Keller and two or three columnists. The shows begin in 2005 and end with last year's 2016 Audio Roundtable.