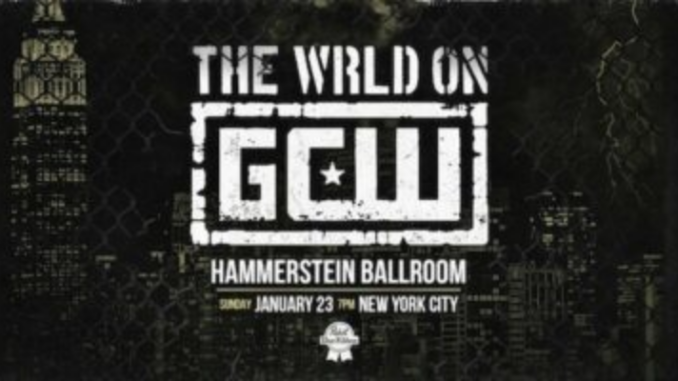 ---
SPOTLIGHTED PODCAST ALERT (YOUR ARTICLE BEGINS A FEW INCHES DOWN)...
---
GCW THE WRLD ON GCW
JANUARY 23, 2022
NEW YORK CITY, NEW YORK FROM HAMMERSTEIN BALLROOM
AIRED ON FITE.TV
REPORT BY ZACK HEYDORN, PWTORCH ASSISTANT EDITOR
Announcers: Kevin Gill and Dave Prazak
(1) JORDAN OLIVER vs. TONY DEPPEN vs. JIMMY LLOYD vs. ALEX COLON vs. PCO vs. G-RAVER vs. A.J. Gray – Grab The Brass Ring Ladder Match
After all the participants were introduced, A.J. Gray's music hit and he was a last minute add to the match. Gray was rumored to be facing Eddie Kingston on this show, but things were scrapped due an injury to Kingston.
A spot fest right out of the gate. Gray, Jordan Oliver, and G-Raver stood out with Oliver and Raver both taking big bumps multiple times. Alex Colon hit Raver with a Razor's Edge out of the ring and through a ladder. He tried to climb to the top of the ladder to win the match, but was interrupted by rival, John Wayne Murdoch, and knocked off the ladder. Gray climbed soon after and pulled down the ring for the win.
WINNER: Gray **
(Heydorn's Analysis: A spot fest as expected, but tamer than expected at the same time. Some big bumps to be sure, but just not the death defying stunts that sometimes are synonymous with GCW.)
(2) GRINGO LOCO, FLAMITA, & AREZ vs. BANDIDO, ASF, & LAREDO KID
The action was slow out of the gate, but built smoothly as things went on. Bandido was on fire throughout with a fast pace. Arez also stood out. The spot of the match featured two towers of three men battling in the middle of the ring. Gringo Loco and Bandido anchored their respective towers and the end results was a Canadien Destroyer off the top level. After, Bandido and Arez both hit dives that cleared the ring of most participants. Gringo Loco and ASF remained and battled on the top rope until both fell off. Loco then hit a sit out piledriver for the 1,2,3 win.
WINNER: Loco, Flamita, and Arez via pinfall ***1/2
(Heydorn's Analysis: A fun match with loads of action and athleticism. A really good match for the show as it added another style to the mix on the show. Bandido is unreal out there. T-minus not that long until AEW comes calling.)
(3) BLAKE CHRISTIAN vs. LIO RUSH
Christian made his entrance first. When he got to the ring, he picked up the microphone and spoke about times be uncertain. To that end, he revealed that his original opponent for the night, Jonathan Gresham, was not able to participate. Christian told Gresham that he still wanted a shot at the ROH World Championship, but then said he still wanted to fight. Christian said he wanted to face someone who always brought out the best in him and called that person out. Lio Rush proceeded to make his entrance and the match began as soon as he entered the ring.
Rush and Christian had a back and forth match and showcased some stiff work and chemistry as performers. Rush his his frog splash from the top rope and made the cover, but Christian kicked out. The action spilled to the outside of the ring after the pin attempt and Christian gained momentum back with a Tombstone Piledriver on the floor. From there, Christian was able to connect with the 450 foot stomp before covering for the 1,2,3 win.
WINNER: Christian via pinfall ***
(Heydorn's Analysis: Good match, but unfortunate that Gresham couldn't make the show. Christian and Rush have wonderful chemistry together and that was on display during this match. Christian is such a smooth worker and has a bit of edge to him that was never fully realized in his short NXT run.)
(4) MATT CARDONA vs. JOEY JANELA
Cardona made his entrance first with Chelsea Green. They walked out to Enter Sandman — an ode and troll job thanks to that song's history at Hammerstein in the old ECW with Sandman. Cardona spit in the face of a fan and made out with Chelsea before entering the ring and cutting a promo on Janela and GCW. Cardona sported a vest that said f**k Mick Foley on it. Janela walked out next and the match started right away.
Cardona and Janela matched up pretty evenly with offense for the first three minutes of the match. The early third of the match culminated with Green "turning" on Cardona and giving him a low blow. Green appeared to side with Janela and helped him to the top rope before kicking him off it. After she did, Cardona revealed that that he had protective equipment to block Green's shot.
From there, things devolved into a circus of interference and nonsense, Virgil appeared with Mark Sterling and Hornswaggle appeared from below the ring. Marko Stunt confronted Hornswaggle, but was then discarded by Green. Green hit Janela with a kendo stick, but it had no effect. Janela turned around and delivered a piledriver to Green. Eventually, the madness subsided and Janela and Cardona continued to fight. A masked individual entered the ring and speared Janela through table. He then revealed himself to be Brian Myers. With Janela down, Cardona hit his Ruff Ryder finish on Janela through a table from the top rope before covering for the 1,2,3 win.
WINNER: Cardona via pinfall *1/2
-After the match, X-Pac ran down to the ring to help fight off Cardona and Myers with Janela. X-Pac hit his spinning heel kick and X-Factor before celebrating with Janela.
(Heydorn's Analysis: Never truly felt like a serious fight. Just a circus instead. It will be interesting to hear from folks in the building on this, because it didn't sound like the crowd bit fully into every special appearance, thus making them hurt the drama and flow of the match. X-Pac was fun, but didn't save the overall tone. Cardona hasn't missed much since debuting with GCW, but this was a miss.)
-Mance Warner hit the ring for a promo thanking the fans, the GCW locker room, and GCW staff. Atticus Cogar interrupted him and ran down the company. Warner and him brawled and the brawl eventually the lights went out. When the returned, Sabu was in the ring and he helped Warner fight off 44OH.
(Heydorn's Analysis: This is how you utilize a special guest appearance, not in the middle of a match that you want people to take seriously. Fun stuff.)
(5) RUBY SOHO vs. ALLIE KATCH
Allie made her entrance and Soho followed to a nice reaction from the audience. As the match went on, the reaction split in half between both women. Soho and Allie traded offense back and forth with Allie getting the upper hand. The battle continued until Soho hit her Detonation Kick off the top rope and made the cover for the 1,2,3 win.
WINNER: Soho via pinfall **3/4
-After the match, Soho and Allie hugged as the audience cheered them.
(Heydorn's Analysis: Good match, but felt like it had another gear in it at times. The crowd turned a bit on Soho as the match went on and fully reacted negatively when Soho was announced as the winner. Didn't feel like an indictment on Soho, but more of an appreciation of what Allie means to GCW.) 
(6) JEFF JARRETT vs. EFFY
Jarrett hit the ring first to a strong negative reaction. Effy was out next to a huge pop. The match started with Effy getting a couple punches in on his opponent. Soon after, Jarrett took over and stalked Effy around inside and outside of the ring with vicious belt whips that left welts on Effy's back.
Effy turned the tide for a bit and laid in a flurry of punches that backed Jarrett into the corner. Later, Jarrett hit Effy with a guitar and Effy no-sold the offense. Right after, Jarrett connected with his front leg sweep finisher with the guitar around Effy's neck before covering for the 1,2,3 win.
WINNER: Jarrett via pinfall **
(Heydorn's Analysis: Some decent psychology to start things off with Jarrett and the belt whips. They built a ton of sympathy on Effy and they cashed in a bit on them, but not nearly enough. Effy got some comeuppance, but lost in the end, which deflated the crowd and the story they told in the match.) 
(7) JON MOXLEY vs. HOMICIDE – GCW World Championship
Homicide made his entrance first and Moxley followed to a major pop from the audience. The match started with a New Japan-esque strike exchange in the middle of the ring. Moxley took most of the offense and put Homicide in his choke submission, but Homicide made it to the ropes. The match continued until Moxley hit Homicide with The Paradigm Shift through a steel chair. Moxley then made the cover for the 1,2,3 win.
WINNER: Moxley via pinfall **3/4
-After the match, Moxley put the GCW World Championship in front of Homicide and bowed to him in respect.
(Heydorn's Analysis: A fine match, but lacked intensity that typically comes with Moxley matches. Fun to see these guys together in the ring and while the pace was steady, the finish hit out of nowhere without a proper culmination of momentum.)
(8) THE BRISCOES vs. MATT TREMONT & NICK GAGE – GCW World Tag Team Championship
The Briscoes made their entrance first. Tremont was the first surprise reveal and Gage came out after to him to the pop of the night by bar. Gage cut a quick little "where's my gang at" promo and the match began. The action was essentially hardcore in nature with tables galore and each guy taking something through one. In the end, Gage hit Mark Briscoe with the Choke Breaker and covered for the 1,2,3 win.
WINNER: Gage and Tremont via pinfall *1/2
(Heydorn's Analysis: Honestly, I'm just not sure what that was. Gage as the mystery opponent worked to give the audience a surprise pop. A fun moment. The match? What match? Not only was it short, but it felt like all four guys were going through the motions out there. That lack of activity with a crowd that clearly wanted more was not a good combination.)
-After the match, the GCW locker room entered the ring and drank PBR as Nick Gage cut a promo about GCW being the best promotion in the world. The show then faded to black.
FINAL THOUGHTS: Not a great night for GCW and not a show that will regularly attract new fans. The intensity and passion that usually bleeds out of GCW shows didn't translate tonight. The ring work was uninspired across the board and things simply were flat. I know their hands were tied due to some NYC restrictions, but they needed to be better prepared to deliver even in that environment.
---
CATCH-UP: 1/15 Sage's Report on GCW Say You Will: Jeff Jarret in Person, Matt Cardona vs. Ricky Morton, Allie Katch vs. Kylie Rae, PCO vs. AJ Gray, Bandido vs. Blake Christian, More.