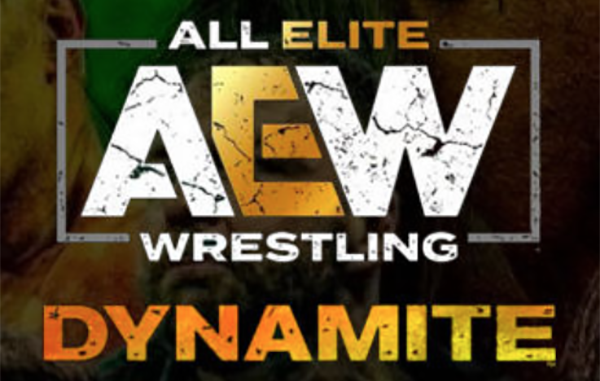 ---
SPOTLIGHTED PODCAST ALERT (YOUR ARTICLE BEGINS A FEW INCHES DOWN)...
---
AEW DYNAMITE REPORT
SEPTEMBER 13, 2023
CINCINNATI, OHIO AT HERITAGE BANK CENTER
AIRED ON TBS
Commentators: Excalibur, Taz, Tony Schiavone
Ring Announcer: Justin Roberts
---
[HOUR ONE]
-After the Dynamite opening, Excalibur introduced the show as the camera panned the audience.
(1) JON MOXLEY vs. BIG BILL (w/Ricky Starks) – AEW International Title match
Starks on Dynamite feels like a step away from Collision feeling like a show with some top wrestlers mainly tied to that show. The bell rang four minutes into the hour. Mox threw some hard elbows at Bill's head, but Bill fired back and took Mox down against the ropes. He then showboated to the hard cam before turning back around and chopping Mox in the chest twice. Mox dove at Bill, but Bill caught him and gave him a fallaway slam.
Mox fired back with some clotheslines, but Bill kicked Mox to the floor. Excalibur said Mox and Bill years ago were roommates and friends. Starks took a cheap shot at Mox at ringside. Bill pursued Mox at ringside, but Mox reverse-whipped Bill into the ringside steps. Bill threw Mox into the ringside table as they cut to a split-screen break at 3:30. [c/ss]
During the break, Mox came up bleeding after being tossed into the table. Bill methodically beat on Mox for several minutes. Back from the break, Mox countered Bill with a superplex. Both were down and slow to get up. Mox eventually hit a cutter at 9:00. Bill rolled to the floor to regroup. Starks knocked Mox off the top rope. Bill hit Mox with a big boot for a near fall. Bryan Danielson charged out and attacked Starks at ringside. Fans popped. Danielson went aggressively at Starks. Mox rolled up Bill for a two count. Starks reverse-whipped Danielson into the ringside steps.
Bill chokeslammed Moxley, whose face was covered in blood, and scored a very near fall at 10:30. Bill punched away at Moxley's face and then gave two middle fingers to the fans. Mox surprised Bill from underneath with a triangle. Danielson held Starks back. Bill then tapped.
WINNER: Moxley in 11:30 to retain the AEW International Title.
-Afterward, as Mox's music began to play, Starks attacked Danielson. Bill then jumped Moxley. Starks bashed Mox with his shoe. Danielson charged in and hit Starks from behind. Claudio Castagnoli ran out lifted Bill. Bill slipped free, but Claudio gave him an uppercut. Bill dropped to the floor and stood on the ramp with an enraged Starks. Bill, Claudio, and Danielson stood in the ring yelling down at them as "Wild Thing" began playing again. The announcers hyped Mox vs. Rey Fenix next week at Grand Slam.
(Keller's Analysis: Mox gave Bill a lot of offense in that match and some really close near falls. AEW should figure out if they're going to get behind Bill with a more definitive, sustained push with some character development beyond him showboating for the hard cam and giving fans the middle finger. I'm glad they've clearly put Starks in a role as a heel and aren't being at all wishy-washy about it. It also sure seems that BCC are back being babyfaces, which is also a positive since fans are going to cheer them no matter what anyway. This seemed like a match that didn't need blood.)
-Renee Paquette interviewed Roderick Strong, Mike Bennett, and Matt Taven. Adam Cole interrupted and said Samoa Joe could break his neck later. Strong mocked Cole for caring about his neck now. He said Cole should be worried about MJF because he's going prove he's a wrestling legend and he'll break his back.
-Excalibur narrated a clip of Konosuke Takeshita beating Kenny Omega at All In.
-Tony Schiavone stood mid-ring and said it's time for "the unveiling of a masterpiece." He introduced Don Callis, but made it seem like he could barely stand saying his name. Callis and Takeshita came out. Callis yanked the mic away from Schiavone and demanded respect. He said he has learned from Takeshita about Japanese culture, and the top wrestler is called "The Ace." Callis said he's better than all the big name Japanese wrestlers. He listed a series of big names including Okada and Inoki. He said when you beat Omega twice in seven days, they don't call you "The Ace," they call you "The Alpha." A graphic appeared on the big screen saying "The Alpha." Streamers shot down over them. Callis said he's a real Alpha, not a fake one like Chris Jericho was.
Callis said he never had "the empathy thing" because it felt like weakness to him. He said when you're The Alpha, you take everything that can be taken and then take a little more. He said they broke Kenny's body and now they're going to break his heart. He revealed the next target of The Don Callis Family is former IWGP Hvt. Champion and the heart of Omega, Kota Ibushi. A painting showed Callis observing as Takeshita drove a sword down toward a cowering Ibushi. Callis said they're going to butcher him, skin him, and burn him. He said he'll love the fact that while they're spilling Ibushi's blood in the ring, Omega will be at home helpless, "watching like the pathetic cuck that you are." Callis drove a screwdriver into the head of Ibushi on the painting. Takeshita walked toward Schiavone, but Callis got him to back away.
(Keller's Analysis: Callis is despicable and I'm all for giving him more TV time. I wish he had explained more of the history between Omega and Ibushi and not assumed the viewers have that knowledge. I'd also have scratched the graphic butchering and skinning stuff because, well, obviously that's not going to happen, so now he's going to come up way short of his threat. Just make a threat that actually falls within the realm of the pro wrestling world instead.)
-Alex Marvez interviewed Danielson, Mox, and Claudio. Danielson said they love it when things escalate. He challenged Starks and Bill to face him and Claudio on Saturday night. Marvez then asked Mox about facing Rey Fenix at Grand Slam and Claudio facing Eddie Kingston. Mox said that's easy work and day off for them. Fenix and Penta charged in and yelled at Mox. Kingston walked up to Claudio and calmly stared him down. Claudio returned the stare. Fans chanted "Eddie! Eddie!" Eddie then said, "One more week," then cackle-laughed and left. [c]
-Renee asked Hook about regaining his FTW Title at All In when Orange Cassidy walked in. She asked what was up. He said, "I don't know. I was just walking around and saw Hook all mad about something." He asked what he has to be sad about since he has a championship. Hook said he's a great champion. Cassidy said, "You are too." Renee asked Cassidy if he's doing okay. "I'm still so tired," he said, listlessly.
(2) TONI STORM vs. HIKARU SHIDA vs. NYLA ROSE (w/Marina Shafir) vs. BRITT BAKER – Four-way to earn an AEW Women's Title match at Grand Slam

The bell rang 34 minutes into the hour. Rose took Baker and Shida down early. Storm struck a pose in front of Rose to celebrate. Rose shot her a look. Shida kicked Rose to the floor. Storm shoved Shida into Baker. Shida threw Storm onto Baker and Rose at ringside, then leaped onto the crowd before they cut to a split-screen break at 1:00. [c/ss]
Back from the break, Baker nearly superkicked Shida, but Shida saw it coming so Baker stopped short. Four-way chaos broke out with several near falls. Shida had Rose covered, but Baker kicked Shida to break up the cover. She stomped Shida, but Storm then rolled up Baker for the leverage three count. Excalibur said Storm will face Saraya next week at Grand Slam.
WINNER: Storm in 6:30.
-Renee interviewed Saraya with Ruby Soho about facing Storm. Saraya congratulated Storm in a sarcastic tone. Saraya said Storm lost her top spot to her, but also lost her mind. She said she'll walk out of Grand Slam with nothing. She and Soho laughed. [c]
-Chris Jericho and Sammy Guevara, billed as "Le Sex Gods" again, made their entrance. Jericho announced he'd face Guevara one-on-one next week at Grand Slam for the first time. He said they've been together for four years since the first episode of Dynamite. He said they've had ups and downs. He threw to a video package of their past, with the sappy factor turned up to 10, presumably self-awarely on purpose. Taz said, "That was beautiful." Sammy told Jericho he still doesn't know the lyrics to "Judas." Jericho laughed and said he wasn't in key, so don't worry about it.
Jericho talked about watching the NWA 70th Anniversary PPV in 2018 and he saw Guevara in a prelim match. He said he was blown away and called Tony Khan and told him to sign him. He said he was impressed by his talent and look. He said he had what it took to be a big star and he wanted to help him out as much as he could. He said over the years, he has watched Guevara grow from a boy into a man. He said he's seen him mature, win titles, get married, and become a father. Jericho said he's proud of him. Fans cheered, but seemed to sense something was up because, well, it's pro wrestling.
Guevara said Jericho inspires him. He thanked him for changing his life and so many others' in the back. He said without Jericho, there is no AEW. He said he didn't come to AEW to just be his sidekick, though. He said he wants everyone to look at him the way they look at Mox, Danielson, and Jericho. He said that can't happen as long as he's in his shadow, which is why he needs to beat him next week.
Jericho said he wasn't brought in to AEW to be his sidekick. He said he envisioned him being a main event player and money-making draw. He said he's getting closer every single week. He said if he wants to get the next level, he has to do it outside of his influence and do it on his own. He said next week he has the opportunity to do it. He said it's one of the biggest matches of both of their careers. He said he'll have to be better than he ever has before to have the chance to beat him. "But I don't think you're ready to beat me yet," Jericho said.
Guevara said that's why he has to beat him next week because Jericho doesn't respect him like he respects him. He said he's going to beat him as the 2023 version, not the 2018 version. He said then, once he's earned his respect, they'll shake hands, hug, and go on to win the tag team titles together. Jericho shook his hand, but yanked him in for a close staredown. Jericho's tone changed to sinister as he said he's not going to go easy on him and he's going to beat the living hell out of him. He said he'll punch him harder than he's punched anyone in his life and he expects the same thing from him. Guevera said, "I wouldn't want it any other way." Jericho left to his music as Guevara soaked up the gravity of the situation.
(Keller's Analysis: Really good segment to establish stakes and build anticipation for a big match considering their history.)
-A clip aired from last Wednesday of the trainer saying MJF isn't cleared to travel next week (, but he'll be fine by Grand Slam. MJF said he wanted Roddy "The Simp" Strong or Samoa Joe to win because he hates both of them. He said if Strong wins, he'll rip Strong's head off and shove it up his ass. He said he's been a manipulative person, "a wet blanket and a third wheel." He told him to shake it off and called him a "bland bitch." MJF then told Joe he's not afraid of him. He said he should pray he doesn't win the tournament because he'll choke him out. He promised on his life to choke him out. He talked comically about his odds of beating Joe, and his math led to him having a 141.66 percent of beating him.
[HOUR TWO]
(3) BRIAN CAGE (w/Prince Nana) vs. "HANGMAN" ADAM PAGE
Cage came out first. As Hangman came out, they showed highlights of Hangman vs. Cage on May 30, 2021 at Daily's Place in Jacksonville, Fla. The bell rang a minute into the hour. They fought at ringside early. Hangman sent Cage into the ringpost with a huracanrana. He then slingshot himself onto Cage at ringside.
At 3:00 Swerve Strickland's music played. Swerve walked out and distracted Hangman. Cage took advantage and took control with a big back suplex. As Cage flexed, they cut to a split-screen break. [c/ss]
Cage dominated methodically during the break. Hangman avoided a moonsault at 9:00. Hangman then fired up and threw a barrage of punches at Cage. They cut to Swerve who was looking on from the entrance stage. Hangman leaped off the top rope at Cage, but Cage caught him and used his body for arm curls. Hangman countered with a crucifix bomb. Cage rolled to the floor. Fans chanted "Cowboy Shit!" Hangman leaped off the top rope onto Cage at ringside with a moonsualt. Back in the ring he landed a crossbody press for a two count at 10:00. Fans chanted "This is awesome!"
Hangman scored a near fall with an inside cradle a minute later. He followed with a Dead Eye for a three count.
WINNER: Hangman in 12:00.
-After the match, Hangman's music played, but then faded. He looked over at Swerve and said last week Swerve said he wanted his spot in the company. He said he sent Cage instead of doing it himself. He said he thought he had some balls, but after tonight, he's thinking he stores them in "Prince Nana's Burger King ass crown."
Swerve pulled out a mic and said, "What up, turd?" He said those don't sound like fighting words. He said they do this when and where he chooses. He said he chooses Seattle on Oct. 1 at WrestleDream. He said until then, he's going to make sure he doesn't get comfortable so the Mogul Embassy will tune him up. Cage attacked Hangman from behind. Nana danced as Cage battered Hangman. The Young Bucks made the save. Nick Jackson mocked Nasna's dancing behind him. Then they stereo superkicked him.
-Renee interviewed Daniel Garcia backstage. Garcia complained that she asked him about Jericho and Guevara. He said he should be the topic. He said the Arizona Cardinals imitated his dance after a sack and he went viral four times in one month. He said his career is climbing. Callis walked in and said he'd like to hear more. He said he is creating a Utopian Meritocracy. Garcia danced in front of him. Callis said, "Wow! That's money!" Garcia left and then Callis said, "Let's get some money!" He pursued Garcia. [c]
-Highlights aired of Jade Cargill's return on Collsion on Saturday. Then Excalibur plugged that Cargill would challenge Kris Statlander on Friday on Rampage.
(4) DARBY ALLIN & NICK WAYNE vs. ANGELO PARKER & MATT MENARD (w/Jake Hager)
The bell rang 24 minutes into the hour. Seconds into the match, Christian Cage's music played. He and Luchasaurus walked out. That gave Parker an opening to attack Wayne (just like Swerve distracted Hangman in the previous match). Christian joined in on commentary. They cut to a split-screen break early. [c/ss]
Darby rallied after the break and scored a near fall on Parker. Wayne landed his leaping Wayne's World cutter for a near fall, broken up by Menard. Darby leaped onto Menard at ringside. Darby and Wayne each leaped off the top rope, Wayne to ringside onto Menard while Darby hit the Coffin Drop on Parker in the ring for the win.
WINNERS: Darby & Wayne in 8:00.
-Afterward, Christian said it was a very impressive victory. Christian said he was scrolling through Wayne's mother's Instagram account. He said she doesn't post enough bikini pics, but he sent her a special request on the side. He said he's tired of her posting about All In. He said as the franchise player, it's kind of embarrassing. "Not losing to the Cleveland Browns embarrassing, but embarrassing nonetheless," he said. Fans gasped and booed. He said he wants to right the wrong and challenged Darby and Sting to face him and Luchasaurus next week at Grand Slam.
-Excalibur hyped Rampage: Statlander vs. Cargill, Acclaimed & Billy Gunn wrestle, Christopher Daniels & Matt Sydal vs. Taven & Bennett, Lucha Brothers & The Hardys vs. Butcher & Blade & Jeff Jarrett & Jay Lethal. Collision features FTR vs. Iron Savages and Danielson & Claudio vs. Starks & Bill. Excalibur also plugged the Grand Slam line-up matches already announced.
(5) SAMOA JOE vs. RODERICK STRONG (w/Matt Taven, Mike Bennett) – Tournament Final to earn the AEW Title match against MJF at Grand Slam
Strong made his entrance first with Taven and Bennett. Then Joe came out. The bell rang 42 minutes into the hour. Joe was intense and casual at the same time early, overpowering Strong. Strong rolled to ringside a minute in, frustrated. He held his neck and paced. Strong bailed out to ringside again. At 3:00 they cut to a split-screen break as Joe and Strong were exchanging chops. [c/ss]
Strong landed a dropkick for a two count and then stomped on the back of Joe's neck and then twisted his neck. Joe came back and landed a senton. He hit a snap powerslam and scored a near fall. Strong made a comeback after slipping out of a Joe powerbomb attempt. Strong landed a leaping lariat for a two count at 9:00. Joe caught Strong charging at him and one-arm slammed him hard to the mat. Joe set up a Muscle Buster, but then had to fend off Bennett on the ring apron. Strong went on a flurry including a running boot to Joe's face for a two count.
Joe fired back with a clothesline and a Coquina Clutch mid-ring. Strong tapped out.
WINNER: Joe in 11:00 to earn the title shot against MJF next week.
-Joe said he's going to beat up MJF next week and take everything he's got. "Everything!" he stressed before dropping the mic and leaving the ring.
-Back in the ring, Taven and Bennett wanted to put the neck brace on Strong. He turned and saw Cole, then fell to the mat and pretended his neck was in agony. Cole was concerned and asked, "What happened?" The medical team checked on him and brought a gurney into the ring. Taz said it happened because of the way Strong turned his head and body when Cole was coming out. Schiavone said it didn't look like that to him. Excalibur said whether the injury is real or not, the medical team has to treat it like it is. Taven and Bennett yelled at Cole and blamed him. Strong was wheeled to the back. Cole tried to check on Strong, but Taven and Bennett blocked him and continued to berate him. Joe then came up behind Cole and put him in a sleeper. Joe yelled, "Max, I'm taking everything from you!" A "Joe! Joe! Joe!" chant broke out.
-Excalibur hyped the Grand Slam line-up one more time as graphics for each match were shown on the screen.