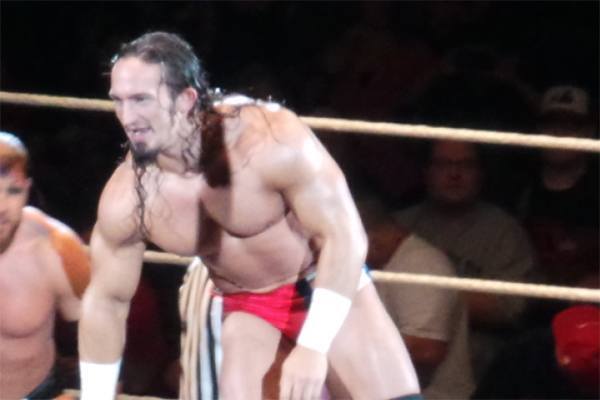 ---
SPOTLIGHTED PODCAST ALERT (YOUR ARTICLE BEGINS A FEW INCHES DOWN)...
---
The following report was originally published ten years ago this week here at PWTorch.com.
---
WWE NXT Results
September 18, 2013
Taped at Full Sail University
Report by Justin James, PWTorch contributor
[Q1] Another week without a pre-credit video, and Sami Zayn is out to face Curt Hawkins, who he debuted in NXT against. Tom Phillips calls Hawkins as a "main roster talent." Hawkins doesn't seem to be taking care of his physique, which won't do him any favors in terms of getting back to the main roster.
1 – SAMI ZAYN vs. CURT HAWKINS
Hawkins tries a cheap shot in the corner, which Zayn ducks, causing Hawkins to hide in the ropes. Zayn continues to outwit Hawkins and show why he's a fan favorite. Alex Riley decides that Zayn's new nickname is "The Natural." Nice little series of counters until Hawkins lands his swinging body slam.
[ Commercial Break ]
Hawkins is still controlling the match. Double knockdown and Zayn finally starts to build momentum. Hawkins wants a flapjack, but Zayn counters with a kick. Big cross-body gets two for Zayn. Pele Kick stuns Zayn, but it's only good for two. Hawkins with an impaler DDT for two.
Hawkins takes off his elbow pads to slap Zayn with them. Zayn fights from his knees and unloads on Hawkins. Big boot catches Hawkins by surprise, then Zayn follows with a rope-walking Tornado DDT for the win.
WINNER: Sami Zayn in 12:00. Yes, Virginia, it is possible for Sami Zayn to be involved in a dull match, and this was it.
Advertised for the main event is Corey Graves, Adrian Neville, Xavier Woods, and C.J. Parker against The Ascension, Leo Kruger, and Tyler Breeze.
[Q2] Byron Saxton introduces Aiden English, who demands a spotlight. He says that he is a legitimate "artiste" and starts to sing. It's a song talking himself up as a "major Superstar." The song is actually moderately humorous. I'm already thinking of a feud with Enzo Amore would be fun. He ends with "I am going to put the 'E' back in the 'WWE.'" He's facing a local jobber, Michael Q. Laurie, I think is the name.
2 – AIDEN ENGLISH vs. MICHAEL Q. LAURIE
Short squash.
WINNER: Aiden English in 1:30. He still looks like Von Kaiser in "Mike Tyson's Punchout!"
Post-match, English re-sings part of his song.
Backstage, Bo Dallas tells someone on the phone to keep Bo-lieving, and Renee Young has a question for him. He says he was leaving a message for the Bo-lievers on the Bo Dallas Hotline, currently being tested in Bo-livia. She asks if Sami Zayn's win over Curt Hawkins put him in the title hunt. Dallas points out that Hawkins hasn't won a match in a while. He says that he's got an idea of how to pick the #1 contender, but he'll announce it next week since he has a ribbon-cutting to attend.
[ J.J.'s Reax: Bo Dallas is completely turning into a parody of John Cena, and what's astounding is that it is such a heat magnet. ]
Next week, Triple H is advertised as having a "big announcement" regarding the "future of NXT" and there will be a Tag Team Turmoil match to determine the #1 contender to the NXT Tag Team Championship match.
[Q3] Tyler Breeze's music hits, and fans in the audience are shown doing his smirk and chin rub while filming themselves. Ack, C.J. Parker has some variant of Zack Ryder's old half-tights, half-trunks.
3 – COREY GRAVES & ADRIAN NEVILLE & C.J. PARKER & XAVIER WOODS vs. THE ASCENSION (CONOR O'BRIAN & RICK VICTOR) & TYLER BREEZE & LEO KRUGER – Eight-Man Tag Team match
Neville immediately takes control of Victor, then brings in Graves. Now Parker, then Woods. Neville in again but he gets sent to enemy territory. Neville shames Kruger and brings him to the corner. They work Kruger's arm hard. Graves lands on his feet on an armdrag and responds with one of his own. A boot to the mid-section lets Kruger bring O'Brian in. The crowd is demanding that Tyler Breeze go in, but a hard tag brings Kruger in instead. Graves in cornered as the crowd continues to demand that Breeze tags in. Graves with a slick roll to escape the corner and tag in Woods. Honor Roll connects but Kruger rolls out of the ring. The faces clear the heels away from the apron to send it to commercial.
[ Commercial Break ]
During the break, a spinebuster let Kruger put Woods down. Victor is trying to rip Woods's arms off. Still no Tyler Breeze. Breeze finally gets a tag to big cheers, but one punch from Woods sends Breeze to tag Kruger in. "That was awesome!" chant. Breeze tags in when Woods is barely mobile, and starts to pick Woods apart. A single punch to the gut forces Breeze to tag in O'Brian. The crowd is totally loving Breeze. Breeze blind tags in once Woods is in trouble. Woods blocks a suplex and responds with one of his own, and Breeze flops like Ric Flair and Dolph Ziggler's love child.
Breeze tags in O'Brian and Woods tags Parker. Parker takes it to O'Brian hard. The action breaks down for a moment, then again. It's still Parker and O'Brian. Flapjack creams Parker. Breeze blind tags in again, but Parker kicks out of the cover. Breeze takes a slap, and crawls to the corner, but his team abandons him. Parker with a straight-arm to the jaw, which brings in Woods for Lost in the Woods, a chop block from Graves, and finally the Red Arrow from Neville to end the match.
WINNER: Adrian Neville, Corey Graves, Xavier Woods, and C.J. Parker in 14:30. Basic eight-man tag match, only made entertaining by Tyler Breeze's insanity. Yes, it was house show schlock, but it was so perfectly executed that it just worked.
Final Thoughts: Other than Tyler Breeze and Aiden English's bizarre ring intro, there's nothing to recommend this episode of NXT. It wasn't bad, per se, just nothing interesting or stand-out here. There's really no one pursuing the NXT Heavyweight Championship besides Sami Zayn, there are no strong tag teams besides The Ascension to challenge for the Tag Team Championships, and the heel Divas are limited to Summer Rae, who has been involved way too much in the title scene without success, and the recently turned Sasha Banks who has no credibility. I am interested to see what Triple H's announcement is; every time there is an announcement advertised for NXT, it is really major like the Divas Championship. I wouldn't be surprised if they formally replace Dusty Rhodes as "Commissioner of NXT" with someone else. Rhodes barely does anything anyways on the show, now that it has legs.
---
RECOMMENDED NEXT: 10 YRS AGO – WWE Raw Results (9-16-2013): Reigns vs. Bryan, Stephanie McMahon as angry and unhinged as ever, Dusty Rhodes, Heyman, Orton, Miz, Ambrose, more
OR CHECK THIS OUT AT PROWRESTLING.NET: Powell's NXT Hit List: Tiffany Stratton vs. Becky Lynch for the NXT Women's Championship, Wes Lee vs. Ilja Dragunov for a shot at the NXT Title, Heritage Cup tournament matches