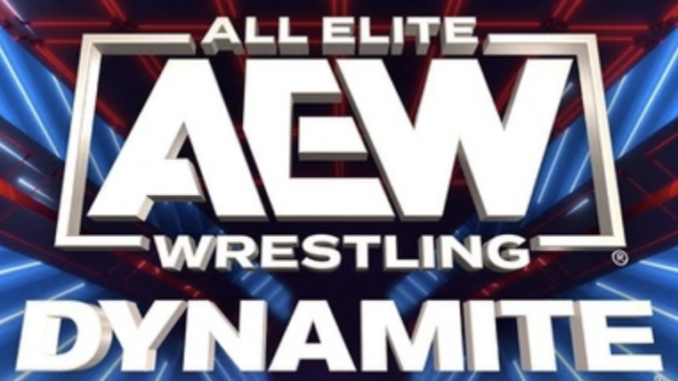 ---
SPOTLIGHTED PODCAST ALERT (YOUR ARTICLE BEGINS A FEW INCHES DOWN)...
---
AEW DYNAMITE REPORT
NOVEMBER 15, 2023
ONTARIO, CALIF. AT TOYOTA ARENA
AIRED ON TBS
Commentators: Excalibur, Taz, Tony Schiavone

Ring Announcer: Justin Roberts
---
[HOUR ONE]
The Dynamite opening aired and then they cut to the stage as pyro blasted. The camera panned the floor seats opposite the stage showing the back of fans' heads, the ring, and the stage in the distance. No high wide shots of a relatively small crowd, likely under 4,000 total.
-Excalibur introduced the show. He threw to a clip of last week's incident where Max Caster was thrown through a glass wall of an office and then MJF running to check on him and then Samoa Joe showing up. Excalibur called MJF "increasingly isolated" and said they'd hear from him later.
(1) HOOK & ORANGE CASSIDY vs. JON MOXLEY & WHEELER YUTA
Hook and Cassidy definitely have the lowest energy, most nonchalant entrance in pro wrestling. Moxley and Yuta came out to Moxley's "Wild Thing" theme through the crowd. Mox gave Yuta some encouraging words and did a throat-slice gesture. Cassidy and Hook didn't wait for them. They charged at them in the crowd area, although there was plenty of space to fight. Mox and Cassidy fought up the steps of the lower bowl. Mox choked Cassidy with his shirt. Yuta dragged Hook to ringside and tossed him around. The bell rang six minutes into the hour once they got to the ring.
Mox and Yuta dominated early. Cassidy was writhing in pain at ringside. Hook caught Mox with a Red Rum attempt (or the Draymond Green Lock); Mox dropped to the floor. Cassidy fought back against Mox at ringside and threw him into the ring where Hook landed a T-bone suplex. Cassidy sl0-mo kicked (the Kyle Anderson Kick) Mox and then got increasingly intense and rapid-fire. Yuta interfered to help Mox take over and score a two count at 4:00. They cut to a double-box break. [c/db]
Mox and Yuta stayed on offense during the break. Mox mocked Cassidy with some slo-mo kicks. A few minutes later, Mox caught Hook with a surprise cutter. Cassidy hit Mox with an Orange Punch. Mox no-sold it and knocked Cassidy out of the ring. Hook put Mox in Red Rum, but Yuta broke it up. Mox hit a Death Rider and then Yuta leveraged Hook's shoulders down with a seat belt for the win.
WINNERS: Moxley & Yuta in 12:00.
(Keller's Analysis: Good, hard-hitting tag match with 12 minutes official in the ring and a few minutes of fun brawling before the official start. This teased the Mox-Cassidy match at Full Gear. Hook is looking more fluid and seasoned in matches. He is a lot cooler as an act than two years ago, though. It's too bad Tony Khan wasn't able to figure out how to get more out of him earlier.)
-Mox addressed Cassidy after the match. He said he's nothing and never has been something. He said it's time for a course-correction, so he's going to grind him to dust and he can't stop him. Cassidy was sitting back against the barricade at ringside looking concerned. [c]
-They showed Chris Jericho, Kenny Omega, Paul Wight, and Kota Ibushi arriving outside the arena in suits, marching together.
-Tony Schiavone introduced a segment with "Hangman" Adam Page and Swerve Strickland. Schiavone said neither man can attack the other or they'll be suspended for the rest of 2023 and their match at Full Gear will be called off. He introduced Swerve and Prince Nana first. Swerve smiled in Hangman's face. Hangman said he went into his house because he's a coward. He said he's a worthless waste of human life and a grade-A dumbass, and more of a dumbass than he was two years ago when he was fired. Fans "ohhh'd." He said two months ago Swerve told him that he wants to be World Champion, but he can see he doesn't have it in him. "You can't cut it and you are not the man you think you are," he said. He added that's the reason his fiancé won't talk to him and he can't see his kids. Hangman said Swerve made it personal first.
Hangman said Swerve surrounds himself with yes-men and he should realize Prince Nana is just using him. He said Nana does his silly dance and sells t-shirt and makes his living off of Swerve's back. He said Nana spends that cash in the hotel parking lot buying weed from a high school kid. Nana said that's not true. Hangman said he's going to beat Swerve and then take Nana's weed. Hangman said Swerve is a child and he worked with kids for a long time. He said he taught them a lot of lessons. He said he'll teach him the last lesson of his pathetic life. He said he shouldn't have ever entered his house.
Hangman said they don't need lawyers or cops because at Full Gear, he's his jury, his judge, and his executioner. He said he will send him to spend eternity in Swerve's house at the bottom of hell. Hangman dropped the mic, but then picked it up. Fans chanted "Cowboy Shit." Hangman said he forgot to mention that tonight's stipulation was that they couldn't lay hands on each other, but that didn't apply to Nana. Hangman punched Nana. Security intervened. Hangman punched a security guy and then yanked off his jacket and gave another security guy his Buckshot Lariat.
(Keller's Analysis: That was intense. I wish we heard from Swerve, but he had a chance to communicate a lot through facial expressions and body language. Hangman hit the right tone with his words and his intentions at Full Gear.)
-Lexy Nair interviewed Roderick Strong, Matt Taven, and Mike Bennett. They talked to Adam Cole on a monitor. Strong said the devil is 100 percent MJF. Cole said MJF is not the devil. He said the way Roddy is throwing around accusations, maybe it's Roderick. Cole cut off the video call promptly.
(2) SKYE BLUE vs. RED VELVET – Championship Eliminator match
A clip aired from Rampage two weeks ago of Skye Blue beating Marina Shafir. The bell rang 35 minutes into the hour. Blue cartwheeled and applied a side headlock in the opening seconds. They showed Kris Statlander watching backstage at a strange angle while caressing her belt like Dr. Evil pet his hairless cat. (That was strange. What was she going for?) Velvet swept Skye out of mid-air and then scored a two count at 2:00. They cut to a double-box break at 3:00 as Velvet reversed Skye into the ringside steps. [c/db]
Back in the ring, Skye slammed Velvet onto her face with the Skye Fall and scored a two count. Velvet blocked a knee and powerbombed Skye for a near fall. Velvet hit a cool Arabian sunset bomb variation out of the corner. Skye came back with a kick and a kneestrike followed by her Code Blue for the win. Schiavone called it "a kick ass match." As Skye paced around the ring after her win, they showed Julia Hart watching backstage.
WINNER: Skye Blue in 11:00.
-A vignette aired with Miro saying that he loves C.J. Perry, but what he said would happen is coming true. He said she wants fame and fortune "and for years I stood by and let her do whatever she wanted." He said the truth is she doesn't just bring the worst out of herself, but also the worst out of him. He said he Daniel Garcia brings the worse out of him. [c]
-R.J. City stood backstage outside of Toni Storm's locker room with Mariah May. Mariah was excited to meet Storm. When he knocked on the door, Vincent the butler opened the door and it went to black and white. Mariah entered the room. Storm was lying back on a touch with cucumbers on her eyes. Mariah said she loves her. Storm sat up angry that she caught her indisposed. She told Luther to tell the Head of the Studio, Mr. Khan, to book her a tune-up match for Friday.
(3) SAMOA JOE vs. JOHN CRUZ
After brushing off Cruz's attempts at offense, Joe won with his sleeper.
WINNER: Joe in 2:00.
-Joe paced with the mic in hand after his win as his music played. Excalibur said MJF is isolated and might not have a choice but to accept Joe's offer to help. Excalibur said MJF's years of alienating the locker room is coming back to haunt him. Fans chanted "Joe! Joe!" Joe said he comes from Southern California. He said since MJF is in his hood, he extends his offer of friendship. He said MJF's time to accept is limited. "I am Samoa Joe and I am inevitable!" he said.
-They replayed TK's announcement about the Continental Classic that originally aired Saturday on Collision. (It's the topic of the cover story I wrote for this week's PWTorch Newsletter. PWTorch VIP members can ready my overview and commentary on the tournament HERE.)
-Ring entrances took place for the next match.
[HOUR TWO]
(4) THE YOUNG BUCKS (Matt & Nick Jackson) vs. PENTA & KOMANDER (w/Alex Abrahantes)
Schiavone mentioned Tony Khan's tweet from earlier today saying he signed one of the world's best pro wrestlers, a pro who is known and respected by virtually every AEW fan. He said they'll sin the contract at Full Gear on PPV.
AEW has agreed to terms with one of the world's best wrestlers, a pro who is known + respected by virtually every @AEW fan! They'll come to LA to sign their contract THIS SATURDAY 11/18 on ppv at #AEWFullGear!

See you TONIGHT on TBS for the final #AEWDynamite before Full Gear!

— Tony Khan (@TonyKhan) November 15, 2023
They cut to a double-box break at 3:00 with the Bucks in control. [c/db]
Komander walked the top rope and head scissored Nick off the ring apron onto Matt below. At 7:00 fans broke into a "This is awesome!" chant. Excalibur said if Komander & Penta were to win this match, maybe they should make Saturday's match a three-way. Penta gave Nick a Fear Factor on the ring apron. Nick fell to the floor Komander, meanwhile, rolled up Matt for a near fall out of a huracanrana. Schiavone said he's seeing moves and sequences he has never seen before.
At 11:00 after a series of kicks by both teams, Komander springboarded toward Nick, but Nick kicked him in the crotch. Matt was distracting the ref by pointing at his ankle as if it were injured. Nick then kicked Penta in the crotch also as he entered the ring. Taz said they're getting booed in their home town. Nick then gave Komander a Judas Effect. They hit the BTE Trigger for the win. The Bucks acted cocky while celebrating.
WINNERS: Bucks in 12:00.
(Keller's Analysis: What you'd expect from these two teams: Lots of moves Schiavone has never seen before.) [c]
-Lexy Nair interviewed the Bucks backstage. She asked, "Why did you cheat in your hometown?" Matt said, "Sources are telling me the Bucks no longer give a damn about the rules or what not to say or do." Omega walked in and asked if that's what they're all about now. Matt asked Omega how he got his best success. Omega said he wants to keep it clean at Full Gear. Nick said their beef is with Jericho, not him. Jericho walked in and told Omega not to waste his time with those jackasses. Matt said after he breaks him and Jericho up by beating them, they can do the Elite thing again. Matt jumped Jericho as he turned to leave. Omega separated them. Nick went after Jericho. Security pulled them apart.
(Keller's Analysis: Good segment heating up the stakes for Saturday's match.)
-Excalibur hyped the ticket sales launch for All In London 2024.
(5) COLTEN & AUSTIN GUNN (w/Juice Robinson) vs. PETE AVALON & JACOBY WATTS

The Gunns won quickly with their finisher.
WINNERS: The Gunns in under 1:00.
-Colten said that match was two-on-two, so MJF should imagine what it'll be like when it's two-on-one at Full Gear. Colten said the ROH Tag Team Titles are theirs. Juice held up the cardboard cutout of Jay White as Austin said "Gunns up!"
-A Wardlow vignette aired. He said, "Max, your time is running out." He added, "I'm going to make the devil my bitch." The image of person in the devil mask appeared briefly.
(6) CHRIS JERICHO & KENNY OMEGA & KOTA IBUSHI & PAUL WIGHT vs. BRIAN CAGE & POWERHOUSE HOBBS & KYLE FLETCHER & KONOSUKE TAKESHITA – Like a Dragon Gaiden Street Fight
Wight was the last wrestler to come out. He and Jericho were both wearing suits. The heels charged at them 26 minutes into the hour. Callis joined the announcers on commentary. Wight chokeslammed Fletcher off the stage through a table below. Omega and Ibushi stood alone in the ring and then did stereo dives onto Takeshita and Brian Cage at ringside on opposite sides of the ring. They cut to Wight ramming Hobbs into a hood of a car in the parking lot.
Omega tried to grind a barbed wire wrapped baseball bat into Takeshita's forehead. Cage reverse-whipped Jericho into a table at ringside. Ibushi then rode a bicycle down the ramp with a pipe in his hand. He hit Fletcher with it on the ramp, then Takeshita at ringside. Cage, though, clotheslined him off of it and he landed on the back of his neck and head. (Those swings at Fletcher and Takeshita were weak looking.)
Back in the parking lot, Hobbs bodyslammed Wight off a platform and onto the windshield and hood of a car. (That looked like it could have gone really wrong.) Wight slid to the ground. Back in the ring, Takeshita used the bike as a weapon against Omega, Jericho, and Ibushi. Schiavone said the chains can cut you. Taz said the pedals are sharp. Takeshita gave Ibushi a brainbuster onto the bike. They cut to a double-box break. [c/db]
They showed Wight being tended to in the parking lot. Takeshita and Jericho brawled in the VIP club. Fletcher and Cage, at ringside, beat up Omega and Ibushi. Takeshita leaped off of the top of a refrigerator at a beer stand, but Jericho sprayed him with a fire extinguisher as he was mid-air. Hobbs attacked Ibushi and Omega in the ring before they could hit double-team move on on Cage. Hobbs powerbombed Omega. Fletcher came up bleeding from his forehead. Cage suplexed Omega off the second rope through a table at ringside. Fans chanted "Holy shit!" Hobbs hit Ibushi with a spinebuster as they cut to another double-box break. [c/db]
Back from the break, a rapid series of moves led to Fletcher standing over the fallen bodies of Omega and Ibushi. Fletcher leaped off the ring apron and piledrove Ibushi through a posterboard lying flat on some chairs. In the ring, Jericho landed a Judas Effect on Hobbs. Omega then hit a V-Trigger. Jericho and Omega duct taped Hobbs's arms to the top rope. Hobbs yelled, "Do something! How dare you!" Jericho put the duct tape over Hobbs's mouth.
Omega hit Cage and Hobbs with V-Triggers. He then slammed Cage to the mat with a One-Winged Angel for the win.
WINNERS: Omega & Jericho & Ibushi & Wight in 22:00.
(Keller's Analysis: Some wild and dangerous spots mixed with some comedy spots. Wight didn't do much and never made it to the ring, and that slam onto the car sure looked dangerous.) [c]
-Excalibur hyped Collision: Dax vs. Rush, Hikaru Shida & Kris Statlander vs. Saraya & Ruby Soho, and Miro vs. Daniel Garcia. Then Excalibur said Renee Paquette would interview both MJF and Jay White on Rampage, plus Toni Storm vs. Emi Sakura.
-MJF made his ring entrance. MJF said no matter how hard he tries to outrun his past, it'll keep catching up to him. He said anytime he opens himself up and lets people in, those people get hurt. He said sometimes he feels cursed. He told The Acclaimed they got caught in the crossfires that are part of his life and he hopes Caster gets better.
He said all he ever wanted to be was a world champion and he has spent every moment of his life trying to make it a reality. He said he is proud to say he has made it to the mountain top of pro wrestling, but it's not all glitz and glam. He said the air is thin and it's daunting. He said he looks around and sees people wanting to shove him off the top. He said he is man enough to admit he could lose everything he worked for in a blink of an eye. He said he's also afraid he's going to let the fans down.
He said he isn't going to quit, though. He said he may be afraid, but you better send a whole army to get his ass to come down from the mountain top. He said Jay White has been walking around with a title he hasn't earned, and he has a chance to take his spot at the top of the mountain. He said he doesn't think anyone can. He said his catch phrase, "I'm better than you and you know it."
MJF told the person in the devil mask that he'll find out who he is and when he does, there will be hell to pay. Jay White's music then played and White came out onto the stage. White told MJF he's embarrassing himself and he should drop the act because it's making him sick. He said he's trying to so hard to be a hero, but he's actually a villain and he always will be. He said the devil mask is his attempt to create a diversion. He said he isn't the people's hero or scumbag. He said the fans will drop him because he means nothing to them and they mean nothing to him, either. White said MJF knows he is speaking truth when he says his days are numbered as champion. He said he knows he is better than him. He closed with. "Two words: Get 'em."
The Gunns and Juice attacked MJF from behind. Juice swung a fist with a ring at MJF which showed lots of light, but MJF went down. The Gunns also attacked him. White entered and delivered his Blade Runner to MJF and covered MJF as Juice counted to three. Excalibur asked if that will be the scene on Saturday night.