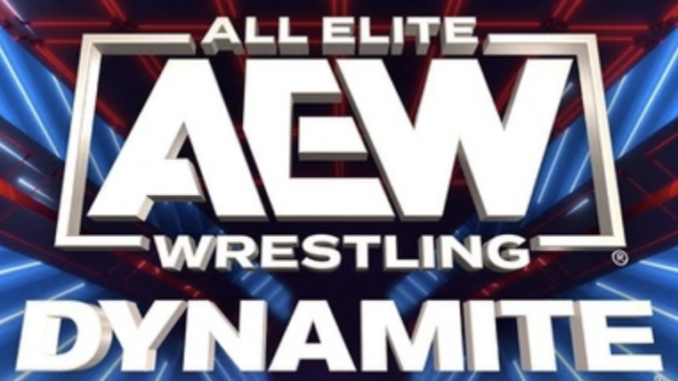 ---
SPOTLIGHTED PODCAST ALERT (YOUR ARTICLE BEGINS A FEW INCHES DOWN)...
---
AEW DYNAMITE REPORT
NOVEMBER 15, 2023
ONTARIO, CALIF. AT TOYOTA ARENA
AIRED ON TBS
REPORT BY AMIN AJANI, PWTORCH CONTRIBUTOR
Commentators: Excalibur, Taz, Tony Schiavone
Ring Announcer: Justin Roberts
---
[HOUR ONE]
AEW Dynamite opening video aired. There was a big firework display. They panned to shots of fans mostly seated in the floor section. There were no wide shots of the crowd shown. Excalibur, Tony Schiavone and Taz welcomed everyone to the show. They showed a quick clip with the announcers speaking about The Devil's goon attacking The Acclaimed & Daddy Ass at the conclusion of last week's Dynamite show. Excalibur hyped they will hear from MJF later in the show. They also hyped the Like a Dragon Street Fight.
(1) JON MOXLEY & WHEELER YUTA (Blackpool Combat Club) vs. ORANGE CASSIDY & HOOK
Cassidy and Hook came out separately to solid reactions from the crowd. Cassidy and Hook wasted no time as they brawled with Moxley and Yuta while they were making their entrances through the crowd. Cassidy and Moxley brawled in the stands. The match officially got underway as Yuta planted Hook with a scoop slam for a two count. Hook responded by launching Yuta with a judo throw. The crowd cheered as Hook and Moxley squared off inside the ring.
Hook sent Moxley flying with a German Suplex. Moxley quickly took control, yanking Hook to the mat. Moxley launched Hook with an X-Plex. Hook responded by catching Moxley in the Red Rum. Yuta made the save pulling Hook to the floor. Cassidy appeared catching Yuta with a tope. Hook planted Moxley with a T-Bone Suplex. Cassidy tagged in planting Moxley with a flying DDT. Cassidy went for a Satellite DDT but Moxley caught him. Moxley and Yuta delivered the Hart Attack to Cassidy for a two count. [c]
Moxley mocked Cassidy's lazy kicks as we returned from break. Cassidy responded, placing his hands inside his pockets. Cassidy caught Moxley with a dropkick. Hook and Yuta got tags from their partners as they began exchanging strikes. Hook planted Yuta with a bridging Northern Lights Suplex for a two count. Hook and Yuta exchanged German Suplex. Cassidy tackled Moxley out of the ring.
Hook caught Yuta with a rollup for a two count. Moxley returned, catching Hook with a Cutter. Cassidy returned, rocking Moxley with an Orange Punch. Cassidy was surprised as Moxley no-sold it. Moxley knocked Cassidy out of the ring. Hook went to place Moxley in the Red Rum. Yuta rocked Hook with a forearm smash. Moxley planted Hook with a Paradigm Shift DDT. Yuta placed Hook in the Seatbelt for the win.
WINNERS: Jon Moxley & Wheeler Yuta in 12:00.
(Amin's Thoughts: A pretty fun action-packed tag team match to start the show. I really liked the layout with Moxley and Yuta taking most of the match as they are the more established team on AEW TV. Yuta winning was the right choice which could possibly set up an FTW Title match with Hook at Full Gear PPV.)
Moxley told Cassidy he is nothing and it's time for a course-correction. Moxley said he will win the AEW International Title at Full Gear and said Cassidy can't do anything about it. The camera panned on Cassidy who had a look of doubt on his face.
(Amin's Thoughts: They are leading fans to think Cassidy has no chance to keep the AEW International Title from the look on his face. My guess is the opposite will happen with Cassidy finding a way to beat Moxley and earn his respect at Full Gear. Unless, they are going back to their original plan after All Out with Moxley being AEW International Champion.)
They showed Kenny Omega, Chris Jericho, Kota Ibushi, and Paul Wight marching together into the arena in suits.
Tony Schiavone was inside the ring to host a face-to-face between "Hangman" Adam Page and Swerve Strickland. Schiavone noted neither Page or Strickland were allowed to get into any sort of physical interaction or they both would be suspended for the rest of 2023 and the match at Full Gear would be canceled. Strickland came out first with Prince Nana who was doing his dance. The crowd cheered as Hangman got a solid reaction. Hangman had a serious look as he just marched to the ring and didn't play to the crowd. Strickland took the mic from Schiavone's hand before he could get his first question out. Page yanked the mic from Strickland's hand. Page called Strickland a coward for entering his house. Page called Strickland a bigger dumbass for getting fired from WWE two years ago. The crowd gasped at that line. Hangman said Strickland doesn't have it in him to become AEW World Champion. The crowd gasped as Hangman spoke about Strickland's fiancé leaving him and his kids not talking to him.
Hangman turned his attention to Nana. The crowd cheered as Nana did his signature dance. Hangman spoke about Strickland surrounding himself with yes men and should have realized Nana was just using him. Hangman claimed Nana spends the cash in a hotel parking lot buying weed from a high school kid. Nana said that wasn't true. Hangman said he would beat up Strickland and take the weed from Nana. Page told Strickland to look at him. Hangman said Strickland should've never entered his house. Hangman told Strickland he doesn't need lawyers or cops. Hangman said he's the judge, jury and executioner at Full Gear. The crowd chanted "Cowboy Shit!" Hangman said he can't go after Strickland. He said Strickland can't do anything if he goes after Prince Nana. Hangman attacked Nana as Strickland watched. Security pulled Hangman off of Prince Nana. Strickland and Prince Nana made their way up the entrance ramp. Hangman gave a security guard the Buckshot Lariat.
(Amin's Thoughts: This face-to-face was fantastic and needed to happen for this program. I thought Hangman promo was fantastic as he hit all the right notes delivering some inside jabs but mostly keeping the focus on the Full Gear match. Hangman's intensity brought back a flashback from his face-to-face promo with CM Punk before the Double or Nothing PPV 2022 show. Strickland didn't get in any words but his facial expressions were awesome selling what Hangman was saying. You could make the case that the Hangman-Strickland program feels like the hottest match on the Full Gear show.)
Lexi Nair was backstage with Roderick Strong and The Kingdom. Strong told Lair he knows who The Devil is. Strong told The Kingdom to call Adam Cole. Strong asked Cole if he saw his match on Collision this past Saturday? Cole spoke about watching Strong's match. Strong told Cole that MJF is The Devil. Cole didn't believe Strong and said Strong could be The Devil. Cole hung up the call.
(2) SKYE BLUE vs. RED VELVET – NUMBER ONE CONTENDER'S TBS TITLE MATCH
Velvet shined early catching Blue with a flying crossbody. TBS Champion Kris Statlander was watching backstage. There was a rough spot as Velvet went for a Standing Moonsault as she just landed right onto Blue for a near fall. Velvet connected with a basement dropkick for a two count. Velvet went after Blue who rolled out of the ring. Blue caught Velvet with a Hanging DDT onto the ring apron. Blue sent Velvet into the barricade. They were about to cut to double-box break. That's right when Velvet sent Blue crashing into the ringside steps. [c]
Blue rocked Velvet with a corner super kick as we returned from break. Blue went for a Powerbomb but Velvet countered into a Hurricanrana. Blue and Velvet exchanged rollups for a series of near falls which got the crowd into the match. Blue and Velvet connected with stereo kicks for a double down. Velvet made a comeback rocking Blue with a running double knees. Velvet went for a Corkscrew Kick but Blue ducked. Blue called for Code Blue but Velvet escaped. Blue caught Velvet Skye Fall for a close two count. Velvet caught Blue charging with a powerbomb for a two count. There was a light chant of "This Is Awesome." They battled for position on the ropes as Velvet caught Blue with a Springboard Wheelbarrow Slam for a two count. Blue and Velvet exchanged Superkicks. Blue caught Velvet with a knee strike. Blue delivered the Code Blue to Velvet which looked very sloppy for the win. TBS Champion Kris Statlander and Julia Hart were watching separately backstage.
WINNER: Skye Blue in 11:00.
(Amin's Thoughts: Nice to see a women's match on Dynamite get a good amount of time and placed higher on the show. The match wasn't smooth and got really sloppy especially at the finish. I will give Blue and Velvet credit as they worked very hard wanting to have a good match. Blue winning was the correct choice especially with her ongoing story with Julia Hart and Statlander. The momentum right now is with Hart and Full Gears seems like her time to win. I could see a scenario where Blue turns heel and helps Hart win the TBS Title.)
-Miro spoke about loving his wife but noted she's bringing a storm. Miro spoke about standing by C.J. Perry for years and letting her do whatever she wanted. Miro noted Perry brings the worst out of both him and herself. Miro mentioned Daniel Garcia will feel his wrath on Collision. Miro wanted to give Garcia some advice. Miro said he doesn't pray to God anymore. Miro told Garcia to pray to God. [c]
R.J. City and Mariah May were standing outside a room which had a sign saying "Not Toni Storm." R.J. City asked May how she's feeling about meeting Storm. May responded by overeating in an over-the-top way waiting to meet Storm. May knocked on Storm's room. The screen turned black & white as Luther opened the door. Luther slammed the door shut. R.J. City knocked on the door. The screen turned black & white again. R.J. City told Luther that May wanted to see Storm for just a minute. May freaked out as she saw Storm laying on the couch. May held Storm's hand and introduced herself. Storm mentioned she's not doing autographs right now. May mentioned she followed in Storm's footsteps coming from Stardom to AEW. Storm mentioned she didn't hear anything of what May said. May told Storm to tell her if she needs anything. May left. Storm told Luther to call Mr. Khan to book a tune up match for Friday.
(3) SAMOA JOE vs. JOHN CRUZ
There was a comedy spot as Cruz and Joe exchanged leg kicks. Funtime was over as Joe rocked Cruz with a running elbow/enzuigiri combo. Huge chants of Joe from the crowd. Cruz went for a dive but Joe moved out of the way. Joe rocked Cruz with a running lariat. Joe applied the Coquina Clutch as Cruz immediately tapped out.
WINNER: Samoa Joe in 90 seconds.
(Amin's Thoughts: A quick win to keep Joe strong for his eventual AEW World Title rematch presumably against MJF.)
-Joe delivered a promo after the match. Joe gave his introduction and spoke about coming from Southern California. Joe wanted to offer MJF his friendship since he was inside his part of the hood. Joe noted whether MJF accepts his friendship or not. Joe told MJF he's inevitable.
-They aired a video package from Collision of Tony Khan announcing the Continental Classic tournament that first aired on Collision last Saturday. Khan announced Bryan Danielson will be the first participant in the tournament. There will be 12 men in the tournament The finals will take place at the World's End PPV. This is basically Khan telling Danielson if he can't travel to NJPW for their G1 Tournament, Khan would have Danielson take part in AEW's version of the G1 Tournament. .
(Amin's Thoughts: The tournament sounds pretty exciting. My expectations are still kept at a minimum. I'm waiting to see who else gets announced for this tournament. I would also hope there are some sort of stakes and the winner gets something for winning the tournament. The winner of the G1 Tournament for the most part gets a main event match at Wrestle Kingdom in the Tokyo Dome for the IWGP World Heavyweight Title. It remains to be seen what the winner of the Continental Tournament will receive?)
(4) MATT & NICK JACKSON) (The Young Bucks) vs. PENTA EL ZERO MIEDO & KOMANDER (w/Alex Abrahantes)
The Bucks received a great reaction with the show taking place close to their hometown. There was a goofy spot early on with both teams delivering stereo boots at the same time which led to everyone knit up together. This led to both teams shaking hands. The Bucks rocked Komander and Miedo with stereo Superkicks. The Bucks shook each other's hands. Nick delivered a Corkscrew Hilo to Komander on the floor. Miedo responded by catching Matt with a corner Superkick. Miedo launched Komander who delivered a crossbody to Matt. Komander went for a Springboard but Matt caught him. Nick got the advantage planting Komander with a Slingshot X-Factor. Matt launched Nick who delivered a Hurricanrana to Miedo. [c]
Komander used Matt momentum, launching to the floor as they returned from break. The crowd cheered as Komander caught Nick with a Springboard Hurricanrana. Komander delivered a ropewalk Hurricanrana sending Nick crashing to the floor. Miedo delivered a flying crossbody to The Bucks on the floor. Miedo delivered a Tope Con Hilo to Nick on the floor. Miedo rocked The Bucks with a pair of Superkicks. Komander leaped off Mido's shoulders delivering a Double DDT to The Bucks. Miedo planted Matt with Made in Japan but Nick made the save. The crowd chanted This Is Awesome. Komander went for a ropewalk Shooting Star Press but Matt moved. Matt delivered a pair of Northern Lights Suplex to Komander. Matt caught Komander and Miedo with a double Northern Lights Suplex. The Bucks called for the Meltzer Driver but Komander broke free. Meido delivered a Fear Factor to Nick on the ring apron which looked crazy. Komander caught Matt with a Hurricanrana rollup for a close two count.
The crowd was split chanting from The Bucks and Miedo. Miedo placed Matt on his shoulders. Komander leaped off Matt's back delivering a Springboard Canadian Destroyer to Nick which looked crazy. Miedo planted Matt with a Death Valley Driver for a two count. Matt and Miedo exchanged Superkicks. Matt and Miedo delivered stereo leg kicks. Nick tagged into the match. Nick rocked Miedo with a Superkick. The referee was distracted with Matt who was selling his leg. Nick delivered low blows to both Komander and Miedo. The crowd booed The Bucks. Nick rocked Komander with the Judas Effect. The Bucks delivered the BTE Trigger to Komander for the win.
WINNERS: Matt & Nick Jackson in 12:00.
(Amin's Thoughts: AEW has now been around for over four years and Schiavone on commentary is mentioning he's never seen these kinds of moves before. I get you want to praise the match, but this commentary from Schiavone was pretty ridiculous especially since he's now the lead on Collision. The match itself was fantastic. This was a non-stop action packed match featuring two great teams. The Bucks and Miedo are the most well known stars to the fans. It was nice that Komander got most of the shine delivering insane moves which looked awesome. The Bucks winning was the only choice because they have the key match at the Full Gear PPV. I really liked how The Bucks won in heel fashion. The Bucks losing at Full Gear should lead to a full heel turn.) [c]
-Lexi Nair was backstage with The Young Bucks. Nair congratulated The Bucks on their win but asked why they cheated in their hometown. Matt spoke about sources telling them they don't care about rules and what not to do. The crowd cheered as Kenny Omega appeared and questioned The Bucks new way of handling things. Matt told Omega this is the best version of The Bucks. Matt questioned who Omega got his best success. Omega wanted to keep things clean at the PPV. Nick told Omega their heat was with Jericho. Matt told Omega they could do The Elite thing again. Jericho appeared in a suit. Jericho told Omega to not waste time with these Jackasses. Jericho told The Young Bucks he and Omega had a match to win. Jericho and Omega went to leave. Matt attacked Jericho from behind.Security appeared and pulled everyone apart.
(Amin's Thoughts: The Elite act has become really stale and mostly boring to watch. The Elite splitting up doing their own things could really help everyone. We've seen that early from Page's promo with Strickland on the show. Jericho and Omega have recently gotten together. I don't think Full Gear is the time to split the Jericho & Omega team. The Bucks losing at Full Gear and going full heel could really help freshening their act.)
-The announcers hyped AEW All In London 2024 ticket sales launch.
(5) AUSTIN & COLTEN GUNN (w/Juice Robinson) vs. PETE AVALON & JACOBY WATTS
The Gunns quickly won after delivering 3:10 To Yuma.
WINNERS: Austin & Colten Gunn in under 1:00.
(Amin's Thoughts: I get the idea of giving The Gunns quick wins to showcase them as a credible team to challenge for the ROH Tag Team Titles. I still have little to no interest in the match at all.)
-The Gunns delivered a promo after the match. Colten wondered what would happen to MJF when he faced them two-on-one. Colten spoke about MJF having no friends left and will lose his ROH World Tag Team Titles next. Austin told the crowd "Gunns Up." Robinson held up a cardboard cut out of Jay White.
-They aired a highlight package of Wardlow training. Wardlow told MJF his time is running out. He spoke about making The Devil his bitch. The camera cut The Devil briefly on screen.
(6) KONOSUKE TAKESHITA & POWERHOUSE HOBBS & KYLE FLETCHER & BRIAN CAGE (Don Callis Family) vs. CHRIS JERICHO & KENNY OMEGA & KOTA IBUSHI & PAUL WIGHT – Like A Dragon Street Fight
Don Callis joined the commentary team. Chris Jericho came out wearing a suit for the match. The crowd sang along to "Judas" as Chris Jericho came out. Jericho and Wight wore suits for the match. Omega and Ibushi wore wrestling gear. Wight grabbed Fletcher and Chokeslammed him off the stage through a table. Ibushi rocked Takeshita with a mid kick. Omega followed by hitting a Kataro Crusher. Ibushi's timing was still off as he and Omega went for the Golden Triangle. Takeshita sent Omega into a board. Ibushi drove a bicycle to the ring.The camera cut to Hobbs launching Wight off a platform onto a car. Takeshita attacked Ibushi and Omega with a bicycle. Ibushi responded delivering a Brainbuster to Takeshita onto the bicycle. [c]
AEW officials were checking on Wight outside the arena as they returned from commercial break. Jericho and Takeshita were brawling in the concession stands. Cage and Fletcher delivered a double suplex to Omega onto a pallet for a near fall. Omega responded by rocking Fletcher with a V-Trigger. Omega delivered a Snap Dragon Suplex to Cage. Omega smashed a bottle onto Fletcher's face. Fletcher was busted open. Ibushi delivered a missile dropkick to Cage. Jericho blew a fire extinguisher into Takeshita's face. Jericho rocked Takeshita with a Judas Effect. Ibushi and Omega called for the Golden Trigger on Cage. Hobbs made his way to the ring. Hobbs gave Omega the World's Strongest Slam. Cage delivered a Superplex sending Omega crashing through two tables on the floor. Hobbs planted Ibushi with a Spinebuster. [c]
Jericho caught Hobbs with a Codebreaker as they returned from a commercial break. Cage gave Jericho an F5. Omega planted Cage with a Slam Dunk. Fletcher caught Omega with a Half-and-Half Suplex. Fletcher delivered a jumping Tombstone Piledriver off the ring apron to Ibushi who went crashing through a poster board that was lying flat on a stack of chairs. Jericho and Omega delivered a Judas Effect/V-Trigger Combo to Hobbs. They tapped Hobbs against the ropes. Hobbs began yelling at them. They duck tapped Hobbs' mouth. Cage appeared rocking Omega with a Discus Lariat. Cage called for the Drill Claw but Omega escaped. Jericho caught Cage with a Judas Effect. Omega delivered a Poisionrana to Cage. Omega gave both Cage and Hobbs a pair of V-Triggers. Omega delivered the One Winged Angel to Cage for the win.
WINNERS: Kenny Omega, Chris Jericho, Kota Ibushi & Paul Wight in 21:00.
(Amin's Thoughts: The specialness of seeing Ibushi in AEW just isn't there. Ibushi clearly isn't the same version of himself like he was in NJPW. They kept Wight's involvement in the match mostly to a minimum. I will say the bump Wight took on the car looked quite scary. The back-and-forth camera cuts from ringside to backstage took some enjoyment away from the match. I would've liked for them to show the action via split screen. I still enjoyed this sponsorship match much more than the Texas Chainsaw Massacre sponsorship with Jeff Jarrett and Jeff Hardy. This was mostly a fun, action-packed street fight with everyone getting a chance to shine. Cage taking the pin was the easy option since he isn't technically part of the Don Callis Family on AEW TV. They have a way for Callis to put the blame for his loss on Nana. I also liked how they put the focus mostly of Jericho & Omega working together as a team near the finish to showcase them before they face The Bucks at Full Gear.) [c]
-AEW World Champion MJF came out to a great reaction from the crowd. He spoke about trying to outrun his part but it keeps catching up to him. He spoke about trying to better himself by letting someone in. He spoke about The Acclaimed getting attacked. MJF apologized to Adam Cole and The Acclaimed for getting stuck in his problem. MJF spoke about just wanting to be World Champion. He spoke about making it to the mountaintop of professional wrestling. He spoke about men climbing to shove him off the top. He spoke about being afraid about losing everything and letting the fans down. The crowd chanted, "He's our scumbag!"
He said the old version of himself would have run. He said he's tired of letting the old version of himself dictate his future and present. He said he's afraid but isn't backing down. He turned his attention to Jay White who's been running around with the AEW World Title that he hasn't earned. He spoke about White having a chance to take his spot. He said White can't take his spot. He said nobody can take his spot. He did his catchphrase "I'm better than you and you know it." He said he's going to find out who The Devil is and said there will be hell to pay.
Jay White came out holding the AEW World Title. White told MJF he's embarrassing himself. White spoke about trying too hard to play the hero but is still the villain. White spoke about MJF telling everyone he's The Devil. White spoke about MJF being the crowd's scumbag. White spoke about the crowds not caring about MJF. White noted it doesn't matter but the crowds mean nothing to MJF. White told MJF he's speaking the truth right now. White told MJF his days as champion are numbered. White said he's better than MJF and he will breathe with the switchblade. White said he had two words for MJF. Get them.
The Gunns and Juice Robinson attacked MJF from behind. MJF tried to fight them off. Juice caught MJF with a left handed jab. The Gunns delivered 3:10 To Yuma. White gave MJF the Bladerunner. White covered MJF. Juice counted the visual pin. White celebrated with the AEW World Title. Samoa Joe was watching backstage. The show came to a close.
(Amin's Thoughts: They are teasing Joe will be MJF's mystery partner against The Gunns on the Zero Hour. I would hope this leads to Joe helping MJF keep the ROH Tag Team Titles but not wanting one half of the titles for himself. Joe just relinquished the ROH TV Title last week on the show. Why would Joe want the ROH Tag Team Title? Joe should only be helping MJF to get an AEW World Title match. I would've liked if Joe explained that in his promo earlier in the show. The build for MJF and White doesn't feel as strong. That's mostly due to them teasing programs for MJF with Joe and Wardlow while building the White match for the PPV at the same time. I thought MJF and White both delivered strong promos to sell the AEW World Title match. White has been carrying around the AEW World Title for weeks now. That should give you a hint that White isn't winning the title at Full Gear. The match between MJF and White at Full Gear should be great.)
FINAL THOUGHTS
I will give AEW credit as they didn't hot-shot any matches or announce anything crazy for the Collision show this Friday. They should know Collision has no chance going head-to-head against Smackdown on Fox. They should've done the same thing when NXT and AEW went head-to-head. Make it look like WWE really wants to win the ratings battle for the one week. AEW did the exact opposite, having a 30-minute Buy In and announcing Dynamite Title Tuesday. Tony Khan also tweeting the day off and day after didn't help things either.
I was glad to see the focus of this show was to set the stage for the Full Gear show. There was a strong push for the Page vs. Strickland match which feels like the hottest match on the show. The character development with The Young Bucks going heel added a new wrinkle of excitement in the tag team match with Jericho & Omega. I don't think Jay White has any chance of winning the AEW World Title at Full Gear, but the match at the PPV with MJF should be great. Full Gear looks like a pretty strong card on paper. I expect Full Gear to be a very strong wrestling show like most AEW PPVs are. The goal coming out of Full Gear is trying to find a way to maintain momentum. Right now, they are the number two wrestling promotion in the world. The problem is they feel like a distant number two compared to WWE.
---
RECOMMENDED NEXT: AEW DYNAMITE RESULTS (11/15): Keller's report on Jericho & Omega & Ibushi & Wight vs. Brian Cage & Callis Camily, Bucks vs. Penta & Komander, MJF speaks
OR CHECK THIS OUT AT PROWRESTLING.NET: AEW Dynamite results (11/15): Powell's live review of Kenny Omega, Chris Jericho, Paul Wight, and Kota Ibushi vs. Brian Cage, Powerhouse Hobbs, Konosuke Takeshita, and Kyle Fletcher in a Street Fight