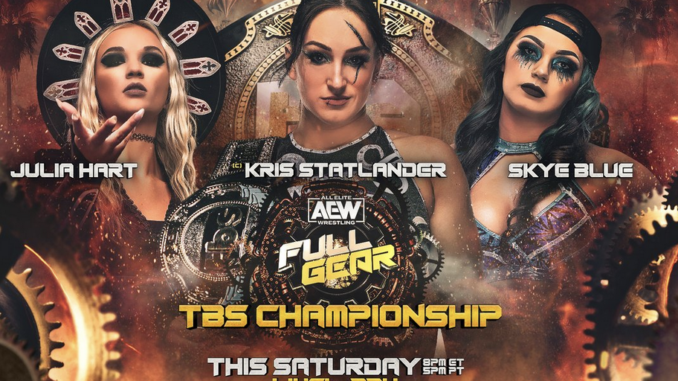 ---
SPOTLIGHTED PODCAST ALERT (YOUR ARTICLE BEGINS A FEW INCHES DOWN)...
---
It's been a whirlwind week in All Elite Wrestling. The Full Gear card is nearly set and it looks, unsurprisingly, to be a stellar night of pro wrestling. We have a new tournament which sounds like it could be really fun. Love is in bloom in AEW. So without any further ado, in the words of Celebrity Deathmatch's referee and TV judge, the late Mills Lane, let's get it on!
---
MJF vs. Jay White
This feud was moved forward this week mostly through two matches with very predictable endings that book-ended Dynamite. First, MJF successfully defended his AEW World Championship against Daniel Garcia in a tidy ten minutes. Jay White's main event match with Mark Briscoe was scrappier, but White still won clean.
Afterwards MJF snuck into the ring and attempted to reclaim his title belt by knocking out the other members of Bullet Club Gold, leaving Jay White alone. White slinked out of the ring and once again we were (smartly) denied MJF getting his hands on his adversary.
To close the show the Devil's assailants returned, attacking The Acclaimed and Billy Gunn. Throughout the night, we saw a Wardlow promo further explaining his motivation for coming after MJF and footage of Samoa Joe vacating the ROH TV Title to focus exclusively on his quest for the AEW World Title.
It would seem MJF is going to be left with no choice but to team with Joe to defend the ROH Tag Team Titles against the Gunns and, in turn, grant Joe his title rematch. MJF continues to be besieged from all sides but right now it's all about him finally getting his hands on Jay White, getting back his property, and conquering the Switchblade.
Grade: A-
---
"Timeless" Toni Storm vs. Hikaru Shida
This feud was re-grounded in something more serious and tangible during Toni Storm and Hikaru Shida's sitdown, appropriately filmed in black and white, on last week's Dynamite. Storm reminded Shida that it was the loss to the Shining Samurai that caused Toni to spiral into insanity.
As delusional and off her rocker as "Timeless" Toni is, she's still cognizant of what caused it and intends to avenge that loss in Hollywood. Shida played off Toni well, displaying her clear exasperation with the whole thing and made it clear that she will simply beat her again.
Later in the night, Mariah May, a star from Stardom, debuted as a Toni Storm superfan. If you've watched wrestling for more than five minutes, you know what superfans become. I think it's smart that Toni has storyline once the PPV is over. I believe Shida retains the title and, fingers crossed, gets confronted by a debuting Mercedes Moné.
Grade: A+
---
Sting's Squadron 2.0 vs. The Patriarchy
Sting and Darby ran through The Outrunners, a/k/a Great Value Beverly Brothers, like a hot knife through butter. On Saturday they had very good if predictable match against Jake "The Snake" Roberts's army of Lance Archer & The Righteous.
Sting, in something of a surprise, took the heat from heels before making the hot tag to Darby who was quickly overwhelmed himself. He in turn made the hot tag to Adam Copeland who ran wild even hitting an uncharacteristic suicide dive. Sting and Copeland teamed up to dispatch both members of the Righteous for the win.
Afterwards, The Patriarchy came out to engage in a stare down with their opponents. This match is going to rule on Saturday night. It's been special to see Sting wrestle on PPVs. It's even more so now that he's on his farewell tour. Sting has yet to lose in AEW and I don't see him starting now. The Patriarchy will bounce back because Christian is awesome.
Now Tony Khan, if you're reading this, I'm going to need you to license newly-minted Rock 'n' Roll Hall of Famer George Michael's classic "Father Figure" for just one night. Christian deserves it after the year he's had.
Grade: A+
---
Golden Jets vs. The Callis Family / Golden Jets vs. Young Bucks
These two feuds are separate yet are somewhat connected. The Golden Jets along with Kota Ibushi and Paul Wight had a wild and brutal main event on Dynamite including Powerhouse Hobbs spinebustering Paul Wight through windshield and car bood.
The Bucks whined about Omega teaming with Jericho instead of the Elite. They sounded like annoying, petulant little children and Omega called them out as such. The Bucks agreed to put their guaranteed title shot on the line in exchange for Omega & Jericho putting their team on the line. I suspect the Golden Jets rebound from their loss to the Callis Family to defeat the Bucks and take their title shot.
Grade: A- (I have to knock it down a little because Paul Wight is involved)
---
Ricky Starks & Big Bill vs. LFI vs. FTR vs House of Black
Last week these feuds were separate. Between Friday and Saturday night they blended into one super feud. FTR had an outstanding match with Vikingo & Komander on Rampage (seriously, if you haven't watched go out of your way to watch it) after which the HOB appeared on the big screen to taunt FTR.
The following night on Collision LFI worked over the Workhorsemen. Whenever you're reading this, I'm sure J.D. Drake is still feeling Rush's chops. The HOB then appeared on the big screen once again this time more clearly laying out their mission: they want to win the tag titles so that they will be chased by FTR and LFI.
Shortly thereafter the four-way tag team match was made official. I'm not the biggest fan of these kinds of matches. I prefer a traditional team vs. team match. That said, it's impossible to deny the talent in this match. I think Ricky Starks & Big Bill get the win. I hope that they win outright and don't steal it. Either way, I think the champs will have a certain pair of golden challenger waiting for them while the other three teams will feud with each other.
Grade: B+
---
Orange Cassidy vs. Jon Moxley
Orange Cassidy got serious last week, cutting a promo in which he made it clear that he won't feel like the real International Champion until he beats Jon Moxley. Mox believes he has to beat the brakes of OC as a matter respect.
These two had an opportunity to get their hands on each other when OC & Hook faced Mox & Wheeler Yuta on Dynamite.
The match at the PPV should be another great, violent battle. I think OC finally gets his win over Mox, gets that monkey off his back, and embarks on another international title reign.
Grade: A
---
Kris Statlander vs. Julia Hart
This feud got a little off track when Skye Blue seemingly made her choice to stand against Julia by spitting blue mist at her yet was still behaving in a heelish manner. Things got back on track last week when Skye stormed the ring after Julia defeated Red Velvet. Then Julia simply looked in her eyes as if to see if she was still susceptible to manipulation.
Clearly Skye is still a prime candidate for a turn. Julia earned the right to be one of Stat's two opponents at Full Gear. Skye faces Red Velvet on Dynamite for the second spot. Clearly, she's going to win.
It's also likely that, come Saturday, Skye Blue finally aligns herself with Julia Hart much like Anakin Skywalker aligned with Palpatine in Revenge of the Sith. Julia Hart walks out of the Fabulous Forum as TBS Champion.
Grade: B+
---
Hangman Page vs. Swerve
The home invasion angle was controversial and hard to follow up on, but I think there's been adequate follow up. Hangman has attacked Swerve any time he's laid eyes on him. His promos on Collision and Dynamite matched the intensity level the feud is at in the aftermath of Swerve's violation.
As expected, a stipulation was added to the match. It's now a Texas Death Match, something that's become Hangman's specialty. It feels like this should be the blow-off and that Hangman needs to get even but (a) that puts them at one match a piece and (b) Swerve needs the momentum a win would give him right now with the champion being a babyface.
Both guys need to win. This is a tough spot if you're Tony Khan.
Grade: B+
---
Ortiz vs. Team TNA
When Jeff Jarrett first arrived in AEW, I thought there was a good way to use him. Now, one year later, I'm over it. Whatever good Jeff could've done, I feel like that ship has sailed.
The entire assemblage of Team TNA is nothing short of a clown car. Karen Jarrett is on TV just to personally irritate me. Yeah, Tony Khan doesn't know I exist, but somehow, he knows that the sound of her voice is like a nail being driven through my skull and he doesn't care.
Putting Ortiz in a feud this group of Ringling Bros. refugees is unfair to him. He's in a five-on-one fight which is inherently unfair and, if he does get backup, that means four more people will be dragged into the Big Top and no other talent deserves that.
We don't deserve to be subjected to this either. If I wanted to see a circus, I'd watch the Greatest Showman. Hugh Jackman is far more entertaining than Jeff Jarrett.
Grade: D
---
Ruby Soho and Angelo Parker
This isn't a feud. It's a love story. Romance is in bloom in the AEW locker room. The last few weeks Ruby and Cool Hand Ang have been in each other's orbit.
This past Friday on Rampage, Angelo sent Ruby a bouquet of roses – green to match her aesthetic. In a promo segment afterwards, Ruby and Angelo made goo-goo eyes at other. It was very sweet. They actually have a weird sort of chemistry.
This whole storyline feels like it been ripped straight from "The Young and the Restless," right down to people conspiring to keep the lovebirds apart. The challenge in a pro wrestling environment is twofold.
(1) The primary payoff is Ruby and Angelo getting together which is very different than most traditional wrestling stories.
(2) How can Saraya and Daddy Magic can conspire without it being known to Ruby and Ang.
Also, I don't know that breaking up 2.0 is beneficial for either man. I think Menard and Parker work much better as a team. Still, I love this story. I'm a soap opera fan so I recognize that not everyone will feel the same. I do think their eventual passionate kiss is going to get a huge pop from a live crowd.
Grade: A
---
Miro/CJ/Andrade
Andrade officially accepted C.J. Perry's managerial services. Looking on from a monitor backstage, Miro seemed none too pleased. Clearly those two are on a collision course (no pun intended). I just hope that Andrade being paired with C.J. means he's going to get a good consistent push which would also establish C.J. as a strong manager.
Grade: B
---
Continental Classic
On Saturday Tony Khan and Bryan Danielson announced a new tournament, The Continental Classic. This is different from AEW's other tournaments in that it's a G1-style 12 man round robin tourney. I think there's a lot of opportunity with this tournament.
Bryan Danielson is the first announced entrant. I suspect the likes of Swerve, Andrade, Miro, Takeshita, and Hobbs will be in it. I think Daniel Garcia could really benefit from being a participant. It'll give him the opportunity to redefine himself as world-class pro wrestler and get away from the dancing schtick. I don't think Omega will be involved because he'll be preoccupied with tag team stuff but maybe Will Osperay can be a part if he doesn't have heavy NJPW commitments in December. Whoever is involved, I just hope the winner receives a title shot at the world champion.
Grade: N/A
---
RECOMMENDED NEXT: AEW DYNAMITE HITS & MISSES (11/15): Hangman's manifesto, Young Bucks heeling out, MJF and Jay White, Toni Storm, Street Fight, more
OR CHECK THIS OUT AT PROWRESTLING.NET: AEW media call report: Live notes on Tony Khan's session with the pro wrestling media ahead of the AEW Full Gear pay-per-view