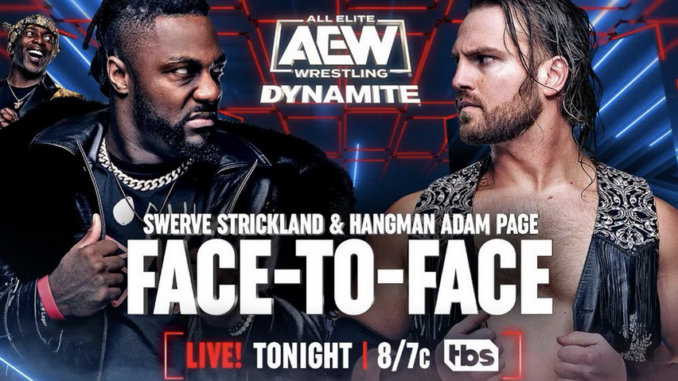 ---
SPOTLIGHTED PODCAST ALERT (YOUR ARTICLE BEGINS A FEW INCHES DOWN)...
---
So as I prepared to watch this week's episode of Dynamite, I was cautiously optimistic after what I considered a "course correction" episode a week ago. Then after watching a bit of a back-track on Rampage and Collision, I have to be honest and just say, I'm scared! I want last week to be a blueprint moving forward and just hope that they continue what has been a solid build to Full Gear. (Deep breath…. ) — Here we go!!
---
HITS
HANGMAN'S MANIFESTO
Hangman is still a little awkward on the mic at times and his promo was all over the place, but it did enough for me for it to be effective. It got the crowd on his side and it was a nice touch for him to take out Prince Nana considering he was also in his house. "Steal his weed" chant was not on my Bingo card.
YOUNG BUCKS HEELING OUT
It was your typical Young Bucks vs. Penta and partner match (this time Komander) and those never disappoint for me. Add into that, the continued heel turn for the Bucks, which was much-needed and you won me over. A better crowd may have improved this as the atmosphere for these kinds of matches can take it up a notch. Speaking of taking it up a notch, the backstage follow up was a fantastic way to get people excited for the match at Full Gear. I am very much enjoying the backstory of this feud which makes it feel much more real. This, and a big crowd on Saturday should be enough to make this one of the standout matches on the card.
STREET FIGHT
It wasn't the best street fight I've seen, but if I yell out at least three times, then I have to give it a thumbs up. I give this one a thumbs up. Good idea to take Paul Wight out early with a big time spot to further sell Powerhouse Hobbs as a beast. Lots of guys took tough bumps and the suplex by Brian Cage on Kenny Omega off the corner into the tables was a rough landing to say the least. Oh, and you can't forget Fletcher putting Ibushi into those chairs. My goodness. What these guys put themselves through to entertain us deserved the standing ovation it got.
MJF & JAY WHITE
Those were solid go-home promos from each guy and the best part about it was it was serious. They both have an agenda and for the first time in a while, I can't predict who is going to win the World Title match and that is a good thing. I would also LOVE for MJF to be the devil all along, but not sure that's the endgame. They keep throwing out red herrings, so I do commend them for that as the speculation continues.
---
MISSES
CONTINUED WOMEN'S DIVISION ISSUES
First, I applaud AEW for actually putting a women's match in the first hour of the show. However, my issue remains in the lack of development with certain acts and that stunts the growth of the division as a whole. Case in point, Red Velvet. She's been back for two weeks and while the announce team has explained why she was gone and it's so great to have her back, how hard is it to hear from Red Velvet herself? You can't spare 30 seconds to have her come on and talk about how hard she worked to get back and what she wants to do now that she has returned? Is she a heel or face? Is Skye Blue a heel or face? It just takes away from what could be a much more meaningful program.
AUDIO FOR TONI STORM SEGMENT
I know what they were trying to do with an old-timey sound thing or whatever, but within this sketch is an introduction of a new character and you could barely understand what was being said due to the audio and the background crowd noise. They should know better by now.
STOP BURYING DANIEL GARCIA
What did Daniel Garcia do to become the "good hand" that fights tough and gets beat twice a week? He is too talented to be in this position. Miro should be beating up someone else on Friday.
COUNTDOWN TO FULL GEAR
If they are providing 3 hours of wrestling Friday night with Collision and Rampage, why can't you show some of the very well-produced video packages previewing Full Gear during those 3 hours? Why bury them on a 30 minute show at 11pm eastern time? Use those 3 hours as a combined mini-PPV and hype show to get people to buy Full Gear on Saturday. You have plenty of time to do both. (and you could really do it in 2 hours!)
After a great show last week, this one did take a step down in total quality, but I think the show did a good job of setting up the main matches for Full Gear with more to come on Friday. I would have mentioned Copeland/Darby/Sting at some point in this show rather than the Miro stuff or some of the other filler. I'm not quite as convinced that they have course-corrected but I AM convinced I will enjoy Full Gear on Saturday night!
---
Don't forget to check out Joel Dehnel and me on the All Elite Conversation Club this Friday on the podcast feed. We'll talk about this show, the Continental Classic, and preview Full Gear.
Send questions and comments to allelitecc@gmail.com.
---
RECOMMENDED NEXT: AEW DYNAMITE RESULTS (11/15): Keller's report on Jericho & Omega & Ibushi & Wight vs. Brian Cage & Callis Camily, Bucks vs. Penta & Komander, MJF speaks
OR CHECK THIS OUT AT PROWRESTLING.NET: AEW Dynamite results (11/15): Powell's live review of Kenny Omega, Chris Jericho, Paul Wight, and Kota Ibushi vs. Brian Cage, Powerhouse Hobbs, Konosuke Takeshita, and Kyle Fletcher in a Street Fight