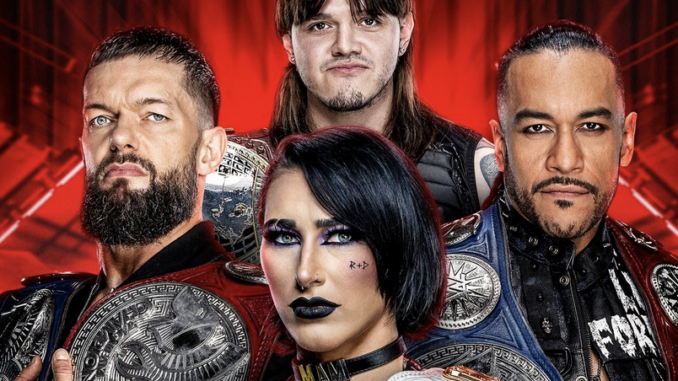 ---
SPOTLIGHTED PODCAST ALERT (YOUR ARTICLE BEGINS A FEW INCHES DOWN)...
---
Over the course of Vince McMahon's 40 years serving as head of WWE, numerous wrestlers have been positioned as the face of the company. In nearly every instance, those performers were pushed to the point of being rejected by the audience. It happened with Hulk Hogan, John Cena, and most recently, Roman Reigns. It's also taken place to a lesser degree with such wrestlers as the Rock and Brock Lesnar.
With McMahon's role now vanquished in the dawning of the TKO era, and with Paul Levesque heading up creative, for the first time, we're seeing the approach towards such stars differ. The most striking example has been that of Cody Rhodes. In the weeks leading up to WrestleMania 39 and the months following it, Rhodes was being booked as the new face of the company. He slayed Lesnar in a series of matches, eventually earning his respect.
Along the way, Rhodes was suddenly welcoming fans to the show, "hosting" from the ramp while exchanging familiarities with the interviewer. The fast-track approach seemed to veer into dangerous territory. Was it still cool to embrace Cody as our own when he suddenly appeared to not only have the full support of the company, but to have become an ambassador for it?
Well, fast forward a few months, and it seems that exact line of thinking occurred to those in power. No longer is Cody serving as a steward throughout Monday evenings. Instead, he's being carefully booked, more like a pronounced seasoning on the main course that is Raw, rather than being portrayed as the entire meal. Last week, he appeared for all of one minute at the very end of the show.
It's a strategy that appears to be working, as evidenced by Rhodes still managing to place inside the Raw Top 10 on the week. The thunderous reaction Rhodes entrance music receives is unparalleled amongst the rest of the roster. Further, his t-shirt sales are tops in the company over the course of 2023 and sit only behind L.A. Knight and John Cena for the month of October.
Perhaps noticing a similar creep into dangerous ground with the heavily featured Bloodline on Smackdown, the company has also toned down that factions members appearances on Fridays. This past week, their exposure was limited to a graphic advertising Solo Sikoa for next week and a 40-second backstage segment featuring Jimmy Uso.
It was enough to knock the faction out of the priority rankings altogether, however, mentions of Roman Reigns were frequent enough to nudge him into the lower end of the Smackdown Top 10.
All things eventually come to an end in pro wrestling (until they're trotted out for nostalgia sales years after their run has concluded), but this approach will prove to extend the shelf life of Reigns and the Bloodline for at least several more months and it may prove to be the formula that keeps fans in love with Cody Rhodes well past WrestleMania 40.
As always, the information taken into account to accumulate these lists include metrics such as quarter-hour ratings, who is featured in the open, closing, and top of the hour segments, names promoted in each shows preview, championships, and wins. I also factor in estimated monthly merchandise sales leaders, whose appearances begin with a higher floor than the others.
---
Priority Top 10
1. Judgement Day (9)
Following a deep dip in the standings last week, the top faction on Raw rebounded in a huge way. They commanded the metrics with preview priority, opening segment mic work, pivotal storyline developments unfolding throughout the show, and closing things out with a championship victory.
It was more rollercoaster than steamroller, though, starting with Damien Priest's gaffe about being the leader of the group. Tensions eased long enough for him to officially welcome JD McDonagh into the fold before wrapping up with the ongoing involvement with Drew McIntyre – a moment that was cemented with a handshake between the Scottish Warrior and Rhea Ripley. Seems like the kind of move a leader would make.
However this ride plays out, it's bound to maintain a top priority run by the group without leaders and I'm all for it.
2. Cody Rhodes (NR)
He can't be limited to 60 seconds of air time every week. Rhodes made the heavier exposure count by stirring up trouble with the Judgement Day, sliding into the leader position of his War Games group, burying the hatchet with Seth Rollins and exhibiting a reaction at the close of the show that tells us we may be in for a showdown between Cody and Drew sooner than we'd anticipated.
It was all enough to place the face that currently runs the place within a hair of the top spot this week. I expect more than a well-curated sample size of Rhodes once more during the go-home edition of Raw next week.
3. Jey Uso (NR)
Perhaps his association with Cody is limiting Jey's weekly exposure as well, or maybe the writers are measuring out his appearances just as carefully. Whatever the case, it was great to get a full dose of Main Event Jey Uso this week. He debuted a new t-shirt that was seen being worn throughout the crowd, which makes me think a bigger bump may be in store for his priority ranking once next month's estimated sales numbers are released.
Jey has also become the centerpiece of the single-frame Raw graphic that's used for television guide and DVR purposes. His burgeoning feud with McIntyre should see both men dominating this list in the weeks to come.
4. L.A. Knight (4)
The top name on the Smackdown side of things this week earned his spot in a different way than Judgement Day on Raw. Rather than dominating the program beginning to end, Knight established his position with a lengthy top of the hour interview segment followed by a somewhat lengthy match.
A program with Grayson Waller appears to be a step down following a short feud with Roman Reigns. For me, it feels reminiscent of the storylines Steve Austin and the Rock respectively refused to work with Jeff Jarrett and Billy Gunn for that specific reason. While Knight is obviously not nearly as high on the card as the two Attitude legends he emulates were during those times, the opportunity remains in tact as his feud with the Bloodline will continue next week when he faces Jimmy Uso.
While on that topic, I'd like to mention my two favorite words spoken on this week's Smackdown – "No Yeet."
5. Damage CTRL (6)
Last week, I speculated on the potential split between Iyo Sky and Damage CTRL. One week later, we find the group bigger and more powerful than ever. Damage CTRL has become the first all-women faction of it's kind in WWE and with that uncharted territory comes excitement over what lies ahead.
We can now see the show-closing placement given to these women was not an instance of throwing them a bone or the result of intentionally toning down other storylines. Rather, their position as the Friday night main event appears quite intentional.
Bayley certainly deserves to be in the same conversation as Roman Reigns and Jimmy Uso when it comes to understanding and portraying your character. Her role as the insecure leader of a group she has little control over is being played to perfection.
6. Seth Rollins (1)
The run up to a PLE where the Heavyweight Champion will be part of a team he's not even the leader of means a slightly diminished role for said Champ. That leaves Rollins without an extended solo in-ring promo or a lengthy face-off with his next challenger. His on-screen time was well spent and attention surrounding his title will certainly resume once Survivor Series is in the rearview, but for now it's all enough to keep Rollins on the lower end of this list.
7. LWO (NR)
The fireworks finally came and yet somehow managed to feel unnaturally accelerated. Santos is now at odds with Rey Mysterio and, presumably, the rest of the LWO. I don't believe Carlito's role as an ally of the group is set in stone and am looking forward to everything playing out.
Look for future Smackdown previews to use Santos and Rey as major hooks. With that will come priority television time and a nice extended run on this list for all involved.
8. Kevin Owens (NR)
KO found himself in a unique position this week, filling in as a guest commentator in the absence of Cory Graves and, thusly, as a featured part of practically every segment on the show. His involvement with A-Town Down Under and the potential suspension that comes with it was enough to pull him out of the way of the main event, which may have been a blessing in disguise.
As much as I enjoyed some of Owens snarky commentary, at times I felt it teetered on the edge of resembling that of the sorts of comments a non-fan would make while passing through the room and playing for laughs. At times, his dry wit was deployed at the expense of a deserving heel, but other times it seemed to diminish the efforts of babyface performers.
9. Shinsuke Nakamura (NR)
This is the highest Nakamura has placed in priority since feuding with Seth Rollins for the Heavyweight title. His storming through Alpha Academy has played out nicely and has me looking forward to his match with Chad Gable.
Beyond any of that, however, was the return of his creepy promos. I love the idea of a mystery target. If he's looking towards a champion and it isn't Seth, perhaps we're on the verge of an extended program between Nakamura and Gunther? Heel vs. heel would be the only acceptable route with such a feud, though, as Nakamura is truly thriving in his current role.
10. Miz (NR)
Speaking of those who seemed like an odd fit for a feud with Gunther, the Miz has finally cracked the top 10. His portrayal as a babyface is being told very delicately, in a way that would make him sliding back into heel mode at any point completely believable.
Honorable Mention: Ivar
Am I the only one who liked the "normal guy" promo he cut on the Miz? From his initial singles match following the injury to Erik, Ivar has shown he has solo potential. His in-ring style should mesh well with Bronson Reed, and I don't think the company is in any hurry to switch Reed to the role of fan favorite.
I think Ivar confronting Miz and doing so sounding like one of us makes him more relatable than if he were to growl and scream. I get that he's playing a Viking, but A. We all know he's not one, and B. There's nothing wrong with a bad ass performer having a bad ass look but thinking and acting like a normal person outside of the ring. In a way, it makes him more menacing.
This was the closest Ivar has come to cracking the Raw Top 10. Once he makes the cut, it's not impossible to squint and see him scraping his way into the Priority rankings.
Drop Outs: Roman Reigns, SAMI ZAYN, Solo Sikoa, John Cena, Chelsea Green & Piper Niven, Zoey Stark, Logan Paul
---
Smackdown Top 10
1. L.A. Knight (2, 2, 1)
2. Damage CTRL (3, NR, 8)
3. LWO (NR, 4, 5)
4. Kevin Owens (9, 8, 9)
5. Grayson Waller (NR)
6. Bianca Belair (7, 7, NR)
7. Bobby Lashley/Street Profits (NR, 6, 10)
8. Charlotte Flair (NR, NR, 6)
9. Roman Reigns (1, 1, NR)
10. Dragon Lee (NR)
Raw Top 10
1. Judgement Day (1, 1, 5)
2. Cody Rhodes (10, 4, 3)
3. Jey Uso (7, 6, 2)
4. Seth Rollins (2, 10, 1)
5. Shinsuke Nakamura (NR)
6. Miz (5, NR)
7. Drew McIntyre (NR, NR, 3)
8. Alpha Academy (NR, NR, 9)
9. Tegan Nox (NR)
10. Sami Zayn (3, NR, 6)
---
Thanks so much for reading. Feel free to leave a comment or drop a line via email at jeffinbrooklyn@yahoo.com or on Twitter/X @jeffsjeffsyall.
---
RECOMMENDED NEXT: WWE RAW HITS & MISSES (11/16): Cody & Jey challenge Priest & Balor, Kaiser vs. CIampa, Xia Li vs. Indi Hartwell, Ivar vs. Miz, more
OR CHECK THIS OUT AT PROWRESTLING.NET: Wrestling Revolver "Unreal" results: Vetter's review of AEW surprise appearances, Ronda Rousey and Marina Shafir vs. Athena and Billie Starkz, Jon Moxley and Sami Callihan vs. The Rascalz