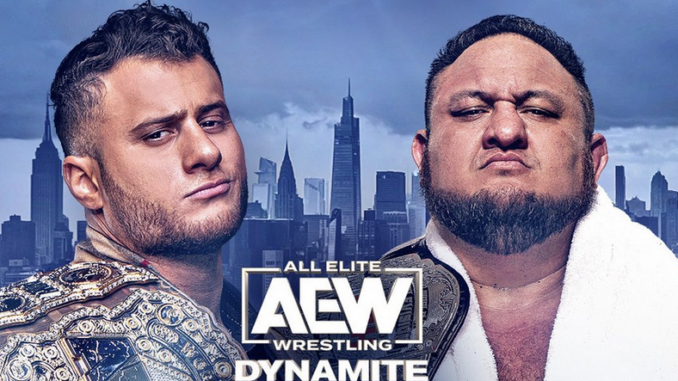 ---
SPOTLIGHTED PODCAST ALERT (YOUR ARTICLE BEGINS A FEW INCHES DOWN)...
---
This is a big one. First, let me say I'm expecting this show to be a wild and fun two hours. What's most important to AEW though is that this show wins back some of their audience. A big show like this will likely get a ratings boost of some sort, so it's up to them to not only produce good wrestling (which they normally do), but leave the viewers with something special to look forward to so they not only tune in next week, but improve attendance in the buildings over the next few months. Let's do it!
---
HITS
EDDIE'S MOMENT
Perhaps it could have been for a bigger title, but this has been a long running story with Eddie and Claudio and there was no place better to pay it off for Eddie than in his city. You could see the emotion on his face after the match and it had been a long time coming for one of the company's best characters. I'm hoping he still has a role on AEW television rather than stuck in ROH where most fans won't see him.
SAMMY'S MOMENT
After months and months of not really knowing what kind of character Sammy Guevara was, they finally pulled the trigger and put him in a role which suits him best. He's a great heel and now likely under the tutelage of Don Callis, Sammy can continue to grow into a villian role that makes the most sense for him.
TONI STORM'S ENTRANCE
I think they've found something with Toni Storm and I hope they continue to find ways to showcase her now that she's lost a shot at the women's title for what seems like the 5th time in the last month. The loss to Saraya should drive her further into madness, which is perfect.
MJF VS. JOE
Despite being a bit over-booked, the main event delivered and the crowd ate it all up. MJF has yet to have a bad match and Joe played his role perfectly in this build. Joe's acknowledgement of MJF after the match was a nice touch and now I'm curious who is next for the champ to face. (I also enjoyed the shoutout to Bret Hart with Max's entrance video)
---
MISSES
FOLLOW-UPS
There were a number of matches that had title changes or interesting finishes and while the broadcast let it breathe a bit, they really could have used some follow-ups. The fact we didn't hear from Eddie Kingston at all is a travesty. Saving an interview for ROH television is honestly a waste of time. Give the guy a mic and let him speak to his people. Just try and keep it short and hope he doesn't go completely rogue!
KEEP MJF SERIOUS
I know he can do comedy, but keep that with the Cole tag team programs. MJF cut a great serious promo earlier in the show to promote the main event. He was intense. And then they do a bit with Cole getting the phone call from Roddy. That's just a bad bad decision. This is setting up a huge main event, so keep it serious and leave the "hospital" stuff for another time.
Lastly, it's neither a Hit or Miss, but it was unfortunate what happened with Jon Moxley. I don't blame the ref completely since it was not supposed to be the finish, but Fenix really should not have delivered another move without knowing how serious the injury to Moxley was. I know It's much easier to have a plan in hindsight, and I chalk it up to an unfortunate spot that didn't seem to be careless, and I hope Mox is okay. The guy has needed a vacation for years, so this seems like a good time to have him take some time off and he'll be refreshed when he returns.
I also hope Adam Cole is okay as he clearly hurt his ankle/foot running to the ring at the end.
---
FINAL THOUGHTS
As I predicted, the show delivered as a fun two hour wrestling show, but I think they missed an opportunity by not having a big moment or major angle that keeps fans watching and attending shows. Hardcore fans likely really enjoyed the show, but AEW shouldn't worry about those fans. They need to do something and soon to get the more casual fans back onboard.
---
RECOMMENDED NEXT: AEW COLLISION HITS & MISSES (9/16): Keith Lee production flub, Toni Storm and R.J. City, Orange & Hook as a team, Statlander's promo, more
OR CHECK THIS OUT AT PROWRESTLING.NET: AEW Dynamite results (9/20): Powell's live review of MJF vs. Samoa Joe for the AEW World Title, Saraya vs. Toni Storm for the AEW Women's Title, Claudio Castagnoli vs. Eddie Kingston in a title vs. title match