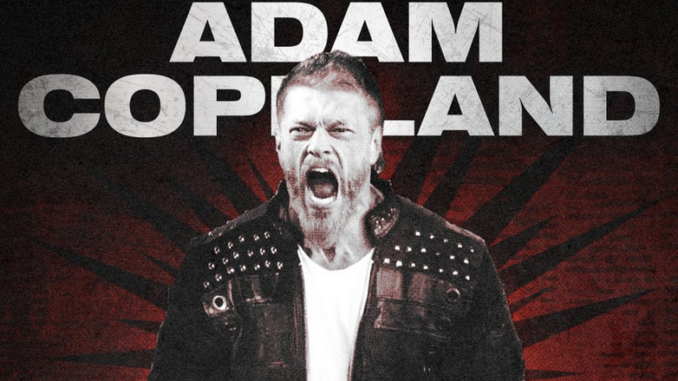 ---
SPOTLIGHTED PODCAST ALERT (YOUR ARTICLE BEGINS A FEW INCHES DOWN)...
---
Last Saturday on AEW Collision, Adam Copeland and Ricky Starks had a verbal exchange that included extemporaneous insults fired back and forth which, I asserted at the time, was ultimately counter-productive for both wrestlers and showed bad instincts, especially on the part of Copeland, who should be setting a good example for the younger generation of wrestlers in AEW with less experience on how to build a feud without undercutting an opponent.
Copeland seemed rattled or irked by Starks referring to Copeland's age and his "bug eyes." Copeland fired back by calling Starks "a vanilla midget" and a Rock imitator. In my TV report last Saturday night, I wrote this in my coverage of the live show:
That was all over the place in kind of a bad way. You had… Copeland and Starks tearing into each other in what felt like a shoot in a bad way since it undercut both guys in meta ways. If you're trying to make Starks into a star, referring to him as a vanilla midget (he is neither short nor vanilla) or a Rock copycat isn't productive. Starks calling Copeland bug-eyed and referring to the "other place" was kinda weird, too.
Todd Martin commented on this segment in this week's episode of the VIP-exclusive podcast "The Fix with Todd Martin hosted by Wade Keller." Below is a transcript of some of his comments followed by a playable four minute snippet of his entire commentary on the podcast.
It was a mixture of good and bad; I thought more bad than good. Christian was great, as pretty much always, as a heel. … I know this ended up being a poor example of it, but I still consider extemporaneous promos in wrestling to be preferable to everything being scripted and planned out. This was clearly a more extemporaneous talking segment. The negative side, which is I thought Ricky Starks and Adam Copeland showed really poor instincts in what to target as an opponent. It's a balancing act. You want to get across you dislike your foe without undercutting them as a star. Starks and Copeland were totally undercutting each other.

Starks comes out and the first thing he does is compare Copeland, Christian, and Danielson to the movie 'Wild Hogs' which is a 2007 movie about a bunch of guys in their 50s who go out riding motorcycles as a mid-life crisis, and that's just stupid. … Christian and Copeland are prominently featured acts and they are by wrestling standards legitimately quite old and you don't want to be drawing attention to that because it undercuts them as stars. … That's the number one thing you don't want to be saying to cut Copeland down and I don't think there's anything resembling a close number two that you don't want to be saying to cut Copeland down. By the way, it also subtly makes Starks look old himself because 'Wild Hogs' is a movie from 16 years ago and hardly an enduring classic.

I think that's what pissed Copeland off because here he is a few appearances in to this new promotion and this dude is calling him old when he's legit two weeks from his 50th birthday and Copeland surely doesn't want fans thinking about that. And then Copeland showed even worse judgment burying Starks deep beneath the Earth as basically a tiny, pathetic wannabe whom he practically oozed contempt for.

The thing that I thought was the worst of all of it was the way they made reference after reference after reference to WWE. It had that Impact feel where everybody is just talking about WWE, WWE feels like the major league on the other show, and we're just the land of wrestlers who WWE no longer wants or who want to go to WWE when we have the opportunity. That's the worst perception you can have and AEW has never come across as more minor league than in that opening segment of Collision because that was just completely framing WWE as the end all and be all of professional wrestling.
CLICK TO LISTEN THE FULL FOUR MINUTE SNIPPET HERE
To hear Todd Martin's highly-regarded weekly thorough analysis of the week in wrestling along with detailed book reviews and the Mailbag segment with a variety of topics (off-beat fun, historical, philosophical, and more), become a PWTorch VIP member and gain access to the full slate of podcasts. Details on VIP membership HERE.
---
RECOMMENDED NEXT: AEW COLLISION RESULTS (10/14): Keller's report on Danielson vs. Christian, Samoa Joe vs. Willie Mack, Statlander vs. Skye Blue, Adam Copeland speaks
OR CHECK THIS OUT AT PROWRESTLING.NET: Tommaso Ciampa talks about playing Muhammad Hassan's lawyer and delivering the apology speech, being called up to the WWE main roster despite being scheduled for neck surgery