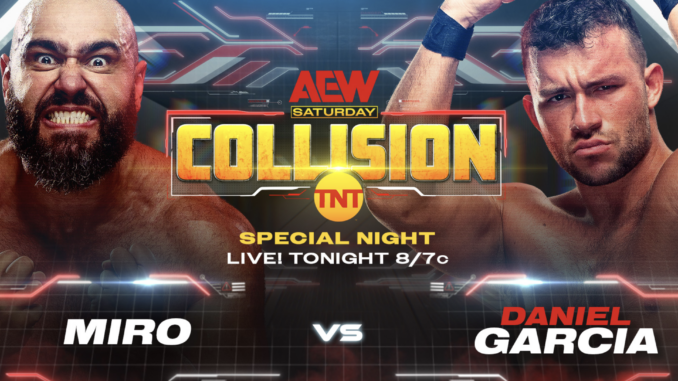 ---
SPOTLIGHTED PODCAST ALERT (YOUR ARTICLE BEGINS A FEW INCHES DOWN)...
---
AEW COLLISION – HITS & MISSES
NOV 17, 2023
INGLEWOOD, CALI.
AIRED LIVE ON TNT
BY DAVID BRYANT, PWTORCH CONTRIBUTOR
Commentators: Nigel McGuiness, Tony Schiavone, Kevin Kelly
---
– Hey! Welcome to another AEW Collision Hits & Misses column. Because this column is being written on a night that I don't normally set aside for writing and because I'm in a mad-dash rush to get everything ready for my Full Gear viewing party tomorrow, this column will be (mostly) joke-free. To all the people out there who read my columns because they love eye rolls, awfulness, and watching me embarrass myself. I apologize. But take heart; my hopeless hot mess of shameless lameness will return next week.
NO COLD OPEN — MISS
I'm not going to take the lack of a cold open into consideration when coming up with a grade for this week's episode, but I love this recurring segment, and I miss it every time it is left off of the program.
TONY SCHIAVONE SAYS THE FORUM IS ONE OF THE MOST ICONIC SPORTS ARENAS IN THE WORLD — MINOR-MISS
The Forum is not one of the more iconic sports arenas in the world; it is one of the more iconic arenas in the world. It is so iconic that it literally served as the backdrop for Lizzo's recent concert special. I mean, sure, there's less relevant stuff in its history, like the 1984 Olympics, The Lakers, Bob Dylan, David Bowie, Award Shows, and being on the National Register of Historic Places, but I'm pretty sure it's mostly known for Lizzo.
NICK WAYNE — HIT
Despite not saying a single word tonight, Nick Wayne deserves a special hit all to his lonesome for how obnoxiously good he is at being obnoxiously bad. If you were to watch Christian Cage's entire promo on mute, you would understand 50 percent of everything that happened from Wayne's facial expressions alone. Also, Wayne's wardrobe (which can only be described as what I imagine would happen if TikToks were eligible for the Oscars) adds a lot to his character. Not to mention, Wayne's ability to improvise (which can best be described as having "Daddy, I hurt my tooth!" energy) is not something you can teach. It's just something you do if you were born with the ability to do it. In closing, Wayne is the heel Jack Perry wanted to be but couldn't quite figure out how.
CHRISTIAN CAGE'S OPENING PROMO — MEGA-HIT
Christian Cage has stolen this show, and this show hasn't even started. Much like Nick Wayne's wardrobe adds a lot to his character, Christian's well-trimmed beard makes him look like what you thought Harvey Weinstein looked like before you saw a picture of him. Attention to small details like these can pay off in big ways.
Side Note: After watching this promo, I can finally say, for the first time ever, that Christian Cage, at this particular moment in time, is a bigger star than Adam Copeland. I don't even know what to make of that sentence, nor do I know how it exists in the same universe as the 2020 Royal Rumble, but it's now true.
Second Side Note: "The Patriarch of AEW" should be put on a T-shirt and not sold at merch stands.
BIG BILL & RICKY STARKS ARE INTERVIEWED — MINOR-HIT
Once again, Big Bill showed he is improving on the mic, and Ricky Starks showed he was born improved. The reason this segment is a Minor-Hit instead of an Out-And-Out Hit is because the ladder match stipulation seemed to come out of nowhere. While the ladder stipulation will make for a great match, if they were going to do this kind of stipulation, they should have planted the seeds for it a few weeks back.
DANIEL GARCIA vs. MIRO —HIT
This is one of those rare occasions when an extended "squash" match is appropriate. Garcia just competed for AEW's World Heavyweight Championship, but it would also make no sense for him to beat Miro.
Some of Miro's counters during this match were ingenious, and the fast pace of the match surprised me. Miro can wrestle many different styles, and he could be a huge star for AEW… all they have to do is want him to be.
ANDRADE & C.J. PERRY ARE INTERVIEWED — MINOR-HIT
I like that we're learning more about what Perry does for her potential recruits, and I'm intrigued to learn what she whispered into Andrade's ear.
HOUSE OF BLACK VS. THE BOYS — MINOR-HIT
The Boys should lose their masks. I know they are supposed to be Dalton Castle's random twunks that he met on Grindr that one time but couldn't take a hint, so they never went away and started stalking him (I assume), but if you're going to have them wrestle on the main roster and want fans to invest in them, at least give us facial features we can relate to.
TBS TITLE HYPE PACKAGE — MINOR-HIT
My main takeaway from this video package is that Kris Statlander should do this more often. With the aid of an editor, Statlander was able to sound like a normal person familiar with language.
TRENT BERETTA vs. BRIAN CAGE vs. KOMANDER vs. PENTA — HIT
It's nice to see Trent Beretta getting a TNT Title shot; it should be a good match. (I'm writing this sentence before seeing the outcome of this four-way match. Right or wrong, I'll leave it in place.)
I was right, but not because I'm psychic.
RECAP VIDEO OF POWERHOUSE HOBBS SLAMMING PAUL WIGHT ONTO A CAR — HIT
I wasn't a fan of this bump taking place, but if you're going to do a pump of that magnitude on a veteran who has had five surgeries related to hip-resurfacing, a hip transplant surgery, and then a second hip transplant surgery as recently as 2021, you better make damn sure you get the most out of it.
Paul Wight literally risked his chance to ever walk again in hopes of getting Powerhouse Hobbs over, and as far as I'm concerned, they'd be justified in replaying that clip every week in the opening montage until Powerhouse Hobbs retires.
DON CALLIS CUTS A PROMO WITH POWERHOUSE HOBBS — MEGA-HIT
Speaking of selling the "Paul Wight Bump From Hell," Don Callis could not have done a better of it. This is why elite-level managers are so vital to this sport, and this is also another reason why they should GET. STATLANDER. A. MANAGER.
POWERHOUSE HOBBS CUTS A PROMO WITH DON CALLIS — MEGA-HIT
As for Powerhouse Hobbs. Hobbs also held his own and delivered a stellar promo. In fact, portions of his promo were so good that I want to write out exactly what Hobbs said for those who were unable to check out this week's program.
Hobbs said, "I took out a giant. The giant. A living legend and multiple-time world champion. I'm 6-foot-3. I'm 270 pounds. I'm big, I'm black, and I'm jacked. Paul, I know you're resting and convalescing in a hospital, but stay away because you're proof that anyone can get it."
Those were the right words at the right time, and that, combined with Callis's portion of this promo, makes both portions of this segment a solid "Mega-Hit."
WARDLOW vs. EVAN DANIELS — HIT
From attacking Evan Daniels before his introduction to winking at the camera after landing a top rope senton, Wardlow was on fire tonight. This match reminded me of why I thought Wardlow had so much potential back at Double or Nothing 2022. If AEW can succeed in once great reconstructing the effigy of Wardlow that their creative department (Do they even have one?) burned into ash, I could get on board with Wardlow being the man to dethrone MJF.
DAX HARWOOD vs. RUSH — MEGA-HIT
This was a high-quality match, and both Dax Harwood and Rush brought out the best in each other. (I'm writing this sentence before seeing the outcome of this match. Right or wrong, I'll leave it in place.)
I was right, but not because I'm psychic.
Side note: I am shocked to see these two put on such a stiff, hard-hitting match the day before they are both advertised to appear on one of AEW's "big four" pay-per-views that will cost me $50 to watch. If something were to happen to either of these men, that PPV would immediately depreciate in value.
STARKS ON COMMENTARY — HIT
Starks did a great job on commentary, which isn't surprising; however, I especially liked Starks standing up in excitement at various points, and I enjoyed seeing him taunt Rush when he came near the announce table.
STARKS & BIG BILL RUNNING IN AND CAUSING A NO-CONTEST — MISS
That match was way too good to end so badly. That said, I did like the pandemonium that transpired afterward.
ACTION ANDRETTI GETS INTERVIEWED — IN THE MIDDLE
IDK. He only got out two words.
THE KINGDOM INTERRUPTS ACTION ANDRETTI — MINOR-MISS
Matt Taven called Andretti's hairstyle a "Gen-Z bowl cut," and while I know what he's talking about, Andretti's hairstyle is not that.
Side Note: I wish Lexi Nair had tried to finish her question once The Kingdom left.
BUDDY MATTHEWS vs. WHEELER YUTA — HIT
This was a solid, traditional wrestling match with a clean ending. There wasn't much to hate and a lot to like. I hope Buddy Matthews' jaw is okay.
CLAUDIO CASTAGNOLI CHALLENGES BUDDY MATTHEWS TO A MATCH AT FULL GEAR — MINOR-HIT
This match is a late edition to Full Gear, but I know I'll love watching it, and it makes sense, given Matthews was about to attack a prone Wheeler Yuta with a steel chair. The promo Claudio Castagnoli cut was well executed, direct, and to the point.
JON MOXLEY vs. ORANGE CASSIDY HYPE PACKAGE — HIT
AEW's production team is getting better and better at putting these together.
SARAYA & RUBY SOHO vs. KRIS STATLANDER & HIKARU SHIDA — HIT
I'm always excited to see a women's match main event an episode of Dynamite or Collision, but it would have been nice if they'd been gotten more than 10 minutes of TV time. However, even with only ten minutes of TV time, all four women delivered in the ring.
Side Note: The tear-away outfit Statlander wore to the ring was perfect for her, and she should consider wearing ring gear that looks exactly like that. The tear-away (which I was hoping was new ring gear) looked professional, portended an aggressive performance, and its cut, contour, and design were different than what other women in AEW are currently wearing. In my opinion, anything that can add a little extra edge to Statlander and make her more distinct is a positive. Statlander has so much appeal in the ring itself, and I want to see her succeed outside of it. If Statlander has Serena Deeb's number (Has Serena Deeb fallen down a well? Wandered far near a short peer? Met Thanos?), I feel like Deeb would be a good person to call for advice because there are aspects of their style that are similar, and Deeb figured out how to market those aspects as a virtue.
Second Side Note: I just want to give a special shout-out to Ruby Soho's facial expressions. Few people can communicate with their faces as well as she can. When it comes to in-ring facial expressions, she's up there with Christian, Nick Wayne, and Emi Sakura.
SIDEWAYS MONITOR WATCHING — MISS
That is not how that works, not in AEW, not anywhere.
KEVIN KELLY SAID ANGELO PARKER HAD A RUBY SOHO T-SHIRT ON BECAUSE "HE VISITED THE MERCH STAND." — MISS
That is not how that works, not in AEW.
ANGELO PARKER COSTS THE OUTCASTS THE MATCH — MINOR-HIT
I am impressed they pulled that off without it looking stupid.
MJF SITS DOWN FOR AN INTERVIEW WITH TONY SCHIAVONE — MEGA-HIT
This was likely the best "sit down" interview MJF has ever done. He didn't scream; he didn't come off as a jester or a comic book villain. This interview made MJF feel relatable and complicated in a way that few professional wrestlers are either able or willing to portray themselves as being. Going into this interview, I was unsure whether or not MJF should defeat Jay White at Full Gear, but after seeing this interview, I am sure that I want him to.
FINAL THOUGHTS
This week's episode of Collision was miles better than last week's "super special thumb-twiddling themed edition." Tonight's show seemed well aware that this was AEW's last chance to hard sell tomorrow's pay-per-view in prime time, and they made the most of it. This wasn't a perfect show, but it was a compelling show that made me want to see more, and that is what a go-home show should do.
Given Collision's ratings last week, AEW can't afford many more "super special thumb-twiddling themed editions" of Collision, but they sure could use more episodes like tonight.
SHOW GRADE: A
Thank you all for reading. I truly appreciate it. And as always, I'm still working on my sign-off, but until next week, remember, *insert whimsical B.S. here.*
(David Bryant's new *insert funny here* can be found on his "Artist Formerly Known as Twitter" account @IamDavidBryant; a picture of David Bryant *insert funny here* can be found on his Instagram account @IamDavidBryant, and David Bryant's Threads account is threadbare and also located @IamDavidBryant because *insert funny here.* David is a published author, circus artist, drag promoter, male pageant winner, unrenowned musician, sloppy figure skater, and the inventor of *insert a 100 percent real thing that I actually invented here.* Less impressively, he studied screenwriting at the University of North Carolina School of the Arts.)
---
RECOMMENDED NEXT: AEW COLLISION RESULTS (11/17): Moynahan's reports on Miro vs. Garcia, Dax vs. Rush, Shida & Statlander vs. Soho & Saraya, Cage vs. Komander vs. Penta vs. Trent
OR CHECK THIS OUT AT PROWRESTLING.NET: AEW Collision results (11/17): Powell's live review of Trent Beretta vs. Penta vs. Komander vs. Brian Cage for a shot at the TNT Title, Dax Harwood vs. Rush, Ruby Soho and Saraya vs. Hikaru Shida and Kris Statlander, Miro vs. Daniel Garcia