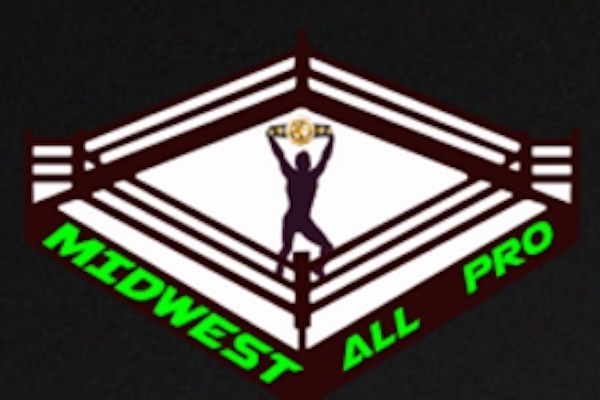 ---
SPOTLIGHTED PODCAST ALERT (YOUR ARTICLE BEGINS A FEW INCHES DOWN)...
---
The promotion started by Nick Dinsmore (Eugene) held their first-ever show Saturday night in Sioux Falls featuring Eugene, Kizarny, Shayna Baszler, Mike Hayes from the most-recent Tough Enough season, and more.
Midwest All Pro Wrestling Results
November 7, 2015
Sioux Falls, S.D.
Report by Andrew Soucek, PWTorch correspondent
I've lived in Sioux Falls for about two-and-a-half years, and this was the first time an independent wrestling show has been in the city that entire time. The owner of Midwest All Pro, Nick "Eugene" Dinsmore, has recently moved to the area, and debuted his new promotion on November 7. Unlike some other indy shows I've attended in the Midwest, this one ran in a pretty cool building near downtown. It had a good vibe to it, with two tiers of seating. I'd guess about 300 fans were there, and they were excited all night.
Local Sports radio host Chris Tubbs opened up the show, hyping up the crowd, and putting over the fact we haven't seen a non-WWE show in a long time. The National Anthem then played, and Nick's fiancee, Stephanie Fischer, served as the ring announcer for the night.
(1) Jaysin Strife defeated J.C. Slater to open the show. Strife looks like he stole A.J. Styles pants, and Slater does a take-off of A.C. Slater from Saved by the Bell. He was over with the crowd, with constant "Bell" references being shouted his way throughout. Strife worked over the leg for the most of the match, and came away with the victory. Fairly short, but good opener to get the crowd into the show.
(2) Supafli defeated Devin Thomas. Thomas was the heel here, but both of these guys were over with the crowd. Supafli's music is the Sir Mix-a-Lot classic "Baby Got Back" which led to the masked wrestler shaking his butt a lot, infuriating Thomas. In the end, a Frogsplash put away Thomas, then Fli danced his way to the back.
(3) Nate Redwing beat T.J. Benson. This was a total squash. It lasted maybe 90 seconds. Redwing looks like a mix between Mike Knox and The Red Rooster with his dyed red Fauxhawk haircut (Eugene pointed this out later in the night). Redwing looked impressive as he put away Benson with a powerslam. Poor guy didn't get a single punch in.
(4) Kizarny beat "Gorgeous" Alex Gretzky. Gretzky goes with a Narcissist type act, with a lot of posturing and showboating. The crowd wasn't having it, though, they latched onto "Fat Dean Ambrose!" chants and stuck with it throughout the match. This is because Gretzky actually looks a bit like The Lunatic Fringe…only a touch bigger. The two tied up, and then…tied up some more, they tied up on the outside of the ring, and then back inside the ring again, this popped the crowd. The two brawled for awhile, in and out of the ring for a bit before Kizarny put him away with his double-underhook DDT.
(5) Shayna Baszler beat Stephanie Fischer, Eugene, Supafli, and Nate Redwing in a game of musical chairs. Baszler is one of the Ronda Rousey's Four Horsewomen of MMA, and is a native of the area. When Eugene took over as Raw GM for the night, he incorporated a game of Musical Chairs into the show's festivities. I guess it makes sense then he would run another round with his own company! Various songs from Eugene's playlist (like "Shake It Off") played, as Redwing pushed the wrestlers out of the ring, leaving them unable to sit in the chairs. Eugene then pulled a fast one on Stephanie, getting her to sit on his lap. Eugene also got a one-up on Redwing when he pulled his chair. Baslzer then took advantage of Eugene being distracted, sat down in the sole surviving chair, and was crowned the winner of musical chairs! Fun live segment.
[Intermission. Baszler went inside the ring, and they announced you could get your photo taken with her with the proceeds supporting the local VFW.]
(6) Mikey Danger & Jason "The Belgium Brawler" Bates beat Joey Anderson & Shawn Nautilus in a tag match. Danger looks like a thinner and taller Davey Richards. Bates is from the area, so he received a hometown pop. Anderson and Nautilus molded themselves off Stan Hansen's lariats (though I don't think they actually threw any lariats…). Nautilus cracked up the crowd a bit with some of his lines while waiting for a tag. There seemed to be a miscommunication with the ref not counting to three at one point, but overall a good tag match.
Host Chris Tubbs gave a brief history of Michael Hayes, who competed in the main event. Hayes lost his leg in Iraq, and was the only surviving member of his infantry. Post-army, he turned his life to wrestling, and was trained by Nick Dinsmore. He was the contestant on the most-recent Tough Enough who took himself out of the competition due to health concerns.
(7) Mike Hayes beat James "Moose" Thomas. Hayes is a good white-meat babyface. The crowd was behind him throughout. Moose is not the Moose from ROH, but a few in the crowd did the Moose hand pumps anyway. Moose threatened to leave multiple times, unless the fans showed him some respect. It didn't work. He ended up dominating the majority of the match anyway, until Hayes made a brief comeback and captured the pinfall. Unfortunately, Moose had his leg on the rope and the match was restarted. This gave Moose time to recompose himself, and steal Hayes leg. Still, Hayes came out on top with a Stunner and pinned him again.
Overall, a good show. All of the wrestlers were in good to great shape, there were no dud matches, and the crowd was enthusiastic throughout. And unlike Raw, you didn't feel exhausted by the end! Check them out if you're in the area. The next event is scheduled for January 22.
[ More Info on Eugene's promotion at MidwestAllPro.com.