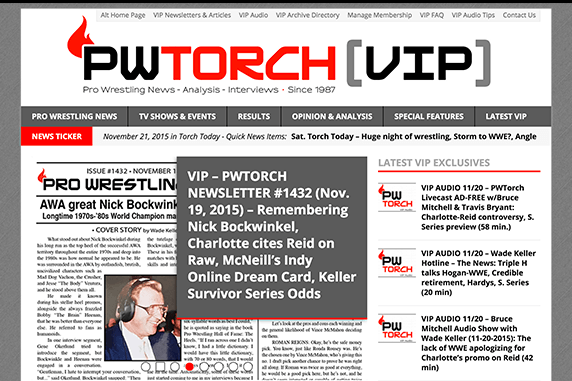 ---
SPOTLIGHTED PODCAST ALERT (YOUR ARTICLE BEGINS A FEW INCHES DOWN)...
---
We are offering an early "Black Friday" savings on a VIP subscription this weekend. You pay just $1 to get a full month of VIP access and benefits. Just go to our signup page and enter coupon code "coupon15" to get $9 off any VIP online sub (one month, three months, or one year). That's a 90 percent savings off of the one month sub. Your subscription will renew automatically unless you cancel first, but you can cancel at anytime during the term of your subscription as you sample our service. A few quick things to know about VIP content:
Access to our new VIP website, www.PWTorchVIP.com, featuring all regular PWTorch.com content ad-free, plus daily VIP-exclusive content (audio, articles, and newsletter PDFs)
Access to our 28 years of archives including over 1,400 Pro Wrestling Torch Newsletters dating back to the late 1980s, thousands  of hours of VIP audio dating back to the early 1990s.
Around 100 VIP audio shows every month, including the every-day Wade Keller Hotline covering the news of the day and answering VIP member questions, Post-PPV Roundtables, long-form specialty audio shows with the top experienced staff in pro wrestling.
A new PWTorch Newsletter every week in all-text and PDF formats covering the news of the week along with exclusive columns and features.
Access to all new daily VIP content on our mobile-friendly ad-free VIP website, including the ability to stream our VIP right within the mobile site itself.
Access to all new VIP audio shows via popular podcast apps on iPhone and Android along with iTunes, with recommended apps with instructions for those new to listening to premium podcasts on your phone.
Ready to sign up for just $1, no further obligation? VIP Signup Form (coupon code: "coupon15")
Aren't sure it's for you? Get more info here: PWTorch VIP Info Page
See dozens of recent testimonials from VIP members: VIP Testimonials (at bottom of page)
Here are a few…
Jeff Wilhelm of Houston, Tex.: "I'm a new VIP member and glad I finally made the jump.   Your material is beyond what I was expecting.  Thanks again for this wealth of information."

Rob McNichol: "I felt the need to commend PWTorch on delivering a consistent high quality product – especially the audio content. This weekend featured a really good hour of broadcasting. You and Bruce Mitchell disagreed, but it was a strong, honest, well-spirited, but fairly conducted debate. 

It is so great to hear an intelligent dialogue on wrestling that does not cater to 'fanboys,' nor snarkily rip into wrestling for cheap laughs. It treats the topic – and the listener – with respect. 

Moreover, I am consistently impressed with the neutrality shown, especially by you, Bruce, and Jason Powell. Most people have 'favourites' who can do no wrong. I try not to do that, and can see that you guys don't either. Keep up the good work."

Neil MacDonald: "You guys are on fire lately."

Chris Smith: "Thank you for all the great work you and your staff do day in and day out to provide such great news and analysis.  I had been hesitant to subscribe to a wrestling site in the past but,

once I got a chance to sample all that goes along with the VIP membership, I couldn't imagine life without it.

 I've been a VIP for two-and-a-half years and look forward to continuing in the years to come."

Patrick Hogan: "I have being listening to you for months signed up to VIP. Wow! I am hooked its great."

Greg Holder of Ohio: "I just wanted to take a minute to let you know how extremely happy I am with my new PWTorch subscription.

I've been hearing your guests spots on the Steve Austin Show over the past year and your excellent analysis and professional tone finally inspired me to subscribe to your publication. I am so glad that I did!

 As someone who writes for a living (I'm a copywriter for a major retail company), I can't tell you how much I appreciate the way you write and talk about professional wrestling. It's such a breath of fresh air compared to most of what's out there, which is 'fan-made' level at best. Hearing and reading wrestling analysis from a professional journalist is like a dream come true for me. And the fact that your decades of print and audio archives are available to subscribers is icing on the cake. Such an incredible value for the price. Anyway, thanks for all that you and your team do at PW Torch. I look forward to being a subscriber for many years to come."

Marty H.: "Thanks for the excellent work you and the staff provide.

I enjoy the community feel that the Torch has.

"
Reader dozens more recent testimonials from VIP members: VIP Testimonials