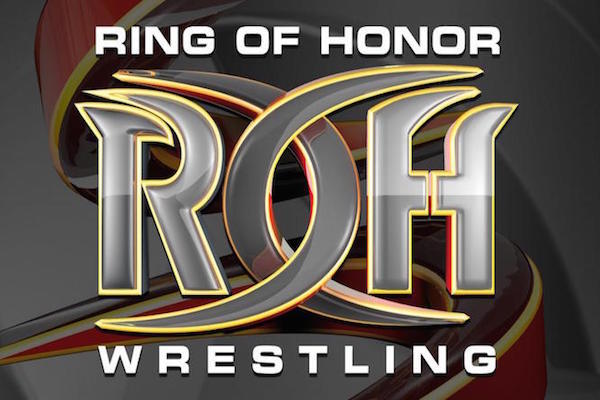 ---
SPOTLIGHTED PODCAST ALERT (YOUR ARTICLE BEGINS A FEW INCHES DOWN)...
---
RADICAN'S ROH "14th Anniversary" PPV Blog
FEBRUARY 26, 2016
LAS VEGAS, NEV.

(1) ROH TV champion Tomohiro Ishii vs. Roderick Strong vs. Bobby Fish in a Triple Threat match. Ishii won after a brainbuster on Strong. Basic action and the match didn't feel like anything special. (**)
(2) Adam Page vs. B.J. Whitmer. The ref took a chair away from Whitmer, so he kicked Page in the groin and pinned him. (1/2*)
Security tried to calm Page down after he countered a Whitmer post-match attack, so he laid them all out.
(3) Hirooki Goto vs. Dalton Castle. This was a good match that saw Castle take Goto to his limit before Goto pinned him with the shouten kai. It took a couple of attempts, as it appears they botched the first one. Both men shook hands after the match. (***1/4)
(4) Christopher Daniels (w/Frankie Kazarian) vs. Alex Shelley. Brian Kendrick joined commentary. Kazarian kept interfering and eventually gave Daniels the upper hand. Shelley finally mounted a comeback and hit an enzuguri. Kazarian got on the apron for the millionth time, but Shelley fended him off and then ducked a charge from Daniels before hitting a cross-body off the top for a two count. Chris Sabin ended up interfering and helped Shelly get the pin with a pinning combination. (**)
After the match, Shelley and Sabin fought off Kazarian and Daniels as the fans chanted "Motor City." Shelley and Sabin hugged as the fans applauded. The match itself was rather ordinary with loads of interference, but the fans woke up for the MCMG reunion.
(5) Michael Elgin & Hiroshi Tanahashi vs. The Briscoes (Jay & Mark Briscoes). Elgin and Tanahashi hit stereo suplexes and flexed during the early stages of the match. Tanahashi got cut off and the Briscoes worked him over for a long time until Elgin for the hot tag. Elgin fended off both Briscoes at one point and tagged in Tanahashi again. Tanahashi managed to kick out of the froggy-bow from Mark. Elgin broke up a Doomsday Device on Tanahashi. He then hit a huge slam on Tanahashi to send him onto Mark. Elgin hit a big powerbomb on Mark and then assisted Tanahashi on the High Fly Flow to get the win. This was a fun match, although the crowd didn't seem to get into it a lot. (***1/4)
(6) Moose (w/Stokely Hathaway) vs. IWGP Hvt. champion Kazuchika Okada (w/Gedo) in a non-title match. They went to the outside during the early going and Okada connected with a huge splash over the barricade and into the crowd. Match went flat and Okada hit a flap jack that left both men down on the mat. Moose fired back and hit a step up cross-body. Moose hit the rainmaker pose and went for a spear, but Okada jumped over him. Both men went for the rainmaker, but couldn't hit it. Okada hit his signature dropkick and the rainmaker for the win. The match was good and then hit a lull before finishing strong. (***)
(7) NEVER Openweight Six-Man Tag Team Champions The Elite (IWGP IC Champion Kenny Omega & Matt Jackson & Nick Jackson) vs. A.C.H. & IWGP Jr. Hvt. Tag Team champion Matt Sydal & IWGP Jr. Hvt. champion KUSHIDA. There's a lot of gold between both teams in this contest. The crowd was red-hot for the Young Bucks before the match began. The fans then began a huge chant for Omega. Their opponents got chants as well, but they weren't as loud. The fans then started a chant saying "All these guys." ACH ran wild on The Elite during the early going and hit a Thesz press on Omega before both teams came to a stalemate. The fans went nuts for Omega and Sydal tagging into the match. Sydal got dropkicked by Nick into a German Suplex from Omega on the floor and the fans lost their minds. OH MY GOD!
The Young Bucks hit stereo dives to the floor and then did The Terminator bit with Omega before he wiped out everyone with a huge flip dive over the top to the floor. The fans went absolutely nuts for that sequence. The Elite worked over Matt Sydal as the fans chanted that New Day sucks. KUSHIDA eventually got a hot tag and ran wild. He hit a huge flip dive from the top to the floor over the ringpost to wipe out the YB. Both teams went back and forth as the action continued at a rapid pace. At one point, ACH got the hot tag and ran wild. They went to a crazy sequence with both teams going back and forth hitting kicks on the floor and on the apron. ACH finally wiped everyone out with Air Jordan to the floor. Holy s—!
KUSHIDA managed to fend off The Elite until they nailed him with a triple superkick. Sydal got isolated and ate a triple superkick for a near fall. Sydal broke up a triple more bang for your buck attempt and hit a belly-to-belly suplex on Matt off the top. The Young Bucks hit the Meltzer driver on Sydal. Omega then hit the one-winged angel. Matt and Nick then made the cover to retain the NEVER Openweight Tag Team Championship. This was one hell of a back and forth match that woke up what had been a fairly dead crowd. (****1/4)
(8) ROH World Tag Team champions War Machine (Hanson & Rowe) vs. ANX (Rhett Titus & Kenny King) in a No DQ match. Both teams brawled around the ring right away and the crowd was dead. Titus went for a dive off the apron at one point, but Hanson caught him and hit a belly-to-belly. Hanson backdropped King through the table, but the production truck missed it live. They did show a replay. Titus took a series of running face washes from Hanson and Rowe in the corner, but the crowd didn't care. Hanson and Rowe jammed chairs in all four corners. Titus mounted a comeback and King recovered to help him out. They sent Hanson and Rowe into the chairs. The fans then started a chant for ANX. The announcers talked about how ANX never lost the tag titles when King signed with TNA several years back.
Hanson took a spin kick from King with a trashcan over his head, but he managed to kick out at 2. Hanson fired back and Rowe magically recovered. They went for a double team on King, but Titus broke it up. Hanson fired back and hit a double cartwheel clothesline to wipe out ANX. King then managed to kick out of fallout and War Machine sold shock. They went for fallout to the floor through a table on Titus, but King broke it up and tossed Hanson off the top through a table. Rowe took the one stand, but kicked out at the last second. ANX was about to put Rowe through a ladder, but Hanson made the save. Rowe and King went at it on the apron. Rowe eventually hit a uranagi on King through the ladder from the apron. War Machine then hit fallout on Titus for the win. These guys worked way too hard and did way too much to get such a tepid reaction. (**3/4)
(9) ROH World champion Jay Lethal (w/The H.O.T.) vs. Adam Cole vs. Kyle O'Reilly in a three-way match for the ROH World Title. Nigel McGuinness was in on commentary for the main event. McGuinness questioned whether O'Reilly and Cole could focus on winning the title or would their hatred for each other get in the way. Cole and O'Reilly kept knocking Lethal down during the early going so that they could focus on each other. They then nailed Lethal with a combination of moves. Lethal went to the floor and O'Reilly and Cole went at it once again. Lethal got the upper hand and managed to isolate Cole inside the ring. Cole hit an enzuguri on Lethal on the apron. O'Reilly tried to surprise Cole with a kimura, but he countered it into a neck breaker over his knee for a 2 count. Lethal tossed Cole to the floor and he landed on his feet and got on the apron, but Lethal sent him back to the outside with a springboard dropkick. Cole and Lethal were trading punches a short time later, but O'Reilly wiped them out with a missile dropkick.
Cole sent O'Reilly to the outside and locked in a figure-four on Lethal. O'Reilly tried to break it up with a kick, but Cole flipped him off. O'Reilly then applied an arm bar, but Cole eventually escaped and rolled to the floor. Everyone ended up on the outside. Lethal and Cole ended up sitting in a chair at ringside. O'Reilly then set up on the apron for a flying dropkick, but Lethal got out of the way. O'Reilly connected with Cole. He then went for a dive off the apron on Lethal, but he nailed him with a superkick. Lethal then hit a pair of dives on Cole. He went for a third dive and connected on O'Reilly. Martini then got into the ring and did the Trutharoonie. I think Lethal and Hendrix were posing, but the cameras didn't get a good shot of it.
Back in the ring, Cole shoved O'Reilly into a Lethal Injection. He then hit a superkick on Lethal and sent O'Reilly to the outside. Cole hit a neckbreaker over his knee on Lethal, but he kicked out at the last second. O'Reilly hit a big DDT followed by a brainbuster for a near fall. He then went for an arm bar and transitioned into an arm bar. Cole tried to break it up, but O'Reilly got an ankle lock. Lethal was about to drop his arm for the third time, but Cole held it and kicked out of the ankle lock. That was a sick spot that fired up the crowd. They went to a big sequence with O'Reilly and Cole going after each other. Lethal then hit both men with a double lethal injection. He covered Cole and it was good for the win. Lethal got a clean win here and pinned two men. They had to work awfully hard to get the crowd into it, but ultimately this got really good down the stretch. (***1/2)
Overall Thoughts: (6.0) – This was a card that really suffered from a crowd that did not care outside of The Elite vs. ACH & Sydal & KUSHIDA match. It's clear that the bloom has come off the rose when it comes to fans really being into the NJPW talent. It also doesn't help when the NJPW talent always goes over the ROH talent. There's not a lot of give and take when it comes to the relationship between the two companies and now that ROH isn't getting extra buzz when the NJPW talent is on their PPVs, you really have to question what is going wrong. There was some good wrestling on the card and the effort was there, but ultimately this is a skippable show outside of the aforementioned six-man tag match.
***
Email Sean at PWTorchSean@Gmail.com
Please click HERE and click "like" to join the Radican's Wrestling Community Facebook fan page.
Follow Sean on Twitter at Twitter.com/SeanRadican