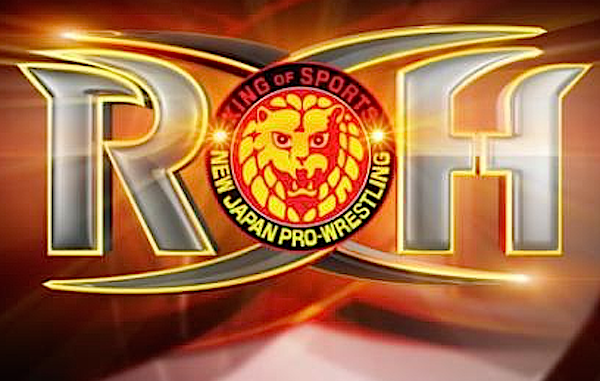 ---
SPOTLIGHTED PODCAST ALERT (YOUR ARTICLE BEGINS A FEW INCHES DOWN)...
---
ROH TV Report
Aired April 24, 2016 in syndication
Aired April 27, 2016 on Comet TV
Taped 2/19 in Tokyo, Japan
Report by Mike Metzger (@md0uble), PWTorch contributor
The ROH TV opening aired.
A wide-shot of Korakuen Hall was shown, as Kevin Kelly set the stage for tonight's show via voice-over.
1 – ROH World champion JAY LETHAL (w Truth Martini) & TETSUYA NAITO (w/EVIL) vs. IWGP Hvt. champion KAZUCHIKA OKADA (w/Gedo) & YOSHI-HASHI
Mr. Wrestling III spoke of Lethal's "familiar" music playing, despite the fact that a different song than normal blared throughout the arena. The two world champions started the match. Both men circled the ring, before finally tying up at the 0:35 mark. Okada took control on the mat with a hammerlock, but Lethal was able to quickly escape. They continued to feel each other out, until there was a stalemate at 1:55. Lethal mockingly posed like Okada and then shoved his opponent in the chest. Lethal followed up with his signature cartwheel dropkick, which was good for a nearfall. The show then cut to a break at the 2:36 mark of the match.
[Commercial Break]
Back at 5:06, Lethal and Naito were double-teaming YOSHI-HASHI in the corner. Lethal hit a back suplex and scored a nearfall on YOSHI. He tagged Naito, who dropkicked YOSHI in the corner and then scored a two-count. YOSHI came back with an inverted enziguri and then a Codebreaker. He tagged Okada, who came in and nailed Naito with a big boot. Lethal was right behind him, but Okada picked him up and flapjacked him. Naito reappeared, but Okada cut him off with a DDT and scored another nearfall.
Okada followed up with a scoop slam and then went up top. Naito got up and nailed Okada with an inverted atomic top and a Tornado DDT. Both men were down on the mat. Naito eventually crawled over and tagged in Lethal. The ROH World Champion slammed Okada and then went up top. Okada caught him, but Lethal wriggled free and nailed Okada with a Lethal Combination. Lethal went for the cover, but Okada kicked out at two. Naito re-entered. They went for a double-team, but a miscommunication caused Lethal to super kick Naito!
Okada then nailed Lethal with a dropkick and tagged YOSHI-HASHI. YOSHI hit Lethal with some chops and then an impressive running Blockbuster. HASHI hit another neckbreaker and went for the cover, but Lethal got his shoulder up. Okada came in, and then the Chaos team double-teamed Lethal. YOSHI hit a top-rope Blockbuster on Lethal, but Naito broke up the pin attempt. Lethal reversed YOSHI-HASHI into a backdrop. Martini tossed the Book of Truth to Lethal, but YOSHI knocked it out of his hands with a lariat! YOSHI went up top, but Martini grabbed his leg. YOSHI kicked him away, but then EVIL (Takaaki Watanabe) shoved him to the floor! Naito nailed Okada with The Book of Truth on the outside, as Lethal nailed YOSHI with the Lethal Injection in the ring for the victory.
WINNERS: Jay Lethal & Tetsuya Naito via pinfall in 11:56.
After the match, Lethal and Naito shook hands and celebrated in the ring. Lethal offered Naito the Book of Truth. Naito accepted and then posed with Lethal and Martini.
ANALYSIS: Standard stuff here, which was fine. The announcers sold Naito's newfound bad attitude well. The finishing sequence was solid. Nice to see an ROH guy get a win, but I guess it was pretty obvious who would be the fall-guy given the participants in this match. (**1/2)
[Commercial Break]
2 – IWGP Jr. Hvt. champion KUSHIDA vs. FRANKIE KAZARIAN – non-title match
Both men locked hands in the center to start. Kaz had the early advantage, but KUSHIDA fought back with a nice bridge. KUSHIDA applied the Hoverboard Lock, but Kaz quickly escaped at the 1:15 mark. They locked up again and then wrestled on the mat a bit. KUSHIDA came out on top of the exchange, as the show cut to another break at 2:04.
[Commercial Break]
Back at 4:34, Kaz snapped KUSHIDA throat-first across the top rope and then followed up with a slingshot DDT. Kaz hit a side-Russian legsweep and then mockingly posed for the crowd. Kaz continued to dominate KUSHIDA for the next minute or so. He hit a backstabber out of the corner, but KUSHIDA kicked out at two. KUSHIDA tried to reverse the momentum with a sunset flip, but Kaz simply dropped a knee on him.
Kaz charged into the corner, but KUSHIDA got his boot up. He followed up with an enziguri from the apron and then a missile dropkick from the top rope! KUSHIDA then hit a flip dive onto Kaz on the outside! Kaz tried to fight back with another slingshot DDT, but KUSHIDA reversed into a cross arm-breaker. Kaz tried to escape, but KUSHIDA was able to masterfully reverse into a triangle choke. Kaz looked to be in trouble, but eventually raked KUSHIDA in the eyes to break the hold.
Reset at 8:45, as both men traded blows in the center. KUSHIDA came back with a big kick to Kaz's left arm. KUSHIDA went for a move off the ropes, but Kaz caught him in a modified electric chair/pinning combination for a two-count! Kaz went up top for the Flux Capacitor. KUSHIDA struggled to get free, and eventually locked on a Hoverboard Lock while on the top turnbuckle. KUSHIDA then slammed Kaz from the top rope while the hold was still locked on!KUSHIDA followed up with a basement dropkick and then immediately reapplied the Hoverboard Lock. Kaz struggled to get free, but KUSHIDA was able to cinch in the hold to the point that Kaz had no choice but to submit!
WINNER: KUSHIDA via submission in 11:09.
ANALYSIS: Pretty pedestrian until the later portion of the match. KUSHIDA did a good job of working Kaz's arm in preparation for the Hoverboard lock, as the match built towards its climax. (**3/4)
[Commercial Break]
Clips were shown of Mark Briscoe on the streets of Tokyo. He was asking random people on the street if they had seen Godzilla. The borderline-racist theme continued, as Mark wondered if he should eat rice or noodles, or noodles or rice. Mark also revealed that Mt. Fuji was actually named after legendary wrestler Mr. Fuji. Briscoe then asked another stranger is he knew of Red Neck Kung Fu. The guy quickly pointed to a big New Japan Pro Wrestling logo on one of the buildings. Mark then found a billboard with roosters on them and asked, "How do you say home in Japanese?"
[Commercial Break]
3 – NEVER Openweight champion KATSUYORI SHIBATA & REDRAGON (KYLE O'REILLY & BOBBY FISH) vs. IWGP Intercontinental champion KENNY OMEGA & THE YOUNG BUCKS (NICK & MATT JACKSON) – six-man tag team match
KUSHIDA was sitting with the Japanese announcers for this match. Needless to say, Kevin Kelly and Mr. Wrestling III were nowhere to be seen around ringside. All six men began brawling, as the bell rang. Shibata and Omega brawled on the outside, as The Bucks double-teamed reDRagon inside. Omega literally tossed Shibata into the concession area, while reDRagon applied a pair of cross arm-breakers on The Bucks in the ring. Omega eventually ran in and tried to break things up, but Shibata wasn't too far behind with a triangle choke to Omega!
Omega picked up Shibata, though, and then dropped him onto O'Reilly The Elite faction stood tall for moment, followed by The Bucks hitting a pair of dives to reDRagon on the outside. Omega was alone in the ring, as The Bukcs pounded the mat to the Terminator theme. This was all to set up a big flip dive from Omega, as the show cut to its final break at the 2:34 mark.
[Commercial Break]
Back at 3:34, Omega was in control of Fish in the ring. Nick Jackson assisted in choking Fish from the apron behind the ref's back. Omega hit a backbreaker, and then The Bucks came in and hit their neckbreaker/backbreaker combo. Nick went for the cover, but Fish kicked out at two. Nick stomped on Fish in the corner and did his "s*ck it" routine. Matt came in for the double-team, but Fish was able to pick up Matt and toss him into Nick! He then made the tag to O'Reilly. ReDRagon hit their Two-Man Smash Machine combo on Matt. They went for Chasing the Dragon, but Nick yanked Fish out of the ring and threw him into the barricade at ringside.
Both Shibata and Omeg were tagged in. Shibata threw some elbows, but Omega was able to come back with a big running elbow of his own in the corner. Omega followed up with some stomps in the corner, but Shibata was able to escape and nail Omega with a big boot! Shibata continued his offensive onslaught with a running dropkick and a pin attempt, but Omega kicked out at two. Shibata followed up with a rear naked choke. Omega went down quickly, but The Bucks ran in and broke it up. Shibata appeared to make short work of them, but the Bucks came right back with a double-superkick! The Bucks and Omega then hit a triple-superkick on Shibata, but Fish ran in and broke up the pin attempt!
Fish tossed Matt to the outside, but was low-bridged by Nick on the other side. Nick then followed up with a Tornado DDT from the apron! Back in the ring, Omega went for the One-Winged Angel, but Shibata broke free and hit a beautiful dropkick. Shibata crawled to his corner and tagged O'Reilly. Kyle came in and hit a double-Dragon screw leg whip on both Bucks! O'Reilly went for a Tornado DDT on Omega, but Kenny overpowered him and dropped him on his head. Nick nailed Omega with a superkick by accident and then O'Reilly burst into a flurry of strikes on both Bucks. The numbers game was too much for O'Reilly, as Matt eventually nailed him with a superkick. O'Reilly literally bounced right back with a rebound lariat!
Omega went for the One-Winged Angel again, but O'Reilly was able to reverse into a guillotine choke! Matt tried to break it up, but Shibata applied a rear naked choke from the apron! Matt was able to escape with a rake to the eyes and a superkick, however. Matt then sprayed a substance into O'Reilly's eyes to finally break up the guillotine choke. Omega assisted an Indytaker on O'Reilly and then went for the One-Winged Angel yet again. Despite a brief struggle from O'Reilly, Omega finally hit it and scored the victory.
WINNERS: Kenny Omega & The Young Bucks via pinfall in 11:04.
ANALYSIS: What you'd expect from these six guys, and I mean that as a compliment. It did have that six-man exhibition feel, but the announcers did a great job of putting over Shibata and Omega, while reDRagon and The Young Bucks did their thing. (***1/2)
Next Week: More Honor Rising, featuring Bullet Club members in every match. And yes, that includes Karl Anderson and Doc Gallows, as this was taped over two months ago.
FINAL REAX: Another dated episode of ROH TV with no end in sight, as Kevin Kelly announced that next week's show will also feature matches from February's Honor Rising shows. This confirms that there will be no original programming before the Global Wars PPV on May 8. This is one of the major flaws of the ROH-NJPW relationship, as the Japanese stars were unavailable for TV between the post-14th Anniversary tapings and Global Wars. Airing these old shows was one way to bridge the gap, but it just feels like ROH has zero momentum going into this PPV, as the law of diminishing returns continues to play a role in the ROH-NJPW relationship.