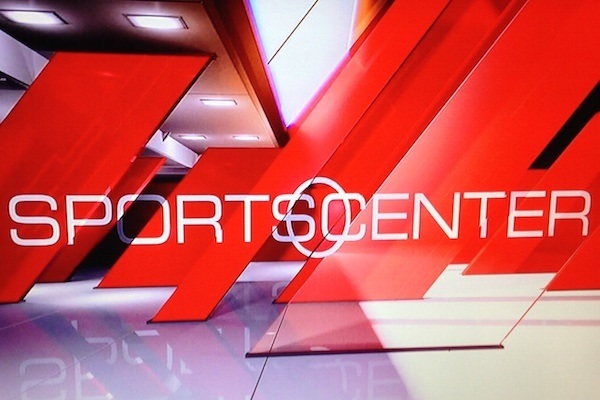 ---
SPOTLIGHTED PODCAST ALERT (YOUR ARTICLE BEGINS A FEW INCHES DOWN)...
---
WWE on ESPNews SportsCenter
Aired: June 14, 2016
Guest: Chris Jericho
Host: Jonathan Coachman
During the 9:00 p.m. EST hour of SportsCenter, Chris Jericho joined The Coach to hype the 2016 edition of the Money in the Bank ladder match this Sunday. It was one of the longest interviews ESPNews has aired during the weekly WWE interview series.
Before the interview started, ESPNews rolled a lengthy highlight package on MITB matches through the years. There was significant emphasis on Kofi Kingston, Shelton Benjamin, and RVD from past years.
The interview then started with Coach asking Jericho if he's surprised that MITB has advanced from a match at WrestleMania to its own show. Jericho first explained how he came up with the idea, including noting the original concept was cashing in a title shot on the post-WrestleMania Raw.
"I actually invented the MITB ladder match and the reason for that was at WrestleMania, there wasn't a lot of opportunity for me. So, I came up with an idea of having a ladder match where you would get a contract that you could cash in for a title shot the next night on Raw. That expanded to a briefcase where you have a whole year before you cash it in. So, it was a really cool moment to have that niche match at WrestleMania. Now, it's its own PPV event," Jericho said.
Jericho also talked about facing A.J. Styles at this year's WrestleMania. Jericho said he took great pride in wrestling Styles and helping introduce him to the general WWE audience. Jericho said Styles definitely belongs in WWE, but he wanted to help bring Styles along in his first few months with WWE.
"I take great pride in things like that. It's one of the reasons why I still enjoy being in WWE is I get a chance to bring along some of the newer guys in the company … to show the fans who don't know who some of these guys are the talent we have available," Jericho said. (Next up could be Shinsuke Nakamura based on Jericho's recent heelish tweets.)
Asked who on the roster could be the next big star for WWE, Jericho said all of the guys in the MITB match with him fall in that category. But, Kevin Owens is the stand-out.
"Kevin Owens is very, very special," Jericho said. "He's different from everybody else. He doesn't look like or act like a typical WWE Superstar, but that's what you need to make it to the top, top level. I see a great future for him."
Jericho also said he hopes to see Finn Balor and Nakamura "very soon" on the main roster. He said they have a similar background as Styles doing big things outside of the main WWE roster and could be huge stars along with Styles in the next 1-3 years.
"Knowing that I'm getting towards the end of my career – these are the guys I'll be watching for years to come as a fan," Jericho said, before endorsing WWE's current talent development & recruitment by opening their doors to stars from the independents around the world.
– Also in the interview, Jericho was asked if one MITB ladder match he's been in stands out more than the others. Jericho said the MITB matches blend together in his mind, but the 2012 edition stands out because he had an idea to dangle from the briefcase before John Cena took MITB from him to win. Jericho described feeling the case straining as he hung in the air and being thankful that he didn't fall to the mat.
From the 2012 MITB PPV Report:
Miz headbutted Jericho away and Jericho swung in the air on the case. Jericho swung back to Miz and they battled on top of the ladder as Big Show re-entered the picture. Show came face-to-face with a frightened Jericho, who took a KO Punch to the face from Show. Cena then entered the picture and used the case to block Show's punch.

Cena proceeded to bash Show in the face with the case, then the handle broke and the case landed in Cena's hands. The bell sounded with Cena in possession of the case as he sold shock winning the match. It sure was a good thing the chain didn't break when Jericho was dangling on it with nothing below him.
– Coach brought up a few other topics. Included was Jericho's memorable WrestleMania 19 match against Shawn Michaels. Jericho talked "inside baseball" about putting the match together in about 20 minutes because they had perfect chemistry working together. Jericho said that carried over to 2008 when they had an all-time great angle that played out on WWE TV for several months.
– Asked about interrupting The Rock when he made his WWE debut in August 1999, Jericho said he was the perfect foil for Rock standing up to him as a heel. Jericho said he thinks Rock enjoyed working with him because they worked well together in the ring and on the mic.