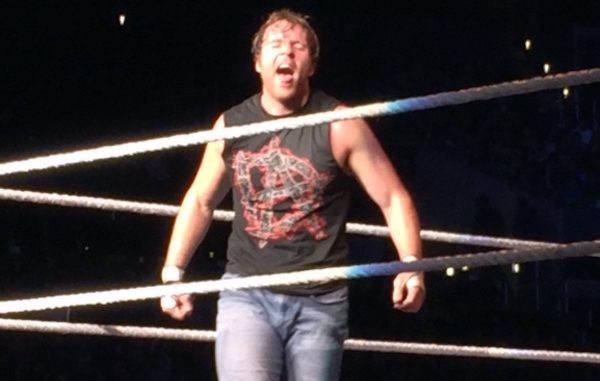 ---
SPOTLIGHTED PODCAST ALERT (YOUR ARTICLE BEGINS A FEW INCHES DOWN)...
---
Over the past two years, Dean Ambrose regularly sat in the interview chair opposite Michael Cole vowing to win a major title in WWE post-Shield run. Whether it was the Intercontinental Title or WWE Title, Ambrose vowed to one day scratch and crawl toward title gold.
In this week's Wednesday Interview on WWE's website, Ambrose finally got to talk about his accomplishment while the WWE Title belt rested comfortably on a table over his left shoulder.
Ambrose started the interview by emphasizing that he's a man of his word who did exactly what he said he was going to do – win the MITB briefcase, wait until the end of Roman Reigns vs. Seth Rollins for the WWE Title, and cash in on the champion to win the title.
Asked how his life has changed since Sunday, Ambrose replied, "I come to Raw, I come to Smackdown, I come to a PPV, I come to any event in the world, I'm there to lay it all out on the line. I'm ready to fight 24/7, 365. The only difference is now everyone is going to be hunting me down. Ambrose said the difference is he is no longer predator, but prey. "As the months unfold here, we'll see how that changes things," he said.
Ambrose said it was an extra bonus cashing in MITB on Seth Rollins, who broke up The Shield. But, he would have cashed in on Reigns, too. He said cashing in on Reigns would have been sweet, too, without explaining why.
Asked if putting his body through "crazy stuff" throughout his career was worth it now, Ambrose said he felt like the WWE Title was his before Sunday. "I've won that thing 297 times; it's just something's gone wrong," Ambrose said of his past title shots.
"To finally be able to stick it up everyone's rear end – I felt like the king of this place, I run this show, I do what I want to do on my own terms – to be able to put the final nail in the coffin and bring things around full circle, it felt pretty good," Ambrose said.
Ambrose also talked up his character's mentality of being at complete peace throughout Sunday because he just knew he was going to win MITB and cash in after the main event. "Tonight, I'm just shutting everybody up and I'm just getting it done, all in one night!" he said.
Asked if he's going to retain against Reigns and Rollins at Battleground, Ambrose laughed at the question and replied, "Yeah. Of course." Ambrose added, "It's time to shut some people up. A couple of specific guys – the guys I'm going to be in the ring with. My two former brothers – that was then, and this is now."
Ambrose closed the interview with a declaration about his status as champion. "Here's the thing. I'm sitting at the top the mountain now. This is my industry, this is my company, I am the WWE World Hvt. champion. That's how it's going to be; that's how it's going to stay."