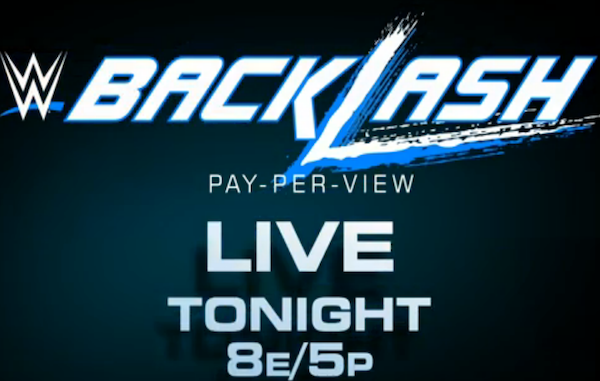 ---
SPOTLIGHTED PODCAST ALERT (YOUR ARTICLE BEGINS A FEW INCHES DOWN)...
---
It's the first standalone PPV of WWE's brand split era with Smackdown presenting the Backlash PPV with Dean Ambrose vs. A.J. Styles for the WWE World Title. …
WWE Backlash PPV Report
September 11, 2016
Live in Richmond, Va.
Report by James Caldwell (@JCTorch), PWTorch assistant editor
MOBILE ALERT: Follow Results in real-time by visiting the mobile version of PWTorch by HARD-PRESSING THIS LINK. VIP MEMBERS: Access your ad-free version by HARD-PRESSING THIS LINK.
Backlash PPV Pre-Show
– The panel this month is Renee Young with Booker T, Jerry Lawler, and Lita. Tom Phillips has been tucked away in the social media lounge.
– Backstage, Baron Corbin and Apollo Crews set up a match for the pre-show, as approved by Smackdown GM Daniel Bryan.
– WWE still promoted Randy Orton vs. Bray Wyatt happening at Backlash.
– Down at ringside, Mauro Ranallo, JBL, and David Otunga were standing by for commentary.
A — APOLLO CREWS vs. BARON CORBIN
Corbin knocked Crews off the ring apron down hard to the floor in the early going. [Network Break] Crews made a comeback with high-flying offense out of the break. But, Corbin cut him off and slowed the pace. Back-and-forth they went until Crews hit Kurt Angle's Olympic Slam for a close two count. Corbin responded in-kind with Deep Six for a close two count of his own.
Crews rolled to the floor, drawing out Corbin. Corbin charged Crews, who sent him shoulder-first into the ring steps. Crews followed with a bodyslam on the floor. Back in the ring, Crews smashed Corbin into the corner and tried to follow up, but Corbin flung him down to the mat. Corbin came right out of the corner with the End of Days, and it was good for the pin and the win.
WINNER: Corbin at 9:55.
Main Backlash PPV
Backlash opened with recognition of the 15-year anniversary of the September 11 terrorist attack in New York City. Text scrolled on the screen, closing with "freedom is not free."
Tonight: It's Backlash. Shane McMahon is in charge and Daniel Bryan is running the show. Shane said they have one vision – so look into the roster's eyes.
Live inside the Richmond Coliseum, pyro and fireworks shot off before Mauro Ranallo hyped the show. It's Backlash. Shane McMahon's music played first to bring out the commissioner to stretch this thing out. And, to further stretch this out, Shane's music gave way to Daniel Bryan, who led the crowd in "Yes!" chants on the way to the ring. Shane and Bryan milked it for a while looking around the arena, looking to the top rows, interacting with the crowd.
Shane asked Richmond how things are going. He thanked everyone affiliated with the Smackdown brand for putting this show on. Shane claimed Smackdown ratings are soaring and social media mentions are blowing up. Bryan then talked about tonight's WWE World Title & IC Title matches. Plus, the first-ever Smackdown Tag champions and Women's champion.
Shane said the Women's Title match is how they're kicking off the show. Becky Lynch's music played to bring out the betting favorite throughout the build-up until a few hours before the PPV. Natalya was out second to loud boos.
Cue the glow to bring out Naomi doing her light-up rave intro. Alexa Bliss was out fourth doing a clown show, then Carmella came out fifth. WWE recapped Carmella turning heel on Nikki Bella a few weeks ago on Smackdown. Nikki was out last to round out the field.
1 — BECKY LYNCH vs. NIKKI BELLA vs. NAOMI vs. CARMELLA vs. NATALYA vs. ALEXA BLISS — Six-Pack Elimination match for Smackdown Women's Title
Early chaos, sending competitors flying to the outside. Carmella and Nikki then met in the middle of the ring to tease a fight. But, they were attacked from behind to delay the meeting. They came back to it with Nikki spearing Carmella, then she nailed an Alabama Slam for a close two count.
After a reset, everyone found themselves on the floor except for Naomi, who flew onto all five opponents with a springboard splash. Nicely done. Back in the ring, Naomi dropped Bliss with a sunset flip powerbomb for a three count to secure the first elimination.
*** Bliss out via Naomi at 9:38 ***
Natalya then locked Naomi in a Sharpshooter to take advantage of Naomi's momentary sense of satisfaction. Naomi was forced to tap out.
*** Naomi out via Natalya at 10:52 ***
The Final Four was Becky, Nikki, Natalya, and Carmella. Natalya walked right into a backbreaker from Nikki, who pinned her for the third elimination.
*** Natalya out via Nikki at 12:00 ***
Suddenly, Carmella rolled up Nikki from behind and got a three count, shocking Nikki and the crowd. Nikki got up and nearly pushed referee Chioda out of frustration and disbelief. Carmella taunted Nikki, who slapped her across the face before leaving the ring.
*** Nikki out via Carmella at 12:08 ***
Becky scrambled back into the ring to go after Carmella, but Carmella cut her off and gave her a beating. But, Carmella's cockiness was her downfall, as Becky suckered her in for the Dis-arm-her submission. Carmella fought, but she had to tap out, giving Becky the win.
Post-match, Becky took the Smackdown Women's Title belt and sold being overwhelmed by the moment. Backstage announcer Charly Caruso then entered the ring to interview Becky about winning the title. She thanked the crowd for believing in her on the journey to winning this title. Becky said it's the first time she's won gold in WWE, and she's thankful. Becky's music played and she continued to celebrate in the ring.
WINNER: Becky via submission at 14:21 to win the Smackdown Women's Title. Nice match. They were given ample time to have some good exchanges and set up some follow-through on TV, like Nikki-Carmella intensifying. (**3/4)
Backstage: The Miz walked down the hallway and approached the locker room of Nickelodeon guest star Jagger Eaton. Eaton said he'd like Miz to be on his Nick show … unless they can get John Cena. Why, you little! Jagger said he'll talk to him later and slammed the door in Miz's face.
Backstage: Suddenly, Randy Orton was being attacked by Bray Wyatt. Here's the injury angle write-off. Orton sold injuring his right leg during the attack. Wyatt cackled and leaned down next to him as a referee tried to intervene. Orton winced in pain. Ranallo said they will try to get an update on Orton later tonight.
In-ring: The Usos were introduced to the ring like heels with new gear ditching the colorful outfits, hoodies, and a slow, heelish walk to the ring talking trash to the crowd. The announcers talked about The Usos attacking American Alpha after losing to them in the Tag Title tournament and injuring Chad Gable. Otunga pointed out that it's ridiculous The Usos are getting a second chance when their poor sportsmanship cost the Alpha a spot in the finals. He said they should have been suspended, not given a "second chance" in the tournament. The Hype Bros. were out next to face The Usos.
2 — THE USOS (JIMMY & JEY USO) vs. HYPE BROS. (ZACK RYDER & MOJO RAWLE) — Smackdown Tag Title tournament match — Winners advance to Finals
Mojo Rawley stayed hyped knocking The Usos out of the ring, then absolutely blasting them into the guardrail with a charging tackle. Mojo and Zack Ryder got themselves fired up, then chaos broke out back in the ring. The Usos got the upper hand and isolated Ryder.
Hot tag to Mojo, who stayed hyped on both Usos. They wanted the Hype Ryder on Jey Uso, but Jimmy yanked Mojo out of the ring to save his brother. Ryder nailed a Frankensteiner on Jey, but Jimmy broke up the pin just in time. Then, on the outside, Mojo got wiped out on the floor. Ryder tried to fight by himself, but Jey took out Ryder's left knee. They continued to attack the left knee, then Jimmy put Ryder in a half-Boston Crab targeting the knee. Ryder had to tap out.
WINNERS: The Usos at 10:11 to advance to the tournament finals. TV-quality match. (**1/4)
Backstage: Renee Young brought in Heath Slater and Rhyno to discuss facing The Usos in the tournament finals. Slater said he's feeling so good that no one can stop them. He then talked about having a tummy rumble. Slater said he visited the bathroom like five times today. Rhyno told him they're still live on the air. Suddenly, Slater pooped his pants. Renee smelled something foul, then Rhyno smiled after being left standing alone.
Video Package: The Miz vs. Dolph Ziggler feud centered on the Daniel Bryan-Miz confrontation from Talking Smack a few weeks ago.
In-ring: Dolph Ziggler was introduced to the ring to challenge for the IC Title. WWE then cut backstage to show Miz talking down to Bryan. Miz wanted to renegotiate his contract and be paid like an A-Lister. Bryan did not reply. You have nothing? Miz said after he retains the IC Title tonight, negotiations are going to get even tougher. Miz told Bryan to watch him do what he can't do anymore.
3 — IC champion THE MIZ (w/Maryse) vs. DOLPH ZIGGLER — Intercontinental Title match
Ziggler waited for Miz to approach him and he took him right down to the mat like Mickey Gall to C.M. Punk. Fortunately for Miz, he was able to escape through the ropes to regroup on the floor. Back in the ring, Miz took control of the match, including stretching Dolph with a modified surfboard stretch to show something new in the arsenal.
Miz continued to act cocky, then sent a message to Bryan by doing his signature poses. Miz followed with a corner attack on Ziggler. Miz then wanted a top-rope attack, and he nailed a double axe handle blow. Miz tried the Skullcrushing Finale, but Ziggler rolled to his feet and nailed a dropkick.
Both men were slow to their feet trying to recover from the first 10 minutes of action. Ziggler suddenly fired off offense, concluding with a leaping elbow to the chest for a two count. Miz then destroyed his shoulder charging Ziggler in the corner, but Ziggler could not follow up, as Miz countered Zig-Zag with a sit-out powerbomb. Miz covered, but Dolph kicked out.
The crowd was fired up as both men recovered to their feet. Miz took out Ziggler's knee, then tried to soften it up for the figure-four leglock, but Ziggler shook him off and nailed a Fameasser for a two count. Suddenly, Ziggler hopped onto Miz's back with a sleeperhold, but Miz flung Ziggler into the corner to break free. Miz caught his breath and talked strategy with Maryse down at ringside.
Miz suddenly charged Dolph out of the corner, but Ziggler caught him with a DDT. One, two, kick-out by the champ. Ziggler got up pounding his knee trying to get some life back in the leg, then he tried a superkick, but Miz blocked and DDT'ed him. Miz followed with the figure-four in the middle of the ring. Ziggler writhed and flung himself around as Miz tried to apply more pressure. Ziggler finally got to the bottom rope to get a break.
Immediately after breaking the hold, Miz went back to the knee trying to go for the figure-four again, but Dolph kicked Miz away. Dolph nailed a superkick, but when he covered, Miz got his foot on the bottom rope to stop a three count. Miz rolled to the outside looking for a breather, drawing out Dolph.
Dolph basically carried Miz back into the ring to prevent a count-out, then he nailed Miz with a back-elbow smash. Miz then pulled in the ref and Maryse sprayed Dolph in the eyes with mace from the outside. Dolph stumbled backwards into the Skullcrushing Finale from Miz, who covered Dolph for the pin and the win.
WINNER: Miz at 18:22 to retain the IC Title. Heck of a match between Miz and Ziggler. The finish continued to play up Miz's rising heel persona and they did their best to protect Dolph in defeat. (***3/4)
[Intermission. Renee Young talked to the pre-show panel about the first-half of the show.]
Back in the arena, Bray Wyatt's music interrupted to bring out Randy Orton's scheduled opponent. Wyatt did a full ring intro, then argued with referee Charles Robinson. Bray told Robinson to call for the bell. Suddenly, ring announcer Greg Hamilton was handed a note. Unfortunately due to injury, Randy Orton cannot be cleared tonight. Bray has asked for a ten-count to certify his victory via forfeit.
4 — BRAY WYATT vs. RANDY ORTON
Bray leaned against the ropes and soaked it up as referee Robinson made a ten-count. Bray was declared the winner via forfeit.
WINNER: Bray Wyatt via forfeit at 0:24.
Bray's music played and he got his hand raised, then Greg Hamilton announced the second item on the note he was handed. He said Bray will be competing in a No Holds Barred match against this man … long pause. Kane's pyro shot off to produce Kane as Orton's replacement.
5 — BRAY WYATT vs. KANE — No Holds Barred match
As the bell sounded, JBL noted on commentary that Kane once kidnapped Bray Wyatt. Kane quickly bounced Bray down to the floor and ran him over the barricade into the timekeeper's area. Kane cleared the Spanish announce table looking to rock Bray, but Bray cut him off. Back in the ring, Bray ran over Kane with a flying cross-body smash.
Bray retrieved a chair from the outside and brought it into the ring to jab Kane in the gut, then across the back. Bray tried to slam Kane into the chair, but Kane blocked and kinda DDT'ed Bray into the chair. Kane then dragged Bray to the outside.
On the floor, Bray smashed Kane with a wicked clothesline. Bray then placed Kane on the Spanish announce table, posed like Randy Orton, and ran off the English table with a running senton splashing Kane right through the Spanish table.
After recovering, Bray picked up Kane and rolled him back into the ring. Bray then posed upside down in the corner before stalking Kane for Sister Abigail. But, Kane countered with a chokeslam. Kane covered, but only got a two count. Kane got up first from the exchange and retrieved the chair to give Bray a Tombstone, but Bray suddenly nailed Kane with a uranage onto the chair for a nearfall.
Suddenly, Randy Orton hobbled out on-stage selling his leg injury. Orton slowly walked down to ringside as Kane sat up in the ring. Orton then slipped into the ring and nailed Bray with an RKO. Orton hobbled out of the ring towards the back as Kane stalked Bray for a chokeslam. Kane deliered it, then covered Bray for the win.
WINNER: Kane at 10:55. Suitable replacement match for Bray vs. Orton, including Orton getting in what people paid to see – an RKO leading to the finish. Kane's standing on Smackdown is interesting as a utility player without a real role. (**1/2)
Backstage: A.J. Styles walked past two independent wrestlers. Styles said he's been where they've been before. Styles said they're destined … for failure. But, hold on, hold on, you can say that tonight you got to meet the face that runs the place. And be here the night he became WWE World champion. Take heart my friends. Styles smiled and kept on walking.
No Mercy: Smackdown's next PPV takes place Sunday, October 9 in Sacramento, California.
In-ring: The Usos were introduced to the ring for their second match of the show in the Smackdown Tag Title tournament finals. Out next were Heath Slater and Rhyno. Slater needs to win in order to get a Smackdown contract and win the Tag Titles.
6 — THE USOS (JEY USO & JIMMY USO) vs. HEATH SLATER & RHYNO — Smackdown Tag Title tournament Finals
The crowd was hot for Slater early on, chanting "Let's Go Slater." Rhyno tagged in next, drawing "ECW" chants. Slater tagged back in, but got double-teamed by The Usos. On the outside, the Usos double-suplexed Slater into the ringpost, trying to capitalize on his stomach issues.
Back in the ring, the Usos isolated Slater, trying to get him to submit. The crowd tried to rally behind Slater, who took a corner splash and continued to sell. Back on his feet, Slater collided with Jey Uso mid-ring. Slater finally made it to his corner to tag in Rhyno as Jimmy tagged in. Belly-to-belly suplex, then Rhyno lined up Uso for The Gore. But, Uso moved and Rhyno ate the buckle.
Slater tagged himself in for Rhyno and nailed Uso with a neckbreaker. Then one for Jey Uso. Slater delivered a leaping DDT to Jimmy, but Jey dragged Slater out of the ring to break up the pin. Suddenly, Rhyno charged Uso with The Gore out of the ref's view. Slater crawled on top of Jimmy, draped an arm, and it was good for a three count to win.
Post-match, Slater sold shock as he heard his music. Rhyno received the Tag Title belts and handed one to Slater, who got fired up celebrating in the ring. Charly then entered the ring to interview the first-ever Smackdown tag champs. Slater's voice cracked as he asked Rhyno if he believes this and if he hears the crowd. Slater said when he wasn't drafted, he knew there was a mistake. But, he and Rhyno fixed that. Slater said he gets a contract now. He shouted out to his "wife" that they're getting a double-wide, baby!
WINNERS: Slater & Rhyno at 10:02. Nice build-up arriving at the outcome, getting over Slater and a veteran like Rhyno as a solid pairing. The crowd was really into both, making for a nice moment. (**3/4)
Video Package: A.J. Styles claims to be the Face that Runs the Place after beating John Cena at Summerslam. But, WWE champion Dean Ambrose has something to say about that.
In-ring: A.J. Styles was introduced to the ring with a big grin on his face confident about how this match is going to go. Styles hit the ring and put on John Cena's red, white, and blue armband as a headband like a '70s ABA player. Styles flung down the armband, then Dean Ambrose's music played to a big reaction. Out came the reigning WWE World champion. Once Ambrose hit the ring, WWE panned the crowd and picked up on Jonny Fairplay on the front row.
Greg Hamilton handled formal ring introductions for Styles and Ambrose, then the opening bell sounded. Big-time atmosphere in the building as the bell sounded.
7 — WWE World Hvt. champion DEAN AMBROSE vs. A.J. STYLES — WWE World Hvt. Title match
Ambrose and Styles danced around the ring early on, then Styles gloated about landing one move. So, Ambrose pushed him down hard to the mat and hip tossed him out of the ring. Styles sold being embarrassed, then circled the floor before returning to the ring. Drop down, leap frog, and textbook dropkick for Styles.
Styles tried to capitalize with a Stinger Splash, but Dean moved out of the way and Styles ate the buckle. Ambrose took Styles to the top turnbuckle and went for an overhead belly-to-back suplex of sorts that ended up looking super-dangerous. Both men sold on the mat, then Ambrose got up firing with a lariat. He followed with a swinging backbreaker across his leg for a two count.
Styles rolled to the floor, so Ambrose climbed to a corner buckle and delivered a flying elbow strike to the chest. Back in the ring, Ambrose caught Styles with a lift-up, wheelbarrow-like belly-buster for a close two count. Ambrose then climbed up top again, but Styles caught him and suplexed Dean right into the turnbuckle. Both men sold on the mat.
Styles and Ambrose went back and forth countering each other. Styles then innovatively trapped Ambrose's leg in the corner and just smashed the knee down into the mat with all of his weight crashing down. Ambrose sold intense left knee pain, leading to Styles applying a submission. But, Dean used his good leg to kick Styles repeatedly in the face to break free.
Loud dueling chant as Dean came to his feet first, but he could not deliver a suplex. So, Styles trapped him and rolled him into the Calfcrusher in the middle of the ring. Dean lunged toward the bottom rope and got the rope for a break. Styles released, then re-applied the hold in the middle of the ring. But, Ambrose used his free arm to forearm Styles over and over and over, getting a break.
Both men came to their feet and Dean blocked the Styles Clash, but he didn't avoid a kick to the head. Styles then stalked Ambrose for the Clash on the ring apron, but Dean blocked and catapulted Styles shoulder-first into the ringpost. Ouch. Dean followed with a lariat into the barricade.
Back in the ring, Dean hobbled into a corner attack, leading to a running bulldog. Ambrose stacked up Styles, but A.J. kicked out before three. A.J. answered with a fireman's carry neckbreaker for a close two count. He then wanted a Styles Clash, but Dean flung him away. Styles regrouped and put Ambrose in a torture rack, which he turned into a spinning backbreaker for a two count.
Both men sold on the mat as the crowd picked up a dueling chant. Styles talked some trash, then hit the ring apron to deliver a springboard 450 splash. Styles covered, but Dean kicked out just before three. Styles got frustrated, then rocked Dean with forearms, but he left himself vulnerable to a counter neckbreaker.
Suddenly, Dean rocked Styles with forearm after forearm before absolutely smashing Styles with a dropkick sending Styles crashing to the floor. Dean then flew through the ropes with a suicide dive sending Styles crashing into Mauro Ranallo's lap. Dean then tossed Styles over the barricade into the front row.
Dean broke the ref's ten count, then climbed onto the English announce table and ran off the German announce table with a flying splash over the guardrail to splash Styles. Just nuts. Ambrose dragged Styles back into the ring, where Styles surprised him with the Pele Kick, but Dean rebounded into his Rebound Lariat. Dean, fired up, stalked Styles. Ambrose wanted Dirty Deeds, but Styles pushed Dean into the ref, bumping him.
Styles saw an opening and kicked Dean right in the groin, following up on their TV build-up. Styles then gripped Ambrose and delivered the Styles Clash in the middle of the ring. Styles rolled over Dean, the ref gathered himself, and Styles covered Dean for the pin and the win. New champ. First-time champ.
Post-match, JBL played up Styles's tainted victory and whether his fans will be concerned about how he won. WWE showed Styles celebrating with the title belt on the stage as Ambrose collected himself in the ring. The PPV signed off at 10:38 EST with Styles standing tall on the stage as new WWE champion.
WINNER: Styles at 24:57 to capture the WWE World Hvt. Title. Hot, hot match. Really nice chemistry and the latest match cementing Styles as the Wrestler of the Year. As the match unfolded, the crowd was more into Styles winning than Ambrose as defending babyface champion who just got kicked in the groin by Styles on the last TV before the PPV. But, that's a reflection of the environment WWE has created where heels are rewarded or the storylines are flimsy to where the audience doesn't buy in and just cheers their favorite, ignoring heel tactics like Kevin Owens and A.J. Styles winning top titles in the last few weeks. Yes, Owens and Styles are the top champions in WWE. That's hard to believe. (****)
***
LIVECAST ALERT: We're talking your calls on the PPV post-game show at 11:30 p.m. EST at PWTorchLivecast.com breaking down tonight's show!
Social Media Alert: Follow PWTorch staffer's live, real-time tweets during the PPV at Twitter.com/PWTorch/torch-staff.
***
MOBILE ALERT: Follow Results in real-time by visiting the mobile version of PWTorch by HARD-PRESSING THIS LINK. VIP MEMBERS: Access your ad-free version by HARD-PRESSING THIS LINK.
***
Reax: After the PPV, we're looking for your feedback on the show. Email Best/Worst Match, 0-10 Score, and Reax to pwtorch@gmail.com.
Shop: Do you shop on Amazon? Support PWTorch by using our ID when shopping. Just click THIS LINK and whatever you buy costs the same, but it gives back to PWTorch!