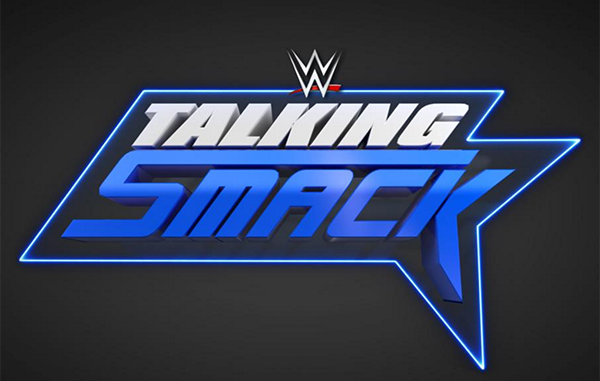 ---
SPOTLIGHTED PODCAST ALERT (YOUR ARTICLE BEGINS A FEW INCHES DOWN)...
---
WWE TALKING SMACK REVIEW
JANUARY 3, 2017
AIRED ON WWE NETWORK
REPORT BY BRANDON BEAUCHAMP, PWTORCH CONTRIBUTOR
INTRO
Renee Young and Daniel Bryan welcomed us to Talking Smack. Bryan refers to himself as "Boom Boom Bryan." Renee asked why he's calling himself that. Bryan said that the crowd was chanting that when he was out there. Renee agreed the crowd was loud tonight. Bryan touted Smackdown beating Raw in the ratings. Bryan explained how it takes a while to see a difference in the ratings even though they have been the better product. Bryan compared it to the Attitude Era when WCW was ahead in the ratings but WWE had the better show and slowly the ratings shifted.
"Let's address the elephant in the room," Renee said, a reference to getting slapped tonight on Smackdown by Maryse. Renee said she needed makeup to cover up the welt. Bryan said he is fining Maryse $5,000 for slapping a non-wrestler. Renee said she feels Maryse deserves that.
Renee then brought up Dean Ambrose being the new WWE Intercontinental Champion. Bryan said it was a great match. He talked about how he thought it was cool the I.C. Title match was the main event tonight. Bryan said he hopes the Smackdown Tag Team Title match headlines Smackdown next week, but still sort of had his doubts.
Guest 1: Baron Corbin
Renee welcomed Baron Corbin to the set. Renee said Corbin is a man of bold predictions. Corbin said they were not predictions, they were a statement. Corbin said he is going to the Royal Rumble, winning the Royal Rumble, going to WrestleMania, and leaving as WWE Champion. Renee said if he does he would either be going against A.J. Styles or John Cena.
Corbin said he wanted to address A.J. first. Corbin brought up when A.J. said he was the reason we beat Raw saying A.J. has been in the main event for months, but he (Corbin) was in the main event for the first time. Corbin said it was him in the main event and he was the superstar in this situation. Then Corbin said to Cena: "My words will come true. Speak to me like that again I'll put your teeth down your throat." Corbin said Cena's catch phrase "You can't see me" is right. Corbin is looking through Cena to WrestleMania. Bryan asked Corbin if he feels it's a mistake to look through Cena. Corbin said looking through Cena is easy because he is only here part time. He said Cena can't beat him with half the effort. He added that Cena's time is up. Corbin said Cena can talk about his years of moments, but so many people have moments. It's his time now. Corbin said, "When you're part time, you put in half the effort and you can't beat me." Corbin said it wont be easy and Cena's going to put up a fight, but next Tuesday Cena's time comes to an end. Corbin exited the set.
Bryan said he loves the confidence Corbin came in here with. Bryan acknowledged how A.J. Styles said it was because of him Smackdown beat Raw in the ratings but Bryan said it was the entire Smackdown team. Bryan said last week Corbin looked incredible. Bryan said, "Who's to say Corbin won't win the Royal Rumble?"
Renee asked Bryan why everyone is harping on Cena being a part timer. Bryan said when you're someone like Dean Ambrose, you're main eventing 90 percent of all those live event house shows, and then WrestleMania time comes around and all of these part timers come and take top spots. Bryan said when you see these people come in and take a spot, that's where this hostility towards part timers is coming from. Bryan said he recognizes that we need these big events and special attractions, but said we also need these full timers that are here everyday.
Guest: Carmella and James Ellsworth
Renee brought on Carmella and James Ellsworth. "What's going on here," Renee asked, referring to Carmella pairing up with Ellsworth. Carmella acted as though she had no idea what Renee was talking about. Renee said Carmella was a beautiful Statin Island queen and Ellsworth is just Ellsworth. Carmella said he's cute and has a nice t-shirt. Renee asked Ellsworth if there is something going on between them. Ellsworth said first he wanted to apologize for helping Carmella. Carmella tells Ellsworth doesn't have to do that. Carmella said they were not here to talk about that. She told Ellsworth he's sweet and he did nothing wrong. Bryan said if he touched a woman that does not want to be touched, it is very bad even if it's just the foot. Ellsworth continued to apologize, but Carmella cut him off and told Ellsworth there was no need to do that. Renee asked what they do together. Carmella said they have fun. Bryan asked what kind of fun. Carmella said they just hang out, Ellsworth carries her bags, carries her clothes when they go shopping, and tells her she looks great. Carmella asked, "Doesn't this shirt look good on me, Jimmy?" referring to her James Ellsworth shirt.
Bryan asked why Carmella is calling him Jimmy. Carmella asked why not. She said she can call him whatever she wants. Ellsworth agreed she can call him whatever she wants. Carmella said he's so sweet. Bryan asked if Carmella ever called him the Big Dog. Carmella said not yet. Renee said she wished them luck in whatever they do. Carmella criticized Renee and others for questioning her association with Ellsworth. She and "Jimmy" leave the set. Bryan said Ellsworth does have a great personality. Renee didn't buy it she said she does not think Carmella is being truthful. Bryan eludes to Ellsworth's pants. "You don't know what he brings to the table, you don't know how big he is," she said.
Renee switched gears to Nikki and Natalya. Bryan said that both are hard-working women and to hear them say horrible things about each other ruins the whole thing. Bryan said dying alone is a mean thing to say. Renee and Bryan plugged next week's WWE Smackdown Live with Baron Corbin facing off with John Cena. Natalya will face Nikki Bella, and the Smackdown Tag Team Championship match American Alpha defending against The Wyatt Family. Renee and Bryan start to talk more about American Alpha and then the mood changes as a brooding Miz enters the set.
Guest The Miz:
The Miz looked fuming as he rudely interrupted. Miz asks Renee if she's happy he lost.  Renee said it had nothing to do with her. Miz said it had everything to do with her and Daniel Bryan. Miz said he made the I.C. Title prestigious and said Bryan made the match and let a journalist get involved. Miz looked at Renee and said, "You're a journalist. Journalize!" Bryan t0ld them both to calm down. Bryan asked Miz if he realizes he's getting fined. Bryan said Miz lost the match. Miz said Maryse slapped Dean Ambrose and that is a disqualification in any rule book and everyone is against him. Bryan said Miz hit Ambrose with the I.C. Title belt. Miz said Ambrose didn't deserve a title match. Bryan said the reason Miz doesn't think people deserve a match is because he knows they are better than Miz.  Miz freaked out said he is the best. He kept repeating "I am the best." Miz looked as though he had gone off of the deep end with his eyes bulged and his face red and a crazed look. Miz said he's sick of everything and slammed the mic down on the floor, then walked off as the show ended.
---
NOW CHECK OUT LAST WEEK'S REPORT: 12/27 WWE TALKING SMACK: Cena says blaming Rock for non-WWE aspirations was a mistake, JBL tells Alpha to change, Dean joins Renee on set