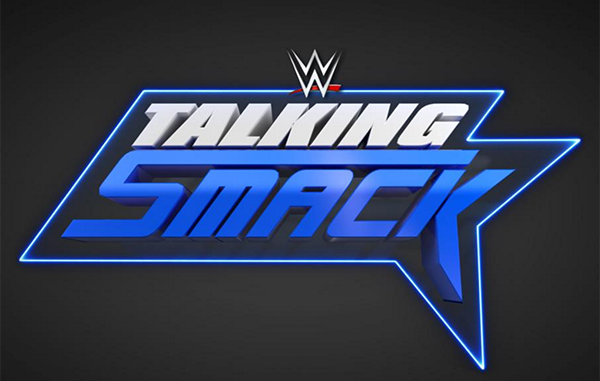 ---
SPOTLIGHTED PODCAST ALERT (YOUR ARTICLE BEGINS A FEW INCHES DOWN)...
---
WWE TALKING SMACK REPORT
FEBRUARY 7, 2017
AIRED ON WWE NETWORK
REPORT BY BRANDON BEAUCHAMP, PWTORCH CONTRIBUTOR
Hello world! Renee Young welcomed us to Talking Smack and welcomed Daniel Bryan back to his home state of Washington. Renee was disappointed Brie was not there. Bryan said they were having a "Baby moon." He described it as "when your going to have a kid and you won't be free for the next 18 years so you go out and have some fun together." Renee asked what kind of fun they had? Bryan said they went to the rain forest then was offended Renee did not know there were rain forests in Washington. Then Bryan began to go into documentary mode talking about his home town's average rain fall to which Renee quickly put a stop to telling Bryan, "This is not National Geographic." Thank god. Renee said we are going to have to… and was abruptly cut off by Bryan screaming, "Talk about some wrasslin? Are we gunna talk about some wrasslin or what? Let's talk about some wrasslin!" No Daniel, it's sports entertainment, get it right.
Renee said we are five days away from Elimination Chamber, the very last stop for Smackdown on the road the WrestleMania. Bryan said the Elimination Chamber is not fun to be in as a performer, but he is excited to watch the event. Renee brought up how Bryan's favorite to win, Baron Corbin, looked great tonight and is looking forward to talking with him on the show later, but before that wanted to welcome the first guest Nikki Bella.
Guest 1: Nikki Bella
Nikki Bella entered the set all smiles and happy to be there. Renee asked, "girl to girl," with Natalya being such a close friend over the years and confiding in her about personal things, "now [Natalya's] saying she would potentially have a relationship with John Cena. What?" Not sure if that's actually a question, but okay. Nikki said it shocked her and she doesn't know what's happened to Natalya. Nikki said she's legitimately gone crazy and is one of the most bitter people she's ever seen lately. Nikki said she doesn't understand it. She said if Natalya wants the spotlight, she can go ahead and take it. Nikki said she's just super frustrated because this has been going on since Survivor Series and now to bring her man into it and say he would be with Natalya and not her, she is just sick of it and it's below the belt.
Renee said it was one thing to talk about Cena the way she has been, but to now bring it to this level with the personal blows, it's been taken to a whole new level. Bryan asked Nikki why she thinks Natalya is taking such a personal affront to all of this? Nikki said she doesn't know if it's because they are cast members on Total Divas and now on Smackdown, or if it's that Natalya sees some of the things Nikki has in her life and Natalya wants that.
As Nikki was mid-thought-bubble, Natalya barged onto the set asking if John got Nikki the spot on Talking Smack too? Natalya said Nikki only has everything she has because of John Cena. Nikki asked, "Are you serious right now?" under her breath. Nikki told Natalya to let it go. Natalya said she doesn't let anything go and went in for an attack on Nikki, but Nikki countered with a huge slap across the face of Natalya. Natalya was reeling for a second but came back with a high heel shoe to the facial area of Nikki Bella. Both Renee and Bryan yelled for Natalya to stop as she grabbed Nikki and whipped her head into one of the LED screens in the background set. Natalya continued to put the boots (or bare feet, anyway) to Nikki as she lay on the ground struggling to slide away. Natalya then grabbed Nikki by the arm and yanked her head-first into the metal and plexy glass set design in front of the desk. Bryan sold it better than any of them jumping out of his seat, yelling "Enough!" Natalya laughed in pleasure as a handful of production stooges pulled her away and through the back door. Nikki held her face as if she had an abscessed tooth as we cut to a commercial. Wait, a commercial? As if there wasn't enough of those on live TV, but I suppose it fit the moment.
We came back with Renee and Bryan. Renee said this has gotten so out of control there needs to be some repercussions for Natalya. Bryan said medical staff was looking at Nikki. Bryan did a great job of putting over how unforgiving the inch and a half thick glass on the desk is and then went into how Nikki has been having tingling in her arm as a result of her neck surgery and how this was a dangerous situation. Renee said it's one thing to have a personal issue with someone, but when your injuring someone's neck like that it takes it to a whole new level. Bryan said as someone who's career ended short you hate to see something happen like that.
Speaking of hating to see something happen, Renee switched topics to the Ascension winning in the tag team match tonight on Smackdown. Bryan brought up an obscure fact that he and Victor from the Ascension used to be in a tag team on the indies known as Double Meat. Renee gets a good laugh out of that. Renee asked why they were called that and then has second thoughts and said never mind.  Bryan said he has always seen great potential in the Ascension and brought up how they have kind of sputtered so far, but said tonight we saw how good they can be. Bryan said he thinks they may have a shot in tag team turmoil at Elimination Chamber. Renee brought up how they were long reigning tag team champions in NXT. Bryan then went on to put over how great the tag team division is on Smackdown. A bit of a stretch.
Renee then went into the Carmella and James Ellsworth "relationship" and mentioned that she thinks he looks like a stud lately the way he has been dressing. Renee and Bryan speculated on why they might not be at the show today. Bryan brought up why he thinks Carmella is into Ellsworth. Renee curiously asked why? Bryan said, "Did you know that sometimes around the locker room we call him James Hogsworth?" Bryan said he's not sure why that happens. He said they call him the "Big Hog" James Hogsworth. Renee cracked up laughing, having a hard time holding it together. Renee didn't buy it. Bryan continued saying when Ellsworth comes into the locker room all the guys chant "Big Hog, Big Hog, Big Hog!" and then they do the Big Hog dance. Bryan said Rick Victor of the Ascension leads the chant.  Renee tried her best to keep it on track laughing hysterically. Renee said, "This is getting ridiculous and out of control." She moved the show forward welcoming the Lone Wolf Baron Corbin.
Guest 2: Baron Corbin
Baron Corbin joined the set. Corbin said they were losing control up here commenting on the face print in the glass on the set from Nikki Bella. Renee congratulated Corbin on a great night tonight. Corbin it felt good. He was in the ring with three former world champions tonight and he single-handedly beat them all. Renee asked Bryan how he felt about Corbin fulfilling everything he said he was going to do since he started in NXT. Bryan said ever since the Kalisto match, the more Corbin proves himself the more opportunities he's going to get and that's why Corbin's in the Elimination Chamber match and that's why he was in the fatal four-way tonight.
Renee said that Corbin could walk out of the Elimination Chamber match the WWE Champion. Corbin said it drives him crazy when Renee keeps saying could be. Corbin said he expects to walk out WWE Champion this Sunday. He said he made a statement tonight. He said the End Of Days is devastating when it hits you your out and he plans on using it Sunday until there is no one left. Corbin said, "I'm going to win the championship and I'm going to rub in everybody's face just because I can." As he chuckles to himself a bit. Renee brought up how some of the guys in the match this Sunday have experience in the Elimination Chamber and it is something that could be used against Corbin. Corbin said it is going to be a new experience but he trains hard every day and he said he is physically imposing to everybody and can input his will onto them and there is nothing they can do about it. Corbin said, "At the end of the day when I'm cracking teeth, it doesn't matter if it's in a chamber, in a ring or in a little bar. When people go down they stay down."
Corbin mentioned that he had never been in an Andre the Giant Memorial Battle Royal before, but he won that. "There has been a lot of never-before," he said, and he has been successful and is making it a habit. Bryan asked Corbin if he is concerned at all about being the first person in to the Chamber with the rule structure starting out with two guys for five minutes and adding a new guy every two minutes. Corbin said he doesn't think anyone who has ever started it has won it. Corbin said he will make that another notch in his belt. He said said he knows it won't be easy. He brought up how he called Undertaker a ditch digger but ate his words when Undertaker threw him out of the Rumble match. Corbin said now he's going to go into this match a little more angry and frustrated and is looking forward to hurting other guys. Corbin said he doesn't care about what the fans or anybody else has to say, he's in there to be champ and make money.
Renee asked if it would be different if Corbin won the title and then went into WrestleMania filled with an entire stadium of WWE fans. Corbin said no, whatever the fans feel about him, he doesn't care. He said he's here for himself. He said he was given the nickname the Lone Wolf because that's what he is. He said winning the championship at Elimination Chamber and carrying it through WrestleMania and even further is a great first year and that is a legacy he is going to leave. He said other peoples opinions will never matter. Renee thanked Corbin for joining them and Corbin left the set.
Renee went into hype mode and ran down the main event for Elimination Chamber, then switched gears to Randy Orton vs. Luke Harper at Elimination Chamber and asked Bryan if we have seen Harper's full potential. Bryan said he doesn't think that we have, but we will have to see how he is away from Bray Wyatt. Bryan mentioned a ladder match between Harper and Dolph Ziggler. He said he remembers distinctly thinking Harper was the most sadistic man in WWE, saying he is a wildman and people should be running from him. Bryan brought up the extremely random and odd example that Harper could get stabbed in the arm with a pair of scissors and just walk right through it. He said he's tough and it hurts when he punches you, so Randy Orton will have his hands full this Sunday. Assuming we all forget Orton just beat Harper on Smackdown like two weeks ago.
Guest 3: John Cena
Renee welcomed on the final guest, 16 times your world champion, wooooooo, WWE Champion John Cena. Cena nonchalantly put his belt up on the table and asked what he missed, then brushed off Corbin talking about winning the Chamber match. "Yeah yeah, so did five other guys." Cena asked what else he missed asking how Nikki was on the show. Bryan gently broke it to John that she was face-planted on the set. Renee asked to pull up the video. They showed they showed the replay of Natalya's attack on Nikki. John put on his best pretend concerned face as he watched saying with that neck surgery "That was a little bit much." Renee mentioned Natalya's words about Cena to Nikki earlier as well. John said the action there scared him a bit, but Nikki deals with a lot of stuff all the time and is the toughest person he knows.
Renee switched to the Elimination Chamber. John said that was an ice cold transition. Bryan asked Cena with Nikki being attacked will effect him going into the Elimination Chamber match. Cena said his and Nikki's relationship is not a normal one and that they agreed he has to do his thing and Nikki needs to fight her own battles. Cena said yes he will be thinking about her, but Nikki's tough. Cena said he never wants her to look aback on anything she's done and feel like she only did it because Cena helped her do it. Renee asked Cena how he can keep it so black and white like that? Cena said Nikki takes a lot of pride in her work and cares a lot about her legacy. He said Nikki has a hard resolve and he knows she will be banged up, but will be there on Sunday and will give it her all. Renee thanked Cena for his insight on Nikki. Cena said now he will let them talk about Elimination Chamber. Now the king has given permission to the peasants to ask their silly little questions.
Bryan asked Cena about being the 16-time world champion. Cena humbly acknowledged it, saying it was the little things like Charles Robinson "Lil Naitch" reffing the match. He said the first face Cena saw walking into the back was Ric Flair. He said those were very cool moments. Cena said people always ask him what his favorite match is. He said his answer is always the same: "My next one." He said he is looking forward to the Elimination Chamber. Cena said he's not stopping to smell the roses; his main objective is to do the best he can for the WWE Universe. He said his goal is to keep the title and main event WrestleMania.
Bryan asked if there was one person Cena was worried about in the match. Cena said the big steel structure and the draw, being number one or two is a tough card to play. He said you have to negotiate the unforgiving chamber itself and if someone draws a one or a two it's a long night. Cena said with the track record he has, everybody knows he will be firing on all cylinders. Cena then shockingly said the one person he is worrying about is A.J. Styles because he is also firing on all cylinders. Cena said everybody else just isn't where they are at. He said the internet can rejoice in him saying that. He said he and A.J. are just in a groove and he feels great every night. Renee said thanked Cena for being on the show. Cena prickishly said that was his allotted interview time, so now he is going to excuse himself to go check on his lady. Sorry to bother you for a moment of your time, John. Renee thanked us for joining and plugged elimination Chamber this Sunday. Bryan added that it was presented by Tout, which is hilarious. Renee was trying to keep a straight face said it is not presented by Tout as they went off the air.
---
NOW CHECK OUT LAST WEEK'S ARTICLE: 1/31 WWE Talking Smackdown Review: American Alpha, Randy Orton, Naomi join Renee and the return of Daniel Bryan