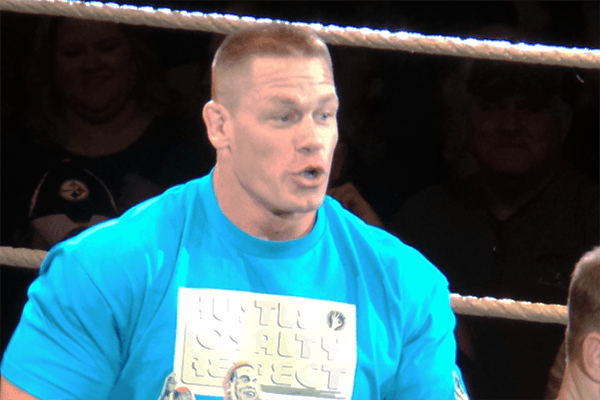 ---
SPOTLIGHTED PODCAST ALERT (YOUR ARTICLE BEGINS A FEW INCHES DOWN)...
---
The following are highlights with analysis of John Cena's new interview with Justin Barrasso published by Sports Illustrated today.
•In response to criticism that his 16th World Title reign was only two weeks: "To rebut the two-week, 16th title reign, if I'm correct, Ric Flair's 16th title reign was only 24 hours. They can't all be these massive statements in the annals of history."
Keller's Analysis: I'm a little surprised that Cena had this little anecdote at the tip of his tongue. It shows maybe he or someone was aware of criticism and thus he had a comeback ready. Sure, many of Flair's title reigns were poorly booked, especially near the end of his career. That said, Cena shouldn't proudly point to this title reign being short just because something a long time ago was booed flippantly or poorly. I am a bit torn, though, because I do ultimately agree that every title reign cannot be magnificent and historical in length. I suppose what most people would want is just a little more acknowledgment of the record-tying reign and a bigger deal being made of it ending so quickly instead of just, as Cena often does, kind of blowing off that losing the title matters that much and just turning the page to the next challenge until he's booked to be in the title picture again.
•On his feud with A.J. Styles: "I'm really happy that people were interested in everything we did. I think it was a really good opportunity for A.J. Styles to show exactly how gifted he is, and, in my mind, he is tremendously gifted."
Keller's Analysis: This isn't a big criticism of Cena, because I think he means well and genuinely meant to compliment Styles, but it's not like Cena is some grizzled veteran who helped show fans how good this young up-and-coming Styles guy is. Styles and Cena are less than two month apart in age, they have similar length careers (and although very different paths, both have been centerpiece headline stars pretty much the entire way), and Styles is regarded by people who have seen both of their careers as the better of the two workers in the ring, some would say by a wide margin. So I guess what's missing from Cena's compliment is an acknowledgment that maybe Styles helped Cena show the world what he can do in the ring the levels he can reach against a world class top tier wrestler like Styles.
•On his rumored mixed tag match at WrestleMania – Cena & Nikki Bella vs. The Miz & Maryse: "I know people have a perception of who I am. There is nothing I can say in this interview that changes that perception, but I'll say this: I don't pitch ideas, I don't go and say, 'This is what I would like to do.' I've had tremendous success in being a versatile poker player, if that's a good analogy. I get my hand told to me, and I play it the best I possibly can."
Keller's Analysis: That doesn't sound like someone embracing the match or his position of influence in WWE these days. He might genuinely deal with it with an innocuous shrug as he looks at his paychecks and, perhaps more so these days, his post-WWE opportunities. He also might be trying to deflect criticism that he's trying to keep his girlfriend Nikki happy or give her a big (potential) sendoff match due to her neck issues.
•On doing off-the-beaten-path requests WWE makes of him: "As far as WrestleMania is concerned, whatever I'm supposed to do I'm going to do to the best of my ability. I can reference last year as a great example. I was ready, healthy, and one-hundred percent activated by early March, and I was told that I would be assisting The Rock in WrestleMania. Quite honestly, if it weren't for The Rock's involvement in WrestleMania, I would have been told that I would have been sitting out WrestleMania. [People ask] why don't I just go in there and say, 'I want to do this'? Last year, I should have said, 'I want to do this,' but that's just not what I do. This is why I love what I do. You sometimes get an off-the-beaten path request, and it's your job, as a professional, to make it interesting and make it the best you can. To be quite honest, way, way, way back, A.J. Styles was an off-the-beaten path request, and I loved that. It brought out the best in A.J. Styles and it brought out the best in me. I'll always try to do the best with what I've got."
Keller's Analysis: Again, if you look at Cena's public comments and role in WWE the last couple years compared to what he said and how he was featured before that, it indicates there was a turning point or tipping point along the way where he went from sleeping on WWE bed sheets and wearing WWE pajamas to treating his relationship with WWE and Vince McMahon in a more business-like detached way. It'll be fascinating to hear some stories on this dynamic if it ever comes out in a book or interview some day. He's hardly bad-mouthing WWE and still affirms his loyalty and dedication to the brand, but there's just a different approach to his public comments, including how he admits he looks totally differently at The Rock's career path now than he used to.
•Regarding his criticism of Rock win the past: "It was stupid of me. It genuinely was. That was my perspective at the time. When you're involved in the daily grind of WWE, and that's something I never will let go of—I promise you that. I just love it, and I don't think I need to say that, ever again, or have somebody question my allegiance to a brand, not the sport of professional wrestling, so to say, but a brand. I love the WWE. For me to not be able to see Dwayne's vision on what he wanted to do personally, and how his personal success could affect a growing global brand, that was just ignorant on my part.
Keller's Analysis: I said back then Cena couldn't credibly criticize Rock for his choices until he actually began facing the same choices and opportunities and turned them down. As Cena began to actually get outside opportunities, sure enough his opinion of Rock's decisions changed. There are differences, as certainly Cena put in many more full times with WWE than Rock did. I also think as Cena matured and began to see the eventual end of his full in-ring days and physical ability to keep up the schedule, he saw that the brand would go on without him, so he needed to plan his post-WWE in-ring career path too.
•On why his opinion of Rock's foray into movies changed: "We have our blinders on, sometimes, in these daily situations of life, and, to me, my thing was, 'Hey man, as a fan, I loved you performing in this venue all the time, you left us high and dry, why aren't you back here? It's obvious you're still healthy and obvious you're still capable.' On the other side of the fence, I didn't see the man who is so driven to crush the stereotype of 'pro wrestlers are just pro wrestlers, and they can do nothing more, period.' Here we are, when Rock left in 2002, it didn't happen overnight for him, and through fifteen years of hard work, he is the number one box office draw in the world. There is not more of a foot in the ground that you can stake your claim in and say, 'WWE Superstars are so much more than WWE Superstars, and here's proof.' I was foolish and ignorant to not see that, because I just wanted him, selfishly, on Monday Night Raw and on Smackdown Live."
•On his belief that he goading and guilting Rock into returning helped WWE ultimately: "I like the fact that I talked enough trash that he eventually came back, and he hasn't really left. He periodically shows up, and the fans love him now, and they always have—it's just that he's around a little bit more. At the same time, I've apologized to him in person, I've apologized to him publicly. I was completely wrong in the approach that I took. It was one-sided and selfish, and I'm glad the way it worked out, but I apologize for not being able to see his side of the fence."
Keller's Analysis: That's the furthest Cena has gone in detailing expressing his regret for his public criticism of Rock leaving WWE. He seemed to catch himself in saying in one breath, he "came back" and then clarifying he never really left, it's just that he comes around more often now.
He also talked about how Rock has changed the perception of pro wrestlers (well, "WWE Superstars," but same thing really) and how fun the Saturday Night Live experience was. Check out the full article HERE.
---
NOW CHECK OUT THIS RECENT ARTICLE: Interview Highlights: Christopher Daniels talks about Samoa Joe landing in WWE, his push in ROH, status of TNA, more