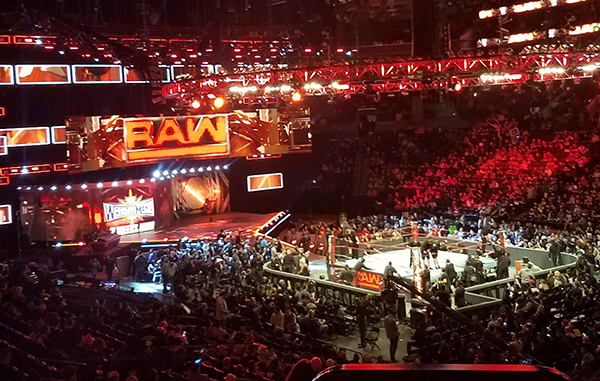 ---
SPOTLIGHTED PODCAST ALERT (YOUR ARTICLE BEGINS A FEW INCHES DOWN)...
---
WWE RAW HOLT REPORT (Happenings Off Live TV)
MARCH 21, 2017
OZONE PARK, N.Y.
REPORT BY BRYANT GUZMAN, PWTORCH VIP MEMBER
I couldn't call the PWTorch Livecast after the show because I attempting to get the presale Summerslam tickets, but to no avail because they sell out incredibly fast each year. Here are some notes in addition to the callers and emails read on last night's post-Raw PWTorch Livecast from those in attendance…
Notes on Bayley vs. Nia Jax
I was sitting next to a good chunk of people who realized once Stephanie McMahon made it a no DQ match along with if Nia won she'd be added to the match at WrestleMania that the match was going to be a foregone conclusion and Nia was winning. Take into account that Bayley vs. Nia have wrestled each other numerous number of times on TV rather than building their matches into a bigger feud like NXT Takeover London, you can feel where the crowd decided to takeover.
The match started slow and, after a while, two sections beside me were trying to get other sections to start doing the wave. We, of course, decided to be good sports and attempt it. A few sections did do it sucessfully. However, a lot of them on my other side decided to not even budge which resulted in "This side sucks" chants. After minutes of trying to do another wave, that section finally did some movement of a wave. However, it still wasnt good enough. This resulted in a "You still suck" chant. Then people from floor seating decided to aid said side by saying "You suck" (referring to our section and the section that was starting the whole wave) and "Our Seats are Better." Then a few sections were calling them "assholes." Then the floor section started "yes chants" in approval of being assholes. Then a few sections, including ours, were screaming "Delete" at the floor section. And then the waves actually started perfectly so it was all just a way to ignore a finish that most people felt were coming.
Notes on Triple H Segment
Triple H actually got a decent pop and people were bowing down and singing his "bow down to the king" theme. That was at the beginning, as seeing Triple H live wore off quickly.
I think in terms of the overall segment, it's key to remember that week in and week out Triple H has been mocking the crowd for a while now such as Mick Foley using cheap pops saying the cities' names and Stephanie sometimes announcing a marquee match and then the fans buy into it only for her to say "but not tonight" and or just not giving said match in general.
I think (and not just saying this because I am a New York Native) the crowd could just thought when Triple H was asking if we wanted the match that he was being condensending. You can't mock the crowd then try to get cheers from them only because now you are going to give us something that we may want and for having a promo where you just said you never need the approval from fans. It's kind of like why are we going cheer Triple H for making the match, because from a storyline-standpoint he is only making the match because Seth is "damaged goods." That is not exactly a storyline to get behind when he is blaming us for our chants getting people into bad situations and/or injuries so we are suppose to cheer an injured Seth to approve this match to get further injured? I felt as good as Triple H was, maybe a promo with too much truth can backfire.
Note on Goldberg
Goldberg got mixed with boos and cheers throughout the video packages. All I have to say is Good Luck in Philly next week.
NOW CHECK OUT LAST WEEK'S RAW HOLT REPORT: 3/14 WWE Raw HOLT Report: Happenings Off Live TV including crowd responses and chants, Main Event taping results, more
---
Please send any news tips and results to: pwtorch@gmail.com. For instance, let us know if you hear a pro wrestling reference on a popular talk show, see a pro wrestling related Tweet or Instagram from celebrity, hear an ad for matches advertised for an upcoming WWE event, or anything else pro wrestling related that'd be of interest to our readers. 
If you attend a live event, please send results. We don't set up correspondents ahead of time and count on readers like you to send an email with a report on live events you attend – not just WWE, but also ROH, NXT, international groups. and anything else.