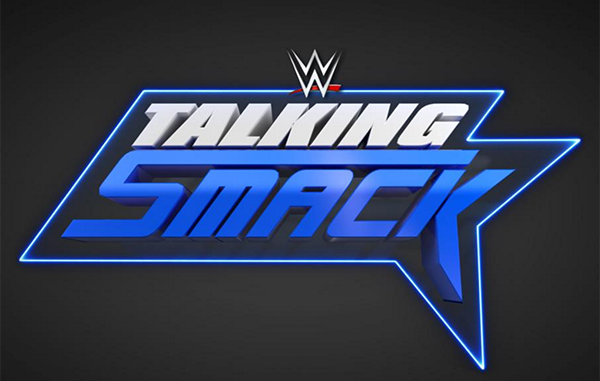 ---
SPOTLIGHTED PODCAST ALERT (YOUR ARTICLE BEGINS A FEW INCHES DOWN)...
---
WWE TALKING SMACK REVIEW
MAY 16, 2017
AIRED LIVE ON WWE NETWORK
BY CRAIG ELBE (@CraigElbe), PWTORCH CONTRIBUTOR
SUMMARY OF TOP TOPICS
-Jinder Mahal Says Randy Orton Lost His Focus, No Longer Hungry, and Is Beatable,
-Naomi, Becky Lynch, and Charlotte Swear Solidarity in Their Goal of Beating the Welcoming Committee.
-Erick Rowan Gets Weird With His Bag of Masks
-Plus a Discussion of Kevin Owens vs. A.J. Styles, Dolph Ziggler vs. Shinsuke Nakamura, Usos vs. Fashion Police
DETAILED REPORT
Shane McMahon, to the disappointment of many, joined Renee Young for this week's Talking Smack. They had matching blue Solo cups to actually match their brand colors, discarding the previous red ones of that horrible (in my opinion) song.
They congratulated Daniel Bryan and Bri Bella on the birth of their baby, Birdie Joe, who was brought into the world on Saturday. As the Instagram picture was shown of the happy family of three, Renee called them a delicious and sweet little family. She can't wait to see them as parents and wished they could be her parents! Shane added it will be a whole new adventure for Bryan and Bri; childless Renee can't imagine but is sure it will be a great time for the Danielsons.
Backlash is coming up on Sunday, and Shane said he's ready and the guys and girls are also ready. Renee noted how stacked the card is. Footage was shown of Jinder Mahal's win in last month's six-pack challenge to became no. 1 contender to Randy Orton's WWE Championship. They reacted to the pinfall like it just happened and called it a shocking victory. Shane remarked on the roll Jinder has been on and welcomed him to the show.
First Guest: Jinder Mahal with the Singh Brothers
Jinder took exception to his ascent being a shock. Since the Superstar Shake-Up, he's been Smackdown's crown jewel. He future granted Renee an interview with him on the Talking Smack after Backlash after he wins the title. While stuttering a bit, he said she can show the b-roll footage when he became WWE Champion on Sunday and it won't be a shock. (I think he got his upcoming Sundays mixed up).  Renee said she'd love nothing more than to see him win but begged Jinder came out of nowhere to be no. 1 contender.
Shane rewound to Jinder proclaiming his championship aspirations on Talking Smack and gave him kudos for taking full advantage of his opportunities since he came to Smackdown. Jinder thanked Shane as he is doing just as he promised on his way to becoming not just a champion, but WWE Champion. But, he is offended Renee said it's a shock. Renee think he's incredible and has risen to the occasion but stole Orton's title three weeks ago. Shane knew Jinder wouldn't divulge his entire strategy but asked if he was trying to get in Orton's head by taking his title belt. (sorry Vince, not!) Jinder said he may have been trying to get into Orton's head but feels Orton has lost his edge and isn't the hungry legend killer anymore. Orton's guard is down, enabling Jinder to walk away with his title. Jinder will further exploit him as this is his time now. Renee proclaimed no intended offense, that Jinder shocked everybody by becoming no. 1 contender and has taken the ball and running with it and has risen to the occasion. Jinder declared Renee his first congratulator when he wins the WWE Championship.
Shane poked further at Jinder's mindset, offering the comparison of UFC megastar Conor McGregor stealing from boxing megastar (and likely opponent) Floyd Mayweather of getting inside an opponent's head. Shane wondered if that was Jinder's intent at Payback, asking for the footage, when he and the Singh Brothers attacked Orton during his match with Bray Wyatt at Raw-branded Payback, where Renee said he didn't belong as a Smackdown talent. Jinder wanted to see the Payback footage, then smiled as he watched, claiming he just took advantage of another opportunity. Jinder said pinning Orton in last week's six-man tag team match was further confirmation Orton is beatable, has lost focus, and it's time for a new champion.  Shane marveled at Jinder's huge statements while Renee couldn't argue with them because he's backed up his words. For emphasis, Jinder repeated Orton is beatable and he will beat him at Backlash but added Orton knows as he's beatable.
Renee noted Jinder's one-up on A.J. Styles tonight. Jinder said he's been unstoppable and on a roll since arriving on Smackdown, and a new era will begin when he becomes WWE Champion . Shane agreed but is unwilling to count Randy Orton out. He is more seasoned than Jinder and only needs one RKO to win. Jinder isn't afraid of the RKO. Orton has had many chances to Give Jinder an RKO and hasn't. Renee said Jinder has only ambushed Orton, but Jinder countered and said Orton hasn't ambushed his matches to RKO him.
Shane is very interested to see how the match will go as Jinder has put it all together ahead of the encounter and wished Jinder luck on Sunday. Jinder said the scene tonight of him standing over Orton's body with the WWE Championship will be repeated at Backlash.
Renee asked about the Singh Brothers' role, who stood behind Jinder the whole time, offering nods and facial expressions to match Jinder's words.  Jinder told her to direct all questions to him and not worry about them. They will be there on Sunday to ensure Orton doesn't do anything he shouldn't be doing. Renee wished him luck on Sunday. Jinder again promised he'll be back on the show as WWE Champion.
Shane remained impressed by Jinder for how articulate, calm, deliberate he is and by taking the opportunities Smackdown's atmosphere affords. He's unstoppable, but an RKO can stop him. Whatever happens will happen, and though Orton has been on slide lately, Shane said he can't be counted out despite Jinder's momentum and overconfidence.
Being overconfident is a must, but whether a performer truly believes it is another idea. Shane, an underdog many times, would advise Jinder to truly believe what's he's saying. Shane really thinks Jinder believes what he says. Renee pointed out how offended Jinder was at her statement of him shocking everyone by being no. 1 contender. Shane said it's a new Jinder and he's looking forward to that match.
Suddenly and unannounced, the next guest arrived.
Second Guest: Erick Rowan
Erick Rowan, carrying a sack reminiscent of where Damien used to reside, walked around the desk and peered at Shane and Renee. He throws the sack onto the desk next to Renee, sitting next to her. He said he's got something to show them he made that makes him smile and laugh. Rowan pulled out a sheep mask the had blue painted lips and red painted eyes, all to give the appearance of a creepy looking Bozo clown. Next out of the bag was a blown up green balloon. He handed Renee the balloon and popped it right away, startling her. Rowan let out a laugh and took of the mask, placed it on the table and put his index finger to his lips, telling the mask to be quiet.
Renee thanked Rowan for being on the show and asked him where his head is after the dominant Wyatt family is longer together since the roster split. (She said brand extension but I write for the Torch, so I'll name things correctly instead of how a made-up Universe is supposed to think) Rowan said "family, family" and reached into the sack again. He said he likes to count sheep took out a red tinted sheep mask and said, "one sheep" and threw it behind him. He took out blue and red tinted sheep mask and threw it in Shane's direction and said, "two sheep" and said it helps him sleep. As he got out a green tinted mask, Rowan said sheep are like family but Luke Harper decided to leave the family and threw that mask behind him. He yelled "you know what happens when somebody leaves a family!" Renee got up and moved closer to Shane as he implored Rowan to chill out. Rowan apologized and told Renee to have a seat. He said when somebody leaves a family they leave him, and he's been left a lot in his life. A lot. When he came back (from an injury) and saw Luke fighting with his family, he got a little upset. By this time, Shane is standing and Renee continued to stand, selling being uncomfortable. Rowan, trying to calm down, said last week he taught Luke a lesson but the punishment does not deserve the crime, repeating himself louder for effect. Next time, Lucas needs harsher punishment. Rowan noted Sunday there's a pay per view called Backlash and picked up the mask next to him and laughed at it and promptly put it down. He looked at Shane and calmly said, since he has power, if he could make that match. Shane asked if that's what he really wants. Rowan said it's what he wants and picked up the Bozo looking mask next to him and said it's what he wants, and looked into his sack and said it's what his other friends want.
Shane was happy to grant Rowan his wish and he has a match against Luke Harper Sunday at Backlash. Shane thanked Rowan for coming on the show, trying to get rid of him after he gave him what he wanted, but Rowan said no, no; there's something that soothes and calms him that he also made. Rowan smiled as he pulled out a white sheep mask with black lines that resemble wrinkles with some hair on it. He rubbed the hair part of the mask on his face, then pulled some hair from the mask and smelled it. He looked at Renee and Shane like he got caught and came out of the daze, then handed the hair to Renee but she let it fall. Shane thanked Rowan for sharing but Rowan stood up, saying "no" repeatedly with more panic in his voice. He sat in Renee's chair and began pulling more stuff from his sack of masks and whatever else. Renee took off her microphone and stood on the other side of Shane as Rowan pulled out a brown sheep mask he made into a gas mask but also with hair on it. He put on the mask and breathed deeply and then was calm. Shane said he's glad it is the calming mask and told him to chill out.  Rowan slowly rose, fixed on Shane with the mask still on. Shane said when he's ready, for him to leave as they have a show to continue with. Rowan put his masks back in the sack but kept the "calm" mask on, nicely handed Shane the microphone he used, took the sack, walked around the desk then stopped. He stared at Shane and Renee longer than were comfortable with, raised his hand at them, then slowly waved goodbye and walked off the set.
Shane and Renee reassume their chairs while a crew member set Renee back up with her microphone. They sold the scene well for being uncomfortable. Renee wondered what can be said after that. Shane said they can make some levity from Rowan's "friends" now. Renee hoped Rowan can feel soothed now that he has his match with Luke Harper but it's not how she usually like those situations to go on the show, but we now know Rowan has a plethora of masks. Shane wanted to move on.
Renee said the tag team division looks good and the Fashion Police were funny and great again tonight, Shane added entertaining. Renee also thought they looked strong in their match against the Colons tonight and are ready to win the tag team titles from the Usos at Backlash. Shane can tell they are feeling it through their ring work, energy, and when it's ding ding ding time (that was him not me) the entertainment aspect stops and they are really strong contenders. Shane feels that match will be one of the showcase matches of the pay per view. Despite not having a match in a couple weeks, Shane doesn't think it will affect seasoned pros Jimmy and Jey.
Going into his United States Title defense against A.J. Styles, Renee wondered if Kevin Owens lost his focus, hence the Highlight Reel and focus on Chris Jericho tonight. Since his Smackdown arrival, Shane thinks Owens has been very focused despite the contrary from tonight. He's doing exactly what he wants to do by getting in people's heads and is backing it up. Shane won't count out A.J.'s chances and knows from experience as A.J. can pull anything out at any time. He lost to Jinder tonight in large part to Owens's interference.
Renee is pumped up for the Dolph Ziggler vs Shinsuke Nakamura match at Backlash. Shane liked what Dolph had to say tonight and the little trick he pulled when he went to show Nakamura's best WWE moments on a TV screen that said, "footage unavailable." Like the rest of us, Renee wondered about Nakamura's time in NXT! Shane wasn't the one taking anything away from Nakamura like Dolph was; but Dolph reminded us how amazing and accomplished, as well as creative, he is. Shane added Nakamura has his work cut out for himself.
Renee wondered if Nakamura is aware of the landscape of what Dolph brings to the table. Shane said Nakamura is a veteran and was a top star in Japan that wanted to come to WWE and make a name for himself. He started in NXT and has done phenomenal and has risen to the occasion. (Ugh, more buzz words and catchphrases)
Then we got another run-in!
Third Guests: Charlotte Flair, Becky Lynch, and Naomi
Renee noted the three of them have sort of gotten on the same page. Footage was shown of Charlotte vs Naomi from last month that saw the formation of the welcoming committee, initially targeting Charlotte and Naomi. Renee mentioned how that match was a big moment for Charlotte as she was trying to assume to same position she had on Raw. Charlotte said she and Naomi still have unfinished business. Her goal is to become Smackdown Women's Champion. Naomi agreed and wants to prove she's the best to Charlotte, herself, and everybody else. But first they must take out the welcoming committee. Shane wondered if they could all work as a team, specifically Naomi and Charlotte as he and Renee point to them, or if it will be to the detriment of the match. Charlotte took exception to the finger pointing.
Renee said all three are all former champions. Becky agreed, they are a championship caliber team that have gotten where they have by a winning desire and will win on Sunday as a united front. She said, somewhat sternly and staring at her teammates, she believes they're all on the same page. Renee said Becky pulled a fast one by nearly joining the welcoming committee, as we are shown yet again more footage of old crap. Shane asked Becky if her mind was made up as she made her way to the ring. She said it was all part of her plan. The welcoming committee wasn't offering ice cream or a service, only an ultimatum. All three of them have individually attacked her and repeated her stance they're all snakes in the thistle. Charlotte smiled at Lynch and said they've patched things up and are good now. Renee asked if it's true, Becky said they are a team and will win on Sunday, the rest can be sorted out starting Monday. Naomi said she's got both their backs and Charlotte better have her back. Charlotte drenched herself in sarcasm about how they bonded, showing her fist as the symbol of their bonding and smiled, perhaps a little too much!
Naomi was pretty hot about Carmella stealing another cheap win off her. Charlotte said the welcoming committee has had a problem with her since she came to Smackdown and now she's with Becky and Naomi. Becky said committee just has problems in general. Their mascot, James Ellsworth, resembles a combination of E.T. and a thumb. Renee brought up how Ellsworth told all three of them during the contract singing they had no chance with him and said they were privy to the "Ellsworth vibe." Shane, who was there, asked the ladies if there was a chance they were digging Ellsworth at all. They all chuckled at the thought. Naomi said he was full of himself as Carmella must have really boosted his ego, but he is a threat that needs to be addressed in their match at Backlash.
Pressed for who is the biggest threat of the welcoming committee, Charlotte said Natalya seems to be the ring leader. As a former champion, Becky said Natalya shouldn't be overlooked but Tamina is a beast and a powerhouse. Usually stronger than her opponents, Charlotte felt Tamina's strength in their brawl and can't take her lightly. Shane asked if that now affects her game plan. Charlotte replied by saying she didn't expect to have Becky and Naomi on her side. (I guess Carmella isn't a threat even though she's proven to be sneaky)
Becky thanked Shane for officiating the contract signing tonight. He said his arm was nearly torn off from holding Naomi from Carmella. Naomi claimed being knocked senseless and trying to snatch Carmella bald! Renee thanked them for being on the show.
Renee has doubts on Charlotte playing nice in the match on Sunday but Shane said we'll see.
Renee gave another plug to Backlash on Sunday and signed off.
CRAIG'S CONCLUSION
Right off the bat, Shane wasn't as bad as usual. He still neglected to put heat on the heels, although WWE may spin that as wanting him to appear unbiased. I would disagree with that because heels need heat and the babyfaces in WWE are all pretty weak. An authority figure, if they must exist, who puts heat on heels conversely shines up babyfaces, when done correctly of course.
Shane and Renee had better chemistry this time around. Their highlight was how uncomfortable they acted in the Erick Rowan segment. It was done very well, but Rowan had the most do with it. More on that later.
Regardless of who is with Renee, the non-guest segments are rarely anything more than WWE speak and over scripting in spots. This episode was no different but I'm surprised Shane didn't follow up and continue the budding issues between he and Kevin Owens, but a long-term story doesn't always need addressing every time each party of an angle is on TV. We shall remain a captive audience for that and hopefully are rewarded for it.
Jinder Mahal seems to be growing more confidence but stuttered a bit on this show. He's getting better though, and I'm still enjoying his rise as it still seems fresh to me. His match against A.J. Styles tonight didn't blow me away but I hope he took something away from it. He was in triple threat matches with him and Orton during the overseas tour but I don't think he's faced A.J. one on one. Sunday will be interesting to say the least with match placement, quality, and result. My eagerness hasn't diminished. I don't think Jinder's comments on Orton losing focus and not being hungry are related to the Twitter comments Orton made over this past weekend. I think it's simply a great setup for the match. And the Singh Brothers remind me of the polar opposite of Brock Lesnar reacting to Paul Heyman's promos. For that, they served their purpose well.
Why hasn't Erick Rowan had the chance to explain his masks before? Or his personality for that matter? Well, I can't complain too much because this segment was great and may not have been if done earlier. Maybe he needed time to grow his confidence. I just hope his matches that got dud ratings across the tour were just window dressing for the awesome match they will have on Sunday. Am I too optimistic? They only worked as a tandem for many years and should have a great match. But, a lack of chemistry will always trump familiarity.
The Becky, Naomi, and Charlotte segment showed how Charlotte is just playing along to eventually get the title match she wants from Naomi. Since Naomi wants to give her that match and Becky is adamant they all work as a team on Sunday, I sense a Becky heel turn soon after Backlash. It may not make a lot of sense now but, in my opinion, it's being set up that way. I predict she joins the welcoming committee by brutally beating down Charlotte after she wins the title from Naomi, probably the Smackdown after Backlash or the following week.
---
NOW CHECK OUT LAST WEEK'S ARTICLE: 5/9 WWE Talking Smack Review: JBL says he's good at creating controversy, Renee & JBL react to Fashion Files, Ziggler talks Nakamura