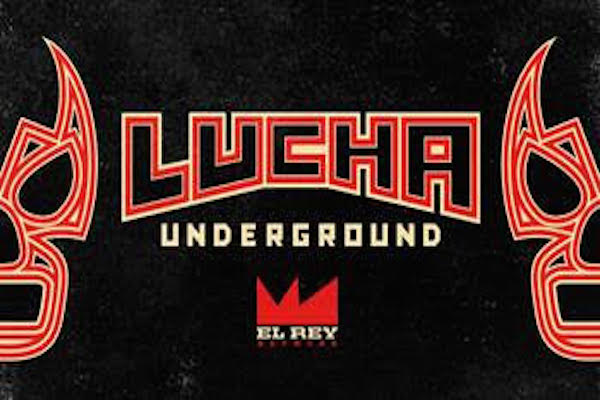 ---
SPOTLIGHTED PODCAST ALERT (YOUR ARTICLE BEGINS A FEW INCHES DOWN)...
---
LUCHA UNDERGROUND REPORT (Season 3, Episode 22)
JUNE 14, 2017
TAPED IN LOS ANGELES, CALIF.
AIRED ON EL REY NETWORK
REPORT BY JOEL DEHNEL (@DehnelTorch), PWTORCH CONTRIBUTOR
"The Cup Begins"
The show opened with a recap of Dario explaining the Cueto Cup. Also, Drago-Kobra Moon and El Dragon Azteca-Black Lotus Triade.
Dario's Office: Pentagon Dark walked into Dario's office asking where Black Lotus is. Dario told him not to worry about Black Lotus then Pentagon threatened to break Dario's arm. Dario offered him a chance to fight for the Lucha Underground Championship at Ultima Lucha Tres. Pentagon said he would be leaving Ultima Lucha with Aztec gold.
-Title Card
Announcers: Vampiro welcomed the audience to the show. Vampiro said tonight is the first night of the Cueto Cup. Striker explained that 32 luchadors will compete in the cup. He said there would be four matches tonight for the cup including AeroStar vs. Drago.
In ring: Santos introduced Mala Suerte followed by The Mack
1 –  MALA SUERTE vs. THE MACK – Cueto Cup first round match
Suerte grabbed Mack's arm to start, but Mack escaped quickly. They both created some movement rolling around the ring for a bit. Mack hit a big knee on Suerte for a two count. Mack hit a Samoan drop followed by a standing moonsault. Suerte hit a hurricarana followed by kick. They knocked each other over in the middle of the ring. Mack got up and hit a big boot followed by a suplex for a two count. Suerte got up and hit a German suplex. Suerte climbed a turnbuckle across the ring to get a rise out of the crowd then got down and fell onto Mack. Mack hit a side slam for another two count. Suerte hit a crucifix bomb for another two count. Suerte hit a DDT then climbed the turnbuckle and missed a swanton. Mack hit a shoulder block followed by a stunner for the win.
WINNER: Mack at 7:30 to advance in the Cueto Cup.
[Break]
Backstage: Cage sat as he looked at his iron fist. Dario walked in and acknowledged that Cage was enjoying it. Dario told him to go to another man's house to celebrate the glove. Cage said he wasnt interested, but Dario insisted.
In ring: Santos introduced Argenis followed by Pentagon Dark.
2 – ARGENIS vs. PENTAGON DARK – Cueto Cup first round match
Pentagon hit a drop kick to start. He beat on Argenis with multiple kicks and clotheslines. They traded sling blade clotheslines.Pentagon landed a huge kick to Argenis' head. Argenis tried to fight back, they each hit a super kick until Pentagon fell to the outside and Aregins hit a moonsault. Back in the ring, Argenis hit a neck breaker. Argenis ran at Pentagon then Pentagon launched him into the turnbuckle. Argenis countered a move from Pentagon to land on him. Pentagon got up and hit a Cero Miedo driver for a two count. Pentagon knocked Argenis off the turnbuckle and hit a package pile driver for the win.
WINNER: Pentagon Dark at 5:43 to advance in the Cueto Cup.
Post match: Pentagon walked over to Argenis and 'broke' his arm.
[Break]
In ring: Santos introduced Texano followed by Famous B. Famous B grabbed the mic and asked Texano to pin him so he could represent him.
3 – TEXANO vs. FAMOUS B (w/Brenda) – Cueto Cup first round match.
Texan went for the pin then puled up nd hit a sit down power bomb for the win.
WINNER: Texano at :25 to advance in the Cueto Cup.
[Break]
-Promo video for the match between Rey Mysterio and Johnny Mundo.
In ring: Santos introduced Drago followed by AeroStar.
4 – DRAGO (w/Kobra Moon) vs. AEROSTAR – Cueto Cup first round match
Drago attacked AeroStar from behind to start the match. AeroStar fought back, but Drago kept control. AeroStar hit a hurricarana then Drago fell to the outside. AeroStar was preparing for a dive, but was tripped by Kobra Moon. Dargo came back in the ring and hit a neck breaker. Drago slid to the outside again and AeroStar dove onto him. AeroStar rammed his head into a chair from the dive. Kobra Moon pulled AeroStar off the ring apron. AeroStar tried to gain momentum but Drago wouldnt let go of control. Drago rolled AeroStar around the mat to disorient him before the pin. AeroStar kicked out then locked ina submission maneuver. Drago escaped and flipped over AeroStar then pinned AeroStar for the win.
WINNER: Drago at 7:26 to advance in the Cueto Cup.
Post match: Drago continued to beat down AeroStar.
Unknown location: Cage walks downtown and then into the Boyle Heights City Hall. Cage met wih the government official. Cage told the guy that he doesnt work for him then pushed him against the wall. Cage said he wasnt sure why he did that. The man said you're still thinking like a man. Cage then pushed his face so hard that it exploded and there was blood and guts all over his arm.
FINAL THOUGHTS: It's nice to see more of the back stage segments that were signature to Lucha Underground's style. The Cueto Cup has been a fun start to the season because it gives everyone a purpose on the show. It's not too hard to see where things are going and what tournament match ups might be coming up, but that is okay because I don't think they are giving away anything too big. The promo for Rey and Mundo was fantastic. I would like to see more promos like that. It never hurts to promote a match.
---
NOW CHECK OUT LAST WEEK'S REPORT: 6/7 Lucha Underground TV Report (Season 3, Ep. 21): Johnny Mundo vs. The Mack, Mil Muertes vs. Prince Puma, Six-Person Tag