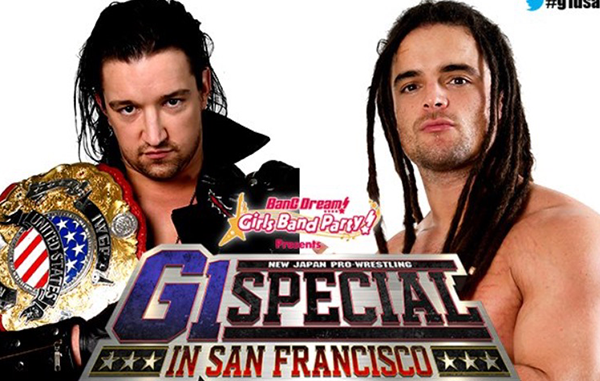 ---
SPOTLIGHTED PODCAST ALERT (YOUR ARTICLE BEGINS A FEW INCHES DOWN)...
---
PWTorch columnist Sean Radican spoke with Juice Robinson ahead of NJPW's G1 Special in San Francisco on July 7 at The Cow Palace. Robinson is set to face IWGP U.S. Champion Jay White on the show. Robinson made waves this past week when he cut an excellent promo after he punched a chair going at it with White at Kizuna Road on June 17.
You can watch that promo below. It begins at the :57 mark:
The following is a transcript of Radican's interview with Robinson at the AXS TV press conference this week. Robinson talks with Radican about his ability to draw sympathy from fans, why his promos work, his future goals in wrestling, the way the Japanese fans have embraced him, and how he hopes to come through and finally win a big title match against Jay White.
Sean Radican: You've really shown the ability to draw sympathy from fans as a wrestler since you broke out in NJPW during G1 in NJPW last year. What are your future goals in wrestling and how do you think your promos and selling will help you achieve them.

Juice Robinson: My goals are to stay in NJPW and keep getting better and eventually try to make it to the next step. Obviously, I'm a lot better spot now than I was a year ago, but one of these time I'm going to have to win a title or else these title shots are going to stop happening. They're only going to call my number so many times if I don't make something out of them. They're going to stop happening.

I think my promos and selling come natural to me. It's not forced. I think the audience can feel that I'm just being who I am. I'm not playing a character. It's not fake. That's me. That's who I am in real life. I think any time you can do that, they're going to connect with it. They're going to connect with you on that level. They're going to feel how you feel. They can't help but have fun if I'm having fun or feel pain if I'm feeling pain. These Japanese people, I love them so much. They want me. I'm that little underdog and they want me to do so well, but so far I haven't been able to. Hopefully that all changes pretty quick here.

Sean Radican: Can you talk about what your expecting from the fans at the G1 Special in San Francisco in what is your biggest U.S. match to date and where do your draw inspiration from for your great promos.

Juice Robinson: As far as the fans, it's funny, I'm always nervous when we're in America that fans are going to boo me out of the building because maybe they think I'm C.J. Parker. A lot of American fans back when I was on Twitter I'd get a lot of mean tweets. I think a lot of people sometimes don't like me. Maybe they think I'm having too much fun or I'm too hokey or corny or this or that. It's usually always American or European fans. I'm always scared that I'm always going to get booed out of buildings when I'm in Europe or America. The first G1 Special, I thought they were booing me because they were going "Juiuuuuuce." I figured they would be booing me and then I realized later they weren't. They were just doing the "Juuuuuuice." Even last time me and (David) Finlay were about to go out and wrestle Gedo & (Hirooki) Goto and my music started playing and I'm like oh my god they're booing me and he goes no they're not you idiot. You do this every time. They're doing the Juice thing. I don't know. There's just something inside I'm always just scared that foreign and American fans hate me. I hope they don't in San Francisco. I don't know. They may love Jay White, the knife pervert. They may hate flamboyant Juice Robinson, so who knows. It's not going to change the match. You want them to cheer for you. You don't want to be booed when you're supposed to be cheered or you're playing the good guy. I hope I don't get booed too hard.
You can listen to Robinson's entire interview with Radican below in the two audio files:
Question 1:
Question 2:
Other highlights of the AXS TV press conference with Juice Robinson included:
-Robinson was asked about Kevin Owens calling him the best promo in wrestling on Twitter. Robinson said he didn't know that, but he had just spoken to Kevin on the phone. He said Kevin has always been a huge fan of his. Robinson called it a huge compliment and said Owens is the best promo in wrestling.
-Robinson was asked how his in-ring style changed when he went to Japan. He said it became more physical. He didn't purposefully do it. He just went along with what he was experiencing in Japan.
-Robinson said he got into NJPW through Matt Bloom at NXT. At the time, Bloom was transitioning from the end of his in-ring career to commentator. Robinson said Bloom was a fan of his character C.J. Parker. He said Bloom knew he was frustrated in NXT and helped him try to stay positive. He said when Bloom became a coach, his frustration grew. Bloom told him he would help him get into NJPW if he ever left.
-Robinson was asked if he has noticed the attentioned his promos have been getting. He said he hasn't. He said they cut a lot of promos and he doesn't remember them all. He said some he likes and some are ridiculous. Robinson said he's going to check online to see what people are saying. He feels he's just the flavor of the week right now.
-Robinson was asked who he'd like to see from WWE in NJPW. He mentioned Cesaro, Luke Harper, and Jason Jordan. He also said he'd like to see Gallows and Anderson in NJPW.
-Robinson was asked about learning promos under Dusty Rhodes in NXT. He said when he was with Rhodes in NXT, he would always tell him to be real when he cut promos. He would tell him not to think about lines. He told Robinson it was the why not the how when it came to cutting promos. If you think about why your character feels a certain way, it doesn't matter what you say because your words will come out right.