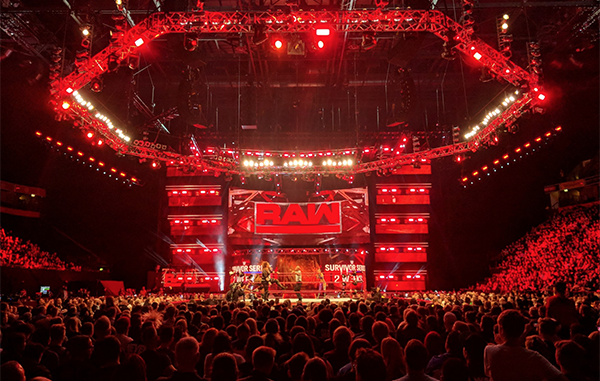 ---
SPOTLIGHTED PODCAST ALERT (YOUR ARTICLE BEGINS A FEW INCHES DOWN)...
---
WWE RAW ON-SITE REPORT
OCTOBER 18, 2018
PHILADELPHIA, PA. AT WELLS FARGO CENTER
REPORT BY MIKE G., PWTORCH CORRESPONDENT
---
If you attend a live event, please send results in the format of the following report to pwtorch@pwtorch.com. Thanks!
---
PRE-RAW MATCH
(1) RHYNO vs. VIKTOR opened the show. I just got a glimpse of it, so I'm not sure who won.
NOTES FROM RAW
-The arena wasn't very full. Maybe three-fourths full. Not a typical Philly show. StubHub was selling tickets for $30. Prices went really down. We paid $100 for our tickets when they went on sale, but Wells Fargo was hitting us up for last second tickets. It's probably in part because they've been doing the same storyline for seven weeks.
-When the show began with The Shield and Braun Strowman, Dolph Ziggler, and Drew McIntyre. Then it was, like, hey DX is coming up and then you sat there for 25 minutes waiting for them. If I see another between between Shield members and Braun, Dolph, or Drew, it'll be one too many. It's time to move on. You could put on any episode from the previous six weeks and it'd be the same thing.
-After the Ronda Rousey segment, it was just really flat. I think there was just too much talking. There was a lot of dialogue and not a lot of action. It wasn't a typical Philly crowd. They were into it at the beginning and then it tapered off. We were just sitting there forever except people talking back and forth. The Ronda segment was good, but the Lita & Trish Stratus segments was more of the same. Nobody reacted to them. Once they got a reaction for the "practice" bit they kept going back to it. It was bad. When Trish first came out, nobody cared. Even little girls were holding up Alexa Bliss signs. Trish and Lita were generations ago. I'm not sure most of the crowd knew who they were. They knew of them, but they don't know them. And Alexa is so good on the mic and everybody knows her, so I felt they were siding with them except for the cheap pops for the "practice" bit.
---
---
-The crowd was with Ronda because she's like the new Stone Cold Lite – she beats up everybody. She killed it out there and had good one-liners. The Bellas are good at what they do. The crowd was definitely behind Ronda more than the Bellas, but people were cheering on Ronda a lot more than the Bellas. It set up the match and made me want to see it.
-Roman Reigns got a mixed response. Every time Roman talked, he got booed. At the end the crowd got behind him because they were behind The Shield. The first time Roman talked, it seemed he was waiting for fans to boo him, so fans booed him. Then it seemed he forgot his line. Anytime Roman talks, even if Seth is standing right there, they're going to boo him. It's not like the old boos he used to get, it's more booing him "just because."
-Fans weren't sure how to respond to Braun. He got a big babyface pop when his music hit. I'd say fans sided with Braun over Dolph and Drew. The crowd seems to want to cheer Braun. They're into him and want to see him break away and be that rogue killer type instead of being a heel for no reason. Hopefully he just gets away from those guys. When Braun is messing up babyface, they don't boo, which works against Drew and Dolph trying to get heel heat. You wanted to cheer him, but he's set up to be booed, so the crowd just ends up flat, sitting on their hands.
-The most silent stretch of the night was the DX video segment, but that was a video. There wasn't much reaction for Tamina. It might have been for Bobby Lashley, but we went to get a beverage then. I can't stand the "Lashley! Lashley!" yelling on the mic by Lio Rush.
-The crowd booed Elias when he brought up the new Philadelphia mascot, Gritty. It seemed like some fans wanted to bring it to Seattle levels, but it didn't come close. I mean, we won the Super Bowl, so when he took a shot at the Flyers not winning a Stanley Cup, we're like whatever.
-When the Crown Jewel vignettes aired, it was like the elephant in the room. WWE was saying Crown Jewel, but not Saudi Arabia. They kept saying Super Show-down was in Australia, but not it's just "Crown Jewel on WWE Network." It's like, "It's just another PPV on the network, just another day, just another show for you, no worry about where it is."
-If there was a dark match, I'm not sure because we left right when Raw ended, but they didn't announce anything to the crowd about it.
---
If you attend a live event, please send results in the format of the following report to pwtorch@pwtorch.com. Thanks!
---
CHECK OUT THIS RELATED STORY: 10/16 WWE Smackdown 1000 On-Site Report: What were the crowd reactions to McMahons, legends vs. current stars, off-camera happenings, 205 Live notes, Crown Jewel boos, Rock Tweet