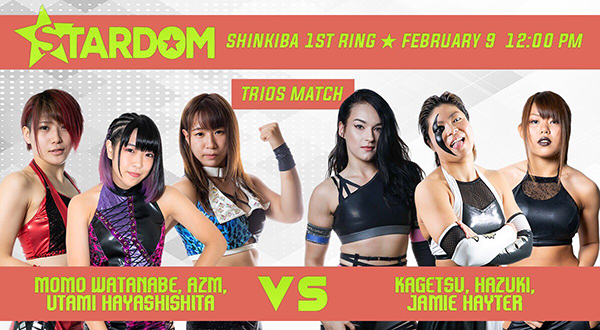 ---
SPOTLIGHTED PODCAST ALERT (YOUR ARTICLE BEGINS A FEW INCHES DOWN)...
---
STARDOM NEW YEARS STARS
FEBRUARY 9, 2019
TOKYO, JAPAN AT SHIN-KIBA 1ST RING
AIRED ON STARDOM WORLD
REPORT BY HARLEY R. PAGEOT, PWTORCH CONTRIBUTOR
The twins said they want to win. JAN were joined by Leo Onozaki, who was returning after a long absence. (No mention of the cause of the absence.)
(1) STARS (Hina & Rina) vs. JAN (Kaori Yoneyama & Ruaka)
The twins tried double-teaming Yoneyama but Rina fell to a back senton.
WINNERS: JAN in 5:18.
(Pageot's Perspective: The twelve year-olds are coming along nicely. Their dropkicks are improving and they've added a hiptoss to their move set.)
-Bobbi Tyler said it's cold so she's going to warm up by kicking Hanan in the face. Hanan said she'll do her best.
(2) BOBBI TYLER vs. HANAN
Hanan put up a fight, kicking out of a few believable near-falls, but Tyler picked up the win with a jumping pump-kick.
WINNER: Bobbi Tyler in 6:36.
(Pageot's Perspective: Vince McMahon obviously doesn't follow Stardom or Tyler would already be signed to WWE. My girlfriend makes a habit of pointing out how the cameramen always seem to end up directly behind her whenever she's making a pinfall or posing on the ropes or bending over. It's not the case for all the women in Stardom but when Tyler's in action…)
-Natsuko Tora said that Mayu Iwatani and Tam Nakano weren't in the building and without them Stars are nothing. Alex Gracia cut a promo in the cadence of "Twinkle Twinkle Little Star." Saki Kashima said JAN have a combined weight of 500 kilograms. She cautioned her teammates not to get crushed.
(3) STARS (Artist Of Stardom Champion Saki Kashima, Alex Gracia, & Starlight Kid) vs. JAN (Jungle Kyona, Natsuko Tora, & Saya Iida)
As she feared Kashima took the triple-team 500kg splash early on. In the end everything broke down and Gracia fell to a top-rope frog-splash from Tora.
WINNERS: JAN in 8:29.
(Pageot's Perspective: Wow, JAN won two matches on one show. That never happens. Maybe their pre-match promo was a little prophetic. Momo Watanabe's also been saying that Stars is nothing without Iwatani and it's starting to look like that might be true.)
-Outside the arena it was snowing as fans huddled under umbrellas. Hana Kimura knocked on Bobbi Tyler's dressing room door, singing for her to come make a snowman with her. Tyler didn't answer. Konami said this was her first singles match against Kimura.
(4) HANA KIMURA vs. KONAMI
Very slow moving for the most part. At 12:30 things picked up with some rapid-fire submission sequences. Konami went for a stretch muffler and an anklelock. Kimura kept almost reaching the ropes before Konami would pull her back into the middle of the ring. Kimura was able to reverse another anklelock attempt into a roll-up, though.
WINNER: Hana Kimura in 14:04
(Pageot's Perspective: I legitimately dozed off a couple times during the match and I was watching this at 1:00 in the afternoon. Kimura just feels very directionless right now. She has no stories going on other than hanging out with Tyler and Sadie Gibbs and all of her appearances feel like random match-ups that were just thrown together to get her on the card.)
-Oedo Tai said that Natsu Sumire wasn't in attendance so they could do their best dancing because she always screws up. AZM said this was a preview of her match against Hazuki for the High Speed title (first we're hearing of that) and there's also the matter of X. She said she'd ask Kagetsu about that after the match.
(Pageot's Perspective: Kagetsu's claimed on social media that there is a traitor within one of the other factions wanting to joining Oedo Tai. I believe X is how they're referring to that person. This is the first time that story has been acknowledged on air at all, though, so it's quite strange for it to be brought up here without any context given.)
(5) OEDO TAI (World Of Stardom Champion Kagetsu, High Speed Champion Hazuki, & Jamie Hayter w/Nao Yamaguchi) vs. QUEEN'S QUEST (Goddess Of Stardom Champion/Wonder Of Stardom Champion Momo Watanabe, Goddess Of Stardom Champion/Future Of Stardom Champion/SWA World Champion Utami Hayashishita, & AZM)
We got a lot of Kagetsu vs. Hayashishita, which seems like it could be foreshadowing with the roll Hayashishita's been on this past year. Also plenty of Watanabe vs. Hayter in a call-back to their white belt match from one week earlier. AZM got a very close near-fall on Hazuki after a series of roll-up exchanges. Oedo Tai triple-teamed AZM ending with Hazuki hitting her top-rope sit-out frog-splash but Watanabe broke up the pin. Kagetsu and Hayter were tossed and AZM hit her top-rope double-stomp on Hazuki but she kicked out. AZM wound up catching Hazuki with a roll-up to take it.
WINNERS: Queen's Quest in 17:02.
-AZM took a mic and said she just beat the champ! She said that yesterday on TV Hazuki said she should join Oedo Tai if she lost. She demanded Kagetsu reveal who X is and joked that even her own teammates think it's her.
A woman walked down to ringside. She was wearing a tracksuit and held a piece of paper over her face with a drawing of Ghostface on it. It was Jungle Kyona! She said she's not X, though. There is no X. Kagetsu's all talk. Natsuko Tora agreed. Kagetsu said she's so stupid. If she wanted it, she'd bring X out right now. Ominous music played and someone in an Oedo Tai tracksuit walked out wearing a Ghostface mask. She posed on the top rope, then hit Kyona and Tora with a split-leg dropkick. Kagetsu told the fans to come to Korakuen Hall to find out who X is. Oedo Tai exited.
AZM said "I told you I wasn't X! Who thought it was me?!" She put over herself pinning Hazuki again.
(Pageot's Perspective: A very good main event, almost making up for the rest of the show being pretty lacklustre. As a newcomer to Stardom I was totally unaware that there are TV shows and press conferences in addition to what's posted on Stardom World. That's going to frustrate me from a storytelling perspective but I guess there's nothing to be done about it. As far as the identity of the traitor…
Suspects eliminated: AZM, Jungle Kyona, Konami, Momo Watanabe, Natsuko Tora, Utami Hayashishita.
The official Stardom twitter had previously tweeted out a photo collage of suspects. The remaining names left on that list are Mayu Iwatani, Saki Kashima, Starlight Kid, and Tam Nakano. My girlfriend was previously convinced it was Konami and now has Nakano as the prime candidate. Kid feels so unlikely that I'm almost leaning her way? Oedo Tai don't have anyone particularly young in their faction and she's been losing a lot since dropping the Future Of Stardom title. We'll find out on the February 17th show.)
---
Find Harley on Twitter @talkinghonor and listen to he and Emily Fear talk all things Ring Of Honor every Wednesday on the PWTorch Dailycast "Talking Honor."