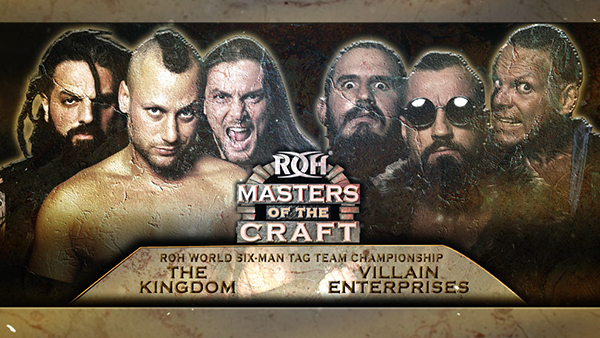 ---
SPOTLIGHTED PODCAST ALERT (YOUR ARTICLE BEGINS A FEW INCHES DOWN)...
---
ROH MASTERS OF THE CRAFT
APRIL 14, 2019
COLUMBUS, OH AT EXPRESS LIVE!
AIRED ON ROH HONOR CLUB
REPORT BY HARLEY R. PAGEOT, PWTORCH CONTRIBUTOR
Commentary: Ian Riccaboni, Colt Cabana, Nick Aldis, Caprice Coleman
We had a cold open with Rhett Titus posing in the ring. His opponent was the TV champion.
(1) ROH WORLD TELEVISION CHAMPION JEFF COBB vs. RHETT TITUS – NON-TITLE MATCH
Cobb's nose and mouth were busted open at one point, possibly from a forearm. Cobb won following a piledriver and a Tour Of The Islands.
WINNER: Jeff Cobb in 9:51.
(Pageot's Perspective: Cobb continues to have the best record in ROH this year at 9-0 now while Titus continues to have the worst at 0-7.)
(2) JENNY ROSE vs. HOLIDEAD
Two minutes into the match The Allure (Mandy Leon, Angelina Love, & Velvet Sky) walked out while filming selfie videos. They shooed away the ring announcer and time keeper and took their seats at the ringside table. Holidead controlled most of the match but Rose won with a ura nage.
WINNER: Jenny Rose in 8:55.
-Rose confronted Leon but Sky sprayed her in the eyes with some hairspray.
(Pageot's Perspective: Love and Sky are both 37. I'm sorry but that's too old to still be playing the catty high school cheerleader. Mean Girls came out 15 years ago and Heathers was 1988. Get some new material.)
(3) SHANE TAYLOR, SILAS YOUNG, & THE BRISCOES (Jay Briscoe & Mark Briscoe) vs. COAST 2 COAST & THE BOUNCERS (LSG, Shaheem Ali, Beer City Bruiser, & Brian Milonas)
Lots of high flying including a sequence of everyone jumping off the top turnbuckle onto everyone else at ringside. Milonas teased capping it off with a splash of his own but Taylor stopped it from happening. Taylor would catch Ali with Greetings From 216 for the pin.
WINNERS: Taylor, Young, & The Briscoes in 13:54.
-Ali was frustrated and yelling at no one in particular as LSG talked him down. The Bouncers brought their cooler into the ring to share some beers but Ali swatted it out of their hands and C2C left.
(Pageot's Perspective: Good match, a step above the house show vibes of the previous two. It's a shame to see C2C downgraded back to enhancement talent after the big push they were on this time last year. Maybe the incoming heel turn will give them some wins again.)
-Aldis had been harassing Cabana all night on commentary about beating him in China one year ago for the NWA title. Cabana finally had enough and took a house mic. He suggested they do a rematch this very night. Aldis agreed and stormed backstage.
(4) RUSH vs. SOBERANO JR.
Riccaboni called the match solo as his two commentators were both prepping backstage for their match later. Rush worked full heel, going after Soberano's mask, running him into the guardrail repeatedly, and spitting on him. Running dropkick in the corner ends it.
WINNER: Rush in 3:50.
(Pageot's Perspective: I guess Rush's new gimmick is that not only is he undefeated but he also wins matches very quickly.)
-Caprice Coleman joined Riccaboni for commentary for the remainder of the show.
(5) FLIP GORDON vs. BANDIDO vs. PJ BLACK vs. CARISTICO
This one was fought about 70% of the time in the air and only 30% on the mat. The three other men ended up in the crowd at 12:00 only for Gordon to springboard somersault off the top rope and over the guardrail onto them. (Gordon had attempted the same thing on Bully Ray the last time they were in this arena back in November for Survival Of The Fittest but didn't clear it that time and crashed hard into the steel barricade.) Black was trying to land a German suplex on Gordon when Bandido hit them both with a 21plex at the same time, pinning Black.
WINNER: Bandido in 14:39.
-Code of honor among all four babyfaces after the match.
(Pageot's Perspective: This was ridiculous and also a blast. Black looked like Lucha Underground PJ Black here for the first time since coming to ROH. Bandio came across like a big star. Caristico had some nice moments. And post-injury Gordon already feels like he's being slated for big things. He's owed a world title match due to him winning the Sea Of Honor tournament on the Jericho Cruise last fall so expect Taven-Gordon sometime soon.)
-The commentators were throwing to the iron man match when Kenny King's music interrupted. He was escorted to the commentary table by a woman as he was wearing dark sunglasses and holding a blind man's cane. This was apparently him selling The Great Muta misting him last weekend. He claimed he has to have emergency ocular surgery.
(6) JAY LETHAL & JONATHAN GRESHAM vs. LIFEBLOOD (Mark Haskins & Tracy Williams) – 30-MINUTE IRON MAN MATCH
Riccaboni announced that the winners will challenge Guerrillas Of Destiny for the tag titles at War Of The Worlds: Buffalo on May 8. This was the opposite of the previous match, being largely submission-based. Gresham tapped to Haskins' sharpshooter at 18:40 for the first fall. Lethal & Gresham hit the Cornette Cutter on Williams at 26:25 to tie it up. They tried again but Williams blocked. Haskins put Gresham into the sharpshooter again as Williams held Lethal back. Gresham rolled through and got Haskins' shoulders down for the third fall at 28:19. Haskins went frantically after Gresham. Williams and Lethal were down at ringside. DDT but Gresham kicked out. Figure four. Lethal tagged in. Hail To The King to Haskins but he kicked out. The clock ran down.
WINNERS: Lethal & Gresham in 30:00 to become #1 contenders to the ROH tag titles.
(Pageot's Perspective: Great match down the stretch and I appreciate that they didn't do the formula iron man ending of someone landing a pin with seconds remaining or being locked in a submission while the clock ran out. I'm firmly behind Lethal & Gresham as a tag team moving forward as it prevents Lethal from slumping into a post-world title losing streak like Castle and so many before him. King pretending to be blind was hilarious on commentary. At one point Williams hit an arm drag but he called it as Gresham landing a powerbomb.)
(7) "THE NATIONAL TREASURE" NICK ALDIS (w/Kamille) vs. COLT CABANA – NWA WORLD'S HEAVYWEIGHT CHAMPIONSHIP
Cabana got Cubs Win! locked in at 7:00 but Aldis made a rope break. Marty Scurll ran out at 9:30 and grabbed the NWA title. He ran a lap round the ring before being stopped by Kamille. Aldis clubbed Scurll from behind. Cabana and Scurll got into a shoving match and the referee called for the bell.
WINNER: Colt Cabana in 10:03 by disqualification. Nick Aldis retains.
-Aldis celebrated but turned around into an umbrella shot from Scurll. Scurll held up the NWA title again to cheers.
(Pageot's Perspective: Scurll challenges Aldis for the NWA title at the Crockett Cup on April 27 and Cabana challenges Willie Mack for the NWA national title so this ending makes sense. And since the match was a bonus addition to the card you can't complain about the non-finish.)
-Dalton Castle made his entrance in a turtleneck, blazer, and slacks with microphone in hand. He walked through the ring, out the other side, and headed back up to the stage to cheers. He exited again without saying anything.
-Your ROH World Champion and his goons entered first for the main event. The six-man champions were out second. Scurll said he's not in the best mood and they've done this a hundred times so why not make it a street fight?
(8) VILLAIN ENTERPRISES (Marty Scurll, PCO, & Brody King) vs. THE KINGDOM (ROH World Champion Matt Taven, Vinny Marseglia, & TK O'Ryan) – STREET FIGHT FOR THE ROH WORLD SIX-MAN TAG TEAM CHAMPIONSHIP
All six men brawled to ringside. O'Ryan swung a chair but it bounced off the top rope and hit himself in the head. PCO was superplexed onto four open chairs. Scurll hit the henchmen with some chairs. Marseglia looked to bring a table out but O'Ryan protested, remembering that any time someone sets up a table in a match like this they end up being the one to go through it. They eventually did set one up and, sure enough, King put Taven through it with a death valley driver. O'Ryan stripped the timekeeper's table. Marseglia and King took each other out on the stage. Taven called for the chicken-wing on Scurll but Scurll hit him with his own Climax instead. Taven kicked out. Scurll snapped O'Ryan's fingers and he fell backwards off the turnbuckle through a table at ringside. Marseglia with Redrum off the stage through King lying on the timekeeper's table. Taven with a low blow to PCO and Climax. Scurll broke up the pin. Pop-up powerbomb from Taven to Scurll and just the tip (of the knee). Scurll with the umbrella to Taven. PCO with the top rope moonsault and he pinned the world champion.
WINNERS: Villain Enterprises in 16:13 to retain the six-man titles.
-PCO held up his tag title and the world title to close.
(Pageot's Perspective: I was kind of looking forward to seeing Taven gloat about being champion coming out of G1 Supercard but alas he's had his comeuppance already. I suspect this sets up the unpinned PCO challenging for the title at War Of The Worlds: Toronto in his home country.
We've now had the last three ROH pay-per-views and the last Honor Club event all headlined by weapons matches. This from the promotion that once prided itself on its pure wrestling approach and lack of WWE-style nonsense. NJPW is proving that people will tune in for good storytelling and straight-up wrestling matches. I don't know why ROH's solution to their problems is "throw in some ladders and chairs" rather than character development and quality stories. NXT also uses their gimmick matches very sparingly and is producing the most critically-acclaimed wrestling content in North America right now by focusing on their wrestlers' personalities and running concise, straightforward shows.)