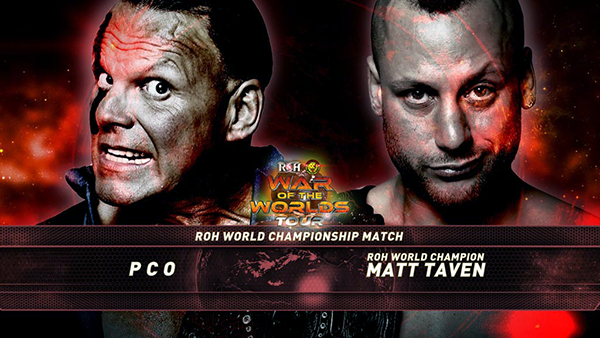 ---
SPOTLIGHTED PODCAST ALERT (YOUR ARTICLE BEGINS A FEW INCHES DOWN)...
---
ROH WAR OF THE WORLDS
MAY 9, 2019
TORONTO, ON AT TED REEVE ARENA
AIRED ON ROH HONOR CLUB
REPORT BY HARLEY R. PAGEOT, PWTORCH CONTRIBUTOR
Commentary: Ian Riccaboni, Colt Cabana
The dark match saw Shinobi Shadow Squad (Cheeseburger, Eli Isom, & Ryan Nova) go over "#1" Brian Johnson and two others via their tandem finisher Oyasumi in 4:40.
(1) HIKULEO & ROH WORLD TAG TEAM CHAMPIONS GUERRILLAS OF DESTINY (Tama Tonga & Tanga Loa) vs. NJPW YOUNG LIONS (Alex Coughlin, Clark Connors, & Karl Fredericks)
A whole lot of chops in this one. Hikuleo pinned one of the young lions with a chokeslam bomb to pick up the win.
WINNER: Bullet Club in 9:58.
(Pageot's Perspective: G.O.D. got lots of crowd support. The rookies looked good as usual. Hikuleo getting the pin makes sense as he was pinned by Shane Taylor on last night's show.)
(2) "BLUE JUSTICE" YUJI NAGATA vs. "THE LAST REAL TECHNICIAN" SILAS YOUNG
There was a "last real princess" chant directed at Young because wrestling fans are 20 years behind the curve. Young hit Misery but bumped referee Paul Turner in the process of the airplane spin. Young had a visual three-count on Nagata. When he noticed nobody was counting and Turner was down at ringside he stole the steel chair from ring announcer Bobby Cruise. In the ring Young cracked the chair off the mat and tossed it to Nagata, before dropping to the mat in an effort to frame him à la Eddie Guerrero. Nagata looked around. Turner was still out. Nagata opened the chair, placed it around his head, and lay down on the mat as well. Young looked up, saw what was going on, and quickly scrambled to pull the chair off of Nagata's head. Turner recovered and caught Young in the act. He called for the bell.
WINNER: Yuji Nagata in 10:02 via disqualification.
-Young attacked Nagata but Nagata got the upper hand and put Young in an armbar, forcing him to tap.
(Pageot's Perspective: Some light comedy early in the show. Young loses as a result of his own shenanigans but can spin it to claim he was robbed, getting disqualified for hitting Nagata with a chair when he never did.)
(3) LOS INGOBERNABLES DE JAPÓN (Evil & Sanada) vs. THE KINGDOM (Vinny Marseglia & TK O'Ryan)
Fairly back and forth. A magic killer to Marseglia ended things.
WINNER: L.I.J. in 10:06.
(Pageot's Perspective: Lots of Sanada chants. Interesting that the first three matches were all right around the ten-minute mark.)
-Rhett Titus joined commentary for the next match.
(4) RUSH vs. "DAREWOLF" PJ BLACK
Black was the first ROH babyface to make an appearance on the main card. Unfortunately he got catcalled with Nexus, Bad News Barrett, and Justin Gabriel chants because wrestling fans are obsessed with things that happened ten years ago. Rush threw Black straight into our guardrail, hard enough that my knees are still rattled four hours later. The Bull's Horns was enough.
WINNER: Rush in 6:03.
(Pageot's Perspective: Black did an amazing sell job. He was chucked into the guardrails at ringside three times and the Bull's Horns left him hanging half out of the ring by his ankles before Rush pulled him back in for the pin.)
-Dalton Castle made his entrance looking peak wine mom in a shiny blazer and matching shoes. He said he'd had a bad day. He went out for lunch and only two people recognized him. There was a bone in his boneless chicken. It rained. (True.) But despite all this, he was still thrilled because for the first time ever he was boyless. Everything good in his career he did without The Boys. They weren't around when he won the world title or the six-man titles. We are witnessing the renaissance of Dalton Castle. He may look like a rainbow but he's filled with magma.
(Pageot's Perspective: The crowd was firmly behind Castle here and why wouldn't they be? He's charismatic, funny, and engaging. I have no idea how they intend to get ROH fans to boo him but they've got their work cut out for them.)
(5) LIFEBLOOD (Mark Haskins & Tracy Williams) vs. THE BRISCOES (Jay Briscoe & Mark Briscoe)
Lifeblood offered the code of honor, even though the Briscoes are allied with Bully Ray, the man who viciously attacked their former stable mate Tenille Dashwood backstage on two occasions. The Briscoes accepted. A Doomsday Device to Williams gave the brothers the win.
WINNERS: The Briscoes in 13:16.
-The Briscoes left and Bully Ray walked out with Williams still down in the ring and Haskins out at ringside. Ray heckled them. He said he intends to take out Lifeblood one by one. He'd like to start with Juice Robinson but he's busy jobbing in Japan. He told David Finlay to hurry up and get healthy so he can beat him like he beat his father. He implied that he slept with Haskins' wife Vicky, which led to Haskins grabbing a steel chair. Ray pulled his chain off his neck, squared up, and turned tail and left to boos.
(Pageot's Perspective: The match was good. Ray is the same shtick over and over.)
-Intermission
-WOH World Champion Kelly Klein made her entrance. She said she intends to be a fighting champion again and was looking forward to making her first defense in Canada. She asked for the best Toronto had to offer. Fans called for Trish Stratus but instead The Allure's music hit.
Angelina Love stood on the apron with Mandy Leon and Velvet Sky behind her on the floor. Love said Klein is a deserving champion and applauded her win at G1 Supercard. Love said she herself is a former six-time women's champion (in some other promotion) and she's also from Toronto. She name-dropped Tim Horton's and the Toronto Raptors to try to bait the fans into some cheap pops before pulling the rug out by saying she's actually a permanent United States residents now. She wouldn't let Klein defend her title against her until they're back in America. "There will be no match tonight." Klein hiptossed her over the ropes and into the ring. Sky and Leon pulled their partner to safety and the heels ran away. Apparently there were no other women in the locker room who wanted to accept Klein's open challenge so she headed backstage.
(Pageot's Perspective: A noteworthy development is that Love was positioned as the leader of the group here and apparently will be the core member going after Klein's title. Sky supposedly retired from in-ring competition in July 2017 and Leon hasn't wrestled on an ROH show since March 2018 so it's actually unclear whether those two will be wrestling at all.)
-Still blind Kenny King joined commentary for the next match.
(6) JAY LETHAL vs. SATOSHI KOJIMA
Lethal won via Lethal Injection.
WINNER: Jay Lethal in 14:57.
(7) JEFF COBB vs. HIROOKI GOTO vs. ROH WORLD SIX-MAN TAG TEAM CHAMPION BRODY KING vs. SHANE TAYLOR – ROH WORLD TELEVISION CHAMPIONSHIP
This was originally a non-title match but the championship was put on the line for undisclosed reasons sometime in the past few days. With Goto and Taylor down at ringside Cobb hit Tour Of The Islands on King. He covered but Taylor broke up the pin with a knee to Cobb's head. Taylor sent Cobb to the floor and scooped up King for Greetings From 216 and the pin.
WINNER: Shane Taylor in 9:17 to capture the ROH TV title.
(Pageot's Perspective: Very surprising result but a super memorable moment for the live crowd. The match was a lot of fun and could have beat out the main event for match of the night if it had gone a bit logner. Tonight's card was interesting in that it was our first real glimpses of King and PCO in singles action in ROH. Taylor has been on a significant upswing these past six months and is a fitting TV champion. Cobb will be owed a rematch, though, since he didn't factor into the finish and has pinned Taylor twice in the past. In some ways it feels like Cobb's reign ended too soon as he didn't have any particularly memorable rivalries during his time. But hopefully this is a sign he's being sent up the card quickly. With Lethal dropping the world title and Castle turning heel the main event scene could use a new babyface.)
-A pre-taped promo aired of Matt Taven mocking PCO. PCO had a long entrance involving his creator Destro but it was impossible to tell what was happening in the arena.
(8) MATT TAVEN vs. ROH WORLD SIX-MAN TAG TEAM CHAMPION PCO (w/ Destro) – ROH WORLD CHAMPIONSHIP
The crowd was super hot for this one from the start. PCO looked for his top rope moonsault at 4:50, which led to O'Ryan and Marseglia running out for the distraction. As O'Ryan occupied referee Todd Sinclair Marseglia held his ax on the mat, blade up, and Taven threw PCO onto it. PCO rolled to the floor and came up bleeding and holding his eye. Taven continued to gouge the eye (as he had previously suggested PCO's opponents should do on last night's show). Taven hit four DDT's in a row but PCO sat up at 10:20. Taven was laid across the apron and PCO successfully hit his cannonball off the top rope onto him. With his henchmen setting up chairs at ringside for him, Taven hit the Climax to PCO onto one of the opened chairs. PCO made it back onto the apron before getting counted out and Taven dove over him for a sunset flip, powerbombing PCO from off the apron to the floor. Another Climax in the ring but PCO kicked out at 14:30.
Taven connected with Just The Tip (of the knee) twice in succession. PCO blocked a third one and hit a package piledriver. Top rope senton connected but Taven kicked out. PCO followed with his top rope moonsault but couldn't make the cover at first. He finally rolled Taven over but O'Ryan put Taven's foot on the bottom rope to break the count. Marseglia grabbed Destro to distract PCO. PCO grabbed Marseglia and looked to powerbomb him through the timekeeper's table. As he hoisted Marseglia up, though, the horror king's leg caught the bottom of the table and tipped it. As a result Marseglia landed with the back of his head hitting the table and he and the table slumped to the floor without it breaking. As Sinclair and the fans were distracted by the carnage at ringside O'Ryan gave Taven a purple railroad spike. PCO clubbed O'Ryan off the apron. Taven stabbed him in the eye with the spike. Taven covered. PCO kicked out at 2 and three-quarters. Sinclair called it three.
WINNER: Matt Taven in 18:10 to retain the world title.
-PCO staggered around ringside and collapsed. Destro helped him to the back.
-Bobby Cruise announced that ROH would return to Toronto for a show at Maple Leaf Gardens on Friday, August 9, the same weekend that WWE is in town for SummerSlam.
(Pageot's Perspective: So many shenanigans and so much crowd support for the Canadian Frankenstein that the main event flew by. Unfortunately so did the finish. The majority of the live crowd were still focused on the Marseglia mishap and totally missed the spike and what happened in the ring as a result. Sinclair counting three when PCO clearly kicked out also complicated things there and gave the match a weird ending and a sense of things being unresolved. Otherwise a strong show, especially considering the absences of Scurll, Bandido, Gordon, Gresham, the Bouncers, and a women's match.)
Biggest Pops
PCO
The Briscoes
Jay Lethal
G.O.D.
Sanada
Most Heat
Matt Taven
Shane Taylor
Silas Young
TK & Vinny
---
Find Harley on Twitter @talkinghonor and listen to discussions of all things ROH every Wednesday on the PWTorch Dailycast "Talking Honor."