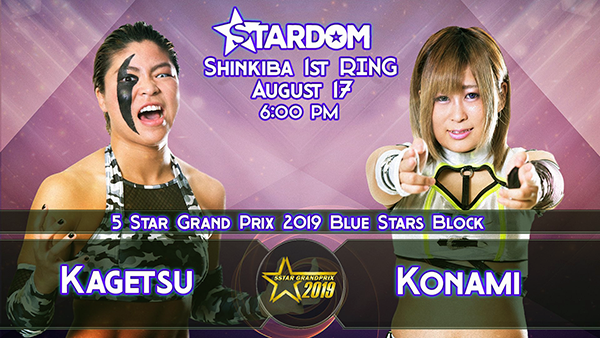 ---
SPOTLIGHTED PODCAST ALERT (YOUR ARTICLE BEGINS A FEW INCHES DOWN)...
---
STARDOM 5STAR GRAND PRIX
AUGUST 17, 2019
TOKYO, JAPAN AT SHIN-KIBA 1ST RING
AIRED ON STARDOM WORLD
REPORT BY HARLEY R. PAGEOT, PWTORCH CONTRIBUTOR
Rina said it was night one of the Grand Prix and wasn't in it but she wanted to win the opener. Ruaka struggled to remember who she was facing but her and Rina are both TCS so they could work together. Avary said she'd show the girls how they do it down under. Tora was eating a rice ball. She was relaxing due to having an easy rookie multi-person opener instead of an actual tournament match.
(1) NATSUKO TORA vs. AVARY vs. RUAKA vs. RINA
Avary hit a spinebuster on Rina for the win.
WINNER: Avary in 4:47.
(Pageot's Perspective: Avary looks like an extra from a high school production of Rocky Horror Picture Show. She really likes to lick her hands and gesture towards her crotch. A little clunky, she reminds me of a younger cousin to Rebel Kel.)
-All 18 participants in the Grand Prix made their entrance wearing sashes colored to the block they're in. In order: Avary, AZM, Natsu Sumire, Hazuki, Tam Nakano, Saki Kashima, Hana Kimura, Momo Watanabe, and Mayu Iwatani for the red stars. For the blue stars: Jamie Hayter, Natsuko Tora, Andras Miyagi, Konami, Jungle Kyona, Utami Hayashishita, Kagetsu, Arisa Hoshiki, and Bea Priestley.
Iwatani, last year's winner, ceremoniously returned the Grand Prix trophy to Stardom president Rossy Ogawa. Everyone posed for photos. They ran down the tournament matches that would be occurring on this show.
(Pageot's Perspective: The hierarchy of entrances here was really interesting. Hazuki below Nakano and Kashima? Kyona below Hayashishita? It also drew attention to how lopsided the blue block is over the red. Four of the five singles titles in Stardom are currently held by Blue Stars and the fifth isn't participating in the tournament. Both tag champions and two of the trios champions are also in the blue block. Of the nine women in the red block Sumire is the only current champion.)
-Onozaki said she looked forward to fighting Riho. Kid acknowledged that she lost the high speed title match last time but wanted to win here as a team.
Riho shook hands with her opponents while the QQ members refused.
(2) RIHO & STARS (High Speed Champion Riho, Starlight Kid, & Saya Iida) vs. SAYA KAMITANI & QUEEN'S QUEST (Saya Kamitani, Leo Onozaki, & Hina)
Riho and Kid started. Riho with a top rope double-stomp to Onozaki for the pin.
WINNERS: Riho & Stars in 5:59.
(Pageot's Perspective: Chapter 1 of the soon-to-be-legendary Saya vs. Saya feud has been writ. You were here. Also Riho won another match and Onozaki took another pin. The usual.)
-Sumire, dressed all in gold, said she would shine bright this year. AZM said she's finally in the tournament for the first time in her six-year career. She vowed to run through all of the red stars.
(3) AZM vs. ARTIST OF STARDOM CHAMPION NATSU SUMIRE – RED STARS BLOCK
AZM caught Sumire with the octopus early but Sumire ran her into the turnbuckle. Crotch assault! Northern lights suplex. Running kick to the back of the head. Cradle DDT countered into a pin attempt for two. AZM fired back with kicks. Top rope double-stomp connected but Sumire kicked out. Tilt-a-whirl armbar avoided. They traded leverage pins. AZM went to the well again and got caught in a dragon sleeper. Rope break. Armbar. Sumire tapped.
WINNER: AZM in 5:41.
(Pageot's Perspective: The teen girl, too young to be in the tournament, called to action as a last-minute replacement, picks up the first victory of the tournament. Makes sense to me. Sumire wrestled a clean match with no shenanigans and, as a result, lost to a kid in less than six minutes. The lesson is clear. Toru Yano Mode activate!)
-Kimura did something to her hair and it looks horrendous. She sang a "Twinkle Twinkle Little Star" parody about winning the tournament. She called Nakano a shitty trash panda that she'd put back in the zoo. Nakano said this is her third year in a row entering the Grand Prix and third time's the charm. "I love pro wrestling!"
(4) TAM NAKANO vs. HANA KIMURA – RED STARS BLOCK
Nakano hit her knee to the head from off the top rope at 3:50 but Kimura kicked out. They traded forearms. Roundhouse kick to Kimura coming off the ropes. Running knee. Tiger suplex blocked. Octopus.
WINNER: Hana Kimura in 6:44.
(Pageot's Perspective: Kimura's new hair and singing of nursery rhymes right away makes me question myself for making her my pick to win the whole thing. She definitely didn't feel like a top star here and it's hard to picture this character holding the red belt.)
-Kashima said she pinned Iwatani last year in the tournament that Iwatani won. Iwatani said she won last year but didn't challenge for the red belt. She wanted to correct that this year.
(5) MAYU IWATANI vs. SAKI KASHIMA – RED STARS BLOCK
Kashima looked for a couple quick pins out of the gate. She avoided a frog-splash at 3:00. Bulldog. Bridging German suplex from Iwatani. Frog-splash landed but Kashima kicked out. Revival pinning combination from Kashima!
WINNER: Saki Kashima in 4:28.
-Kashima grabbed a mic and boasted about beating with the Revival for the second year in a row. Iwatani just laughed it off.
(Pageot's Perspective: Classic Mayu. She knew what happened last year, swore it wouldn't happen again, and then watched dumbfounded while it happened again.)
-Hayter said Hoshiki hadn't lost a match since returning to wrestling last year. Hoshiki said she didn't just want to win, this Grand Prix is an adventure where she can find herself. Hayter gave her the middle finger and she wants to give it right back.
(6) WONDER OF STARDOM CHAMPION ARISA HOSHIKI vs. JAMIE HAYTER – BLUE STARS BLOCK
Hayter put Hoshiki in a camel clutch and gave her a wet willy. (Disgraceful.) Jumping knee strike from Hoshiki found its mark at 4:30. Victory roll but Hayter kicked out. Falcon arrow backbreaker but Hoshiki kicked out of her finishing move. Curb stomp for the shocking win.
WINNER: Jamie Hayter in 7:15.
-Starlight Kid and Hanan immediately checked on Hoshiki while the air was let out of the room. The crowd was clearly stunned.
(Pageot's Perspective: I don't know if anyone expected to see Hoshiki's undefeated streak end here or to see the white belt champion lose so early in the tournament. I mean most people probably had Hayter pegged for finishing last place in the Blue Stars. I don't hate it but it is very interesting. Hoshiki wasn't particularly selling any injuries from last week's battle with Kyona but the kids checking on her post-match might indicate she will be going forward. I did appreciate the story of Hayter hitting her Stardom finisher and Hoshiki kicking out, forcing her to dig deeper into her repertoire and pull out a dirtier finishing move that she uses in other promotions.
Aside: winning the Cinderella tournament and the white belt has done wonders for Hoshiki. She feels like a completely different person to me. Back in the spring I thought she was kind of boring but she's since become one of my favorites on the roster, and not just because she has a cool indiepop band. She's one of the few main eventers right now who is just utterly charming and lovable and seems to have no pretenses about appearing aloof or intimidating. "This is an adventure where I can find myself" is so babyface and such a great mission statement.)
-Miyagi challenged Death Yama-san by shouting her own name over and over. Priestley said she's walking in as champion and walking out as the tournament winner.
Miyagi attacked the champ during her introductions.
(7) WORLD OF STARDOM CHAMPION BEA PRIESTLEY vs. ARTIST OF STARDOM CHAMPION ANDRAS MIYAGI – BLUE STARS BLOCK
Miyagi caught Priestley in tombstone position but hit a gutbuster instead at 4:00. Priestley hit a double-stomp to Miyagi's back while she was hung up in the ropes. Sit-out powerbomb to Priestley. Jumping knee strikes to Miyagi. Bridging side suplex.
WINNER: Bea Priestley in 5:49.
(Pageot's Perspective: This tournament is all sorts of bonkers. Miyagi's been so protected to this point that I actually thought we might get our first draw. Instead she lost clean in less than six minutes. Bizarre.)
-Kyona said it's hot summertime and she has eight people to fight. She and Hayashishita have had two singles matches in the past and two 15-minute draws. It wouldn't happen again. Hayashishita also wanted to settle things between them for good.
(8) SWA WORLD CHAMPION & FUTURE OF STARDOM CHAMPION UTAMI HAYASHISHITA vs. GODDESS OF STARDOM CHAMPION JUNGLE KYONA – BLUE STARS BLOCK
Kyona took her down quickly and nailed the top rope splash just one minute in. She called for her hammerthrow powerbomb but Hayashishita avoided it. They fought into the crowd. Kyona looked to whip Hayashishita into the ring post but she reversed. Torture rack applied at ringside. Hayashishita spun Kyona out, bludgeoning the back of Kyona's head off the apron. Missile dropkick to Kyona's spine back in the ring. STO. They fought up top with Kyona hitting a powerslam off the second turnbuckle. Boston crab. Rope break. Sharpshooter. Rope break. Hayashishita with a sharpshooter of her own. (How dare she!) Rope break. Gutwrench German suplex. Kyona just barely rolled her shoulder to prevent the three. Torture rack. Kyona refused to submit. The referee went to call for the bell. She managed to grab his hand momentarily to stop him but her body went limp and he called it.
WINNER: Utami Hayashishita in 9:30 via referee stoppage.
-Hazuki said she had nothing to say. Watanabe simply said she wanted to gain momentum out of the gate of the tournament.
(9) MOMO WATANABE vs. HAZUKI – RED STARS BLOCK
Hazuki dragged Watanabe around by the hair and hit her facewash in the ropes. She then stood on her hair and pulled her arms up. (What is this, a luchas de aspuestas?) Watanabe hit her double knees off the second turnbuckle at 5:00. Hazuki with a pump-kick and a codebreaker. Springboard dropkick found its mark. Tornado DDT. Crossface. Rear naked choke from Watanabe. Peach Sunrise countered into the Hazukistral.
WINNER: Hazuki in 8:56.
(Pageot's Perspective: Lots of favorites taking losses on day one. I hope this means that our eventual tournament winner will be someone who didn't win today.)
-Konami said "fate" has her facing Kagetsu again on night one. Kagetsu said she scouted everyone in her block and there wouldn't be any problems.
(10) ARTIST OF STARDOM CHAMPION KAGETSU vs. GODDESS OF STARDOM CHAMPION KONAMI – BLUE STARS BLOCK
Konami wouldn't shake her hand so Kagetsu hit a running dropkick to the face and a death valley driver. She went up top for the Oedo Coaster 14 seconds in but Konami moved. Konami tried for the triangle lancer but Kagetsu fought her off. Kagetsu took control and went to work. She began to target Konami's right arm with a stomp off the top rope and an armbar. She hit three falcon arrows in succession for a two-count. They traded kicks. Konami managed one German suplex but immediately got caught in another arm submission. Avalanche death valley driver from the second turnbuckle gave Kagetsu a two-count. Oedo Coaster landed but Kagetsu pulled her up to prevent the three?? Konami desperately flailed and tried to lock in the triangle lancer. After a struggle she managed to get an inverse triangle lancer and Kagetsu tapped.
WINNER: Konami in 12:17.
(Pageot's Perspective: Kagetsu is really without peer in Stardom when it comes to putting together matches. I'd love for her to take over booking of the promotion from Ogawa when she retires. She had the victory in hand after the 450 but threw it away because she wasn't content simply with winning. She wanted to make a loud definitive statement in her opening tournament match and her ego cost her. Konami, despite getting virtually no offense the entire match, also reminded us of the lethality of the triangle lancer.)
-Konami declared that she beat Kagetsu again. She said Stardom's hot summer has only just begun. If any fan in attendance guessed all the winners on this card correctly they would have been invited into the ring at this time for a photo with Konami but the chaos booking ensured that nobody did. Konami closed by letting us know that this year's Grand Prix has a 100% success rate of excitement.
Red Stars standings after night 1:
AZM – 2
Hazuki – 2
Saki Kashima – 2
Hana Kimura – 2
Avary – 0
Mayu Iwatani – 0
Tam Nakano – 0
Natsu Sumire – 0
Momo Watanabe – 0
Blue Stars standings after night 1:
Utami Hayashishita – 2
Jamie Hayter – 2
Konami – 2
Bea Priestley – 2
Arisa Hoshiki – 0
Kagetsu – 0
Jungle Kyona – 0
Andras Miyagi – 0
Natsuko Tora – 0