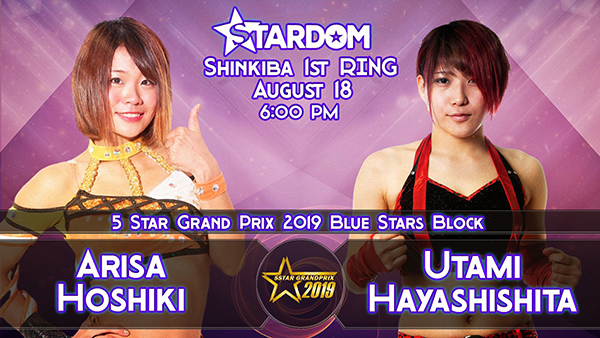 ---
SPOTLIGHTED PODCAST ALERT (YOUR ARTICLE BEGINS A FEW INCHES DOWN)...
---
STARDOM 5STAR GRAND PRIX
AUGUST 18, 2019
TOKYO, JAPAN AT SHIN-KIBA 1ST RING
AIRED ON STARDOM WORLD
REPORT BY HARLEY R. PAGEOT, PWTORCH CONTRIBUTOR
Rina said she didn't know why she was teaming with Kamitani. Was she trying to form a tag team with her? Kamitani was flustered and just said she'd try her best. Hina said they wouldn't lose.
(1) QUEEN'S QUEST (Leo Onozaki & Hina) vs. RINA & SAYA KAMITANI
Kamitani dropkicked Hina into a backslide from her sister.
WINNERS: Rina & Kamitani in 5:15.
(Pageot's Perspective: Kamitani and Riho are teaming with different people on every show, not committing to any one unit at this point. Is it building to them being drafted by one of the big four or could we see an unofficial fifth faction form similar to the role International Army played at the beginning of this year?)
-Kyona announced that Riho is joining Tokyo Cyber Squad! Riho stuttered and said she wasn't sure what they meant. They convinced her to do the salute with them, which Kyona and Ruaka took as proof positive that she was joining their faction, but Riho was clearly not committed to anything beyond this match. Iida said this was her first chance to fight Kyona. Kid was surprised. Kid said it was her birthday (Kid's) and wanted to win.
(2) STARS (Saki Kashima, Starlight Kid, & Saya Iida) vs. RIHO & TOKYO CYBER SQUAD (High Speed Champion Riho, Goddess Of Stardom Champion Jungle Kyona, & Ruaka)
Iida got her wish, fighting both her former JAN leader in Kyona and former partner in Ruaka. She dished out numerous dropkicks and got two near-falls over Kyona but fell to a top rope splash from her ex-leader.
WINNERS: Tokyo Cyber Squad & Riho in 4:45.
(Pageot's Perspective: Fun match and I'd definitely look forward to a Kyona-Iida singles encounter once Iida rises in the ranks and is allowed to win consistently.)
-Avary said Watanabe is one of the toughest bitches Stardom has to offer but she's one tough bitch too. Then she sort of seductively licked the air? Watanabe was bummed out about losing to Hazuki on night one. She wanted to get back on track.
(3) MOMO WATANABE vs. AVARY – RED STARS BLOCK
Watanabe won with the Peach Sunrise.
WINNER: Momo Watanabe in 4:23.
(Pageot's Perspective: If they want Avary to make a good first impression and be taken as a threat through the rest of the tournament it makes sense to have her first opponent be the current ace of Stardom. This was too short to amount to much, though.)
-Kimura traded in her giant pigtails for a more understated ponytail. She was still singing her "Twinkle Twinkle Little Star" parody, though. She had the audacity to say Sumire is just a comedy act with no technique. (Girl, she's got a trios title. What do you have to show for your efforts?) An unamused Sumire curtly said that she feels sorry for Kimura before standing and walking away. (Ice cold!)
Kimura made her entrance first and sat on the top turnbuckle, waiting for Sumire. Sumire walked briskly to the ring, then suddenly charged and knocked Kimura off the turnbuckle with a forearm. Kimura tried to get back into the ring but Sumire booted her off the apron.
(4) ARTIST OF STARDOM CHAMPION NATSU SUMIRE vs. HANA KIMURA – RED STARS BLOCK
The referee called for the bell but held Sumire back while Ruaka and Rina checked on Kimura at ringside. One minute later Kimura was on the offensive. Reverse Boston crab. Kimura spat in Sumire's face to loud boos. Face wash to the back of Kimura's head with her strung up in the ropes. Northern lights suplex. Dragon sleeper. Kimura tried to hulk up but Sumire put her down with an inverted DDT. Cradle DDT blocked. Octopus applied.
WINNER: Hana Kimura in 7:35.
-Interestingly, with Oedo Tai not having any rookies in their group, it was Saya Kamitani who checked on Sumire and sprayed her back with cold freeze.
(Pageot's Perspective: That's two, Natsu. I appreciate the effort of trying to win clean but I think it's time for some shenanigans.)
-Hayter boasted about beating the white belt champion in her first match. She said, even though she and Miyagi are friends, she was going to win the whole tournament. Miyagi said that she would show us Andras Miyagi in the Grand Prix.
(5) ARTIST OF STARDOM CHAMPION ANDRAS MIYAGI vs. JAMIE HAYTER – BLUE STARS BLOCK
Hayter pinned Miyagi to the mat and grabbed her by the cowlick. Anarchist suplex from Miyagi at 5:00. Hayter reversed a tombstone attempt and planted Miyagi with one of her own. Falcon arrow backbreaker for the clean win.
WINNER: Jamie Hayter in 5:47.
(Pageot's Perspective: Bizarre. I like Hayter but her presentation in Stardom prior to the Grand Prix was not in line with this sudden mega-push at all. It seems like shock booking just for the sake of unpredictability and actually kind of takes me out of the moment. Her beating Hoshiki and Miyagi clean in two straight matches, short matches at that, just doesn't feel believable and reminds me that this is all scripted and predetermined.)
-Tora reminded us that this is her first match of the tournament. She vowed that she would be like a typhoon. Kagetsu said she was happy to have Tora in Oedo Tai.
(6) ARTIST OF STARDOM CHAMPION KAGETSU vs. NATSUKO TORA – BLUE STARS BLOCK
Tora immediately dragged Kagetsu to ringside and threw her into the fan's chairs. She clobbered Kagetsu with a plastic chair. They returned to the ring to break the referee's count out but Tora immediately took her back out. Kagetsu reversed an Irish whip to send Tora crashing into the chairs. Kagetsu dragged her up into the rafters. Tora ran her into the wall. They returned to the ring at 3:30 and the lights on the crowd dimmed, only for Tora to turn right around and toss Kagetsu back out onto the entrance ramp. The ref tried to stop her from following so she shoved him to the mat. Body slam to Kagetsu on the ramp. Tora found a plastic bucket under the ring and placed it over Kagetsu's head before taking a fan's umbrella and clocking her across the head and back. She then found Kagetu's Grand Prix sash and put it on her, dragging Kagetsu around by her sash. The ref tried to intervene again and she fully kicked him in the stomach. Tora dragged Kagetsu up the steps and hung Kagetsu by her sash from the scaffolding. The referee managed to free Kagetsu.
Kagetsu was dead in the ring at 6:30. Body slam from Tora. Top rope frog-splash. A second. A third. Kagetsu kicked out. F-Crash. Kagetsu kicked out again. Tora was in disbelief and shoved the referee for not admitting it was three. A top rope leg drop connected but Kagetsu spit mist in her face before kicking out. One death valley driver ends it?
WINNER: Kagetsu in 8:50.
-Tora kicked the ref again and started to storm off before Kagetsu stopped her. Kagetsu said she's changed. Winning isn't everything, but only winners can say that. Tora hasn't reached that point yet so keep going. Once she gets there, though, she'll realize winning isn't everything. She knows it's frustrating. Tora lost to her last week and again today but she still wants her in Oedo Tai. They hugged.
(Pageot's Perspective: I was all set to rave about how much I loved the story of this match and then Tora was pinned after literally one move. Prior to that she looked crazed and badass in a way that could really help her stand out in Oedo Tai. Stardom very rarely does disqualification finishes but if the ref had DQ'ed her for attacking him or hanging Kagetsu it would have been warranted and a much better finish. Instead she suffocates Kagetsu and hits her with four finishing moves to no avail, then takes one back bump and is pinned. The post-match exchange tried to salvage things a bit but it basically amounted to Kagetsu saying, "Hey, I know you're a jobber but maybe you won't always be one??")
-AZM said she's wrestled Iwatani before but she's grown since then. Iwatani started to address Starlight Kid before remembering that she's facing AZM. She said AZM is a high speed wrestler but Iwatani holds the record for most defenses of the high speed title.
(7) MAYU IWATANI vs. AZM – RED STARS BLOCK
Iwatani with a lion-tamer early. Double-stomp to the gut. Standing moonsault. Tilt-a-whirl armbar from AZM. Top rope double-stomp. They traded pin attempts. Iwatani came out on top.
WINNER: Mayu Iwatani in 5:05.
(Pageot's Perspective: Iwatani's in a very peculiar position right now. She's still the top star of Stardom but they seem to really be taking the year and having her step back to allow others to blossom and rise up. She's almost exclusively wrestled tag matches prior to this tournament and the two matches she's had so far in the tournament have been fluff matches with roll-up finishes. I can't remember the last time I saw her wrestle a serious, hard-hitting singles match in Stardom.)
-Hazuki had nothing to say. "Hi guys!" Nakano said in English before transitioning to Japanese. She said she's horrible at speed games. It takes her 11 seconds to run a 50 meter dash at full sprint. (7-8 seconds is about average.) She belongs in the slow speed division.
(8) TAM NAKANO vs. HAZUKI – RED STARS BLOCK
Hazuki looked for the Hazukistral immediately but Nakano avoided. A codebreaker found its mark, though. Two facewashes and a back senton from Hazuki. They traded forearms. Back body drop from Nakano. Knee from the top rope to Hazuki's head. Hazukistral countered into a two-count for Nakano. DDT from Hazuki. Another facewash. Springboard missile dropkick. Codebreaker in the corner. Top rope back senton. Nakano bridged out of the three-count. Spinning heel kick to Hazuki. Tiger suplex.
WINNER: Tam Nakano in 5:50.
(Pageot's Perspective: Wow. As much as I love Nakano I'll consider this an upset. She does not win singles matches very often and Hazuki's coming off a defining run with the high speed title. At this point Kimura and Hayter are the only people to win two matches in the tournament.)
-Konami said she's fought Priestley once since Priestley won the red belt. Priestley said Konami couldn't beat her last time and this time will be no different.
(9) WORLD OF STARDOM CHAMPION BEA PRIESTLEY vs. GODDESS OF STARDOM CHAMPION KONAMI – BLUE STARS BLOCK
The former friends unloaded on each other with kicks. Superplex from Konami at 4:30. Stretch muffler. Bridging German suplex. Jumping knee from Priestley. Queen's Landing countered into an anklelock. More knee strikes from Priestley. Bridging side suplex. Queen's Landing for the win.
WINNER: Bea Priestley in 7:30.
(Pageot's Perspective: I fully expect Priestley to finish in second place in the blue stars bracket when all is said and done.)
-Hayashishita said her win over Kyona in her first tournament match has made her unstoppable. Hoshiki admitted she was a little depressed after losing yesterday.
(10) WONDER OF STARDOM CHAMPION ARISA HOSHIKI vs. SWA WORLD CHAMPION & FUTURE OF STARDOM CHAMPION UTAMI HAYASHISHITA – BLUE STARS BLOCK
Hoshiki hit running double knees to the chest at ringside four minutes in. Step-off kick to the head. Chinlock from Hayashishita. Sleeperhold from Hoshiki. Back to the chinlock from Hayashishita. Bridging German suplex. Hoshiki avoided the torture rack. Jumping knee strike. Hayashishita avoided the Brazilian kick. Back to the chinlock of doom. Torture rack slam avoided by Hoshiki. Brazilian kick found its mark. Hayashishita's foot found the bottom rope to prevent the three. Twisting splash missed. Rear naked choke. Hayashishita ragdolled her. Torture rack slam.
WINNER: Utami Hayashishita in 11:54.
(Pageot's Perspective: Again with the chaos booking. I like being surprised in wrestling but having a lower midcard player like Hayter suddenly beat two top stars clean and your undefeated-for-nine-months white belt champion lose two days in a row just reeks of trying to keep the fans from being unable to predict who will win instead of believable storytelling or character development. Not to say that this match outcome in itself was too surprising. I fully expect Cenashishita to steamroll everybody in the blue stars save for Priestley and maybe Kagetsu.)
Blue Stars standings after night 2:
Utami Hayashishita – 4
Jamie Hayter – 4
Bea Priestley – 4
Kagetsu – 2
Konami – 2
Arisa Hoshiki – 0
Jungle Kyona – 0
Andras Miyagi – 0
Natsuko Tora – 0
Red Stars standings after night 2:
Hana Kimura – 4
AZM – 2
Hazuki – 2
Mayu Iwatani – 2
Saki Kashima – 2
Tam Nakano – 2
Momo Watanabe – 2
Avary – 0
Natsu Sumire – 0