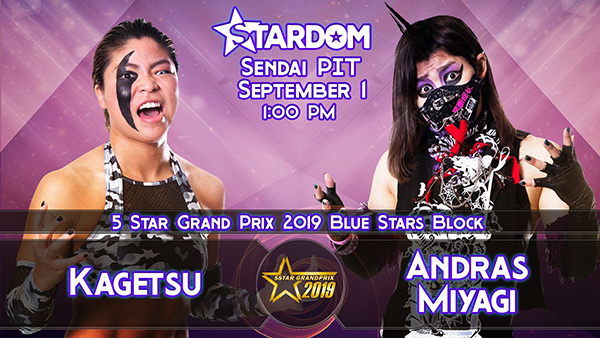 ---
SPOTLIGHTED PODCAST ALERT (YOUR ARTICLE BEGINS A FEW INCHES DOWN)...
---
STARDOM 5STAR GRAND PRIX
SEPTEMBER 1, 2019
SENDAI, JAPAN AT SENDAI PIT
AIRED ON STARDOM WORLD
REPORT BY HARLEY R. PAGEOT, PWTORCH CONTRIBUTOR
Onozaki said it was their first time teaming as a trio.
(1) QUEEN'S QUEST (AZM, Leo Onozaki, & Hina) vs. OEDO TAI (Hazuki & Natsuko Tora) – HANDICAP MATCH
Of course Hazuki and AZM started. Hazuki and Tora had a sequence where they would tag, hit one body slam on AZM, then tag back out, over and over. Two on three chain suplex. AZM with a top rope double-stomp to Tora. Tora with a spear to Onozaki. Frog-splash.
WINNERS: Oedo Tai in 8:34.
(Pageot's Perspective: A frog-splash actually wins a match? Crazy.
The hard camera appears to be on a balcony, looking down on the ring instead of flush horizontally. It's unique but the director doesn't appear to love it as the majority of the action relied on the handheld cameramen at ringside instead.)
-Kimura said they only come to Sendai once a year. She was going to murder Kashima (for her 8-second loss to her on our last show). Iida said she always fights TCS. Kid said Iida always gets beat up but it doesn't matter.
(2) TOKYO CYBER SQUAD (Goddess Of Stardom Champion Jungle Kyona, Hana Kimura, & Rina) vs. STARS (Saki Kashima, Starlight Kid, & Saya Iida)
Kimura and Kashima started. Kashima nearly caught her with a flash pin from Revival again but Rina broke it up. They fought to ringside. Kyona choked Kid with her water gun. TCS isolated Kashima in the ring. Hot tag from Kid. Big swing from Kyona. Iidabashi to Rina for the win.
WINNERS: Stars in 7:45.
-Kashima and Kimura had to be pulled apart in the crowd.
(Pageot's Perspective: Kashima's a much stronger character when she has someone else to play off of and respond to, as we've seen in her feud with Sumire. I'd be all for her being a thorn in the side of Kimura going forward.)
-Avary said this is her second match in the Grand Prix and she's sitting at zero points. "Sorry, Mayu, but it has to be you." Iwatani said she's 1-2 so far and it's getting dangerous.
(3) MAYU IWATANI vs. AVARY – RED STARS BLOCK
Superkick. Moonsault.
WINNER: Mayu Iwatani in 6:27.
(Pageot's Perspective: Not to hate on the gaijin (I love Zoe Lucas and I warmed up to Rebel Kel by the end of her tour) but Avary does nothing memorable bell to bell. And it's still so weird to me for someone who'd never competed in Stardom before to be invited into what is supposed to be a prestigious tournament like this. It's one thing if it's a top name from another organization making a big debut but Avary is no Kenta or Jon Moxley.)
-Watanabe said Nakano's been around a long time now. They've fought many times and she's never lost. Nakano said it's been half a year since they met for the white belt. Watanabe said she was useless without Iwatani. This time she's bringing it back down on her.
(4) TAM NAKANO vs. MOMO WATANABE – RED STARS BLOCK
They threw hands at 5:30. Watanabe with three sets of running knees. Another off the second turnbuckle. Bridging tiger suplex from Nakano but Watanabe kicked out. Roundhouse kick. Ripcord roundhouse kick. Another bridging tiger suplex for the clean win.
WINNER: Tam Nakano in 8:55.
-Even Nakano couldn't believe that was three. She offered a handshake but Watanabe threw a fit and smacked her away.
(Pageot's Perspective: Obviously not at the level of their white belt match but this one was alright. I'd call the result a surprise. The story of the red stars seems to be what a close race it is. Nakano's now in the lead at 6 points with five people tied for second at 4.)
-Hayter was still laughing about being 3-0 in the Grand Prix. She was facing her mortal enemy here but she already beat Hayashishita recently in the UK for the Pro-Wrestling: Eve international title. Hayashishita said that wasn't a singles match and it was time to stop Hayter's momentum.
(5) SWA WORLD CHAMPION & FUTURE OF STARDOM CHAMPION UTAMI HAYASHISHITA vs. JAMIE HAYTER – BLUE STARS BLOCK
Hayter with a side headlock. She mocked the fans for yelling "Uta" for support. Test of strength. Camel clutch to Hayashishita complete with wet willy. Straitjacket choke. Hayter side-stepped a missile dropkick and locked on a half-crab. Hayashishita with a rear naked choke in the corner and a missile dropkick. Torture rack avoided. Hayter with a Samoan drop. Falcon arrow. She dropped her left kneepad. Hayashishita avoided the falcon arrow backbreaker and locked in a rear naked choke. Torture rack slam.
WINNER: Utami Hayashishita in 9:22.
(Pageot's Perspective: The expected finish. With Hayter picking up the win in England and dominating the majority of this match logic had Hayashishita taking the win. It also stops Hayter from becoming uncatchable in the blue stars. Hayter's trash-talking throughout the match stood out in a good way. It's so rare we get actual heels in Stardom so it's refreshing when somebody tries to turn the crowd against them for a sustained period.)
-Konami bragged about beating both Kagetsu and Hayashishita with the triangle lancer so this one would be no problem. Hoshiki said this was her first time wrestling in Sendai. She beat Konami in the finals of the Cinderella tournament so she knows she's strong but she wanted to make their series 2-0.
(6) WONDER OF STARDOM CHAMPION ARISA HOSHIKI vs. GODDESS OF STARDOM CHAMPION KONAMI – BLUE STARS BLOCK
Konami targeted the left knee early on. Hoshiki with double knees off the apron to Konami standing at ringside at 5:40. Step-off top rope kick to the head in the ring. Twisting splash missed. Stretch muffler from Konami. Release German suplex. Knee strikes from Hoshiki. Triangle lancer.
WINNER: Konami in 8:07.
(Pageot's Perspective: Their series is tied up. Konami controlled so much of the match that I actually thought she was set up to take one Brazilian kick and then the pin. Hoshiki went from being undefeated for months to taking 3 losses in 4 matches in this tournament. I wouldn't mind it if they were telling the story of her compiling damage and being more worse for the wear with every passing match but they haven't really discussed any ongoing knee injury or offered any kayfabe explanation for why she is suddenly losing so frequently.)
-Miyagi once again screamed that she was going to show us Andras Miyagi in this Grand Prix. (Last time she showed us a schoolgirl in a backpack, but I digress.) Kagetsu told us to open our eyes.
(7) ARTIST OF STARDOM CHAMPION KAGETSU vs. ARTIST OF STARDOM CHAMPION ANDRAS MIYAGI – BLUE STARS BLOCK
A springboard dropkick sent Miyagi to the floor at 6:00. Kagetsu followed with three suicide dives. They traded forearms. Death valley driver from Kagetsu. Another. Oedo Coaster prevented. Sit-out powerbomb from Miyagi. A third death valley driver. Miyagi rolled out of the way of the Oedo Coaster and hit a tombstone.
WINNER: Andras Miyagi in 12:06.
-Miyagi did the show-closing promo while Kagetsu lay in the ring and the referee put a neck brace on her. Miyagi told the fans they were terrible. She said she and Kagetsu did their talking through wrestling.
(Pageot's Perspective: I had a feeling that if Kagetsu was going to put anyone else over it would be her protégé. Matches like this one are a bit too slow moving for my taste but the execution was perfectly fine.)
Blue Stars standings after show 5:
Utami Hayashishita – 6
Jamie Hayter – 6
Konami – 6
Bea Priestley – 4
Arisa Hoshiki – 2
Kagetsu – 2
Andras Miyagi – 4
Jungle Kyona – 2
Natsuko Tora – 0
Red Stars standings after show 5:
Tam Nakano – 6
AZM – 4
Mayu Iwatani – 4
Saki Kashima – 4
Hana Kimura – 4
Momo Watanabe – 4
Hazuki – 2
Natsu Sumire – 2
Avary – 0