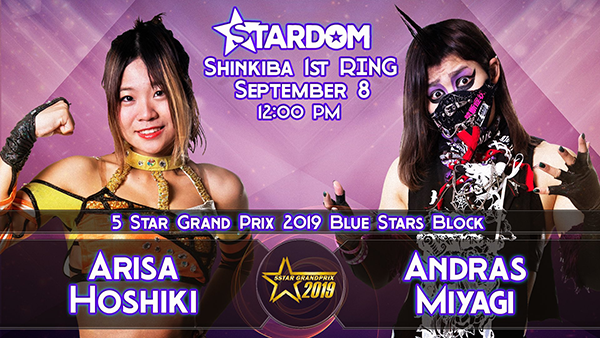 ---
SPOTLIGHTED PODCAST ALERT (YOUR ARTICLE BEGINS A FEW INCHES DOWN)...
---
STARDOM 5STAR GRAND PRIX
SEPTEMBER 8, 2019
TOKYO, JAPAN AT SHIN-KIBA 1ST RING
AIRED ON STARDOM WORLD
REPORT BY HARLEY R. PAGEOT, PWTORCH CONTRIBUTOR
Onozaki said there was a change to the card so she got the rare opportunity to face Riho. Riho acknowledged that this was her first singles match in Stardom but said she was ready to hunt some lion.
(1) HIGH SPEED CHAMPION RIHO vs. LEO ONOZAKI – NON-TITLE MATCH
Bow and arrow lock from Riho. Cutter from Onozaki. Tiger feint kick from Riho. Crossface. Top rope double-stomp. And a second.
WINNER: Riho in 4:02.
-Rina wasn't sure if this next match meant Kamitani was now a member of TCS but said they'd work well together regardless. Watanabe wanted to easily crush TCS.
(2) QUEEN'S QUEST (World Of Stardom Champion Bea Priestley, Momo Watanabe, & Hina) vs. SAYA KAMITANI & TOKYO CYBER SQUAD (Goddess Of Stardom Champion Konami, Rina, & Saya Kamitani)
Hina caught her sister with a pin.
WINNERS: Queen's Quest in 5:33.
(Pageot's Perspective: I know the live crowd wants to see all their favorite stars but when the show is already eight matches long after nine matches the night before I can't help thinking they could cut some of these throwaway matches.)
-Sumire still had Producer P hostage. (She kidnapped him from Nakano on July 13 but he hasn't been seen or mentioned since July 14.) She didn't know what to do with "this trash." The cameraman told them to wrap it up so Sumire purposefully went off on a tangent, asking the other two what they had for breakfast. Hayter tried to charade seaweed to them but they weren't familiar with the word. Kid said Oedo Tai are always sneaky and foolish. Nakano asked them for help in getting Producer P back.
(3) OEDO TAI (Artist Of Stardom Champion Natsu Sumire, Natsuko Tora, & Jamie Hayter) vs. STARS (Tam Nakano, Starlight Kid, & Saya Iida)
Tora pulled Producer P out of her jumpsuit, which lured Nakano in. Sumire attacked but took a roundhouse kick. She collapsed to the mat with P still in hand. Nakano almost got him back but Tora intervened. She used a pink string to tie P to Nakano's face to the turnbuckle. Crotch assault to both Nakano and the panda! She threw P back to the Oedo Tai corner and tagged in Hayter. Iida got a three-count over Hayter with the Iidabashi but the referee refused to acknowledge it, instead waiting for Sumire to whip Iida on what should have been his four-count, to break the pin. Hayter hit her falcon arrow backbreaker on Iida for the official win.
WINNERS: Oedo Tai in 7:32.
(Pageot's Perspective: First Kyona gets pinned with a lunchbag over her head, then the referee calls for the bell to start one of her matches after she was attacked in the aisle and hadn't even entered the ring yet, and now it's Iida's turn to get screwed out of a victory. We need some better refs up in here. It's Grand Prix season when wins matter even more than ever.)
-Avary knew this would be tough but goddamn. She had to do something different. Kashima said she knew Avary likes to lick her hands. (That's pretty much the only thing we know about her.)
(4) SAKI KASHIMA vs. AVARY – RED STARS BLOCK
Avary hit a DDT for the win.
WINNER: Avary in 4:14.
(Pageot's Perspective: I failed to see anything different from the forgettable Avary but she did win, moving her from last place into a tie for last place with Sumire.)
-AZM previously said on social media that her summer break project was catching old hags in the Grand Prix. Kimura said she's already an old hag at 22? Well, she's going to catch a purple chibi, which is super rare. AZM said a loss here would make it difficult to get to the finals still.
(5) HANA KIMURA vs. AZM – RED STARS BLOCK
AZM sent Kimura to the floor with a headscissors. High crossbody avoided and AZM took out all of her own faction. Kimura dragged her up the aisle and kicked her back down the stairs. AZM with the octopus at 4:00. Top rope double-stomp for a two-count. Kimura with a deadlift suplex. Armbar. AZM went for a series of flash pins and actually managed to catch one for the shocking victory.
WINNER: AZM in 7:17.
-AZM said she's not collecting insects for her summer project; she's collecting grandmas. Here's her report. What she's found is that it's not about her speed (they're already old and tired). She has two more crappy old hags to catch (Kashima and Avary).
(Pageot's Perspective: Hell, if they're willing to give her pins over Hazuki and Kimura she can certainly beat Avary and Kashima. Will AZM make it to the finals against all odds??)
-Kyona said her sights were locked on Kagetsu. Kagetsu said she would only accept victory.
(6) GODDESS OF STARDOM CHAMPION JUNGLE KYONA vs. ARTIST OF STARDOM CHAMPION KAGETSU – BLUE STARS BLOCK
Kagetsu locked on the kimura immediately. Kagetsu slammed her down but she held on. Rope break. Kagetsu targeted the right arm. Springboard double-stomp to the limb. Kyona tried for a breather at ringside but Kagetsu pursued and whipped her into the fan's chairs. Kagetsu dragged her through the crowd and whipped Kyona's arm into the ring post. She spit water in her face and swung for a kick but Kyona ducked and Kagetsu's leg collided with the ring post. Apron bomb! Rather than take the count-out victory like she did against Priestley Kyona rolled Kagetsu back into the ring.
Powerslam. Dropkick to the back of the neck. Sliding clothesline. Grapevine headlock. Top rope splash but Kagetsu got the knees up. Kagetsu went up top but Kyona cut her off. Top rope powerslam landed but Kagetsu no-sold and sprang right back to her feet. Running knee strike. Enziguiri. Falcon arrow. Kyona kicked out. Suplex countered into a guillotine choke by Kyona. Kagetsu powered her up and over to land the suplex. Oedo Coaster but Kyona kicked out! Kagetsu shoved the ref down in a fit.
Kyona turned Kagetsu inside-out with a lariat. Hammer throw powerbomb planted Kagetsu but it was her turn to kick out. Kyona looked for another but Kagetsu rolled out. Kagetsu looked for the green mist but Kyona ducked. Clothesline to Kagetsu. Muscle buster!
WINNER: Jungle Kyona in 11:27.
-Kagetsu offered a handshake and Kyona accepted.
(Pageot's Perspective: You're damn right this was my favorite match of the Grand Prix so far! Kyona could have lost and it probably still would have been but this win was delicious. The only thing better than this would be Kyona beating Kimura in the finals and going on to take the title off Priestley.)
-Hazuki once again had nothing to say. Iwatani said she's 3-2 against Hazuki in the past. Iwatani asked for clarification on the points situation. (She entered this tied with AZM, Kimura, Nakano, and Watanabe at 6 in the red stars. A win would propel her to first place alone; a loss would add Hazuki to make it a six-way tie.)
(7) MAYU IWATANI vs. HAZUKI – RED STARS BLOCK
Hazuki with a series of facewashes in the ropes. She began to go after Iwatani's left leg. Iwatani hit a frog-splash at 8:10. Hazuki looked to roll her up but she kicked out. Iwatani went for a top rope moonsault but Hazuki moved. Hazukistral (flash pins have been established as Iwatani's Achilles heel) for the win.
WINNER: Hazuki in 8:39.
(Pageot's Perspective: Apologies. I was still coming down off the high of the last match. This was fine but something's felt off with Hazuki since losing the high speed title. Maybe her "I have nothing to say" promos adds to that feeling that she's phoning it in or just coasting by. I certainly don't feel like she's poised to win the whole thing right now, even though she's in a six-way tie for first in the red stars.)
-Miyagi also phoned it in, simply saying once again that she'd show us Andras Miyagi in the Grand Prix. Hoshiki said she beat Priestley yesterday and faces a crow today.
(8) WONDER OF STARDOM CHAMPION ARISA HOSHIKI vs. ARTIST OF STARDOM CHAMPION ANDRAS MIYAGI – BLUE STARS BLOCK
Slow moving to start. Hoshiki avoided a tombstone at 9:00 and hit a knee strike. She stepped off the top rope into a kick to the side of Miyagi's head for the abrupt win.
WINNER: Arisa Hoshiki in 9:44.
(Pageot's Perspective: Miyagi's WWE style of wrestling just doesn't do it for me. It can't help but feel plodding compared to the rest of the roster. The blue stars standings are hilarious now with everyone tied except for Tora.)
Blue Stars standings after show 7:
Utami Hayashishita – 6
Jamie Hayter – 6
Arisa Hoshiki – 6
Kagetsu – 6
Konami – 6
Jungle Kyona – 6
Andras Miyagi – 6
Bea Priestley – 6
Natsuko Tora – 2
Red Stars standings after show 7:
AZM – 6
Hazuki – 6
Mayu Iwatani – 6
Hana Kimura – 6
Tam Nakano – 6
Momo Watanabe – 6
Saki Kashima – 4
Avary – 2
Natsu Sumire – 2