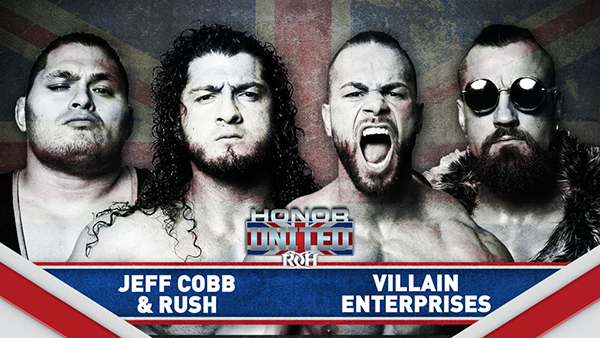 ---
SPOTLIGHTED PODCAST ALERT (YOUR ARTICLE BEGINS A FEW INCHES DOWN)...
---
ROH HONOR UNITED
OCTOBER 25, 2019
LONDON, ENGLAND AT YORK HALL
AIRED ON ROH HONOR CLUB
REPORT BY HARLEY R. PAGEOT, PWTORCH CONTRIBUTOR
Commentary: Ian Riccaboni
We opened with a Marty Scurll pre-tape welcoming people to his home country.
-Ian Riccaboni was alone on commentary. He ran down the card.
-England's own Mark Haskins was out first for the night. His wife was in Lifeblood's corner and their opponents were an Australian frat boy team called Brat Pack.
(1) LIFEBLOOD (Tracy Williams & Mark Haskins w/Vicky Haskins) vs. BRAT PACK (Nick Bury & Mitch Waterman)
Williams with a piledriver and Haskins with a sharpshooter, forcing one of their opponents to tap.
WINNERS: Lifeblood in 11:42.
(Pageot's Perspective: A bit long for a generic team we've never seen in ROH before and the vanilla Lifeblood. The last time we saw Vicky (at Death Before Dishonor one month ago) she was being berated by Bully Ray so it seems odd that there was no follow-up to that here. Also not sure why Riccaboni's on commentary alone. Did Caprice Coleman not make the trip overseas? Cabana's wrestling later so hopefully he'll join him after that, otherwise it's going to be a long night for Ian.)
(2) ROH WORLD TAG TEAM CHAMPION JAY BRISCOE vs. "THE OCTOPUS" JONATHAN GRESHAM
Gresham wore a full Cthulhu mask during his entrance. As referee Todd Sinclair fixed the ring apron Gresham appeared to throw a handful of powder into Briscoe's eyes and rolled him up.
WINNER: Jonathan Gresham in 13:26.
(Pageot's Perspective: I'm not sure why getting powder in your eyes makes you unable to kick out of a roll-up but okay. I guess we're still doing this garbage with Gresham. I thought the point of him beating Lethal clean at Death Before Dishonor was that he proved to himself he can win a big match against a former world champion clean and doesn't need to resort to underhanded tactics.)
-Our third match was billed as a six man scramble. Bullet Club's music played to first bring out the youngest Guerrilla Of Destiny, Hikuleo. Rampage Brown is a British wrestler and was making his ROH debut here.
(3) MATT TAVEN vs. KENNY KING (w/Amy Rose) vs. DALTON CASTLE vs. RAMPAGE BROWN vs. "THE LAST REAL MAN" SILAS YOUNG vs. HIKULEO
Young pinned Castle with Misery.
WINNER: Silas Young in 8:54.
(Pageot's Perspective: Why did the tag wrestler pick up the singles victory here instead of either of the guest stars or the former world champion? Who knows? The fact that Castle went from massively-popular world champion to jobber heel is just one of the many poor booking decisions ROH is responsible for this year.
For those interested, the only NJPW talent to appear in ROH in the past four months are Hikuleo here, Chase Owens on August 24 and 25, and G.O.D. on August 9 and July 20. Considering just a year ago we had top New Japan stars appearing on nearly every big show you can draw your own conclusions.)
(4) "THE GATEKEEPER" KELLY KLEIN vs. MANDY LEON – WOH WORLD CHAMPIONSHIP
Angelina Love didn't make the UK trip due to personal commitments and Velvet Sky disappeared in August so Leon was on her own. Leon slid a steel chair into the ring. The referee took his sweet time removing the chair with his back to the ring so Leon hit Klein with the title belt and rolled her up for the pin.
WINNER: Mandy Leon in 6:25 to capture the women's title.
Todd Sinclair ran out and conferred with the other referee. They decided the match would continue. K-Power for the win.
WINNER: Kelly Klein in 6:43 to retain the women's title.
(Pageot's Perspective: Amateur hour. How many shenanigan finishes have we seen in ROH this year with no follow-up and no consequences? Where were multiple refs when Jay Briscoe got robbed earlier tonight? Suddenly there's justice for this one? Also, if Sinclair was backstage and saw Klein get smacked in the head with a title belt, how is it fair for the match to continue? She should have still been loopy and could have been pinned again. Just disqualify the cheater. Bush league stuff all around. Oh, and Leon's last singles victory in ROH was on February 11, 2018 TV. No explanation was given for why she was deserving of a title shot here.)
(5) COLT CABANA vs. FLAMITA
Cabana kicked out of a frog-splash and 450, putting away Flamita with Chicago Skyline.
WINNER: Colt Cabana in 15:21.
(Pageot's Perspective: Great match. You can tell Cabana loves wrestling guys with distinct styles, like luchadors, because of the opportunities they offer for him to work off of. This was a surprising result, though. Cabana rarely wins in ROH and this was Flamita's debut, filling in for his injured tag partner Bandido. I'd have thought they'd give him a win off the bat to build him up for the remainder of his appearances.)
-Cabana headed straight to commentary and caught his breath as he put over how good Flamita is. Dalton Castle headed out and joined commentary too. He said Cabana was a distraction and suggested he go shower. Castle stuck around with Riccaboni.
-An ad aired for the upstart Shane Taylor Promotions.
(6) SHANE TAYLOR (w/ entourage) vs. "THE PRESTIGIOUS ONE" JOE HENDRY – ROH WORLD TELEVISION CHAMPIONSHIP
Taylor powered out of two anklelock attempts and beat Hendry clean with a headbutt and Welcome To The Land.
WINNER: Shane Taylor in 14:31 to retain the TV title.
(Pageot's Perspective: Taylor continues to have one of the best years of anyone in ROH. The clean loss solidifies Hendry as midcard, though. Not too surprising considering almost every babyface in ROH has been made to look like chumps this year.)
(7) ROH WORLD SIX-MAN TAG TEAM CHAMPIONS VILLAIN ENTERPRISES (PCO & Brody King) vs. SCHADENFREUDE (Kyle Fletcher & Lucky Kid)
Gonzo Bomb from King to Fletcher. PCOsault for the pin.
WINNERS: Villain Enterprises in 13:42.
-Ring announcer Bobby Cruise was invited to join Riccaboni on commentary. Riccaboni said Lethal was 5-0 over Briscoe in singles matches and there was probably nobody who has seen these two men wrestle more than Cruise.
(8) ROH WORLD TAG TEAM CHAMPION MARK BRISCOE vs. JAY LETHAL
The crowd was very quiet and barely reacted when Lethal hit a Lethal Injection or when Briscoe kicked out. Briscoe rolled to the floor for a breather. Lethal pursued and took a back body drop on the apron. As referee Todd Sinclair checked on Lethal Gresham ran out and shoved Briscoe head-first into the ring post. Gresham hid under the ring as Briscoe bladed. Jay Briscoe ran out. He searched for Gresham, who resurfaced with a steel chair and entered the ring. Sinclair was perplexed (per usual) as to what was going on. Lethal was also confused. He shoved Gresham and grabbed the chair, before turning and clocking Jay across the skull. The fans groaned at the stupid booking.
DECISION: No contest in 13:36.
-Lethal and Gresham put the boots to Jay. Mark fought back. The teams brawled until security hit the ring and separated them.
(Pageot's Perspective: Now I'm no professional booker but I would think a promotion that is hemorrhaging viewers and seemingly on its dying legs would be thrilled to have any babyface wrestlers on the roster that are actually over and popular with the fans. Not ROH. This year alone they've decided to try to position Dalton Castle, Flip Gordon, Jonathan Gresham, and now Jay Lethal as heels. How's that going? Flat reactions for Flip? Dalton still getting cheers to the detriment of his supposed-to-be-the-babyface opponents? What did I just say about all the good guys in ROH looking like chumps? Who's left as our top heroes? Rush, the guy who bullies referees and spits on people? Jay "don't tell my kids that being gay is okay or I'll shoot you" Briscoe? Perpetual losers PJ Black, Rhett Titus, and Shinobi Shadow Squad? Good grief.)
(9) ROH WORLD CHAMPION "EL TORO BLANCO" RUSH & "THE HAWAIIAN JUGGERNAUT" JEFF COBB vs. VILLAIN ENTERPRISES (ROH World Six-Man Tag Team Champion Marty Scurll & Flip Gordon)
Rush hit The Bull's Horns on Gordon. Cobb tagged himself in. Tour Of The Islands and Cobb took the pin to Rush's displeasure.
WINNERS: Rush & Cobb in 18:10.
(Pageot's Perspective: How long until Cobb turns heel? Start counting the days. I don't know if ROH has ever felt more limp and directionless than it does right now. Certainly not in the eight or nine years I've been watching.)