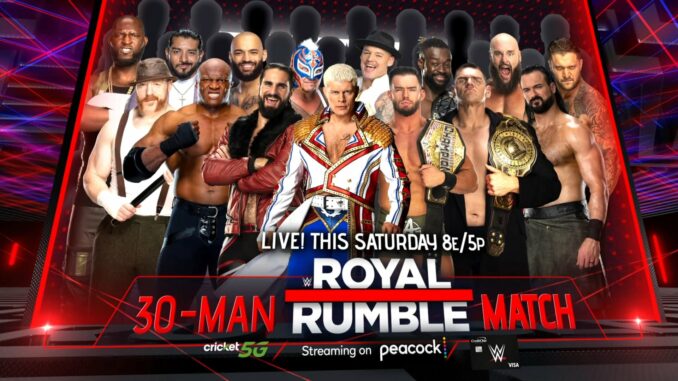 ---
SPOTLIGHTED PODCAST ALERT (YOUR ARTICLE BEGINS A FEW INCHES DOWN)...
---
LECLAIR'S WWE ROYAL RUMBLE 2023 REPORT
JANUARY 28, 2023
SAN ANTONIO, TX AT THE ALAMODOME
AIRED LIVE ON PEACOCK (U.S.), WWE NETWORK (Int.)
Announcers: Michael Cole & Corey Graves
-Country-rock artist Hardy narrated the opening video package, highlighting the Rumble matches and under-card.
-Michael Cole welcomed the audience to the 35th Royal Rumble over a wide corner shot of the brightly lit Alamodome. The shot faded to a close up of the WrestleMania sign hanging from the rafters. Cole and Corey Graves talked up the show from ringside.
-Pat McAfee's music hit. Cole was elated, while Corey Graves threw a tantrum. Cole said he'd just Facetimed McAfee earlier in the day and he was nowhere near San Antonio. Graves begged him to go away while Cole laughed at him. McAfee offered Graves a handshake initially, but then rescinded. Pat joined the commentary desk. "I'm going home!" Graves yelled, "put me on a plane to Tulsa!" McAfee almost fell down trying to stand on his chair to give fans in the front row high fives. Cole continued to freak out.
-Mike Rome introduced the the men's Royal Rumble as the opening match.
-Gunther entered at number one through the small cornered entrance. Sheamus followed. "It's fight night, baby!" McAfee yelled. Cole talked up their match at Clash at the Castle, and Sheamus' Rumble win in 2012.
(1) 30-Man Royal Rumble match
Gunther (#1) and Sheamus (#2) stepped to each other in the center of the ring as the bell rang. They traded a few words, then came to quick blows. Gunther shot Sheamus off the ropes, and the two engaged in a pair of shoulder tackles that barely registered. Gunther quickly tried to dump Sheamus over the top rope, but Sheamus pulled himself back in and gave Gunther the Irish Curse. The two battled in the corner as the countdown began. The Miz (#3) entered. Sheamus tried to attack Miz early, but he leapt off the apron to avoid him, delaying his entry. Gunther tried to surprise Sheamus, but the Celtic Warrior hung onto the ropes. Sheamus leapt through the middle rope and chased The Miz into the ring.
Sheamus managed to work both Miz and Gunther into the corner. He peppered them both with big chops. Gunther stumbled out and tried to dump Sheamus. Miz joined in to no avail. The buzzer sounded, and out came Kofi Kingston (#4.) Kingston delivered leaping clotheslines to all competitors. He gave Miz and Gunther the Boom Drop, then started a "New Day rocks" clap. Sheamus tried to toss him, but Kofi held on.
Kingston caught Miz with an S.O.S. as Johnny Gargano (#5) entered. Miz quickly tossed Gargano over the top, but Johnny Wrestling held on and leapt back in the ring for the spike DDT on Miz. Gargano worked Miz to the apron, then looked to set him up for Ten Beats right in front of Sheamus. Sheamus stared him off and delivered the beats himself. The crowd chanted loudly in unison. Sheamus delivered 25 beats, then Gargano kicked him in the face. Sheamus followed it up with a Brogue Kick to eliminate Miz.
The remaining men tussled against the ropes as Xavier Woods (#6) entered. Graves said it could come down to New Day having to face each other. For now, though, the NXT tag team champions worked in tandem, beating down Johnny Gargano. They stared each other down in the center and appeared ready to lock up. They wound up in a Wheel-barrow, slapping each other's butts. Karrion Kross (#7) headed out next, led by Scarlett. The match approached 10:00.
Kross marched to the ring while wrestlers brawled. He gave Woods and Kingston quick throws, then ate a massive chop from Gunther. Graves explained that the match becomes more challenging as the ring fills up. Kross and Gunther traded stiff shots. Gunther dropped Karrion with a massive clothesline, but Kross popped up and delivered a big side Suplex. Sheamus joined the fray, trading right hands with Kross. Wrestlers paired off in opposing corners and the clock counted down again.
Chad Gable (#8) came out next. Gable told wrestlers to "shoosh" as he delivered belly-to-belly Suplexes. He and Xavier Woods circled one another in the center and got some quick chain grapples in. Meanwhile, Sheamus dumped Gunther over the top rope, but the Intercontinental champion held on. The crowd began to count again, summoning Drew McIntyre (#9.) McIntyre slapped hands with fans as he marched to the ring with purpose. He slid in the ring and dropped Chad Gabble, then gave both members of New Day big belly-to-belly Suplexes. Drew slammed Gargano onto a prone Gable, then easily dumped Karrion Kross over the top rope, eliminating him.
McIntyre got in the face of Gunther, and the two began trading hard chops. McIntyre pulled Gunther in and gave him a Future Shock DDT. He helped Sheamus to his feet, and the two went to work on other opponents. Meanwhile, Santos Escobar (#10) ran to the ring. Escobar got a flurry of offense before winding up on the apron. Sheamus tried to set him up for the Beats, but Santos fought back into the ring. He paired off with Johnny Gargano in the corner. Sheamus gave Gable a big open-handed chop as the match crossed 16:45.
The Street Profits' music hit and Angelo Dawkins (#11) rushed to the ring. McAfee noted that he was wearing a Spurs-inspired outfit. Dawkins took down Gable while Xavier Woods barely skirted elimination. Gunther tossed members of New Day, but they used each other to hang on. Undeterred, Gunther kicked Woods in the face and eliminated him. Kofi Kingston tried to exact revenge on Gunther, but Escobar cut him off. After a brief exchange, Gunther returned to the fold and launched Kingston over the top rope and to the floor. Kofi fell onto a chair at ringside and rolled over with one foot hooked between the arm of the chair, clear off the ground. The announcers wondered whether or not both of Kingston's feet had touched.
While the Kingston drama unfolded, the clock struck again and Brock Lesnar (#12) joined the fray. Lesnar was greeted immediately by both McIntyre and Sheamus. Brock gave them German Suplexes for their trouble. He caught Santos Escobar off the top rope and gave him a Fallaway Slam over the top rope and to the floor, eliminating him. He clotheslined Angelo Dawkins over the top rope and to the floor. Finally, he scooped Gable and tossed him out of the ring with ease, racking up three eliminations in short order.
Brock came face to face with Gunther. Before they could come to blows, the clock ticked down and Bobby Lashley (#13) made his entrance. Lesnar gave Gunther a Belly-to-Belly, then immediately ate a Spear from Bobby Lashley. He Speared McIntyre, then Sheamus. He slammed Gargano, then Gunther. Lesnar scooped Lashley up for an F5, but Lashley slid down his back and dumped Lesnar over the top rope, eliminating him. The crowd erupted. "Brock Lesnar lasted under 3 minutes before being eliminated by Bobby Lashley!" Cole exclaimed. McAfee called it the upset of the century. Lesnar tossed equipment around at ringside as Baron Corbin (#14) entered.
Just as Corbin entered the ringside area, Lesnar mowed him over. He gave him an F5, then shook with rage. Adam Pearce and a slew of officials emerged, begging Lesnar to back down. Brock choked a referee, tossing him over the barricade. He headed back to the timekeeper's area. The wrestlers in the ring reset as "Burn it Down!" sent the crowd into a frenzy. Seth Rollins (#15) led the chorus, bouncing to the ring.
Seth Rollins tossed an ailing Baron Corbin in the ring, then immediately Clotheslined him over the top rope to eliminate him. Otis (#16) entered next, shuffling to the ring as wrestlers worked each other over in opposing corners. Otis dropped Johnny Gargano, then gave Drew McIntyre a big slam. He hoisted Sheamus over his head for an impressive belly-to-belly. Rollins began working Drew over the ropes, but McIntyre fought him off. Seth fell into the waiting hands of Bobby Lashley, who worked him over in the corner.
Rey Mysterio's music played, but he didn't enter. Seth Rollins traded blows with Bobby Lashley. Bobby scooped him up for a Powerslam, but Seth slid down his back and dumped him over the top rope unceremoniously. Rollins looked shocked that he'd eliminated Lashley. Cole said two of the early favorites (Lesnar & Lashley) are already gone.) Dominick Mysterio (#18) entered next. He emerged from the back wearing his father's mask. He tore it on the way to the ring.
The cameras missed Sheamus and McIntyre tossing Otis out. Dominick danced around ringside, doing jumping jacks and refusing to get in the ring. Cole noted that both Sheamus and Gunther are at over 30:00. McIntyre dumped Gargano onto the apron, but Johnny survived. Dominick slid in the ring and tired to blindside Sheamus, but the Celtic Warrior shrugged him off. Dominick begged off, retreating to the corner. Elias (#19) headed to the ring, wielding a guitar.
Elias broke his guitar over the back of Gunther. Sheamus and McIntyre dropped the musician, then delivered a simultaneous Brogue Kick and Claymore. They tossed Elias out. Cole noted that he only lasted 39 seconds. Finn Balor (#20) emerged to aid his Judgment Day teammate. Balor hit McIntyre with a quick Slingblade, then tried to toss him out. Sheamus blocked the attempt, but Balor gave him a reverse DDT. Gargano exploded onto screen with a Super Kick to Balor. He tossed him to the apron, then got a running start. Dominick cut him off. He tossed Gargano to the apron. Gargano went for a diving Spear through the middle rope, but Balor intercepted him with a kick to the head. He and Mysterio tossed Gargano out.
Judgment Day came face to face with McIntyre and Sheamus as the clock ran out again. Booker T (#21) got an invite, according to Corey Graves. Booker marched to the ring as the match approached 37:00. Booker gave Balor a Book End. Wrestlers rolled to the sides to give Booker room to execute a Spin-A-Rooni. Gunther stepped in and tossed Booker T out. The crowd booed loudly. Damian Priest (#22) entered next, completing the Judgment Day trio. He went to work on Drew McIntyre in the corner. Gunther pulled him away, but ate a big right hand from the fresh Priest.
Judgment Day isolated Seth Rollins and beat him down in the corner. Then they cornered Gunther and did the same. They swarmed Sheamus and beat him down. Balor gave Rollins a big Backbreaker, then held him in position for Priest to deliver a leaping leg drop. Montez Ford (#23) headed to the ring to try his luck. He quickly separated Judgment Day and got a brief advantage over each of them. Balor cut off his offense and tossed him to the apron. Ford skinned the cat and surprised Balor with a big right hand. Priest grabbed Ford by the throat and Chokeslammed him out of the ring. Ford landed on his feet, but was eliminated just the same.
The camera pulled back as Cole reset the scene. "You think you know me" rang out and the crowd came unglued. Edge (#24) walked to the ring with a snarl. The camera showed Judgment Day looking shocked and a little fearful. Edge speared Damian Priest first, then Finn Balor. He dropped Dominick Mysterio. He tossed Priest to the outside. Balor charged. Edge dumped him over the top rope. Edge turned to come face to face with Seth Rollins. They exchanged a few words, but Dominick Mysterio pounced. Edge fought him off and dumped him to the apron. Priest and Balor jumped back up and helped Dominick pull Edge over the top rope and eliminate him. "There's no disqualifications!" Cole reminded everyone before calling Judgement Day "scumbags."
Austin Theory (#25) emerged. He was overshadowed by Edge feverishly chasing Balor and Priest up the entire entrance-way. Balor fell down. Edge took Priest out. Rhea Ripley attacked Edge from behind. Beth Phoenix stepped out of the shadow of the curtain. Ripley turned around and got dropped. Edge and Phoenix left together. Meanwhile, Austin Theory officially entered the ring shortly before Omos (#26) made his entrance.
Omos stepped into the ring as the match crossed 46:30. McIntyre and Sheamus rose to meet him. He dropped them both with ease. Theory tried his hand, but ate a big side slam from the giant. Omos ran into a big chop from Gunther. Graves said the Intercontinental champion has no fear. Omos gave Gunther a big Chokeslam as the clock counted down again. Braun Strowman (#27) was next. Cole talked up his Royal Rumble match accolades, noting that #27 has produced 4 winners. The ring cleared to give Strowman and Omos their moment in the center. They traded big right hands. Strowman had Omos against the ropes. Omos charged, but Strowman ducked and clotheslined Omos over the top rope, eliminating him.
Strowman went to work on Dominick Mysterio in the corner. Sheamus and McIntyre worked Seth Rollins onto the apron. Ricochet (#28) ran to the ring to break up the brief stalemate. He gave a leaping high-five to Strowman. Braun then grabbed Sheamus and McIntyre by their throats. He tried to power them over the top, but the duo dumped him to the apron instead. They hit a series of tandem Beats before being cut off by Gunther.
Cole noted that Sheamus and Gunther have a chance to go wire-to-wire. Just a moment later, Gunther powered both Sheamus and McIntyre over the top rope. Cole said Sheamus lasted over 50 minutes, while Drew was in for just over 39 minutes. The clock counted down to reveal Logan Paul (#29.) McIntyre gave him a weary look as he ran past. The crowd booed him heavily. Wrestlers quickly converged to take him out. Paul fought them off and dropped Ricochet. Paul got scooped by Gunther. He was nearly tossed, but managed to hang on and leap back in the ring. Logan came to blows with Braun Strowman. The big man gave Paul a running Powerslam. Ricochet followed it up with a standing Shooting Star. Strowman tossed him through the middle rope. Paul held on awkwardly.
The camera cut away from the ring just as the lights in the stadium cut out. Smoke filled the entrance the last man in the match, Cody Rhodes (#30), emerged. The camera followed Rhodes all the way to the ring. The match crossed 56:30 as Rhodes hit Austin Theory with a Cody Cutter. He tossed his weight belt into the crowd, but then ate a Suplex from Dominick Mysterio. Dom hit a second, then shook his shoulders to signify the Three Amigos. Cody blocked it, delivered Cross Rhodes, then tossed Dominick out.
Strowman took Rhodes down. Gunther gave Strowman the Last Symphony. Austin Theory dumped Ricochet onto the apron. Logan Paul stood on the opposing apron. They began yelling at each other. Eventually, they both leapt to the top rope and at each other. Their bodies collided in mid-air with a massive thud. Cody tossed Ricochet to the apron. Strowman tried to help him back inside, but Cody dumped Braun, eliminating him.
Rhode and Ricochet battled on the ropes. Ricochet kicked Cody back to center. Austin Theory dumped Ricochet out. The final four was set as the match crossed 60:00 – Cody Rhodes, Seth Rollins, Austin Theory, and Gunther. Seth Rollins dropped Theory and gave him a Stomp. Cody clotheslined Theory out of the ring. Three men remained. Seth and Cody exchanged words. Gunther looked on. "You're not gonna steal my spotlight twice!" Rollins told Rhodes. The two men circled each other, forgetting that the Intercontinental champion was waiting in the corner. Gunther pounced, but Rollins and Rhodes decided to work together to eliminate the common threat.
Rollins gave Gunther a Pedigree. Cody shrugged it off, lifted Gunther, and gave him a Pedigree of his own. Cole announced that Gunther just broke Rey Mysterio's standing record in "traditional" Royal Rumble matches. Rollins and Rhodes traded kicks. Logan Paul reappeared. Cole said he's still in the match. Paul tossed Rollins to the outside. Seth landed on his knees and immediately brought his hands to his head in shock. The crowd murmured with disappointment.
Paul went to work on Cody Rhodes. Rhodes ducked a right hand and connected with Cross Rhodes. He quickly tossed Paul out. "It's down to two!" Cole exclaimed, "#1 and #30!" Rhodes and Gunther circled. Gunther battled free of a waist lock and gave Cody a vicious chop. Another one dropped Cody to the mat. He tried to shake it off. Gunther went for a back body drop, but Rhodes flipped out of it. Gunther caught him with another chop. The match ticked past 65:00. Cody's chest began to show welts. Gunther went for a boot, but Rhodes ducked. Gunther wound up teetering. Cody went for a Disaster Kick, but Gunther dropped him in mid-air.
The Intercontinental Champion fought back in the ring and hoisted Rhodes onto the turnbuckle. He dumped him to the apron and Rhodes came dangerously close to slipping. Cody stood tentatively and fought Gunther off. He climbed to the top rope. Gunther rose to meet him. He have him another hard chop, then delivered a Superplex. Gunther slapped Cody repeatedly. Rhodes shook it off, willing the crowd to lift. He leapt to the middle rope and connected with a Cody Cutter. Gunther stumbled up and toward the ropes. Cody dumped him, but Gunther held on. A "Cody" chant broke out. Gunther tried to re-enter the ring, but Rhodes torqued his leg with a Dragon Screw. Gunther spilled back inside. Rhodes cornered him and draped his legs across the middle ropes, leaving him exposed. Rhodes hit a running kick between the legs.
Gunther refused to die. He exploded out of the corner with a missile Dropkick, then delivered a quick Powerbomb as he continued to sell the effects of the low kick. Gunther tossed Rhodes over the top, but Cody held on. They traded chops against the ropes. Gunther broke the stalemate by grabbing a Sleeper Hold on the apron. Rhodes began to fade. He dropped to a knee to secure his balance. Rhodes began to pull Gunther over the top, forcing the Ring General to break the hold.
Cody climbed the ropes and dove. Gunther caught him with a big chop. Gunther scooped Rhodes up, but Cody slid down the back and hit Cross Rhodes. Gunther used the ropes to pull himself up, but Cody was already charging. He dumped Gunther over the top rope.
WINNER: Cody Rhodes in 71:42
Rhodes dropped to his knees and kissed the mat before pointing at the WrestleMania sign. The crowd seemed elated.
(LeClair's Analysis: An incredibly curious decision to open the show with the most anticipated match by what felt like a significant margin. Things started to make a little bit more sense as it became the clear that members of the Bloodline were being withheld from the match entirely. It became a foregone conclusion, at that point, that this was Cody Rhodes' match to win. Even still, I thought they did a remarkable job at telling some compelling stories throughout and setting the stage for some future encounters. Cody Rhodes may have won the match, but Gunther already won the night. After breaking Rey Mysterio's record for longest amount of time spent in a traditional Royal Rumble match, he went another several minutes and created an incredibly engaging saga with the man everyone in the building knew was going to win. They made a star out of him tonight.
The action and pacing of the Rumble felt good overall, and was an improvement over last year's iteration, which I did enjoy more than most. The big spots and eliminations felt strategically placed and were given room to breathe amongst competing angles. I thought sticking Lesnar and Lashley in the opening third of the match was smart – it gave the crowd some major star-power to pop for early on, and it gave the announcers an angle to attack once they were eliminated. Cole made it a point to note that two of the matches' favorites to win were already gone in the early going.
Aside from Gunther's remarkable performance, I thought Drew McIntyre and Sheamus went on an impressive run that seemed to convey a great deal of confidence not only in their star power and ability, but in their future as a team. They worked as a tandem throughout, never really teasing any dissension or even friendly competition. Though their eliminations felt a little unceremonious after having lasted so long, giving their demise to Gunther felt like another feather his cap. One of my biggest Rumble pet-peeves is long, arduous performances being capped off by uneventful exits at the hand of talent the company doesn't plan on elevating. That was avoided here.
Seth Rollins, a dark horse pick, was smartly made to look like a genuine threat and potential finalist opposite Cody Rhodes. I thought the swerve with Logan Paul was well done, and it all but confirms their intentions for WrestleMania. This is a good spot for Seth, who will undoubtedly have a great match with Paul. Plus, any bout featuring the latter is sure to have high-billing, which I think Rollins deserves.
There were things that didn't quite work for me. Edge's brief appearance was disappointing, not because of its length, but because it confirmed that he's going to continue feuding with Judgment Day. That feud's shelf life expired months ago, and there's still no end in sight. Dominick's implied attack on his father was great for heat, but I didn't like that the announcers just simply moved on and treated it as a foregone conclusion that #17 was now a dead entry. Adam Pearce has interfered for much less, why wouldn't he step in here? Kofi Kingston had another disappointing, rough exit.
Finally, I do think it's worth mentioning that Karrion Kross had perhaps the poorest showing of anyone, relative to his push. Though I'm not a fan of his work, I expected him to be an important figure throughout the early portion of the match, and instead, he was treated at just about the same level as the likes of Chad Gable, Otis, and the Street Profits, who also had a tough outing.
Overall, WWE has to be pleased with how this played out. The crowd was firmly behind Cody Rhodes and seemed enamored with his win, regardless of its predictable nature. Sometimes the clear and obvious is just the right thing to do. Keeping the Bloodline out of the match proved to be a wise decision, and the match was paced in such a way that the match's most important moments, angles, and eliminations never felt hurried or in danger of being big-footed.)
-After a lengthy break, Michael Cole continued to gush over the men's Royal Rumble match, and Pat McAfee's return. He introduced the "Mountain Dew Pitch Black" match.
-L.A. Knight headed to the ring first. Graves said if Knight has his way, the whole state of Texas will be chanting his name at the end of the night. McAfee asked what the match is about. Cole said we're about to find out.
A video package hyping the feud aired.
Back live, the lights in the stadium went dark. "Fireflies" filled the screen and the opening piano notes of Bray Wyatt's theme played. There was a mossy structure encasing a door at the entrance. The door was kicked open, bathing the screen in light. After a short time, Bray Wyatt emerged, holding his smoking lantern. He wore thick eye black. Even his name card was sponsored by Mountain Dew. The announcers were silent as he made his long walk to the ring.
Wyatt held his arms out in the ring and spun the lantern around. He lifted it to his face and stared at it blankly before shutting it off, simultaneously killing the music and turning the lights on.
(2) L.A. KNIGHT vs. BRAY WYATT – Mountain Dew Pitch Black match
The bell rang and the house switched to a black light, bringing the stadium aglow. McAfee said he's happy he washed his pants. Bray Wyatt was covered in glowing paint and wore red contacts activated by the black lights. He began the match by tossing L.A. Knight around the ring. Before long, Knight rolled to the outside. Wyatt followed and whipped him into the steel steps. Bray tossed Knight into the crowd, then tore apart the announcer's desk. He spilled some substance that glowed a bright neon green.
Wyatt set up the ring steps near the announcers desk. He tried to Suplex Knight over the barricade, but both men slipped and had to regroup. Knight leapt onto the barricade and dove onto Wyatt, sending both men crashing through the announce desk and spilling more glowing orbs. Knight rose first, retrieving a tool box from underneath the ring. Wyatt returned to the inside and fought Knight off, tossing him to the outside. Bray kicked the toolbox to the side on his way to retrieve his opponent. L.A. Knight caught him in the head with a Kendo stick. Knight cracked him a few more times, but Wyatt shook off the hits, pulled Knight in, and delivered Sister Abigail for a cover and three count.
WINNER: Bray Wyatt in 5:02
Bray knelt in the corner, seemingly in conflict. When he turned back around, he bore a skull mask with glowing red paint. L.A. Knight attacked him with a Kendo Stick, but Wyatt didn't even acknowledge them. Knight ran from the ring and into the crowd. Wyatt chased him. They climbed a structure at the back of the stadium. Wyatt grabbed Knight and applied the Mandible Claw. When Wyatt looked up at the structure before him, Uncle Howdy was staring down at him. Howdy dove off the structure and onto L.A. Knight below. Flames and pyro exploded from the crash pad.
The fire burned bright as the camera pulled back to show real-life versions of the Firefly Funhouse Puppets leaning over the structure, looking at the carnage below. Wyatt's music played as he stared into the flames. The camera cut to black.
(LeClair's Analysis: Yikes. It always felt a little weird that this super serious, afflicted, creepy character would have his first match sponsored by a soda company. It didn't spell well for the results, and I think that bore out in the presentation. While the black light was initially aesthetically pleasing and Wyatt's paint was neat, the glowing green of Knight's trunks and the substance that exploded from the announcers desk was distracting. Still, though, it was quick enough to accomplish the goal of giving Wyatt a big win in his first match back after a multiple month build.
The issues came afterward. Wyatt donned a new mask and things took a supernatural turn, quickly. Bray became impervious to Knight's offense, no-selling multiple Kendo Stick shots to the face. It was the explosion that really got me, though. Uncle Howdy dove off a structure onto L.A. Knight, causing a big spark display and open fire with Knight in the burn zone. McAfee even intimated that Knight must be "gone." This is why Bray Wyatt's previous gimmicks haven't worked. Eventually, his character necessitates full blown murder on a pro wrestling show. I don't suppose Knight's release is immanent, so that would necessitate him having a miraculous recovery from third-degree burns suffered in this stunt, likely in record time. It's just too hokey, too convoluted, and too detached from the rest of the show.)

-Mike Rome announced an attendance of 51,388. The camera cut to a drone shot outside the building where fireworks shot from the roof.
-Alexa Bliss entered for her Raw Women's Championship match. Cole and Graves talked over clips of Bliss and Belair's rivalry, including Bliss' emerging connection to Uncle Howdy. Bianca Belair entered to a strong ovation, skipping to the ring and swinging her braid. The camera cut to Michelle McCool watching the match from ringside. Cole said all the stars are out tonight.
(3) BIANCA BELAIR (c) vs. ALEXA BLISS – Raw Women's Championship match
Bianca Belair and Alexa Bliss came to blows as soon as the bell rang. Belair powered her challenger into the corner with a hard shoulder, then tossed her across the ring. Bliss stumbled back to her feet and into the opposing corner. Belair mounted her and threw a few punches before Bliss cut her off and broke free. Alexa hit a quick Snapmare out of the corner and kicked the champion in the back. She grabbed at Belair's legs and tried to bend her backwards by pulling on the braid. Bliss broke the hold voluntarily after a seconds.
Bliss walked Belair to the ropes and drove her knees into the back of the champion's neck. She tossed her to the mat and covered for a quick two count. Alexa grabbed a headlock. Belair worked to her feet slowly, broke the hold, and tossed Bliss to the mat. Alexa looked for a School Girl roll-up, but Belair blocked it. Alexa downed Bianca and grabbed another headlock. "Give up!" Bliss yelled. Belair grabbed at her face. The champion stood and backed Bliss into the corner, using her hips to create separation. Bliss leapt to the middle rope and pulled Belair into another headlock. Bianca walked her off the turnbuckle, and spun her into a front-facing capture Suplex. Belair threw wild forearms to the back as the match crossed 4:00. Bliss knocked her down, but Bianca kipped up.
Belair whipped Bliss to the corner and mounted her again, firing off a number of punches. She backflipped off the ropes and charged, but Bliss blocked her. Belair maintained control by leaping to the middle rope and grabbing the same seated headlock Bliss used earlier. She tossed Bliss to the mat, then went for the handspring Moonsault. Bliss got her knees up. Belair shrugged it off, slammed Bliss, and connected with the Moonsault on her second attempt. She covered for a two count.
Both women traded punches before Belair scooped Bliss into position for the K.O.D. Bliss elbowed free and slid down the back. Belair looked for a Powerbomb instead, but Bliss blocked it and hit the quick DDT for a cover and near fall at 6:20. Bliss stomped at the champion's chest and sternum. She slapped her in the face, then hit her signature leaping double knees. Bliss forewent her usual standing Moonsault and instead delivered a Senton for a cover and two count.
Alexa tried to slap Bianca, but Belair caught the arm. She tried to whip Bliss with her braid, but Alexa pulled her in and set up for Sister Abigail. Belair ducked out of it, hoisted Bliss up, and hit the K.O.D. for a cover and three count.
WINNER: Bianca Belair in 7:32 to retain the Raw Women's Championship
McAfee said he thought this was poised to be a "blow out", but that Bliss put on a show. Cole called her game. Belair held the title above her head as she walked back up the ramp way. Bliss was shown in the ring on her knees. The lights darkened and Uncle Howdy appeared on the stadium's screen. "Do you feel in charge?" he asked. Bliss looked on wearily and the show cut to black.
(LeClair's Analysis: Pat McAfee really sold Alexa Bliss as a lowly challenger here, leaving Cole and Graves to have to do a little clean-up work. This did kind of feel like a filler, though. For all the attempts they've made to build this feud into something palatable, it really felt like a foregone conclusion from the get-go. With Uncle Howdy appearing physically in the previous match, it seemed extremely unlikely that he'd show up again, meaning any thought of shenanigans in Bliss' favor were pretty much nullified going in. The crowd popped for Belair, and for her signature power moves, but this really just felt like a serviceable TV match one could find on any episode of Raw.
The bigger story here was Bliss' post-match descent further into the hands of Uncle Howdy. They seemed excited to get Belair out of there to signify that she'd have nothing to do with the supernatural stuff going forward, leaving Bliss to do her thing away from the title going forward.)
-After a break, Michael Cole and Corey Graves thanked Hardy for the official theme song of the show. Graves reminded us that Hardy will be performing live later in the night.
-Samantha Irvin announced the woman's Royal Rumble match over a sweeping wide shot of the stadium.
Rhea Ripley was first out. She grabbed at her ribs, selling the spear from Beth Phoenix earlier in the night. Cole tossed to a replay of the confrontation. Cole mentioned Gunther nearly going the distance after entering number one. McAfee said Ripley is capable of doing the same. Liv Morgan entered at two. Graves said Liv volunteering to start the Rumble match is one of the "dumbest decisions in a long time."
(4) 30-Woman Royal Rumble match
Rhea Ripley (#1) and Liv Morgan (#2) opened the match. Rhea Ripley cracked a smirk. Liv Morgan pointed to herself, and the WrestleMania sign. They fired wildly at each other. Ripley easily overpowered the smaller Morgan. She tossed her into the corner. Liv exploded out, trying to beat Ripley with speed. Rhea dropped her, then checked her lip for blood, finding none. Morgan managed to knock Ripley into the corner and catch her with a hip-check. She leapt to the middle rope and dove into the waiting arms of Ripley. Rhea slammed her.
Ripley looked to the entrance as Dana Brooke (#3) entered. Cole noted that she's participated in every women's Royal Rumble. Brooke climbed the turnbuckle and caught both Morgan and Ripley with a missile dropkick. She flipped out of a back body drop from Ripley and tossed her shoulder first into the ring post. Morgan and Brooke traded some acrobatic counters before winding tangled up on the Northwest turnbuckle. Brooke took her down with a Superplex just as Emma (#4) entered.
Emma ran to the ring and immediately guillotined Ripley on the ropes. She followed up with a quick spinning Headscissor. Brooke hit Rhea with a handspring back elbow in the corner. Morgan joined in as everyone worked to eliminate Ripley. Shayna Baszler (#5) entered the fold. She went to work on Ripley's wrist, trying to force her toward the ropes. Liv Morgan caught Baszler with a step-up kick. Baszler shrugged her off and gave Brooke a spinning Backbreaker. Shayna stepped on Dana's elbow. McAfee called it a "future endeavor stomp."
Bayley (#6) entered to a chorus of boos. She grabbed a sign from a fan on the way to the ring and ripped it up. Bayley hit the ring and was bombarded by Liv Morgan. Liv connected with Oblivion and tried to toss Bayley out, but the leader of Damage CTRL held on for dear life. She and Morgan paired off in the corner as the clocked counted down again. B-Fab (#7) entered her very first Royal Rumble. Hit Row flanked her at the entrance before sending her on her way. B-Fab took down Dana Brooke, then Shayna Baszler, and finally, Bayley. She ate a quick headbutt from Rhea Ripley. Rhea came up with blood on her face. She tossed B-Fab out of the ring, then smeared the blood all over and laughed.
NXT Women's Champion, Roxanne Perez (#8) entered next. She went to work on both Baszler and Emma, cornering them and taking them down. Perez caught Rhea Ripley with a nice-looking tilt-a-whirl Headscissor. She then joined Liv Morgan, Dana Brooke, and Emma in trying to eliminate Bayley. The veteran kept herself steady on the apron. Dakota Kai (#9) rushed to the ring, looking to provide back-up. Kai gave Perez a Backbreaker, then helped Bayley to her feet. The two were quickly overwhelmed by other competitors trying to split the duo. They downed Bayley and Dakota as the clock ticked down again. Conveniently, Io Sky (#10) made her entrance next. She hit Brooke and Morgan with a flying dropkick, saving her partners from potential elimination.
Sky flipped over Baszler and took her down. Kai and Bayley worked over Emma on the apron. Emma flipped back through the middle rope and was pulled to safety by Dana Brooke. Damage CTRL tossed Dana Brooke out. Kai kicked Emma in the face, eliminating her at 14:05. Roxanne Perez tried to dumped Kai over the the top, but Sky and Bayley saved her. The trio worked together to kick Perez over the top rope and send her packing.
Natalya (#11) marched to the ring next. Cole noted that she's after Shayna Baszler, who broke her nose late last year. Nattie went right for Shayna but was quickly overwhelmed by Damage CTRL. Women paired off as the clock struck :00 again, bringing Candice LaRae (#12) into the match. The camera focused on Natalya, who finally got her chance to exact revenge on Baszler. She dumped Shayna over the top, but Baszler held onto the apron. Shayna grabbed the Kirifuda Clutch. She used it to pull Nattie onto the apron. Damage CTRL reappeared and bumped them both off the apron, eliminating them. Moments later, NXT's Zoey Stark (#13) entered. The announcers talked up her proficiency in battle royals.
Xia Li (#14) answered the next countdown. She entered the ring with a flurry, kicking Morgan and Ripley to the corner. She was quickly cut off by Damage CTRL. Candice LaRae tried to make her presence felt, attacking the trio from behind. They worked her to the corner and eventually onto the turnbuckle. LaRae managed to kick Bayley and Kai away, but was shoved out of the ring and out of the match by Io Sky. Damage CTRL celebrated their dominance just as Becky Lynch (#15) entered furiously. Bayley sent her cohorts to meet Lynch at ringside. Becky took them both out, then pounced on Bayley. The latter jumped through the middle rope, looking to escape. Lynch gave chase. Kai and Sky returned to take a 3-on-1 advantage. They beat Lynch down, then tossed her over the announcers desk.  Meanwhile, Tegan Nox (#16) ran to the ring.
Nox climbed to the top rope and flipped onto Ripley. She cornered Zoey Stark and Xia Li and hit alternating tackles in opposing corners. She gave Li a front-Suplex, then delivered a knee to the face of Dakota Kai. Tegan dropped to her knees to allow Liv Morgan to use her back as a step. Morgan hit a leaping face plant on Zoey Stark. The clock ticked down again. The camera stayed focused on the ring as the crowd erupted. It was Asuka (#17), sporting new music, new gear, and a new mask. She lurched and crept to the ring, eventually revealing blue and white joker face paint. Bayley stepped to her quickly, but Asuka just laughed her off. She begged Bayley to challenge her. Asuka peppered her with quick strikes, then tried to toss her out. Bayley held on.
Tegan Nox bombarded Asuka with a hip check in the corner. Asuka stumbled out and ate a kick to the face. Nox charged, but Asuka side-stepped her. Tegan fell to the apron. Asuka kicked her in the face and Nox fell to the floor. Piper Niven (#18) entered next, with only a fleeting reference to her previous character from Corey Graves. Cole and McAfee immediately talked her up. McAfee called her the new favorite. She took wrestler after wrestler down. Niven planted Bayley with a slam, then dumped Morgan on top of her. Niven hit the ropes and crushed them both with a standing splash.
Tamina (#19) ran to the ring, eyes locked on Piper Niven. The camera closed in on them in the center. They exchanged words, but had to fought off other women before coming to blows themselves. Tamina dropped Niven with a Superkick. Damage CTRL cut Tamina off at the knees and swarmed her. Becky Lynch re-emerged with a flurry of offense, dropping Kai and Sky with DDTs and then cornering Bayley against the ropes. The clock struck :00 again, and Chelsea Green (#19) made a surprise return. She slid in the ring and was immediately tossed out by Rhea Ripley. Cole announced she set a record for fastest elimination at five seconds.
As Cole and McAfee joked about Green, Becky Lynch tossed Dakota Kai out. Io Sky pounced, but Lynch tossed her, too. Bayley snuck up on Becky and threw her out. The crowd erupted in boos. Liv Morgan then dumped Bayley over the top rope. Lynch and Bayley immediately came to blows on the outside. Sky and Kai joined the fray. Lynch and Damage CTRL battled over the barricade, into the crowd, and off-screen. This immediately preceded the next entrant, Zelina Vega (#20.) Cole quickly did an ad-read for Vega's appearance in an upcoming Street Fighter game. Vega hit Xia Li with Code Red, then battled with her to the apron. Vega kicked Li to the outside, eliminating her. She leapt to the middle rope and caught Niven with a leaping Codebreaker. Raquel Rodriguez (#21) joined the fray. The announcers pushed her as a favorite.
Raquel ran through the competition, dropping every woman with big clotheslines. Zoey Stark tried to leap onto her off the ropes, but Raquel caught her and delivered a big Fallaway Slam. She gave Asuka a spinning Powerslam, then scooped Zelina Vega up by the throat. She sat her on the top turnbuckle. Vega managed to catch Raquel with a 'rana off the top rope. Meanwhile, Mia Yim (#22) made her entrance. She caught Rodriguez with a step-up enziguri, then delivered a spinning DDT to Rhea Ripley. Niven cut off her hot streak and worked her into the corner as the clock ticked down again. It was Lacey Evans (#24.) She ran to the ring and ducked a clothesline from Tamina. Evans caught Morgan with a pump kick, then tossed her to the corner. Evans kicked at Liv. Tamina tossed Evans to the apron, but Lacey fought her and an approaching Zoey Stark off.
Evans saluted and taunted the crowd. McAfee noted that Evans "still has an attitude." Michelle McCool's (#25) music hit. She was still seated in the front row. She stood up, removed her hoodie, and hopped over the barricade. She was greeted by Tamina. McCool tossed her to the apron, then knocked her to the floor. McCool went to work on Rhea Ripley. Cole tried to sell the idea that McCool didn't know she would be in the match. Just as the action cooled off, Indi Hartwell (#26) entered. She dropped a few opponents, then had a brief moment alone to point at the WrestleMania sign as the match approached 45:00. Rodriguez and Ripley battled against the ropes as the crowd prepared for another entrance. Sonya Deville (#27) was next. Graves wondered what Deville has on Adam Pearce to continue getting free title matches.
Deville hit Zoey Stark with a running knee immediately upon entry. She tossed Stark haphazardly out of the ring. "Back to NXT, honey!" she yelled. Deville turned her attention to Asuka. The two women traded strikes and kicks, eventually hitting them in stereo. Zelina Vega fought with Lacey Evans in the corner. Liv Morgan was slammed against the turnbuckle repeatedly by Raquel Rodriguez. The camera cut back to Evans, who applied the Cobra Clutch to Zelina Vega. Vega passed out, and Evans dumped her violently to the outside.
Shotzi (#28) rode halfway down the ramp on her tank, then ran the rest of the way. She dove onto Niven and Rodriguez. Shotzi tripped Raquel into the ropes, then Suplexed Lacey Evans onto the apron. Sonya joined the action, but all woman rolled inside safely. Deville and Indi Hartwell paired off, and Deville tossed her out with ease. The next countdown brought Nikki Cross (#29.) She bolted to the ring, rage plastered on her face. Cross ripped her jacket off and slammed it repeatedly on the mat. She gave Shotzi a rolling neckbreaker after pointing to the WrestleMania sign. Cole noted that Ripley and Morgan have now lasted over 50 minutes.
The final countdown began, but was interrupted by Nia Jax' (#30) music. She walked to the ring as every woman rose to stare her down. Jax stepped into the middle of the ring and was quickly attacked by every remaining woman in the match. She shoved them all off for a big power spot. Raquel Rodriguez was left standing. She stepped to Jax and the two came to blows. Morgan leapt at Jax and was slammed to the mat. Asuka caught Jax with a few kicks. Jax continued to fight women off. Ripley tried to give her an Eradicator, but dropped her. She hit Riptide instead. Every woman in the match worked together to dump Jax over the top rope. She signed "suck it" on her way out.
Eleven women remained with all entrants accounted for at the 54:40 mark. Raquel Rodriguez hoisted Lacey Evans onto the apron and then clotheslined her to the floor. The crowd cheered for the elimination. Raquel turned her focus to Asuka. Rodriguez got caught in an arm bar. Raquel lifted her into Powerbomb position and dumped her over the top, but Asuka held on. Deville joined the exchange. Raquel tossed her to the apron, then got a running start toward both women. Asuka and Deville split the center and kicked Raquel in the face. Asuka then kicked Deville to knock her out. On the opposite side of the ring, Mia Yim tossed Shotzi. Seconds later, Piper Niven launched Yim onto a waiting Shotzi below.
Piper Niven caught Raquel Rodriguez with a back Suplex. Raquel stumbled to the corner. Niven charged at her, but Raquel hoisted her up over the ropes and kicked her to the floor. Rodriguez then became tangled with Rhea Ripley. They got tangled up and spilled onto the apron. Ripley kicked Raquel to the floor. Only Ripley, Asuka, Morgan, and Cross remained. Liv Morgan kicked Cross over the top rope to eliminate her.
The camera pulled back on the final three women. Cole reset the stage as the match ticked within seconds of 60:00. Asuka caught bought Ripley and Morgan with quick kicks. Morgan leapt into the waiting arms of Ripley, who tossed her at Asuka. Morgan caught Asuka with a Codebreaker. Morgan and Ripley battled to the ropes and out to the apron. Ripley shoved Morgan into the ring post, but Liv held on. Asuka charged, but Ripley pulled her to the apron. Asuka went to spit mist at Ripley, but she ducked. Asuka misted Liv instead. Temporarily stunned by the mistake, Ripley managed to knock Asuka off the apron to eliminate her.
Ripley smiled, seeing her final obstacle blinded by blue mist. She grabbed Morgan, but Liv caught her with a Codebreaker. Ripley stumbled dangerously and slipped on the apron. She caught herself, feet dangling just inches from the floor. Morgan approached, but Ripley used her core stength to hook Morgan with her legs and flip her to the floor.
WINNER: Rhea Ripley in 61:09
Ripley climbed the turnbuckle and pointed to the WrestleMania sign as fireworks shot from around the stadium.
(LeClair's Analysis: I was a bit surprised to hear Rhea Ripley's music kick this one off, given that Liv Morgan had championed herself as the match's unlikely first entrant. When she entered at two, it felt like this must be a compromise to honor her storyline wish of starting the match while also setting Rhea Ripley up to make some history. My suspicions were correct. I thought this wound up being a bit of a mixed bag. On one hand, I applaud WWE for going deep into its own women's roster to come up with a field of almost all current, full-time, active competitors. That's not something they've done, or even tried to do in the five years since the match's inception. Logically, it made a whole more sense to have women who are wrestling on weekly TV competing for a WrestleMania main event over a large crop of women from a bygone era that no one sees as legitimate threats to win. A few surprises is always a fun treat, a match filled with them feels like you're grasping at straws to put together a full field.
With that being said, part of the issue with using predominantly rostered women is that they've done such a poor job of protecting the majority of them that far too many entries felt hollow. While the men's match had a solid number of main event guys that you could theoretically talk yourself into having a shot, the women's match suffered from one entry after the other receiving a pat on the back from Michael Cole or Corey Graves. "So and so hasn't had had much luck since she returned, but maybe tonight is her night," they'd say, or "so and so is looking to right the ship and get back on track after a disappointing few months." The platitudes you often give to talent who don't feel like winners were just far too abundant.
For the women who have received solid pushes, though, I thought the results were mostly strong. Liv Morgan had an impressive showing, outlasting nearly everyone to make the final two with Ripley. Asuka's return felt triumphant. She's always been beloved, but her recent stint felt like a bit of a retread. Her reintroduction as a more refined, violent type was welcomed by the audience and she looked truly rejuvenated. I thought the finishing sequence with she, Ripley, and Morgan was creative, effective, and satisfying. Raquel Rodriguez went on a dominant run that saw her looking like a legitimate threat to win it all, only to be taken out by the eventual survivor. The crowd seemed to be really behind her, but location may have played a big factor in that. Piper Niven's re-debut and shedding of her past gimmick also felt like a big moment and even bigger positive for the women's division going forward. I was encouraged with her performance, and the spots they gave to highlight her.

The middle of the match was built around Damage CTRL dominating all-comers while thwarting attempts from Becky Lynch to take them out. It made sense for them to wind up in the ring together, and to run the gauntlet for a while, but they've never felt like a hot act to me. I think what was meant to be a major thread to keep the crowd invested throughout the match fell a little flat. Becky's untimely elimination was also met with a seemingly hostile reaction, but I applaud the crowd for regrouping and staying invested. I also think keeping Lynch out of the final sequence was of great service to Ripley, Asuka, and Morgan. The downside, of course, is that the Lynch feud with Damage CTRL wages on. Like Judgement Day vs. Edge, it's just feeling mighty stale.
The big surprise, Nia Jax's return at #30, was dull. Jax was pretty heavily disliked at the end of her run, and seemingly not for being a good heel. The crowd's tepid reaction has been a common theme among the bulk of Triple H's re-hires. I felt like they got virtually everything they could of Jax on her first run, and I just don't see the upside of trying again with her.
Ultimately, I think WWE committed to an admirable booking strategy for the match that may not have produced the highs of previous years, but set the division up to be in a better place a whole going forward.)
-After a break, the camera returned to the announcers desk. Michael Cole talked up the Royal Rumble press conference immediately following the conclusion of the show. The camera then showed ring crew setting up for Hardy's live performance. The announcers replayed clips of Brock Lesnar's elimination from the men's Royal Rumble match.
-Mike Rome introduced Hardy, who performed the Royal Rumble theme song.
-Michael Cole talked up NXT Vengeance Day, then turned focus to the Undisputed WWE Championship match. He tossed to the main event video package.
The crowd rose to their feet as Kevin Owens' music hit. He emerged from the back with a long stare toward the rafters of the stadium. He let out out a yell before beginning his long walk to the ring. Graves said Owens is storming the castle and trying to take out of the kingpin. Owens marched back and forth in the ring, impatiently awaiting the entrance of the Tribal Chief.
The champion's music hit and the crowd erupted. Reigns' AR graphic filled the screen, then gave way to the Undisputed Universal Champion, flanked by Paul Heyman and Sami Zayn. The Usos and Solo Sikoa were nowhere to be found. Cole said Zayn must "deliver in his final test tonight." Graves said that Reigns wants to leave no doubt in his conquering of Kevin Owens. Reigns began his long walk to the ring following his usual display of fireworks. Heyman held the Universal title high above his head the entire time. Reigns was adorned with his traditional Samoan Lei.
Roman shared words of confidence with Sami Zayn as he rounded the ringside corner. Cole wondered if Reigns has gotten a bit soft, having spent Friday on the Tonight Show while K.O. battled with Solo Sikoa. Graves shut him down. Samantha Irvin delivered Championship match introductions. Sami Zayn and Kevin Owens sat perched on opposite turnbuckles. Owens never took his eys off of Zayn as Irvin announced his name. Reigns held his titles defiantly in the face of Owens. Kevin only smirked.
(5) ROMAN REIGNS (c, w/ Paul Heyman & Sami Zayn) vs. KEVIN OWENS – WWE Universal Championship match
The crowd cheered loudly for the opening bell. Neither Roman Reigns nor Kevin Owens seemed in a rush to get started. "We gonna teach him a lesson tonight," Reigns barked. The crowd started a loud "Sami Uso" chant. Reigns checked his gloves while Owens jawed at Sami. The two competitors locked up. Owens shot Roman off the ropes, but the champion dropped him with a quick shoulder tackle. "Watch and learn," Reigns told Zayn.
They locked up again. Reigns grabbed a side headlock. Owens pushed free, but Reigns delivered another shoulder tackle. This one flipped Owens all the way around. Kevin retreated to the corner momentarily to regroup. Reigns sauntered around the ring smugly. Owens sent Reigns off the ropes again. He dropped to the mat and Roman jumped him. Owens popped up and hit a big shoulder tackle, dropping the champion. He immediately hit a standing Senton. Owens punched Reigns and the champion rolled outside to regroup.
Owens didn't let up, he followed the champion to the floor. He gave Roman quick rights as the two walked and brawled around the ringside area. Owens dropped Reigns with a clothesline, then hit another running Senton. Reigns coughed dramatically. Cole said that K.O. has controlled the early part of the match. Owens slid the champion back in the ring and worked him toward the corner, firing repeated rights and talking trash. The referee begged Kevin off, giving Reigns time to recover and explode out with a tackle. Reigns delivered a quick lifting slam and covered for a two count. Cole called it a Rock Bottom. K.O. crawled to the ropes and Reigns used his knee to choke him.
Roman rolled to the outside and looked to Sami. He blew past him and hit Owens with a Drive-By. All three announcers called it in unison. Reigns slid back in the ring and grabbed a laid out headlock. He began talking trash as the crowd willed Owens to life. K.O. broke the hold, but Reigns dropped him with a violent uppercut as the match crossed 6:00. Reigns backed Owens into the corner and smothered him with short-arm clotheslines. Owens stumbled out of the corner and caught Roman with a forearm. They traded strikes. Reigns broke the stalemate with a big boot. He hit the ropes, but Owens caught him with a clothesline.
The Tribal Chief telegraphed an Irish whip and kicked his challenger in the head. Owens shrugged it off and tossed Reigns to the outside. He climbed out onto the apron and connected with a Frog Splash onto the floor. Owens tossed the champion back in the ring and climbed to the top rope. He hit another Frog Splash and covered for a two count. Owens let Reigns struggle to his feet, calling him a "piece of crap" as he struggled. K.O. went for a set-up gut kick, but Reigns caught the leg and pulled him up and into a Sit-out Powerbomb for a cover and two count. Cole said that Zayn had a look on his face and he wondered whether he was concerned that Owens "would kick out or he wouldn't."
After checking in with Zayn, Reigns pulled Owens to his feet. K.O. whipped him to the ropes and charged. Reigns flew out of the corner with a Superman Punch. He covered Owens for another two count just before the 10:00 mark. The camera showed Zayn and Heyman, jittered with nerves. Reigns set up for the Spear and charged, but Owens side-stepped him. Reigns went crashing shoulder-first into the ring post and collapsed in a heap. Owens climbed to the top rope and hit a Swanton for a cover and near fall. Zayn was biting his hand in fear.
Owens climbed the turnbuckle again. This time, Reigns rose to meet him. The two traded punches. Owens knocked Reigns to the mat. Roman bounced right back up and hooked Kevin for a Superplex. Owens fought free with headbutts. He knocked Reigns to the mat. Owens tried to to spin-jump into a Moonsault, but his foot slipped and he crashed onto Reigns awkwardly. Owens slammed the mat in frustration, popped up and delivered a standing Senton. He leapt to the middle rope and went for a springboard Moonsault. Reigns moved out of the way. He connected with a quick Spear for a cover and near fall.
Reigns turned to the crowd, then threw back his arms for another Spear. He charged. Owens caught him with a gut kick. He turned around for a Stunner, but Owens shoved him away. Owens collided with the referee, who spilled to the floor. Owens hit Reigns with a Pop-up Powerbomb. He hooked Reigns' leg and scored a visual five count. Cole counted along. Owens relented and pulled Reigns to his feet. Reigns gave him a low blow.
Roman turned to Sami Zayn, "get me a chair!" he yelled. Zayn argued, saying that Reigns told him to "do nothing." Reigns barked again. Zayn ran to the timekeeper's area, but couldn't find a chair. He rushed back to ringside. Heyman yelled for him to check under the ring. Zayn found the weapon, but seemed to hesitate handing it over. Reigns demanded it again. Sami slid it to him. Owens was waiting. He knocked the chair away and hit Reigns with a Stunner. The referee slid back in the ring. Owens covered for a very close near fall. Zayn was beside himself.
Owens and Reigns fought to their feet. Reigns hit another Superman Punch, then a Spear. He hooked the leg, but Owens kicked out at the last possible moment. Owens rolled to the outside. "Stay down!" Zayn begged of Owens. He looked on with deep conflict. Reigns rolled outside the ring and Speared Owens through the timekeeper's area. Sami barely stepped out of the way. Zayn looked on in horror. Reigns tossed Owens back in the ring and looked for a cover, but Owens rolled out the opposite side of the ring in a heap. Roman followed him. He whipped Owens backwards against the corner of the steel steps. The back of Owens' head appeared to hit violently on the sharp edge of the steps. Michael Cole begged for the match to be called off. Reigns picked Owens up and did it again. Sami couldn't bare to watch.
The champion tossed Owens back in the ring. Owens was on his last leg. He slapped Reigns in the face.  Roman delivered another vicious Spear. He covered and hooked the leg for a three count.
WINNER: Roman Reigns in 19:13 to retain the WWE Undisputed Universal Championship
The Usos and Solo Sikoa rushed to the ring to begin the celebration. Jey Uso was carrying an extra lei, preparing to crown Sami Zayn. Roman Reigns stopped him. He motioned to the Usos to continue the beatdown instead. The Usos pounded on Owens. They gave him the One-D and tossed him into the corner. Reigns looked to Sikoa next. The Usos closed a chair around K.O.'s neck. Sikoa delivered a violent hip check into the corner.
Sami Zayn looked immensely uncomfortable. Roman reached a hand to Paul Heyman. The special council produced two pairs of handcuffs. The chained Owens to the ropes, leaving him open to a mugging. Reigns pointed to Jimmy and Jey, who unleashed a plethora of Superkicks to Owens' head. They hit him with a tandem kick for good measure. Owens collapsed to the ground, still cuffed. Roman Reigns approached him with a chair. He told Owens that Sami Zayn is family now. Reigns reared back with the chair, but Zayn stepped in front of the shot. Reigns begged off.
"You're the Tribal Chief, this is beneath you. He's done. He's done. It's done," Zayn repeated. Reigns looked frustrated. He looked away from Zayn, then held out the chair to Sami. Zayn looked sick. "I care about you, I love you, he doesn't care about you!" Reigns barked. "If you don't wanna do this, go do Jackass shit!" he yelled. Reigns stepped to Owens, turning his back to Zayn. Sami raised the chair. "Pull the trigger!" Reigns was shaking with anger. He shoved Zayn's face. "This is my life! You think this is a game?!" Reigns turned his back again. Zayn hesitated, then cracked Reigns in the back with the chair. The crowd game absolutely unglued.
Reigns collapsed. Sami turned to the Usos. "I'm sorry," he said. Jey looked heartbroken. Jimmy cocked back and Superkicked Zayn. The camera panned to show Reigns sitting up in the corner. Jimmy pounced on Zayn and began punching him. Solo Sikoa stepped in and pushed Jimmy away. He began pounding Zayn. He pulled him to his feet and delivered the Samoan Spike. Jimmy rejoined the assault. Reigns pulled himself up and got involved, too. In the chaos, it suddenly became apparent that Jey Uso wasn't involved in the beat down. Reigns noticed this, too. He relented and turned his head as the camera panned to show Jey, completely distressed and in tears in the corner. Reigns looked disgusted. Jey left the ring. He walked up the ramp, head down, alone.
Roman Reigns picked up the steel chair and beat Sami Zayn mercilessly with it. Paul Heyman handed him the rose-clad lei intended for Zayn. Roman pulled petals from it and dropped them over Zayn's broken body. The crowd delivered a full-throated "f— you Roman" chant. Jimmy retrieved Roman's titles, then gave Kevin Owens a final Superkick. The camera pulled back to show the carnage of Zayn and Owens motionless in the ring. The remaining members of the Bloodline left the ring and backed up the long walkway to a massive chorus of boos as the show faded to black.
(LeClair's Analysis: Unbelievable. They say that when pro wrestling is good, there's nothing like it. Tonight's show-closing angle certainly lends credence to that old cliche. This was masterful, a stunning performance that could unfold only because of the great deal of care, nuance and attention to detail that this story has exhibited from the get-go. This was a three year saga taking one of it's biggest story leaps to date – a reminder that, at the heart of one of the most impressive world title runs in decades is this deeply personal tale of familial heritage, betrayal, dominance, and power. This was the culmination of one of the most organically derived babyface stories we've since since Daniel Bryan nine years ago. This was a crowd hanging on every single moment with baited breath, talking themselves into the inevitable conclusion more and more by the second. From the start, the match itself felt like fodder for what was to come. Even still, it never felt prolonged. Owens' story was that of the valiant challenger willing to throw anything and everything at Reigns. Roman, meanwhile, was arrogant to a fault, believing he had K.O. pegged from the jump, only to wind up getting more than he bargained for. Intertwined in the in-ring drama, Reigns kept talking to Sami, foreshadowing the supposed "final test" he'd come to reveal in the aftermath.
The crowd's reaction to Sami delivering the chair shot to Reigns provides any necessary proof that this has been wildly successful. As an added bonus, the crowd was nearly as enthralled by an emotional Jey Uso walking out on his family, seemingly siding with Zayn. WWE cemented two incredibly hot babyfaces in one segment. There are still so many chapters of this story to tell, and directions they can go, but for now, I want to just enjoy what felt like one of the best pro wrestling angles of the modern era.)
FINAL THOUGHTS: Sometimes, the obvious route is the right one. This show was filled, from top to bottom, with obvious booking decisions that I think any person with a working knowledge of the current product could have reasonably predicted. Sometimes, we point to predictability as a negating factor to overall enjoyment. I don't think that should be the case tonight. We were treated to mostly sound, logical booking from start to finish. The lowest point of the show, the hokey and widly out of place Pitch Black match and post-match angle, could be largely forgotten by the time we reached the event's brilliant show-closing angle. The men's Rumble match flowed well, weaved in and advanced a number of on-going stories, and created at least one new one, too. It set the wheels in motion for the company's planned new top babyface (with the approval of the crowd), and delivered one of the most impressive performances in Rumble history from a up-and-coming mainstay. The women's Rumble showed a refocusing on in-house, full-time talent, a rejuvenated, returning favorite, and a star-making performance by the eventual winner. There's plenty to talk about, and plenty to look forward to, and that's the mark of a fine night of pro wrestling.