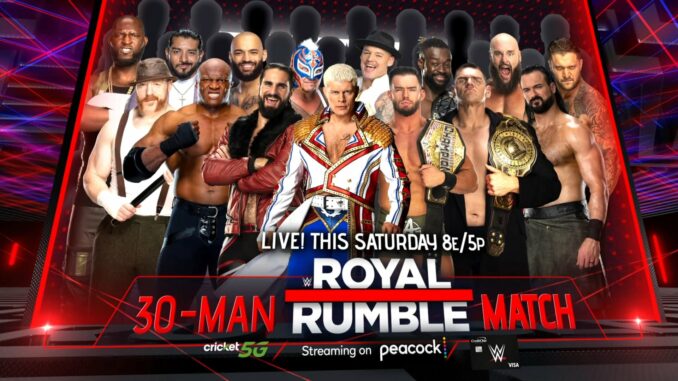 ---
SPOTLIGHTED PODCAST ALERT (YOUR ARTICLE BEGINS A FEW INCHES DOWN)...
---
KELLER'S WWE ROYAL RUMBLE PLE REPORT
JANUARY 28, 2023
SAN ANTONIO, TEX. AT ALAMO DOME
STREAMED LIVE ON PEACOCK
Commentators: Michael Cole, Corey Graves, Pat McAfee

Ring Announcer: Mike Rome
---
[KICKOFF SHOW]
-They showed Roman Reigns on "The Tonight Show" last night.
-They went backstage to the Bloodline backstage. They panned everyone. Paul Heyman, in the back row behind Reigns, was smirking toward Sami. Solo Sikoa looked stoic. Jimmy Uso looked pensive. Sami Zayn looked nervous. A perturbed Reigns said he can't wrap his brain around it. He said he gave Sami Zayn one order and he couldn't follow directions. "It's very simple," he said. "It's a recipe that works. it's why we are where we are today." He asked why he has to treat him like a child and tell him over and over again. "Smarten em up, please!" he said. As Sami stammered, Jey said, "Tribal Chief, it was me." He explained that Adam Pearce kicked him and Jimmy out last week. He said he couldn't get ahold of him He said he called an audible and called Sami back to the building. He said he answered the call for the Bloodline. "He was there for the family," he said. Reigns took a deep breath and said, "Why are we even talking about last night." Sami signed with relief and said yes. He said he wants no trouble because tonight is a big night. Reigns said he wants Sami with him the whole night. Sami asked if that means at ringside, too. Reigns said, "Yes, on my hip." He told the Usos to stay in the back "because tonight is Sami's night." Sami exhaled and smiled.
(Keller's Analysis: This was strong follow-up to last night's angle. I loved Reigns shifting from perturbed with Sami to asking why they're even talking about last night once he found out Sami was only helping at the request of Jey's audible.)
-They showed wrestlers backstage pulling small envelopes off clips on a wall which they opened to reveal their entry number and what their reaction was to the numbers.
-During the panel discussion, Jerry Lawler said he thinks Kevin Owens will be a crossword puzzle wrestle, vertical at the start of the match and horizontal at the end. Kayla Braxon, instead of a verbal or visual eye roll, laughed and said, "Jerry, you have such a way with words."
[MAIN SHOW]
-A video package introduced the show.
-They went live to the AlamoDome with a wide shot as Cole introduced the show. They said they were expecting over 50,000 fans. As Cole and Graves introduced the show, Pat McAfee's entrance music played. Graves acted annoyed as McAfee made a huge ordeal of himself as he skipped to the ring and then stood on a swivel office chair at ringside (he almost fell, if not for someone holding the chair in place).
(1) MEN'S ROYAL RUMBLE MATCH

(Keller's Analysis: I assume this match going on first means Roman vs. Kevin Owens is going on last, and I also suspect it will become clear by the end of the show why Reigns vs. Owens went on last. It could be any of a number of possible reasons.)
1. Gunther
2. Sheamus
As Sheamus walked out, he was joined by Butch and Ridge Holland. The bell rang 11 minutes into the hour.
3. The Miz
Gunther tried to eliminate Sheamus from behind after he turned to watch Miz's entrance. Miz grabbed Sheamus from behind, but Sheamus elbowed out of his grip, knocking Miz back to the floor. He chased Miz around ringside and into the ring where Gunther hit Miz. Gunter chopped toward Sheamus, but Sheamus moved and he chopped Miz. Gunther dumped Sheamus over the top rope, but Sheamus held on. Miz tried to help.
4. Kofi Kingston
5. Johnny Gargano
They went to wide shot and showed what a long path it is to get to the ring. Miz threw Gargano over the top rope and celebrated with his back turned. Gargano held on, though, and returned to the ring and tossed Miz over the top rope. Miz held on also. Sheamus walked up to them. He took over for Gargano and leaned Miz over the top rope and hit him with the barrage of forearms as the crowd counted along. Gargano superkicked Miz on the ring apron and then Sheamus landed a Brogue Kick.
ELIMINATED: Miz
Gunther tried to eliminate Sheamus quickly, but he held on.
6. Xavier Woods
The announcers talked about what would happen if it came down to Kofi and Xavier. Graves said you'd try to eliminate your best friend. Cole said that's what Graves would do. What does Cole think the "right" option would be at that point? After that convo, with the other three down in various corners, Kofi and Xavier squared off. Xavier spanked Kofi and smiled like he was the most delightful person in world history doing the most delightful thing any person has ever done.
7. Karrion Kross
Scarlett wished Kross luck on his way to the ring. The screen went black and white for his entrance. He hit some Saito suplexes.
8. Chad Gable
Cole made note of there being only one elimination so far. Sheamus and Gunther continued to battle as Kofi and Gable wrestled.
9. Drew McIntyre
Drew eliminated Kross with a boot to the face.
ELIMINATED: Kross in 14:00
Drew turned and faced off with Gunther. They chopped each other. Drew landed a Future Shock DDT.
10. Santos Escobar
Escobar was accompanied in the entrance area by his Legado del Fantasma cohorts.
11. Angelo Dawkins
Xavier's feed dangled but his feet did not touch. Gunther tried again, but Kofi made the save. Gunther tried again, and succeeded.
ELIMINATED: Xavier in 18:00
Escobar and Kofi battled mid-ring. Gunther knocked Kofi off the ring apron and onto a swivel chair at ringside. It appeared they were hoping he'd land on the chair. Kofi didn't move after landing. Cole said one of his feet hasn't touched yet, so maybe he's not eliminated.
ELIMINATED: Kingston
12. Brock Lesnar
Drew and Sheamus stood next to each other and smiled as Lesnar arrived at ringside. Lesnar took on them both. He delivered a released German to Drew and then Sheaus. Dawkins went at him and he suplexed him. Escobar leaped off the top rope, but Lesnar caught him and overhead tossed him to elminate him.
ELIMINATED: Escobar
ELIMINATED: Dawkins
ELIMINATED: Gable
Lesnar suplexed Drew. Then he suplexed Sheamus onto the top of his head (eliminating any chance Steve Austin agrees to take a Lesnar suplex). Lesnar and Gunther squared off. He kneed Gunther and then belly-to-belly suplexed him. (I'd have saved their first lock-up for a time when it had more of the spotlight and not have Lesnar get the better of him in their brief exchange.)
13. Bobby Lashley
The least surprising entrance was Lashley entering shortly after Lesnar. Lashley spea4red Lesnar, then one-arm slammed Gargano, then speared Drew and then Sheamus. He one-arm slammed Gunther. Lesnar picked him up for an F5, but Lashley escaped and then clotheslined Lesnar over the top rope to eliminate him.
ELIMINATED: Lesnar
A fuming Lesnar threw the announce desk lid into the ring as Lashley stared down at him.
14. Baron Corbin
Lesnar smashed the ringside steps onto the announce desk. He then knocked Corbin down at ringside and gave him an F5 before he could enter the ring. When a ref told Lesnar to leave ringside, he shoved the ref over the ringside barricade. Adam Pearce tried to talk Lesnar down.
15. Seth Rollins
Seth threw Corbin into the ring and then immediately superkicked him and clotheslined him over the top rope. McAfee cackled with joy. Fans sang Seth's song. Seth and Sheamus squared off mid-ring.
16. Otis
ELIMINATED: Corbin
17. Rey Mysterio
McAfee said Rey had one of the worst kids in the history of making kids. Rey didn't come out, though.
ELIMINATED: Mysterio (He never entered and no update was ever given.)
Seth eliminated Lashley next, just shoving him.
ELIMINATED: Lashley in 29:00
Otis gave the Caterpillar Elbow to Gunther. He set up a corner swing splash, but Gunther got up and pulled him down. Drew and Gunther tried to eliminate Otis.
18. Dominik Mysterio
Dominik came out wearing Rey's mask while chomping on gum. Cole and McAfee were both on the verge of saying Dom was a piece of shit, but Graves cut them off. Meanwhile, McIntyre and Sheamus eliminated Otis.
ELIMINATED: Otis in 30:00
Dominik milked his time at ringside. Sheamus held the ropes open for him. (There should be a rule that if you haven't entered before the next entry, you're officially out.) Dom snuck in to go after Sheamus, but Sheamus brushed him off. Dom begged off in the corner.
19. Elias
Elias entered and bashed Gunther across the back with his guitar. Cole said it's legal (which is so stupid, because it makes everyone else seem like a fool for not bringing in a taser or sledge hammer or brass knuckles). Sheamus and Drew tossed Elias out seconds later.
ELIMINATED: Elias in 33:00.
20. Finn Balor
Dom and Balor eliminated Gargano.
ELIMINATED: Gargano in 36:00.
Dom offered a handshake to Drew. Drew accepted, then yanked on his arm and punched away at him.
21. Booker T
Cole noted he was on the Kickoff show earlier. Cole said Booker eliminated him in his only Rumble appearance. He kicked Balor and Dominik. He gave Balor a Bookend. He then did the SpinarooniGunthern then tossed Booker over the top rope.
ELIMINATED: Booker T in 37:00.
22. Damian Priest
The announcers made a big deal out of all three members of The Judgment Day being in the ring at once.
23. Montez Ford
Ford backdropped Dominik into the ring apron. He landed an enzuigiri on Priest. Balor tossed Ford over the top rope, but he pulled himself back in. Ford punched Balor and then Seth choked Balor. Priest then eliminated Ford.
ELIMINATED: Ford in 41:00. (That was rather unceremonious for Ford, a potential future top singles star for WWE.)
24. Edge
Edge speared Balor. Dom dropkicked him from behidn into 619 position. Edge popped off the ropes and spared Dom, which got a big pop. He elimianted Priest and then Balor one after another.
ELIMINATED: Priest in 42:00.
ELIMINATED: Balor in 42:00.
Edge tossed Dom over the top rope onto the ring apron. Balor yanked Edge over the top rope to eliminate him. Cole said it's a legal elimination because of the (stupid) no DQ rules of the Rumble.
ELIMINATED: Edge in 43:00.
25. Austin Theory
Edge charged at Balor and chased him down in the aisle. He threw around and also fought off Priest. Rhea Ripley kicked Edge in the ribs. Beth Phoenix walked out and got a big pop. Ripley turned around and looked nervous. Beth speared her. Pearce and other officials ran out to try to restore order. Back in the ring, Seth, Gunther, Theory, Sheamus, Dom, and Drew were left.
26. Omos
MVP accompanied Omos into the entrance area. Omos kicked a few wrestlers. Gunther stepped up and chopped him.
27. Braun Strowman
Strowman entered and faced off with Omos. They exchanged some heated words and then came to blows. Braun clotheslined Omos out.
ELIMINATION: Omos
28. Ricochet
Drew and Sheamus bent Braun over the top rope and chopped his chest together. Gunther tried to eliminate Drew, but Sheamus made the save. Seth punched away at Theory in one corner as Dom and Ricochet battled in another. Gunther chopped away at Sheamus, who was teetering on the ring apron. Drew tried to save Sheamus. Gunther dumped Drew and knocked Sheamus to the floor at the same time.
ELIMINATED: Sheamus in 52:00.
ELIMINATED: Drew in 52:00.
29. Logan Paul
So no Sami Zayn in the Rumble. Fans booed as he came out. Paul stood mid-ring and acted cocky. A crowd of wrestlers surrounded Paul and beat on him mid-ring. Ricochet tossed him over the top rope, but Paul landed on the ring apron. He then flung himself at Ricochet with a slingshot clothesline. Paul kicked Gunther, then stared down Braun. Braun swung at him, but Paul ducked and then punched away at him. Braun then gave him a running Monster Slam. Ricochet landed a shooting star press.
30. Cody Rhodes
Cody entered and clotheslined wrestlers charging at him. He took Theory down with a Cody Cutter and then threw his weight lifting belt into the crowd. He then gave Dom three unreleased vertical suplexes. He gave Dom a Crossroads and then elm=iminated him.
ELIMINATED: Dominik at 58:00.
Braun powerbombed Cody. Gunther attacked Braun and gave him a Last Symphony. Theory battled Ricochet. Paul and Ricochet then looked at each other from opposite ring aprons. They springboarded at each other and collided high mid-air with simultaneous clotheslines. That was a cool visual. Cody and Ricochet eliminated Strowman together.
ELIMINATED: Strowman in 59:00.
Ricochet and Cody battled next. Theory clotheslined Ricochet out.
ELIMINATED: Ricochet.
The final four were Seth, Cody, Theory, and Gunther. Seth delivered a Stomp to Theory. Cody then eliminated Theory with a clothesline.
ELIMINATED: Theory in 61:00.
Cody and Seth turned around and faced off after having worked together to eliminate Theory. Seth had heated words for Cody, saying he won't steal his spotlight twice. They circled each other. Gunther hit Seth from behind and then went after Cody. Cody and Seth worked together to beat up Gunther, though. Seth delivered a Pedigree on Gunther. Cody then face-planted Gunther. Seth and Cody circled each other again. Cole noted Gunther set a record for how long he lasted in traditional Rumble matches. Seth blocked a Crossroads and then connected with a superkick. He set up a Pedigree, but Paul came up behind Seth and eliminated him.
ELIMINATION: Seth in 63:00.
As Seth soaked up the disappointment, Paul kicked Gunther and Cody. Cody ducked Paul and delivered Crossroads and then eliminated him for a gig pop.
ELIMINATION: Paul in 64:00.
It came down to Cody and Gunther. Cody spit some blood out of his mouth from some sort of cut. Gunther chopped Cody's pec and then chopped him hard to the mat. Cody stood and fought back. Graves asked if the risk is worth the reward for Cody. Cody sidestepped a charging Gunther big boot. When Cody went for a Disaster Kick, Gunther kicked him out of mid-air. Cole wondered if the Rumble has ever come down to no. 1 and no. 30. (It's paints Gunther as a more sympathetic figure for having the bad luck of the draw and enduring while Cody benefited from the best number.) Gunther put Cody on the top turnbuckle and pounded away at him. Cody dropped to the ring apron and stood and fought back. Cody climbed to the top rope, but Gunther met him up there. Gunther superplexed Cody to the mat. Cody fought back and knocked Gunther onto the ring apron over the top rope. Fans chanted "Cody! Cody!" Gunther re-entered the ring. Cody spread Gunther's legs over the middle rope and charged with a kick to his groin muscle area. The crowd didn't seem to like that tactic. Gunther leaped up and dropkicked Cody seconds later and then powerbombed him. He tossed Cody over the top, but Cody hung on. Gunther applied a sleeper. Cody yanked on Gunther's head, so Gunther released. Cody climbed back to the top rope and leaped, but Gunther chopped him mid-air. Gunther set up a powerslam, but Cody slipped out and delivered Crossroads. Then he charged and clotheslined Gunther over the top rope.
As Cody's music played, he said, "I did it!" They showed the exterior of the AlamoDome as pyro blasted. Cole said it might have been the best Rumble match ever.
ELIMINATED: Gunther in 72:00.
WINNER: Cody Rhodes in 72:00. (****)
(Keller's Analysis: A really good, but short of great, Royal Rumble match. I'm not sure Gunther was a believable enough runner-up to create the drama they were going for in those closing minutes. It was good, though, for Cody to have to battle Gunther for a while before winning since he had the benefit of being no. 30. It was tough to tell on TV, but the crowd didn't seem to be going crazy for Cody, although it was definitely a positive reaction. They didn't follow-up on Rey never making it to the match. You know someone out there, as Cody was celebrating, was expecting Rey to run out and knocked Cody over the top rope to win! Logan seemed positioned as a heel here and as a potential Seth opponent at WrestleMania. There were plenty of intra-match developments including Brock Lesnar vs. Bobby Lashley and Edge & Beth vs. Dom & Ripley. I was never a fan of "surprise" entrants who were retired wrestlers with no business being part of 30 wrestlers with a chance to win and go on to WrestleMania's main event. Booker T was fun as the one non-active wrestler in the match.)
(2) L.A. KNIGHT vs. BRAY WYATT – Pitch Black match
McAfee wanted to know what was about to happen. After Knight's entrance, a lengthy recap video aired on the Bray-Knight saga. Bray made his entrance. They shined Black Light into the ring. The ropes glowed in aurora green. Knight's trunks, kneepads, and armband also glowed. Bray's face and body paint showed up in the black light as white, also. Otherwise the match was normal, with Bray attacked Knight at the start. At ringside, Knight reverse-whipped Bray into ringside steps. Bray fought back. Knight leaped off the ringside barricade and slammed Ray through the announce desk where there was some green glitter that flew everywhere. Knight pulled out a tool box. Back in the ring Bray avoided a kendo stick swing by Knight and then landed Sister Abigail for the win.
WINNER: Wyatt in 4:00. (*)
-Afterward, he put a mask on and crawled over toward Knight. Knight scurried away. He then grabbed the kendo stick and bashed Bray with it. Bray no-sold it and backed him away. Graves said it's like being stuck in a horror movie. Bray applied a Mandible Claw on a platform. He then looked up and saw Uncle Howdy standing 20 feet above him on another platform. Howdy leaped off platform and landed on or near Knight. Fire then blasted up from around the platform. Cole asked what these creates were capable of.
(Keller's Analysis: Graves said that was the first Pitch Black match. I hope it's the last. That was just nothingness. It belonged on Nikelodeon's special kiddie-oriented NFL coverage. I don't think that does anything for Bray, either. The post-match didn't answer any questions or forward any storyline. it was the visual equivalent of verbal empty platitudes. The action in the ring was decent, but with all that hype, Bray winning in four minutes felt anticlimactic.)
-A commercial aired for WrestleMania. [c]
-Rome announced live attendance of 51,338.
(3) BIANCA BELAIR vs. ALEXA BLISS – WWE Raw Title match
The bell rang 58 minutes into the second hour of the telecast. Bliss took control early and settled into a chinlock. Belair escaped and fought back. She mounted Bliss in the corner and punched away at her. She went for a handspring shooting star press, but Bliss lifted her knees. She tried again and landed it for a two count. Bliss took over after escaping a K.O.D. attempt. She hit a DDT for a two count at 7:00. Belair blocked a Sister Abigail attempt and delivered a sudden K.O.D. for the clean win. Cole said Beliar defeated "a game Alexa Bliss."
WINNER: Belair in 8:00. (*3/4)
-As Belair left and Bliss sat up in the ring, a vignette aired with Uncle Howdy asking, "Do you feel in charge" as various images of Bliss flashed on the screen. Bliss watched and seemed to be contemplating the message. [c]
(4) WOMEN'S ROYAL RUMBLE MATCH
1. Rhea Ripley
2. Liv Morgan
The bell rang 16 minutes into the third hour.
3. Dana Brooke
Cole noted Dana has been in every Women's Rumble. She entered the ring with both Liv and Ripley down. When they stood, she dropkicked both of them. She followed with a handspring elbow. She shoved Ripley into the corner ringpost shoulder-first as McAfee called her "Barbie." Dana superplexed Liv.
4. Emma
Cole noted this is her first Rumble appearance. He said she was released right before the first Women's Rumble and she told him she was focused on this moment for a while.
5. Shayna Baszler
Cole noted Baszler has the record of eight eliminations in the 2021 Women's Rumble. Graves freaked out when Liv intervened as Baszler was trying to eliminate Ripley. "It's stupid!" he yelled. That seemed hostile.
6. Bayley
7. B-Fab
Ripley tossed B-Fab over the top rope quickly. Cole noted she lasted 36 seconds.
ELIMINATION: B-Fab.
8. Roxanne Perez
Cole noted Perez grew up near the stadium and is a student of Booker T. Perez rallied early. Bayley tried to eliminate her, but Perez fought back. McAfee said this is his first time seeing Perez. (Not that people think McAfee watches NXT every week, but why confirm he never watches it?)
9. Dakota Kai
10. Iyo Sky
Cole talked up what an advantage this gives Damage CTRL. Sky springboard dropkicked Dana and Liv. Damage CTRL teamed up to eliminate Dana.
ELIMINATION: Dana Brooke.
Kai landed a running kick to eliminate Emma.
ELIMINATION: Emma.
Damage CTRL eliminated Perez next. Graves said that won't be Perez's last Royal Rumble match.
ELIMINATION: Perez.
11. Natalya
Cole said they haven't seen Natalya since Baszler broke her nose several months ago. Natalya fought past Kai, Sky, and Liv. Baszler then attacked Natalya. Cole said Natalya often feels overlooked despite her tenure and accomplishments in WWE.
12. Candice LeRae
Natalya finally got to Baszler. She threw Baszler over the top rope, but only one foot hit. Sky and Kai lifted Natalya off the top rope as Baszler applied the Kirafuda Clutch. Damage CTRL then eliminated both Baszler and Natalya.
ELIMINATION: Natalya
ELIMINATION: Baszler
13. Zoey Stark
Stark went on a flurry of offense. Graves said Shawn Michaels is a big fan of hers. Ripley and Stark battled as Damage CTROL attacked LeRae and Liv on the other side of the ring.
14. Xia Li
Xia knocked LeRae off the top turnbuckle to eliminate her.
ELIMINATION: LeRae
15. Becky Lynch
The first true big pop of the match.
16. Tegan Nox
Nox flip dove off the top rope onto Ripley as she entered the ring.
17. Asuka
She got a nice pop, too. Cole said Asuka has never been eliminated from a Rumble because she won the only one she's participated in. Asuka has a new look. Bayley and Asuka squared off. Asuka kicked Nox off the ring apron.
ELIMINATION: Nox at 29:00
18. Piper Niven
The former Doudrop is going by her previous ring name. "New favorite to win the Royal Rumble!" said McAfee. They didn't acknowledge her previous name overly but slipped in some references to "do" and "drop" as an allusion to it. She beat up everyone in the ring, overpowering them. She splashed both Stark and Bayley at once.
19. Tamina
Tamina and Niven faced off mid-ring. Graves said it won't be pretty, but it'll be fun to watch. Damage CTRL swarmed Niven. Becky entered the fray and delivered inverted DDTs to both Sky and Kai.
20. Chelsea Green
McAfee said the Internet was chirping and it was right, adding that it isn't always right. She rolled into the ring after yapping the whole way to the ring, only to be immediately eliminated by Ripley. Cole said that was the fastest elimination in a Women's Rumble.
ELIMINATION: Green.
Becky eliminated Kai.
ELIMINATION: Kai
Becky eliminated Sky.
ELIMINATION: Sky.
Bayley then tossed out Becky.
ELIMINATION: Becky
Liv then eliminated Bayley.
ELIMINATION: Bayley
21. Zelina Vega
Vega dressed up as a character from Street Fighter and would be doing commentary on the latest version. Cole said the last video game he played was Space Invaders. (Mine was Tetris, but not long ago.)
22. Raquel Rodriguez
Cole noted Rodrigues grew up about three-and-a-half hours from San Antonio and near his brother-in-law's house. He said she was born for this match. She tossed around various wrestlers who came after her.
23. Michin (Mia Yim)
ELIMINATED: Xia Li
24. Lacey Evans
She beat up several wrestlers and played to the crowd.
25. Michelle McCool
McCool was in the front row watching with her kids. She took off her jacket and entered the ring and got in a flurry of offense. She knocked Tamina off the ring apron to eliminate her.
ELIMINATED: Tamina
26. Indi Hartwell
Indi got in a flurry of offense.
27. Sonya Deville
Sonya went right after Stark and eliminated her.
ELIMINATION: Stark in 46:00.
Lacey put Vega in the Cobra Clutch and tossed her out of the ring.
ELIMINATION: Vega
28: Shotzi
Sonya knocked Hartwell out of mid-air to the floor.
ELIMINATION: Hartwell
29. Nikki Cross
Cross made the fastest sprint to the ring of anyone all night. She charged into the ring and went after everyone rapid-fire. The ring was pretty crowded for this late stage of the Rumble.
30. Nia Jax
Nia Jax made her return, walking to the ring without a sense of urgency, as the rest of the wrestlers in the match stared at her. Cole noted she competed in both the men's and women's Rumbles in a single night. She moved to the middle of the ring and dared everyone to come at her. They all attacked at once. She threw them all off of her. Rodriguez and Jax squared off mid-ring. Rodriguez tried to slam her. Jax headbutted her. Liv leaped onto Jax's back. Jax flipped her off of her. Ripley went after Jax and delivered her Rip Tide mid-ring. She yelled, "Get her out!" Everyone ganged up on Jax and tossed her over. Jax threw a fit at ringside.
ELIMINATION: Jax
Rodriguez eliminated Lacey.
ELIMINATED: Evans.
Asuka and Rodriguez battled mid-ring. Asuka applied her armbar. Rodriguez lifted Asuka and dropped her over the top rope. Asuka stayed on the ring apron. Sonya and Asuka battled on the ring apron. Asuka kicked Sonya to the floor.
ELIMINATED: Deville.
Ripley backdropped McCool out.
ELIMINATED: McCool.
Michine eliminated Shotzi.
ELIMINATED: Shotzi.
Niven then tossed Michin out of the ring onto Shotzi on the floor.
ELIMINATED: Michin.
Niven went for a corner swing splash on Rodriguez, but Rodriguez blocked it and eliminated Niven.
ELIMINATED: Niven.
Rodriguez and Ripley tumbled over the top rope. Rodriguez fell to the floor.
ELIMINATED: Rodriguez.
It came down to Cross, Asuka, Ripley, and Morgan. Morgan charged at Nikki and knocked her off the ring apron to the floor.
ELIMINATION: Nikki.
The three remaining women smiled and stood. Asuka sprayed mist in Liv's face, but then Ripley eliminated her.
ELIMINATION: Asuka.
Ripley turned to the blinded Liv, but Liv knocked Ripley off balance. Ripley hung from the top rope. She head scissored Liv to the floor.
ELIMINATION: Liv.
WINNER: Ripley in 61:00. (***)
(Keller's Analysis: That featured steady action, but not enough highs or novel moments to stand out. Watching this was like listening to a song without a chorus. The return of Doudrop as Piper Niven, the McCool entry, the new-look Asuka, the return of Nia Jax, and a couple NXT women entering kept it newsworthy.)

-Commercials aired. [c]
-Hardy performed his song "Sold Out" live.
-A video package previewed the main event.
(5) ROMAN REIGNS (w/Sami Zayn, Paul Heyman) vs. KEVIN OWENS – Undisputed WWE Universal Title match
The bell rang 45 minutes into the third hour as Cole asked whether Owens can knock off one of the great champions in WWE history. McAfee said it's an honor to be present to call this. Reigns said, exuding confidence, "We're going to teach him a lesson tonight!" Fans chanted "Sami Uso!" Cole mentioned feeling sorry for Sami. McAfee said you can't feel sorry for him because he's in the Bloodline. Cole said he's only an honorary member and some believe he's been strung along and used by Reigns and Heyman. Reigns knocked KO down early. KO came back and knocked Reigns down, then stomped away at him in the corner before landing a cannonball. Reigns rolled to the floor. KO went right after him. KO whipped Reigns into the ringside barricade and then landed a senton.
Back in the ring Reigns landed a Rock Bottom on KO for a two count at 4:00. Cole said the longer you're in power, the more the paranoia kicks in. He said Reigns is wondering where Sami and Jey and everyone stands. McAfee said when you're on top as long as him, you create more enemies. Reigns delivered a Drive-By and scored a two count. KO tried to fight back with a chop, but Reigns stayed in control and hit Owens with a barrage of clotheslines in the corner.
Owens took control and then splashed Reigns on the floor. He threw him back into the ring and landed a top rope splash for a two count. Fans weren't buying it could be the finish. Owens called Reigns a "piece of crap" and yelled for him to get up. Reigns got up and promptly gave Owens a sitout powerbomb for a two count. McAfee told Cole to watch the action. Cole said, "Because for 25 years, I've been told to watch my monitor and that's what I'm doing." (Is the love affair between Cole and McAfee over? McAfee seemed to be getting on Cole's nerves a few times.)
Reigns caught Owens with a Superman Punch for a two count at 10:00. They showed Sami on replay in slo-mo celebrating the Superman Punch. Reigns set up a spear, but Owens side-stepped him and shoved him shoulder-first into the ringpost. He then superkicked Reigns and leaped off the top rope with Swanton for a near fall. Sami and Heyman looked relieved at ringside. Graves said that might have been KO's best shot.
Owens went for another top rope move, but Reigns knocked him off balance and then went for a superplex. KO punched and headbutted Reigns to break his grip. He knocked him to the mat and went for a springboard moonsault. He slipped and landed on Reigns's shoulder area, then got up and hit a regular moonsault for a near fall. Reigns then quickly speared Owens for a near fall. Reigns waited for KO to stand and charged, but KO kneed him. Reigns shoved KO and the ref went down. KO hit a Pop-up Powerbomb. The fans counted well past five. Cole said KO should be the champion. McAfee said Reigns might've known the ref wasn't available to count and was just getting a breather. Reigns gave KO low-blow.
Reigns looked over at Sami and told him to get a chair. Sami said, "You told me to do nothing." Reigns yelled, "Get a chair!" Sami ran aropund looking for one. He pulled one out from under the ring. He hesitated, but slid it to him. Sami said, "Do it." Owens recovered and gave Reigns a Stunner for a believable near fall. Sami looked like he was going to pass out from that sequence. Heyman turned and stared a hole in Sami for his indecisiveness.
Owens threw Reigns into the ropes, but when he went for a Pop-Up, Reigns hit a Superman Punch and then a quick spear for a believable near fall. Fans applauded. Cole wondered if self-doubt was creeping into the champion. Sami stood by KO as KO struggled to stand. Sami told him to "just stay down." Reigns speared Owens through the ringside barricade into the time keeper's area. Reigns threw KO back into the ring, but KO rolled to the other side and under the bottom rope to the floor. Reigns pursued him, passing Sami on his way, and then threw Owens back-first into the steps. The back of Owen's head hit the edge of the step. Sami gasped. Reigns threw Owens into the steps back-first again. Cole called for the ref to call the match off. He said they haven't seen this level of brutality from Reigns before.
Reigns entered the ring as Heyman said this is why he worships him. Heyman told Sami to acknowledge the Tribal Chief. Heyman said he acknowledges him. Reigns speared KO back in the ring and got the three count. "Thank goodness this is over," Cole said. Reigns stood over KO and taunted him with both belts in his hands.
WINNER: Reigns in 19:00. (****)
-As Reigns celebrated, the Usos and Solo Sikoa joined in. Jey was about to put a lei around Sami's neck, Reigns paused them and ordered them to stomp away at Owens some more. They did. They gave him a One and Done. Reigns put his arm around Sami and watched. Reigns was satisfied, but Sami looked concerned that it was going too far. Jimmy punched away at KO in the corner. The fans chanted "Sami! Sami!" The Usos put a chair around KO's neck. Solo charged with a hip attack. Reigns as laughing. Cole asked for someone to do something about it. He asked what else they have to prove. Heyma gave Reigns handcuffs. Reigns twirled them as Sami nervously looked on. They handcuffed Owens to the top rope. Jey superkicked him; Jimmy superkicked him. Jey and Jimmy kept taking turns kicking him. Cole called for anyone to stop this.
Reigns looked over at Sami for approval. Sami tepidly suggested that was enough, but Reigns kept trash-talking KO and then wound up with the chair. Sami stepped in and said, "No, stop." Fans roared. Reigns blinked. Sami said it's done and it's beneath him to do more. "It's okay, it's enough," he said. "You're better than that. You are. It's really enough. It doesn't need to go any further. He's done." Reigns handed Sami the chair. Sami said he didn't want it. Heyman shouted, "This is your moment!" Reigns insisted he take the chair. Reigns said he doesn't care about him and he's been an anchor since day one. He said he loves him and has given him everything. He said the ring is his, or else he can go do "Jackass shit." Reigns turned to KO. Sami wound up the chair behind him. Reigns yelled, "Pull the trigger." Reigns palm-faced Sami and asked what's wrong with him. He asked if he thinks it's a game. "This is my life," he said. "This is my whole life." Fans loudly chanted "Sami! Sami!"
Sami bashed Reigns in the back with a chairshot. Fans popped. Sami dropped the chair and turned to the Usos who asked what he was doing. Jimmy superkicked Sami. Cole said Sami made his choice and he's going to pay. Jimmy mounted Sami and punched away at him. Solo shoved Jimmy off off Sami and then delivered a Samoan Spike to Sami. Reigns stood and said they're not done. Solo hedl Sami as Jimmy punched away at him. Jey watched, looking torn. Fans chanted "Jey! Jey! Jey!" Reigns and Jimmy looked over at Jey. Jey rolled out of the ring. Fan "oooh'd." Jey walked away. Fans cheered. Jimmy got emotional and walked to the back. He held his hands up to his face, coming to grips with what walking away meant. Reigns bashed Sami with a chair eight times, including some stiff shots to his shoulder. He punched away at him. The camera cut back to Jey, who had made it all the way to the entrance tunnel. Reigns began plucking pedals off the lei and dropping them over Sami's chest. Jimy gave KO one extra superkick for good measure before leaving the ring with Reigns, Solo, and Heyman.
(Keller's Analysis: Phenomenal angle. Wow. Perfect crowd response. Great performances across the board.)