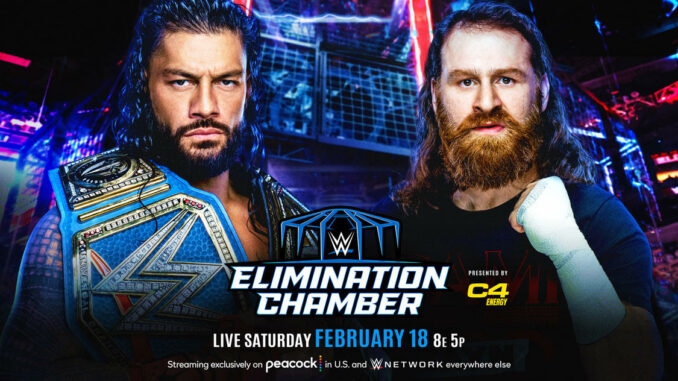 ---
SPOTLIGHTED PODCAST ALERT (YOUR ARTICLE BEGINS A FEW INCHES DOWN)...
---
WWE ELIMINATION CHAMBER RESULTS
FEBRUARY 18, 2023
MONTREAL, QUEBEC, CANADA
STREAMED LIVE ON PEACOCK
Commentators: Michael Cole, Corey Graves
---
Tonight after the event, join PWTorch columnist Greg Parks live reviewing the event with live callers and emails.
•STREAM LIVE HERE ABOUT 5 MINUTES AFTER THE SHOW CONCLUDES
•CALL: (515) 605-9345
•EMAIL COMMENTS/QUESTIONS: wnialivecast@gmail.com
•IF YOU DON'T LISTEN LIVE, SEARCH "PWTORCH" ON YOUR PODCAST APP TO SUBSCRIBE AND THEN DOWNLOAD OR STREAM THE FULL SHOW TWO HOURS OR SO AFTER THE TV SHOW ENDS.
---
-A video package previewed the event.
-They went live to the arena where Michael Cole touted the sellout crowd of 17,271. They went to Cole and Corey Graves at ringside. Cole noted the first major event in Montreal was in 1997 and the city wants and needs this to be different.
(Keller's Analysis: There will be a riot if Vince McMahon walks out and screws Sami Zayn. It wouldn't be funny at all.)
(1) WOMEN'S ELIMINATION CHAMBER – ASUKA vs. NIKKI CROSS vs. CARMELLA vs. RAQUEL RODRIGUEZ vs. LIV MORGAN vs. NATALYA
Asuka made her entrance first. Cole noted this is the second Chamber appearance for Asuka. Carmella came out second. Graves said she's his pick to win. Raquel Rodriguez came out third. She circled the cage and shook the chains before entering her pod. When Nikki came out fourth, she eyed the other three who were in their pods. Carmella wouldn't even look her in the eyes. Asuka stared at her and tried to match her crazy. The crowd popped for Natalya. Cole and Graves talked more about how Montreal has a grim history with the Hart family. Graves said Liv has been taking unnecessary risks lately since losing the title. The bell rang 13 minutes into the hour. Liv and Natalya battled one-on-one first.
When Natalya threw Liv into the side of the cage, fans chanted "One more time!" Natalya did. The first to be released from the pod was Rodriguez. When she went after Natalya, fans booed. Rodriguez gave Liv a fallaway slam, which fans cheered. She gave a big boot to Natalya and got booed. With Natalya on Rodriguez's back, Liv leaped at her. She caught Liv. Natalya sunset flipped them into the side of the cage. All three were down and slow to get up.
Next to enter was Nikki. She sent Liv into the side of the cage. Nikki decided to climb to the top of Carmella's pod and threw off her ring jacket. She then leaped onto a gathering of her three opponents below. Everyone was down and slow to get up.
Carmella entered next and immediately scored two counts on Morgan and Natalya. She had some heated words for Asuka who was still locked in the pod. Carmella put herself in her pod again. Graves said sometimes you have to blindly support your other half. Rodriguez picked up Nikki and drove her through the wall of the pod that Carmella was taking shelter in. Carmella moved over to another pod and took shelter again. Graves said she's technically still in the Chamber.
Rodriguez pinned Cross. Liv then leaped off the ropes and landed a Codebreaker. Rodriguez then went after Natalya. Liv leaped off the top of a pod and sunset flipped Rodriguez. Carmella stole the pin attempt, but Rodriguez kicked out.
Asuka entered and went right after Carmella aggressively. Fans chanted "Asuka's gonna kill you!" Asuka faced Rodriguez next. She locker her in an abdominal stretch. Rodriguez powered out, but Asuka kicked her in the head. Morgan gave Asuka a missile dropkick for a two count. Natalya put Liv in a sharpshooter a minute later. Asuka added an armbar to Liv. Liv passed out and was thus eliminated.
Natalya next put Asuka in a sharpshooter, but Carmella broke it up and pinned Natalya.
It was down to Carmella, Asuka, and Rodriguez 18 minutes in. Asuka and Carmella worked together to kick and pin Rodriguez. Carmella then caught Asuka with a sudden kick for a near fall. Carmella rolled up Asuka, but Asuka reversed it into a submission. Carmella tapped out.
WINNER: Asuka in 19:00 to earn a Raw Title match against Bianca Belair at WrestleMania.
(Keller's Analysis: Solid match start to finish. The various personalities got moments to stand out. They hit some innovative spots. The crowd was into Asuka. No surprise she won.) [c]

-A video package aired on the next match.
(2) BOBBY LASHLEY vs. BROCK LESNAR
Graves said this is two alpha males fighting over territory. Fans cheered Lesnar pretty wildly when he came out. Cole talked about their prior two matches and said this is their rubber match. Lesnar overpowered Lashley at the bell. Lashley came back and went for a Hurt Lock a minute in. Lesnar blocked it and gave Lashley an F5 for a two count. The crowd bought in to the near fall. Lesnar hit a second F5 for another near fall. Lashley blocked a third F5 and speared Lesnar. Fans booed, but other fans chanted "Bobby!" He applied the Hurt Lock. Lesnar powered out with the help of a mule kick. The ref called for the bell. Fans booed the finish.
WINNER: Lesnar in 4:00 via DQ.
-Cole said Lesnar couldn't break the Hurt Lock, so he went low. Lesnar gave the ref an F5 afterward. He gave Lesnar an F5 next. Graves said Lesnar was so desperate, he had to resort to a low blow. Lesnar cleared the announce desk and gave Lashley an F5 onto the table, which collapsed. Fans popped for that. Cole said there's not a man on the planet as scary as Lesnar.
(Keller's Analysis: Just a dumb, deflating finish. Don't book a match if you can't give a better finish than that. That's just disrespectful to the anticipation fans had for this match to do that finish after four minutes. WWE doesn't do that often, but it's still no excuse. It's made worse by the fact that Lesnar was the more likable of the two in the build to the match and he did the copout low blow. The crowd didn't riot or anything, as the post-match rampage by Lesnar seemed to please them well enough.)
-In the WrestleMania Goes Hollywood theme, they aired Seth Rollins doing the famous Joker dancing scene on the outdoor staircase. Becky Lynch (his wife, of course) showed up and asked what he was doing in a strange demonic voice. He said he can't stop thinking about WrestleMania. Becky said no one can. She asked what was up with the facepaint. Seth said it was exfoliating. He asked what was up with her voice. She said it's for the man cave ("Bat Cave"). He said he didn't realize they had a man cave. She said he wouldn't because she is The Man ("Bat Man"). Seth agreed and cackled. [c]
-A video package aired on the next match.
(3) EDGE & BETH PHOENIX vs. FINN BALOR & RHEA RIPLEY (w/Dominik Mysterio)
The crowd sang Edge's song as he entered the ring. Cole talked about him being from Ontario originally. The bell rang 10 minutes into the second hour of the event. Edge and Balor battled initially. Beth and Ripley tagged in next. When they locked up, the crowd chanted "F— you, Dominik!" Graves chastised the Canada fans for their crude chant. He said they have no respect for what Dominik had to endure and said Canada prisons are like Club Med. Beth whipped Ripley into the ringside steps at 4:00. Dominik yelled at her at ringside. Dominik knocked Beth off balance on the top rope. Edge chased Dominik to the back. Graves said Dominik has a curfew. Dominik returned a minute later and egged on fans booing him. Another "F— you, Dominik!" chant rang out.
When Beth reached to tag in, Balor crawled under the ring and came out behind Edge and yanked him off the ring apron. Balor gave Edge an inverted DDT on the floor at ringside. He gave him an inverted DDT on the floor. Beth then gave Ripley a superplex as Dominik freaked out at ringside. Both were down and slow to get up.
Edge finally recovered and got the hot-tag. Fans popped. Balor and Edge battled rapid-fire. Edge applied a kneeling Edgucator leglock. When Ripley tried to break it up, Beth blocked her and then applied the same Edgucator leglock. Ripley bnlocked Balor from tapping out. The ref stopped Dominik from interfering. Ripley headbutted a distracted Beth. Dominik threw Ripley brass knuckles and she KO'd Edge. Beth was late with the save, so Edge had to just lift his shoulders on his own.
Balor climbed to the top rope, but Beth shoved Dominik into Balor, knocking him off balance. All four battled in the corner and set up stereo powerbombs by Ripley and Beth on both men. Beth and Ripley collided mid-ring with simultaneous clotheslines. Everyone was down as Dominik tried to figure out a plan. He moved the stairs away from the ring as Ripley dragged Beth at ringside. Ripley then put Beth's head on the top of the steps and swung a chair down at her. Beth moved and fought back. She gave Ripley a Glam Slam on the floor. Edge then gave the Edgecution to Balor in the ring and dove at Dominik through the ropes at ringside. Balor gave Edge a sling blade when Edge went for a spear. Edge came back with a successful spear. Beth joined Edge in giving Balor the Shatter Machine for the win.
WINNERS: Edge & Phoenix in 14:00.
(Keller's Analysis: Fun, chaotic match with some big spots and some fun moments with Dominik which the crowd ate up.)
-Graves hyped the Elimination Chamber press conference after the event.
-They showed Roman Reigns backstage in his locker room with Paul Heyman.
(4) MEN'S ELIMINATION CHAMBER – AUSTIN THEORY vs. SETH ROLLINS vs. JOHNNY GARGANO vs. BRONSON REED vs. MONTEZ FORD vs. DAMIAN PRIEST – U.S. Title match
As Bronson came out, Cole noted Bronson might be the dark horse. Gargano and Rollins started the match as the rest were in the pods. When Theory was released, he got in offense against both Gargano and Seth. Theory told Gargano they should work together against Seth, referencing their past. Gargano appeared to be considering it, but then he turned and hit Theory. Theory hid in the pod, but Seth came in the other side and threw him around inside of it. Gargano joined in. They punched away at him.
Priest was released into the match next. Priest landed a leaping flatliner on Gargano for a two count. Seth went after Priest next. Priest got the better of him. Fans chanted, "This is awesome!" Seth met him on the top rope and superplexed him. He then landed a Falcon Arrow for a near fall.
Bronson entered next. He knocked everyone around. Theory said Bronson has a chip on his shoulder the size of a mountain from his time away from WWE. He lifted Seth and Gargano onto his shoulders and delivered a fallaway slam on both. He scored a two count on Seth. Bronson charged and smashed Priest against the side of a pod. Priest collapsed. They cut to a close-up of Ford watching from his pod. Reed leaped off the ropes with a shoulder tackle on Theory.
Ford entered last and went after Bronson. He fended off Theory and went on the attack. He stood over a flattened Theory and absorbed cheers from the crowd. He then began a People's Elbow style routine, but Bronson cut it off. Theory powered Bronson onto his shoulders, but Bronson slipped free and powerslammed Theory.
Bronson lifted Gargano onto his shoulders. Seth springboarded at Gargano and knocked him over. Graves gasped at Gargano potentially landing on his head and neck awkwardly. Ford then rolled Bronson over for a near fall. Theory said he was really truly worried for Gargano's safety on that bump off of Bronson's shoulders. Fans chanted 'This is awesome!" with everyone down and slow to get up. Ford climbed to the top of the chamber and hung from the roof and dropped onto the crowd of five underneat him. Fans loudly chanted "Holy shit!"
The fight continued. No one had been eliminated yet. Seth gave Bronson a stomp. Ford landed a top rope frog splash on Bronson and scored the three count. Graves said they barely beat Bronson even with all of that. He promised that Bronson would be a force in WWE. Fans sang the "Na na na na, good bye" song as Bronson left.
Gargano and Seth climbed onto the top of a pod and fought, then rested next to each other, then fought some more. Seth looked down at a crowd and lifted Gargano for a powerbomb. Gargano countered with a huracanrana of Seth onto the wrestlers below. They cut to fans whose jaws were dropped. A "Holy shit!" chant broke out. Then a loud "This is awesome!" chant.
Cole said for four of the wrestlers, it was their first time in the Chamber. Gargano gave Priest a tornado DDT. He kicked Ford next. Gargano walked over to Theory and gave him a leaping DDT onto the platform at ringside. Priest gave Gargano a Razor's Edge for the three count. Cole touted Gargano's performance.
It was down to Seth, Priest, Ford, and Theory. Seth gave Priest a powerbomb. Ford then covered him for the pin. Fans sang Seth's song. Ford then ran and flipped over the top rope onto Theory. He did the same to Seth on the other side of the ring. Cole said Ford is looking to make this night his. He leaped off the top rope with a frog splash, but Theory lifted his knees. Seth then gave Ford a stomp. Theory stole the pin.
It was down to Seth and Theory. Fans booed Ford getting pinned. Ford stayed down the ref checked on him. Ford was moving his legs. Seth delivered a Liger Bomb for a two count. The ref went back to checking on Ford and called for help. Medics came in to check on Ford. He seemed to be out. They replayed it. Graves said, "Can we please stop showing this." They helped Ford to his feet and they had to practically drag him out. He could only put weight on his left leg. "These Superstars are human beings," Graves said. "You hate to see this happen." Ford collapsed doing down the first step out of the Chamber and the medics fell next to him. Seth went for a Stomp, but Theory avoided it. Seth then gave Theory a Pedigree. He set up a Stomp. Logan Paul ran out past Ford and clotheslined Rollins. (It seemed pretty clear at this point the Ford injury was staged so the door to the Chamber was open, which would explain why medics rushed him out of the ring the way they did rather than being more cautious.) Logan then gave Seth a Stomp. Logan left the cage and slammed the door shut. Theory then stood over Seth and smiled before delivering the A-Town Down for the win.
WINNER: Theory in 32:00 to retain the U.S. Title.
(Keller's Analysis: Excellent Chamber match. Everyone had big moments in the match. Ford was the star of the last chapter.)
-A WrestleMania ad played.
-The announcers threw to an extended video package on the main event.
(5) ROMAN REIGNS vs. SAMI ZAYN – Undisputed WWE Title match
As Reigns walked out with Heyman, Cole said Ivan Koloff ended Bruno Sammartino's eight year reign and he was from Montreal. He said Sami will be trying to do the same to Reigns. More "F— you, Roman!" chants. Sami came out to a huge ovation and hugged his wife at ringside. He seemed on the verge of hyperventilating at one point as he entered the ring. He trash-talked Reigns before format ring introductions took place.
When Sami was introduced, the referee had to hold him back. The loudest "F— you, Roman!" chant broke out. Reigns laughed. Cole said Sami's WWE debut was in Montreal eight years ago. Cole said his wife and father are present for the match. The fans sang "Olé!" The bell rang and the fans roared. Cole said this is one of the biggest moments and biggest matches the city of Montreal has ever seen.
Sami and Reigns stared at each other. Sami talked, Reigns was frozen in place. Sami looked around and fans stood and applauded. Cole said it's rare the stars align like this, and said it's one of the most emotional nights in the history of WWE. A full five minutes after the bell rang, Reigns left his corner and circled Sami. When they went for a hook up, but Sami ducked and applied a side headlock. Reigns shoved him into the ropes and landed an elbow, then gloated a bit. Grave said Reigns is pulling the strings. Another "F— you, Roman!" chant broke out. Sami tossed a charging Roman to the fl,oor and then flip dove over the top rope onto Reigns.
Back in the ring, Sami punched away at Reigns with a barrage of punches. He leaped off the ropes with a flying elbow for a one count. Reigns punched Sami out of mid-air. Graves said if Sami comes up short, he's going to let down millions of people. Cole said that has to be weighing on him. He said Sami's worked his whole career for this moment and it might only happen once. Fans chanted, "Let's go Sami!" Reigns brushed off a Sami chop at 10:00 and then yelled at the fans, asking if all they got is a couple of Sami chants. The crowd chanted "Roman sucks!" Sami fought back, but Reigns again dropped him with an uppercut as he charged at him. Reigns yelled dwon at Sami's wife that he wanted her life to be better and provide for her and Sami.
He beat up Sami at ringside and then had some more words with Sami's wife. She talked back at him. Reigns then beat up Sami in front of his dad in the front row. Back in the ring, Sami caught Reigns with a clothesline. He stood and punched away at Reigns and landed another flying clothesline. He then knocked Reigns over the top rope with a clothesline. Sami went after Reigns at ringside. Sami threw Reigns back into the ring, then kissed his wife.
Back in the ring, Sami climbed to the second rope. Reigns got up and punched him. (Lesson: Don't take time to kiss your wife in the middle of a fight!) Sami countered into a powerbomb off the ropes for a near fall at 16:00. They cut to Sami's wife reacting at ringside. When Sami went for a Blue Thunder Bomb, Reigns blocked it and slammed Sami and scored a two count. Sami came back with an exploder suplex in the corner. He played to the crowd. As he charged for a Helluva kick, Reigns hit a Superman Punch for a near fall.
Reigns went for a spear, by Sami leapfrogged him and rolled him up for a two count. He gave Reigns another exploder suplex. He signaled for a Superman Punch and hit it. Then he hit the Helluva kick as Cole asked, "Do you believe in miracles?" Sami scored a believable near fall that popped the crowd. Sami checked with the ref on whether it was three. Reigns rolled out of the ring to regroup. Sami went after him and dove through the ropes. Reigns punched him out of mid-air with a punch. Sami side-stepped a charging Reigns and threw him into the time keeper's area through the barricade.
Sami avoided a Superman Punch back in the ring and landed a Blue Thunder Bomb for a near fall. Cole said Sami has hit Reigns with everything in his arsenal, but Reigns has survived. Sami pounded the mat with his fists as fans sang "Olé!" again. Sami went for a back suplex, but Reigns blocked it and shoved Sami back into the ref. Sami then gave Reigns a sudden Helluva kick. The ref was down. Fans counted well past five as Sami had Reigns down. Fans booed. "What a cruel twist of fate," said Graves. Sami checked on the ref and ended up knocking to the floor. Jimmy Uso showed up and superkicked Sami three times and then landed a top rope splash. "This is a damn shame!" said Cole. Jimmy rolled Reigns over to Sami and draped his arm on him. Another ref ran out and counted the pin, even though he clearly saw Jimmy put Reigns's arm over Sami's chest, which should be considered illegal interference.
Both were down and slow to get up at 25:00. They got up on their knees and punched each other. Then they stood. Reigns headbutted Sami. Reigns trash-talked Sami in the corner. Sami fought back and avoided a Superman Punch. When Jimmy tried to interfere again, Sami knocked him down. He turned and ate a Reigns spear. Sami kicked out. Cole asked how he keeps surviving. "You gotta believe!" he said. "There's magic in here tonight. There's a feeling in here we have not witnessed in a Reigns championship match in years. More "Olé!" singing. Reigns sat up and told Sami he tried to help him. "This is how you repay me?" He slapped a groggy Sami a few times and stood over him. Sami slapped him back. Reigns leaped with a Superman Punch. Sami ducked and Reigns hit the ref instead. He gave Sami a Superman Punch right afterward. Reigns stayed down next to Sami. Cole said, "It's a mess out here." He noted two referees are down along with Sami and Reigns.
Heyman slid Reigns a chair. Reigns held it up. Jey Uso entered the ring and stood between Reigns and Sami. Reigns yelled, "What the hell?" Jey looked at Reigns timidly. Then he sneered. Reigns said, "It's either me or it's him!" Reigns offered Jey the chair. Jey eventually gripped the chair with both hands. He turned to Sami. Reigns turned his back to Jey. Jey held the chair as fans watched with great anticipation. Heyman asked, "What are you waiting for?" Reigns yanked the chair back and pie-faced Jey in frustration. Sami leaped at Reigns, but Reigns moved, so Sami speared Jey. Reigns then bashed Sami across the back with a chair. He bashed him across his back fire times, then threw the chair away. Sami struggled to stand, then collapsed. Reigns speared Sami. The original ref entered and counted to three. Fans were deflated and went silent.
WINNER: Reigns in 32:00 to retain the Universal Title.
(Keller's Analysis: That was a spectacular spectacle. What a story. What a crowd reaction. What a roller coaster ride. The pacing milked every moment so effectively. The Jey situation was teased well, with him still feeling caught in between two options.)
-As Jimmy began punching away at Sami after the match, Kevin Owens' music played. He came out. Jimmy met him in the aisle. He then attacked Reigns. When Jimmy re-entered the ring, KO gave him a stunner. KO then gave Jimmy a Pop-up Powerbomb through the desk. Owens grabbed a chair and brought it into the ring with him. Heyman entered and bashed KO in the back over and over. KO no-sold it. Cole said it might be the dumbest thing Heyman's ever done in his career. Heyman tried to talk his way out of punishment. KO gave him a Stunner. Sami delivered a Helluva Kick to Reigns. His music played as KO dropped to ringside and eyed Sami inside the ring. Fans sang Sami's song. KO walked to the back.
(Keller's Analysis: The post-match happenings gave fans something to cheer after the Sami loss. Heyman doesn't take many bumps at all, so that was an acknowledgement they had to really give the fans everything to cheer for after the loss. The lack of resolution with Jey extends the Bloodline storyline with the Usos and Sami to presumably a big tag team match with them against Sami & KO, with the question remaining whether Jey is truly with Jimmy and the Bloodline.)
---
Tonight after the event, join PWTorch columnist Greg Parks live reviewing the event with live callers and emails.
•STREAM LIVE HERE ABOUT 5 MINUTES AFTER THE SHOW CONCLUDES
•CALL: (515) 605-9345
•EMAIL COMMENTS/QUESTIONS: wnialivecast@gmail.com
•IF YOU DON'T LISTEN LIVE, SEARCH "PWTORCH" ON YOUR PODCAST APP TO SUBSCRIBE AND THEN DOWNLOAD OR STREAM THE FULL SHOW TWO HOURS OR SO AFTER THE TV SHOW ENDS.