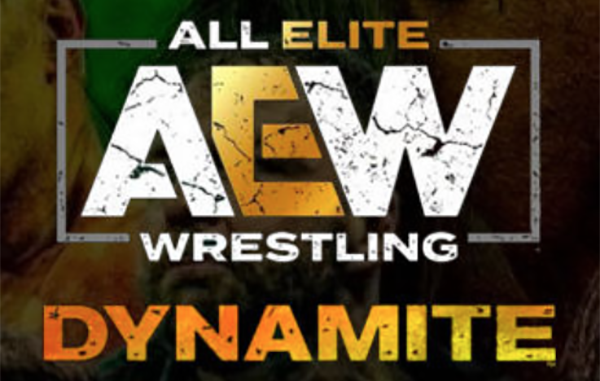 ---
SPOTLIGHTED PODCAST ALERT (YOUR ARTICLE BEGINS A FEW INCHES DOWN)...
---
AEW DYNAMITE REPORT
MARCH 15, 2023
WINNIPEG, MANITOBA AT CANADA LIFE CENTRE
AIRED LIVE ON TBS
Commentators: Excalibur, Taz, Tony Schiavone
Ring Announcer: Justin Roberts
---
[HOUR ONE]
-The Dynamite opening aired. Excalibur then introduced the show as the camera panned the crowd. He hyped that three "huge championship matches" were scheduled, but first Justin Roberts would introduce MJF.
-MJF made his entrance for his Re-Bar-Mitzvah Ceremony. MJF walked to the ring with two pairs of women on each side of him. When he arrived at ringside, he invited the women to kiss him on his cheek. Three did. The other full on made out with him for a few seconds. Meanwhile, Excalibur hyped the scheduled matches.
MJF entered the ring and asked for his music to be cut. Excalibur said Bar-Mitzvahs don't usually begin like this. He gave the fans a hard time for once thinking Bret Hart was exciting. He said Shawn Michaels was much better. "Let's be honest," he said. He said they're all there to celebrate "the most important day in recorded human history, my birthday." He said in his religion, "the only religion that matters, Judaism," when a boy turns into a man, he hits 13 and gets a bar-mitzvah. He said when he tapped out Bryan Danielson to become the undisputed best professional wrestler in the world and retain the most important title in all of professional wrestler, he is no longer merely a man. "Now I am Iron Man!" he shouted. Taz interjected, "Oh, what a rush!"
MJF said to hit his music. A bunch of Jewish teenagers ran to the ring and did a traditional dance in the ring. Then they lifted him in his chair and rocked it up and down. "Jungle Boy" Jack Perry's music interrupted. The kids fled the ring as Perry walked to the ring. Sammy Guevara then came out to his theme song. As Guevara began to speak, Darby Allin's music interrupted. He made his way out to a nice pop from the fans. Then a loud "Darby!" chant broke out. MJF yelled that they were ruining his Re-Bar-Mitzvah. He asked what they want. They all said in unison that they want a title match. MJF said that was really cute. Perry said, "Shut up Max!"
Perry said the last time they wrestled, it was at Double or Nothing 2020, the very first pandemic PPV with no fans in the crowd. He said they went back and forth for nearly 20 minutes in the Florida heat until MJF cheated and won. He said their lives went in very different directions thereafter. He said MJF got whatever he wanted while he spent the rest of the pandemic wrestling on AEW Dark. He said MJF might not have wrestled on Dark, Rampage, or Elevation, but they all have. "You just get to walk around here and do whatever the hell you want." He said there's a whole locker room full of men and woman who bust their asses and they maybe get 60 seconds a week on the show while having to sit in the back "and watch you do this hokey bullshit that you've been doing for the past four years." Schiavone said, "The truth hurts, doesn't it?"
Perry said, "This place revolves around you." He said the solution to that is taking the title from him. MJF said it does because, unlike them, he's a star. Guevara said he's going to turn this into a re-circumcision if MJF doesn't shut up.
Guevara said he talks too much. He said he talked his way in the door and lied and cheated and kissed ass to get in the door. He said to get to AEW, he had to grind on the indy scene for ten years while working at fast food places. He said when he finally got there, he was told he was only supposed to be "the Inner Circle's job guy" and "the bump guy for Jericho." He said he overcame all of those obstacles to become a three-time champion. He said he's never had the machine pushing him and he never needed it. He said he had himself and he'll win his title. He said whether MJF likes it or not or whether the "dumbass Canadians like it not," he'll be a world champion some day "and you know it."
MJF said it was "really cute" incorporating his catch phrase. He said it was nice of Guevara to take a break from getting into locker room brawls with everyone the back. Darby interrupted, sitting in the corner of the ring. He asked fans to hold their applause until he was done. (He's prickly.) He said in 2013 he was going to film school and he turned in a movie. His teacher told him that he'd have to change everything about it because the school didn't accept that kind of movie. He said he told her he'd rather drop out of school than change his style.
He said that was a blessing in disguise because it gave him the balls to become a pro wrestler. He said it was his first day at the Buddy Wayne Academy when he was told he'd either make it or not being Darby Allin, but he wouldn't change a thing. He said he approached Tony Khan and said there will never be a bidding war for him because AEW let's him be him. He stood and said the biggest problem he has with AEW is there are grown men in the back going on Twitter. He used a high-pitched voice as he mocked wrestlers saying they're unhappy and upset and want out of their contracts if they don't get what they want.
He said MJF did it too with his "Bidding War of 2024 crap." He said if MJF doesn't give him a title shot, he's going to complain about it on Twitter. He laughed and said that's not true, but he will beat his face in with his skateboard and give him a headlock takeover.
MJF yelled that he's had enough of all of them. Darby said he looks like shit. Excalibur said he's got black eyes from the Iron Man match. MJF called Perry "Jungle Jobroni." He called Darby "Dangerous Darbys the Incel Skateboard and Mime." Regarding Sammy, he said, "And we've got Sammy 'In About Seven Months I'll Propose to Another Girl' Guevara." Sammy nodded and smiled and brought up that MJF's fiancé just left him.
MJF said Jungle had Christian, Sammy has Jericho, and Darby has Sting. He said he didn't enroll in AEW Daddy Daycare. He said he's been ready since Day One. Fans taunted MJF with a "Wardlow!" chant. He said he's not afraid to admit that they are the past, present, and future of AEW, the pillars, even it makes him sick to his stomach. "I'm the only pillar who can actually keep this place up," he said. He said he's defeated all of them. He said none of them can sniff his belt. He said they should all leave his party because none of them were invited. He said then he's going to eat his cake because he deserves it. He pie-faced Perry. Perry hit him with a mic from behind when MJF turned. Guevrara attacked Perry with a high knee. Darby brawled with Sammy and shoved him into MJF on the ring apron. MJF landed on the cake on the table at ringside. MJF threw off his hat and retreated to the back as fans chanted "You deserve it!"
(Keller's Analysis: A lot to like and a lot to critique there. First of all, it was way too insider for my tastes. Some of that would've worked on two levels, but the stuff about being the designated bump taker and jobroni just pulls you out of the immersive pretend world of the show into the business side, which then makes the idea of being invested in fighting for a pretend title with a predetermined outcomes seem silly and pointless. It feels like pandering to the audience rather than telling a more logical, character-consistent story within the narrative structure of a pro wrestling show. I did get a kick out of Darby making fun of wrestlers complaining on Twitter about how they're presented by AEW, and that can work on multiple levels. He's my hero this week since public whining on Twitter about private stuff like that is a bad look pretty much always. The dig at Guevara's fiancé situation worked, also. As awkward or counter-productive as it is to have Guevara as a heel cutting down another heel in MJF, overall reuniting the pillars was worth doing. I'd have rather seen Guevara aim his criticism as Darby and Perry to firm up that he's a heel and have left off the sob story about having to work on the indy scene and fast food joints because that goes against what his character should otherwise be about. What actually stood out to me was another tone-deaf moment for Perry when hit MJF from behind with the mic. Yes, MJF pie-faced him, but a babyface shouldn't hit a heel from behind with a weapon. He should have spun him around and then whacked him when MJF made eye contact with him. The downside of this segment is that none of the three seem really ready to be a believable contender for the AEW Title given how they've been pushed or how they've performed in recent months, but Perry and Darby are otherwise solid enough opponents for MJF in a Dynamite match. Yes, it'a predictable, but it would been a bummer if MJF didn't land on the cake at some point. MJF was really good throughout with the right mix of brash cockiness and showing ass.)
-They showed clips of Chris Jericho at City Hall being honored with Chris Jericho Way on his hometown street and being given a plaque and medal.
-Excalibur plugged the upcoming matches.
-Jon Moxley, Claudio Castagnoli, and Wheeler Yuta made their ring entrance during a split-screen break. [c/ss]
(1) JON MOXLEY & CLAUDIO CASTAGNOLI & WHEELER YUTA vs. "HANGMAN" ADAM PAGE & DARK ORDER (Evil Uno & Stu Grayson)
The bell rang to start the match 26 minutes into the hour. Moxley, Claudio, and Yuta got in the early offense. Hangman and Dark Order made a comeback. Excalibur talked about the announcement earlier that AEW will return to Canada this summer including the Forbidden Door 2023 event. They fought to ringside where Claudio gave Stu a spike piledriver at ringside with help from Yuta and Mox. They cut to a split-screen break. [c/ss]
(Keller's Analysis: A spike piledriver at ringside should never, ever be a mid-match move; it should be the end of the wrestlers who takes it, but he kicked out at two. That's just dumb. I mean, seriously.)
Grayson fought back and threw punches at Claudio. Claudio tagged out to Moxley who took over against Grayson. Grayson eventually a comeback with a running high knee to take Moxley down. He then leaped and tagged in Hangman who wenty to work on Yuta, who also tagged in. Fans chanted "Cowboy Shit!" He leaped onto Claudio at ringside, then returned to the ring and took Yuta down with a lariat. He played to the crowd and showed fire as fans cheered. Yuta fought back, but Hangman knocked him down with a powerbomb. Yuta kindly shifted himself into position for a top rope senton by Uno. Claudio intervened. Grayson clotheslined him over the top rope.
Mox tagged in against Hangman for the first time at 10:00. They exchanged strikes mkid-ring. Fans stood. Hangman took Mox down with a lariat and set up a Buckshot. Yuta hit Hangman with the ring bell as Mox distracted the ref. Uno and Grayson checked on Hangman at ringside as fans chanted, "Ref, you suck!" Uno and Grayson went after Claudio and Moxley in the ring. Yuta chop blocked Uno. Grayson avoided a corner splash and the flip dove over the ringpost onto Claudio at ringside. Uno gave Mox a Paradigm Shift. Grayson then landed a 450 splash. Uno made the cover and scored a dramatic near fall. Grayson then hit the Fatality top rope double-team move, but Yuta broke up the cover.
Mox staggered over and tagged in Claudio. Fans chanted, "This is awesome!" Grayson rolled up Claudio for a near fall. Claudio came back with a lift-and-drop European Uppercut on Grayson. Mox then applied his Bulldog Choke for the win.
WINNERS: Mox & Claudio & Yuta in 13:00.
(Keller's Analysis: Exciting, hard-hitting, all-action match that the crowd ate up. It's a credit to Mox, Claudio, and Yuta that they've actually managed to give enough in the ring to Dark Order to make them seem credible enough to be in the ring with them. Uno and Grayson have done their part, too. I mean, it's still a stretch, but it's not just as glaring of a mismatch in executive as it would've seemed.)
-After the match, Mox held onto the hold. Then Mox, Claudio, and Yuta triple-teamed Uno. John Silver and Alex Reynolds ran out and cleared the ring of Mox, Claudio, and Yuta, who retreated into the crowd. Mox flexed and Claudio showed off his muscles.
-Excalibur threw to vignette with Juice Robinson talking about his attack on Ricky Starks last week. He bragged about DDT'ing Starks's "surgically repaired neck" on the mat. He said he won't do diddly-squat.
-Excalibur hyped the upcoming matches. [c]
-A clip aired of the opening segment. Excalibur said the pillars each made a compelling case for themselves.
(2) JADE CARGILL (w/Leyla Grey) vs. – NICOLE MATTHEWS – TBS Title match
Excalibur said Matthews is a star on the Canadian indy scene and a world traveler in Japan, Europe, and North America, plus experience in Shimmer. Jade challenged Matthews to punch her. Matthews did. Jade quickly came back and landed a pump kick to the chest and the her Jaded finisher for the quick win.
WINNER: Cargill in 1:00.
(Keller's Analysis: I suppose holding the viewing audience and staying consistent with Jade being dominant are issues, but man that was burial of a wrestler described as "a star of the Canadian indy scene.")
-Renee Paquette interviewed Jade in the ring and asked what kind of competition she's looking for at this point. Jade backed Renee into the corner and put her hands up against her face while asking if she's from Canada. Taya Valkyrie danced out onto the stage. Excalibur said they heard rumors she was a free agent. He said she might no longer be a free agent, but rather a future second TBS Champion. She faced off with Jade in center-ring. They exchanged words. Grey tried to hit Valkyrie (but she spun her around first, unlike Perry with MJF earlier). Valkyrie then slammed Grey onto the mat. "Smart" Mark Sterling discouraged Jade from re-entering the ring. Valkyrie danced and smiled some more, then struck a pose.
-Schiavone interviewed Ricky Starks backstage. He asked Juice what he's done in AEW. He said Bullet Club was relevant in 2015, but it's 2023. He said if Juice has an issue with him, "come on and bring it." He said he can bring Bullet Club with him.
(Keller's Analysis: Good straight-forward promo without any fourth-wall breaking or pandering insider references. Just locking eyes with the camera and addressing a rival in a believable, athlete-style way.)
-A commercial aired for "Shazam" mnixed with images of Jeff Jarrett and Orange Cassidy, among others. [c]
-A clip aired of last week's angle with Q.T. Marshall helping Powerhouse Hobbs beat Wardlow.
-Q TV: Q.T. Marshall hosted a segment recorded in an office setting with Hobbs and others discussing with Marshall the Wardlow break-in. They had footage of the break-in and revealed that they stole it. Marshall laughed uproariously with everyone else. Leva Bates asked earnestly, "What's next for Wardlow." Aaron Solo said, "Whatever's next for Batista, just not as good." They all laughed. Marshall revealed he has Wardlow's passport. Hobbs stood up and said "Welcomes to Will's World, bitch."
-Excalibur hyped that Hobbs would defend his TNT Title on Rampage on Friday in an Open Challenge. He said Rampage starts later than usual due to NCAA Men's Basketball.
[HOUR TWO]
(3) ORANGE CASSIDY vs. JEFF JARRETT (w/Sonjay Dutt, Satnum Singh) – AEW International Title match
Jay Lethal came out onto the entrance stage with is arm in a sling, then returned to the back. Cassidy came out second with his title belt in a nap-sack over his shoulder. Excalibur said the All-Atlantic Title leveled up to an International Title thanks in part due to Shazam. (Huh?) Cassidy interacted with a fan who appeared to be dressed up as Shockmaster. A fan held up a sign that said, "If JJ Wins, We Sternly Boo." Taz took an apparent good-natured dig at Tony Schiavone for "using pronouns all the time" (which is strongly discouraged by Vince McMahon on commentary). Schiavone called Dutt "a little waterbug." Jarrett strutted early and then posed casually on the top rope.
Cassidy went for early offense with his hands in his pockets. Jarrett took over after Cassidy's knees buckled. Jarrett strutted again and then put his hands in his waistband and slo-mo kicked Cassidy mockingly. Cassidy sat up and didn't look amused He charged at Jarrett with chops and punches. They brawled up the aisle and into the crowd as they cut to a split-screen break. [c/ss]
Jarrett threatened Justin Roberts during the break. Singh lifted Cassidy and threw him into the ring. Jarrett then went after Cassidy's injured leg. Then he set up a figure-four, but he stopped and switched to a sharpshooter (because they're in Canada). Cassidy powered out and applied his own sharpshooter. Jarrett reached the bottom rope, which Singh and Dutt pushed toward Jarrett's hand. Jarrett applied a mid-ring sleeper next. Cassidy put his hands in his pockets and dropped down with a jaw-breaker. Cassidy then applied a sleeper. Singh snapped Cassidy's throat over the top rope as Dutt distracted the referee. Jarrett then applied a figure-four. Cassidy's shoulders were down and the ref counted to two.
Cassidy made a comeback, but Jarrett shoved him into the referee. With the ref down, Dutt slid Jarrett his guitar. Jarrett laughed with glee, but a second referee marched out. Aubry Edwards yanked the guitar out of Jarrett's arms. Cassidy rolled up Jarrett from behind for a near fall. Jarrett wound up and threatened to strike Edwards. Cassidy stood with the guitar, but Singh yanked it from him. Edwards saw Singh with the guitar and kicked him to the back. Fans popped as Dutt and Jarrett protested. Cassidy caught Jarrett with a DDT and then signaled for an Orange Punch. Jarrett distracted the ref. Lethal hit Cassidy with the Golden Globe, revealing he was faking his arm injury. Cassidy kicked out. Trent Berretta ran out and went after Lethal at ringside. Cassidy's leg gave out when he went for an Orange Punch. Cassidy blocked a Stroke and then hit the Orange Punch for the win.
WINNER: Cassidy in 14:00 to retain the AEW International Title.
(Keller's Analysis: Man, these Jarrett matches bring me back to the early years of TNA with the constant twists and turns with interference, ref bumps, distractions etc. It's so different than most of what AEW has done with match booking to date. The crowd seemed into it throughout.)
-A vignette aired with House of Black talking about being Trios Champions.
-A commercial aired for the AEW All-Access series which premieres March 29.
-A produced rap aired with Max Caster talking about being a fan-friendly act with a reference made to Mitch McConnell's fall.
-Excalibur called The Acclaimed "an organic, home-grown act here in AEW."
-The Outcasts (Saraya, Ruby Soho, Toni Storm) made their way to the ring. Saraya told fans to shut their mouths. Ruby said, "Once upon a time the grass was greener here in AEW until a couple of bitches came along and pissed all over that grass." She asked Saraya what they do with bitches who aren't housebroken. Saraya said they show them that AEW is their house. She said everyone else should be kissing the ground they walk on because, without them, there wouldn't be a division. She said they're lucky she is there. She called the fans "neck-beard stinky twats."
Storm said, "Listen up, fat people." She said when she became the Interim Champion, "not the real champion," she wore a smile on her face, but the fans didn't appreciate her. She said when the current champion beat her, the fans loved it. She said that showed her none of the fans know what they want. She said they're there to give them what they need. She said they're the Outcasts and they aren't going anywhere because they're having too much fun going through one entitled rookie after the next. They listed some names of wrestlers they've defeated.
Jamie Hayter and Britt Baker charged out and attacked The Outcasts. The Outcasts recovered and outnumbered them, though, after Baker made a big production of taking off her belt to use as a weapon. Skye Blue, Riho, and Willow Nightingale ran out for the save. Schiavone talked about how The Outcasts had spray painted them in previous matches. Excalibur said it was a case of "the enemy of my enemy is my friends." Baker and Hayter looked over at Riho with mixed emotions. [c]
-A promo aired with Matt Menard and Angelo Parker. Menard said the Max Caster video made his nipples hard. Parker said they deserve a Tony Award. They told The Acclaimed and Billy Gunn to put respect on the Jericho Appreciation Society and tune into Rampage this Friday.
-Excalibur hyped Rampage: Menard & Parker vs. Bollywood Boyz, Valkyrie's in-ring debut, and the Hobbs Open Challenge. They went to Rey Fenix revealing he would be the challenger. Dynamite next week features Hook vs. Stokely Hathaway.
(4) HOUSE OF BLACK (Malakai Black & Brodie King & Buddy Matthews) vs. THE ELITE (Kenny Omega & The Young Bucks) vs. CHRIS JERICHO & SAMMY GUEVARA & DANIEL GARCIA – Trios Title match
The crowd chanted "Holy shit!" after ring entrances and ring introductions. Schiavone said the atmosphere was electric. The bell rang about 38 minutes into the hour. Excalibur wondered if Guevara is focused on the Trios Championships or becoming World Champion or both. They cut to a split-screen break a couple minutes in. [c/ss]
The Bucks caught Guevara leaping off the top rope with stereo superkicks. Brody gave them a double-lariat. Everyone was down as they cut to a second split-screen break at 11:00. [c/ss]
Back from the break, Omega landed a running flip dive onto Jericho at ringside. He played to the crowd as Don Callis on commentary touted Omega's skills. Guevara landed a shooting star press onto Matt Jackson. King broke up the cover. Brody threw Guevara into the corner so Jericho could tag in. The House of Black attacked Jericho three-on-one. Brody landed Dante's Inferno, but Omega broke up the cover. Jericho jabbed King with the baseball bat. Guevara then leaped onto Omega and Nick Jackson at ringside with a shooting star press. King kicked out of Jericho's cover. Black caught Jericho with a spinning wheel kick. Matthews, King, and BLack triple-teamed Garcia for the win.
WINNERS: House of Black in 21:00 to retain the Trios Titles.
-After the match, Jake Hager marched to the ring to check on his J.A.S. cohorts. He entered the ring and went after House of Black. He was overwhelmed immediately. Hangman and Dark Order brawled with Yuta, Mox, and Claudio onto the stage. Hangman entered the ring. Moxley, Yuta, and Claudio entered the ring. Omega and The Bucks stepped up to protect Hangman.