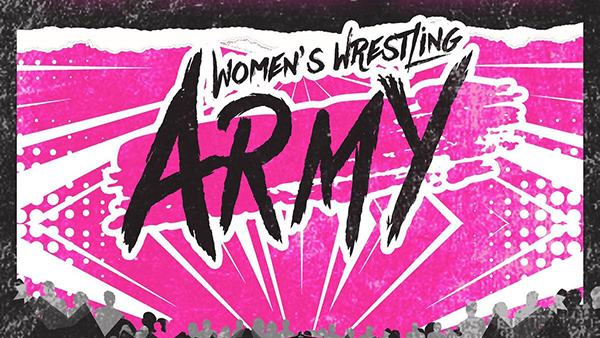 ---
SPOTLIGHTED PODCAST ALERT (YOUR ARTICLE BEGINS A FEW INCHES DOWN)...
---
WWA EPISODE 31: MAX IS HUNGRY
MARCH 15, 2023
AIRED ON PRO WRESTLING TV
REPORT BY HARLEY VASQUEZ, PWTORCH CONTRIBUTOR
Commentary: Alyssa Marino, Sam Leterna
Recap from two weeks ago of The Hex complaining that the only tag teams in women's wrestling these days are thrown-together randos. In response, last week Maria Kanellis-Bennett booked the established tag team sister duo of Team Sea Stars to take on The Hex tonight.
-Opening theme.
-Sea Stars were out first in the arena. This was Exo's first WWA match. They are the reigning Shimmer tag champions, though this was their first time teaming together in 15 months.
(1) THE HEX (Allysin Kay & Marti Belle) vs. TEAM SEA STARS (Ashley Vox & Delmi Exo)
Kay and Vox started. After two minutes of action, the partners tagged in. Some double-teaming gave the Hex control over Exo. They tagged in and out as they isolated Exo. Exo finally tagged her sister at 8:15. She ran wild on Kay and dropped Belle with the fishhook ripcord. Jackknife pin for two. Exo tagged back in but Belle leveled both opponents. Kay came in illegally to hit a pump-kick on Exo. Vox dispatched her with a tilt-a-whirl DDT. Exo and Belle traded chops. Ripcord forearm from Belle.
Belle tried to tag Kay but Kay was apparently standing in the wrong corner? She ran back to her corner and successfully tagged. All four women were still in the ring amidst the confusion. Sea Stars sat Belle on the top rope for a possible superplex. Kay prevented it. Powerbomb from Belle to Vox. Double knees from the Hex to Vox. Kay avoided a piledriver from Exo and planted her for the pin.
WINNERS: The Hex in 15:03.
-The referee raised the victors' hands. They invited Sea Stars back into the ring. They shook pinkies.
(Pageot's Perspective: That was disappointing, if I'm being honest. I love both teams so expectations were high but the first half was slow and boring and the second half was messy. Like most WWA matches, it had no heat on it and little build. The Hex say they're the best and there are no real tag teams to face them. Maria found one, they beat them, now what? With WWA apparently opposed to intergender wrestling, we're not getting Kings Of The District or BUSSY or The Outfielders coming in and I too don't know what other all-women tag teams are out there right now. I guess that's a little intriguing, wondering who they'll face next.)
-Video on Masha Slamovich. Her brain is fixated on violence and destruction. She will win because she can. Each win is just another notch on her belt. Who hits the hardest? Her.
(2) BLAIR ONYX vs. GIA SCOTT
The story was Scott being afraid of spiders and Onyx using a spidery aesthetic. Onyx did an upside-down crawl, that sent Scott bailing to ringside. Onyx with a tarantula to Scott in the ropes. Scott with a Samoan drop at 4:40. Onyx with a running knee strike. Flatliner from Scott into a leg choke. In the end, Scott hit a sit-out spinebuster for the pin.
WINNER: Gia Scott in 7:52.
-Video on Janai Kai. She got into wrestling when she was six through her dad's side of the family. She started practicing taekwondo and kickboxing at a young age. She put over her upcoming opponents, Slamovich and Blade. She acknowledged that she doesn't have any grounding moves.
-Video recap of Max The Impaler's music playing during a Billie Starkz match four months ago. Then, one month ago, Starkz was found laid out backstage.
(3) BILLIE STARKZ vs. MAX THE IMPALER (w/Amy Rose)
Rose and Starkz shook hands before the bell. Starkz clubbed at Max but was shoved to the mat. Max tossed her to the floor and dragged her around the ringside area by her hair. Max choked Starkz against the ring post. They cleared the fans from the seats and ran for a cannonball onto Starkz. Starkz moved, though, and Max crashed into the rows of chairs. Starkz with a pair of suicide dives.
In the ring, she landed a series of kicks including an enziguiri. Max drove their shoulder into Starkz in the corner, though. Starkz with a German suplex. Max avoided a swanton and took Starkz out of the air with a spear. Lariat for the pin.
WINNER: Max The Impaler in 6:00.
(Pageot's Perspective: A short but fun one. Max could definitely be one of the big bosses in WWA. I'd love to see them steadily build a couple babyfaces to face off with them down the line. Maybe the winner of our next main event.)
-Next week: it's a recap show. In two weeks' time, it's the final episode from these tapings, headlined by Masha Slamovich vs. Jordan Blade vs. Janai Kai.