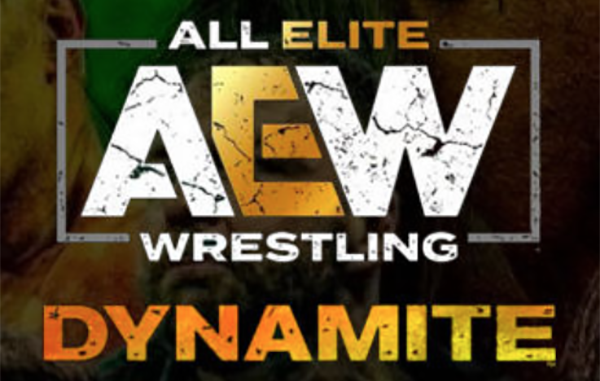 ---
SPOTLIGHTED PODCAST ALERT (YOUR ARTICLE BEGINS A FEW INCHES DOWN)...
---
AEW DYNAMITE REPORT
MARCH 22, 2023
INDEPENDENCE, MO.
AIRED LIVE ON TBS
Commentators: Excalibur, Taz, Tony Schiavone
Ring Announcer: Justin Roberts
---
[HOUR ONE]
-The Dynamite opening aired.
-They cut to the parking area where Brandon Cutler was standing in the back of an ambulance and told "Hangman" Page to to be sure that someone accompanies Nick. That ambulance drove away. Excalibur said Matt & Nick Jackson were "brutally attacked" before the show. Matt Jackson was loaded into another ambulance with Kenny Omega by his side. "Hangman" got in that ambulance. Omega returned to the arena. Excalibur said Omega was staying because he had a big match scheduled.
(1) ORANGE CASSIDY & DARBY ALLIN & STING vs. KIP SABIAN & BUTCHER & THE BLADE (w/Penelope Ford)
Orange Cassidy made his ring entrance followed by Darby Allin. Sting then made his entrance. The announcers talked about him as a legend and an icon. As the other wrestlers made their way out, Excalibur said they'd explain how this match came about. They showed a clip of the Troy, Ohio AEW house show featuring Darby & Cassidy teaming for the first time ever and beating The Butcher & The Blade. Afterward, Butcher & Blade attacked Sting, Darby, and Cassidy backstage.
Cassidy had "O" and "C" panted on his cheeks. Sabian had pastel purple hair. Cassidy outmaneuvered Sabian with his hands in his pockets. Butcher then tagged in. Sting also tagged in. Butcher yelled in Sting's face. Sting didn't sell it at all. Butcher forearmed him in the chest. Sting absorbed it, then chopped Butcher repeatedly into the corner. Butcher raked Sting's eyes and bit his forehead to take over. He mocked Sting with a yell and went for a Stinger Splash, but Sting moved. Sting then landed a Stinger Splash himself. Chaos broke out with all six battling mid-ring. Darby and Sabian battled one-on-one a minute later. Ford stood on the ring apron and distracted Darby. The ref tended to her. Blade then knocked Darby off the top rope. They cut to a split-screen break. [c/ss]
Darby took a beating during the break. Butcher yanked Sting off the ring apron as he was reaching to tag Darby. Fans booed. Cassidy tagged in and took over against Sabian. Sabian took control, but showboated. Darby tagged in Sting behind Sabian's back. Sting sl0-mo kicked Sabian, then clotheslined him hard to the mat. He did the same to Butcher and Blade. (There might have been a worst clothesline feed ever than Butcher's right there.) Sting applied a Scorpion Deathlock to Sabian mid-ring. Blade and Butcher beat up Sting. Darby entered and went after Butcher and Blade. A minute later, Sting gave Sabian his Scorpion Deathdrop after milking it as fans cheered. Sting scored the pin.
WINNERS: Sting & Darby & Cassidy 13:00.
(Keller's Analysis: I liked the incorporation of a house show match and angle as the set-up for this match. It establishes early that house shows count in the narrative of AEW. They treated Sting like a big deal here, but anytime he wrestles, it should be built up as a really special occasion and this overall fell short of that. The action was largely exciting, but clunky at times, especially with Butcher.)
-A recap aired of the Four Pillars segment last week with new soundbites from each of them reacting. MJF said they have to earn a shot and noted he's already defeated all of them in singles matches. Sammy Guevara said he'll rack up as many wins as it takes. Jack Perry said he's already won more matches than the others.
(Keller's Analysis: Strong follow-up to last week's angle. Good mix of highlights along with character-consistent soundbites from each of them. It was a logical follow-up to address the fact that the three non-champions who confronted MJF weren't exactly at the front of the line for a title shot.)
-Excalibur hyped that the AEW Tag Team Title match was up next. [c]
-A vignette aired previewing the "dream match" between Omega and El Hijo del Vikingo later. Excalibur said if you didn't know who Vikingo was before tonight, you will after tonight.
(2) COLTEN & AUSTIN GUNN vs. TOP FLIGHT (Darius & Dante Martin) – AEW Tag Team Title match
Excalibur said during the Top Flight ring entrance that Cutler texted him and told him that the Blackpool Combat Club were responsible for the attack on the Bucks. Schiavone said BBC are ratcheting up the violence like he's never seen before. There was a loud, enthusiastic "Ass Boys" chant early. They cut to a split screen break at 2:00. [c/ss]
Matt Taven & Mike Bennett attacked Darius at ringside. Dante dove onto them at ringside. The Gunns then caught Dante as he returned to the ring with their double-team finisher for the win.
WINNERS: The Gunns in 5:00 to retain the AEW Tag Team Titles.
-FTR came out to their entrance music as the Gunns were soaking up their win in the ring. They got a nice crowd pop. A loud "FTR!" chant broke out. Colten said nobody likes their song and nobody wants to see them. Cash Wheeler told them to calm down and said they are just there to talk business, not fight. Colten said nobody wants to hear them talk. He said they're losers because they lost three sets of belts and lost to them. Austin said there is nothing they can say that will get them to give them a title match. Cash suggested that they offer that if they lose, they will never challenge them again. Austin said, "Nothing!" Cash said they'd agree to never team again if they lost. Austin yelled, "Look at my face! Nothing!" Dax said if they can't beat them and win the AEW Tag Team Titles, they'll quit AEW. Austin was intrigued. Fans booed. Austin said, "Deal." They were going to shake on it, but the Gunns spit at their faces instead and then bailed out. Excalibur said that's a high-stakes offer by FTR.
(Keller's Analysis: This plays into the possibility that FTR are leaving AEW soon and they're going to do one final job on their way out, but it could also be the crowning of FTR as champs for the division to be built around them. I'd like to have heard a little more from FTR to explain why they'd raise the stakes to that level when, if they just get some wins, AEW officials would grant them an earned title shot eventually anyway.)
-A clip aired of the debut of Taya Valkyrie last week.
-Renee Paquette interviewed Jade Cargill about the arrival of Valkyrie. Jade told Renee to "cut the shit." She took offense to her using her finisher. "Smart" Mark Sterling said he has a cease and desist order that Valkyrie can no longer use Jade's finisher. Leila Grey said she'd deliver the cease and desist order to Valkyrie on Rampage on Saturday.
(3) HOOK vs. STOKLEY HATHAWAY – No DQ match

As Hathaway came out, Excalibur narrated split-screen highlights of the backstory of this match including Matt Hardy saying if Hook beat him, Hathaway would have to face Hook. Hook's entrance then took place. Schiavone noted Hook has a 23-0 record, the longest winning streak in the AEW Men's Division. Before the match, Hathaway hugged the ref. He also said he had breaking news. He said Dr. Simpson told him earlier he isn't cleared to compete. He said he wanted to compete so badly. He announced his retirement from pro wrestling and thanked "all 12" of his fans. He showed Justin Roberts a sheet of paper saying it was his doctor's note. Justin said it's actually a receipt from a restaurant chain.
The bell rang and Hathaway bailed out of the ring. He retreated into the crowd. Hook pursued him, caught up to him, and threw him back to the ringside area. Hathaway leaped at Hook, but Hook barely moved. Hook caught him a second time and overhead suplexed him. He threw him back into the ring. Hook then pulled a barricade segment out from under the ring. The showed Matt Hardy, Big Bill, Ethan Page, and Private Party reacting while watching on a monitor backstage. Ethan said they didn't even practice "hardcore" to prepare for the match.
Hathaway sprayed Hook with a fire extinguisher. Then he grabbed a chair and swung it at Hook. Hook blocked it and bashed Hathaway with it a few times. Hook then suplexed Hathaway onto the barricade section leaning in the corner. He scored a two count, but then lifted his shoulders. He then applied his Red Rum finisher for the win. They cut to Hathaway's crew backstage lamenting the outcome. Hook held up his FTR Title belt on the stage.
WINNER: Hook in 3:00.
(Keller's Analysis: That was well done for what it had the potential to be. Hathaway was good here as the heel manager getting his comeuppance. The angle felt cold by the time they got to this match, but the recap helped in that regard.)
-Excalibur hyped upcoming matches. [c]
-They showed rapper Tech N9ne in the front row.
-Adam Cole made his ring entrance. He got a huge ovation. He said he knows everybody is ready for storytime with Adam Cole. He said in seven days he makes his in-ring return. He said he's talked a lot about his struggles, but now he feels great. He said he has never been more ready or more prepared to do what he loves to do, which is wrestle for AEW. He said people want to know who his opponent will be on March 29. As he began to speak, he was interrupted by Daniel Garcia. Cole stared at the stage and Garcia walked out.
Garcia asked who was ready for Storytime with Daniel Garcia. He said since Cole was last around, he's become a locker room leader because his colleagues respect him so much. Fans chanted "Shut the f— up!" He said he wanted to put him in his place. He entered the ring and said he's been winning matches for nine months while Cole was playing stupid video games on Twitch. He said he's defeated Brodie King, Ricky Starks, and Bryan Danielson. He said he's main evented more AEW programming on AEW TV over the last year than anyone. He said Cole wants a big warm welcome, but he deserves it more. He said he's one of the best pro wrestlers. He stopped and corrected himself and said he's a great sports entertainer. He asked Cole what makes him special.
Cole said, "When they ring the bell, that's what makes me special." Cole said Garcia is good and some day he could be the guy who leads the charge in AEW. He said his problem is the company he keeps. He said J.A.S. has made him overconfident. He said even not wrestling for nine months, he's still Adam Cole Bay-bay. He said he's traveled the globe, beating some of the very best. He said as he sat at home for nine months, he hoped and dreamed of having a second chance. He said if he's crazy enough to want to challenge him next week, then he's on. He said it'll be the first time ever. He said next week isn't just his return match, it's a statement to the locker room that he's back. Fans chanted "Adam Cole!" very loudly. He said he hopes he knows what he's in for. "I'll see you next week Garcia," he said. "Boom." They exchanged words off-mic as Cole's music played.
(Keller's Analysis: Cole came across as an alpha babyface there, the closest he's come in AEW to how his biggest boosters imagined he'd be used in AEW. He still has the chance to have the biggest impact of the three big debuts at All Out 2021.)
-Excalibur said there's a lot of questions about the condition of the Young Bucks and the mental state of Omega.
-Alex Marvez walked into the locker room where Don Callis and Omega were talking. Callis asked Omega what his concern is. Omega said he should have gone to the hospital. Callis said catastrophic injuries happen, but those two going to the hospital might be the best thing to happen to them because they can focus. "Those kids will be fine in a few months," he said. He said the God of Pro Wrestling is back and the match will blow the roof off the place. He then told Marvez to "get out" and he pushed him away.
(Keller's Analysis: I'm rather unfamiliar with the Bucks and Omega being involved in a TV storyline like this, and it's good to see. I'm curious if Callis showing his sleazebag side and Omega being concerned for his friends' well-being is a sign of a pending a split.)
-Jon Moxley began his ring entrance, accompanied by Claudio Castagnoli and Wheeler Yuta.
[HOUR TWO]
(4) JON MOXLEY (w/Wheeler Yuta, Claudio Castagnoli) vs. STU GREYSON (w/Alex Reynolds, Evil Uno)
They fought to ringside a minute in, then back into the ring. When Greyson retreated to the ring apron, Mox charged at him and knocked him into the ringside barricade. They cut to a split-screen break. [c]
Greyson eventually set up his Nightfall backbreaker, but Mox countered into his Bulldog. He drove knees into his head and then applied a rear naked choke. Greyson held on and charged into the corner and cannonballed Mox into the corner to break free. Greyson climbed to the top rope, but Mox knocked him off balance. Mox scratched his back and then underhook suplexed him to the mat for the win.
WINNER: Moxley in 11:00.
-Renee interviewed Ricky Starks backstage. She said she can feel the frustration and anger coming from him over Juice Robinson. He said he's tired of talking about him. He said he had to take time off his vacation early to tell Juice he's done talking and he wants to face him on Rampage. He said either show up or stop it. He said it's an open challenge and he should be a man, but if not, he said he doesn't care anymore.
(Keller's Analysis: I don't think Juice has come across as pestering Ricky to a degree that would cause that reaction from him. But otherwise, good delivery by Starks.) [c]
-QTV: Q.T. Marshall said he wanted the scoops. The woman said they discovered "a young hot prospect, Rey Fenix." A clip aired of Powerhouse Hobbs beating him. They all laughed. They made fun of other wrestlers in an over-the-top way and made references to Twitter spats.
(Keller's Analysis: Uh, no.)
-Excalibur said Powerhouse Hobbs will defend his title against Penta El Zero Miedo this on Rampage, which is airing on Saturday instead of Friday this week. They showed a family who got an upgrade to the front row.
(5) SKYE BLUE vs. TONI STORM (w/Saraya, Ruby Soho)
Excalibur said Blue is one of the AEW homegrown stars. When Storm knocked Blue to the floor, Saraya and Soho attacked her. They cut to a split-screen break. [c/ss]
Blue landed a running knee to the head after the break and then scored a two count. Schiavone noted that Blue has 72 AEW matches so far and gets better every week. Soho distracted the ref. Blue turned to yell at her. She turned back and rolled up Storm for a near fall. Storm landed a hip attack and then a German suplex and Storm Zero for the win.
WINNER: Storm in 7:00.
-Willow Nightingale and Riho ran out to stop a post-match three-on-one attack. Riho had a pipe.
-Excalibur hyped Rampage: Hobbs vs. Penta for the TNT Title, Taya Valkyrie vs. Leila Grey, Brody King vs. Jake Hager, The Acclaimed vs. The Kingdom, and Ricky Starks potentially against Juice Robinson. Dynamite next week features Cole vs. Garcia.
-A trainer was shown checking on Stu Greyson. Mox walked up and said it was just business. Mox then attacked him with a Bulldog choke and rammed him into the rolling crate. Yuta and Claudio smiled and left with Mox. [c]
(6) KENNY OMEGA (w/Don Callis) vs. EL HIJO DEL VIKINGO
Justin Roberts stood mid-ring for the ring entrances. He said the main event is a dream match. Vikingo made his entrance first. Excalibur called him a 25 year old Lucha Libre sensation. He talked about him being a second-generation wrestler and one of the biggest stars in Mexico. Justin then did the Omega ring entrance with a list of facts about Omega including that he is especially proud of his 2-0 record in Independence, Mo.
Vikingo dove onto Omega when he made his way to ringside and then hit a running flip dive. He threw him into the ring and stayed on the attack. Omega fought back with a barrage of rights. The ref then called for the bell 40 minutes into the hour. Vikingo leaped off the top rope with a huracanrana and then a corkscrew kick. He landed running double knees to knock Omega through the ropes to the floor. Fans chanted "This is awesome!" He then landed a running shooting star press off the ring apron onto Omega at ringside. Both were down and slow to get up.
Back in the ring, Vikingo landed a springboard 450 for a two count. A dueling chant broke out. Omega set up a table at ringside as fans chanted, "We Want Tables!" They cut to a split-screen break. [c/ss]
Back from the break, Omega monkey flipped Vikingo onto the ring apron. Fans chanted "Holy shit!" Omega looked over at the table and set up a move, but Vikingo blocked it. He then climbed to the top rope and sent Omega off the ring apron with a Dragon Rana to the floor. A loud "This is awesome!" chant broke out.
Back in the ring, Vikingo and Omega battled on the top rope. Omega set up a powerbomb, but Vikingo countered him mid-air and drove his head into the mat. Vikingo then stood on the middle rope facing out of the ring and landed a Phoenix Splash for a very near fall in the ring. Fans stood and cheered and chanted "Fight Forever!" Omega caught Vikingo mid-air and landed a V-Trigger for a near fall. He followed with a Snap Dragon suplex.
Vikingo made a comeback and put Omega on the table. He then landed a running 630 senton over the top rope onto Omega on the table. Fans chanted "Holy shit!" An "AEW"chant broke out. Both were slow to get up. They rolled into the ring. Vikingo covered Omega and scored a two count. They sat up and exchanged strikes. Omega avoided a 630 splash. He followed with  V-Trigger and a One-Winged Angel for the win. Excalibur said if you didn't know Vikingo before this, you know him now.
WINNER: Omega in 17:00.
(Keller's Analysis: Spectacular athleticism, and I wrote that before Taz used that adjective just now on commentary. Great minds think alike, right?)
-Schiavone interviewed Omega in the ring. He told Omega it was a match for the ages. Omega said the more he ages, the more he wonders if he can still do this. He thanked the fans. Mox, Yuta, and Claudio attacked Omega. Excalibur said this has to indicate they also attacked the Bucks right before Dynamite. Sirens blared and the big screen showed an ambulance returning. Hangman stepped out with a two-by-four with nails sticking out in his hand. Excalibur said he stole the ambulance. "Cowboy Shit!" rang out from the crowd. He charged out with the board in hand as his music played. BBC fled. Callis walked up to Hangman and grabbed his hand, then pretended that Hangman hit him. Omega sat up and thought Hangman attacked Callis. Hangman told Omega that he didn't. Omega didn't believe him and left with Callis.
(Keller's Analysis: I'm sure Omega will be apologizing to Hangman within a few minutes after everyone informed Omega and shows him that Callis pretended Hangman hit him.)