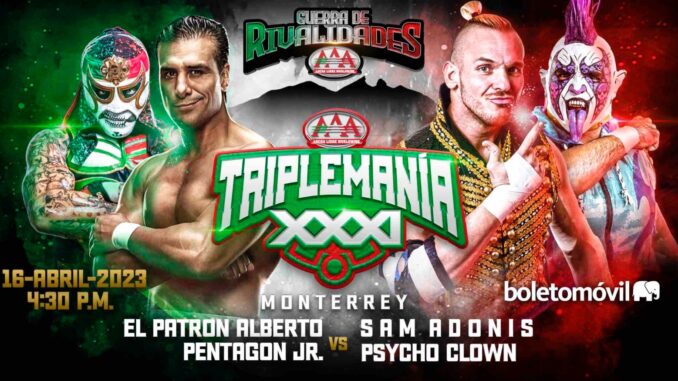 ---
SPOTLIGHTED PODCAST ALERT (YOUR ARTICLE BEGINS A FEW INCHES DOWN)...
---
FANN'S AAA TRIPLEMANIA 31 REPORT
APRIL 16, 2023
AIRED LIVE ON FITE TV
Announcers: Larry Dallas & Joe Dombrowski
(1) AEROSTAR vs LAREDO KID vs BLACK TAURUS vs OCTAGON JR vs HIJO DE VILLANO III vs PARKA NEGRA vs ARGENIS vs MYZTEZIZ JR – Lucha de Apuestas Cage Match
The show kicked off with Antifaz del Norte (originally scheduled for the match) being jumped by Laredo Kid. del Norte had his leg trapped in a chair and Laredo Kid Pillmanized the poor dude. The beauty of this match was the fun insanity of the rules – the goal was to escape the cage by any means necessary, with the losers forced to face off later in a mask vs mask match.
LOSERS: ARGENIS & MYZTEZIZ JR. (***)
(Fann's Analysis: This was a great kick off match. The insanity of the rules, coupled with the performances of Laredo Kid and Black Taurus in particular pulled me into the show. Larry Dallas & Joe Dombrowski did a good job of introducing the wrestlers to an audience that may not all be familiar to them. With Antifaz's beat down if anything he should've been grateful that he escaped the risk of the match.)
(2) VAMPIRO (w/MR. IGUANA) vs CHESSMAN (W/LA HIEDRA)
This grudge match started and ended awkwardly. Chessman opened the preceding with telling crowd Monterrey sucks, which isn't received well. Once the match started, Vampiro spent portions of the match not selling any of Chessman's moves, which Dallas did his best to overlook the lack of professionalism. The finish occurred when Chessman attacked Mr. Iguana, then for some reason his own valet La Hiedra, who then kicked Chessman in the groin and allowed Vampiro to spear Chessman for the win.
WINNER: Vampiro by pinfall (Spear through table) (*)
(Fann's Analysis: Vampiro and Chessman had no right being on this show.)
(3) TEAM CHILANGO (DAVE THE CLOWN, NEGRO CASAS, AREZ, NINO HAMBURGUESA & LATIGO) vs. TEAM REGIO (EL ZORRO, FLAMMER, TOSCANO, BABY EXTREME & EL HIJO DE L.A. PARK): Copa Triplemania XXXI Monterrey Match
The elimination match was pretty by the numbers until the closing segment. Negro Casas as the legend in the ring had been set up for a win, when the ref was bumped. While the ref was out, Nicho el Millonario (Psicosis in US) showed up in a hood and face mask to beat down Casas and allowed Toscano time to pin Casas.
WINNER: Toscano by pinfall (***)
(Fann's Analysis: I really liked how the announce team tried to sell the appearance of Psicosis without spoiling it for those who hadn't figured it out yet. This was a great elimination match, a style of match we don't see as much in the US like days of old. Psicosis coming out and telling folks in crowd to **** their mothers was certainly a choice!)
(4) SAM ADONIS & PSYCHO CLOWN (W/JACK FANCY) vs. PENTAGON JR. & ALBERTO EL PATRON – Guerra de Rivalidades first round
Patron came to the ring in jeans and a cowboy motif. Larry Dallas noted for folks that haven't seen Patron he has moved away from his aristocratic roots, aimed now to be a man of the people. Pentagon Jr. came out to local rapper Aczino, whose beat clearly got the crowd (and myself) going. Psycho Clown came out with his kids in clown masks, which prompted a "AAA is for the children" line from Dallas, which was hilarious given the ending and promo of the match before. After Sam Adonis & Psycho Clown got sick of each other, the two began to beat each other to a pulp, before Pentagon Jr. and Patron popped back in to get the win.
WINNER: Pentagon Jr by pinfall (Canadian Destroyer) (***1/2)
(Fann's Analysis: Another AAA/Lucha evolution I adore. The Guerra de Rivalidades is simple: you tag with an enemy, and between the two losing teams, a match will be held at AAA Tijuana. The losers there will lose either their mask or their hair, which forces the enemies to co-exist without the trope being said. The match ended with Adonis and Psycho Clown's broken trust and now both men will face the other losers at the Tijuana event.)
(5) ARGENIS (W/LA HIEDRA & FLAMMER) vs. MYZTEZIZ JR. (W/DULCE CANELA & SEXY STAR II) – Lucha de Apuestas Mask vs Mask Match
The match was a solid affair, until the seconds got involved. Myzteziz had an armbar on, but Flammer used a fire extinguisher to blind him and free Argenis. La Hiedra assisted Flammer in a beat down of Myzteziz, who countered a top rope hurricanrana into a powerbomb. Myzteziz then hit a shooting star press for the win.
After the loss, Mirsha Adán Uribe (Argenis' real name) beat down Myzteziz and unmasked himself, tossing the torn mask at the body of Myzteziz.
WINNER: Myzteziz Jr. by pinfall (Shooting Star press) (**3/4)
(Fann's Analysis: Good match, but the interference was unneeded. I thought the change up of the loser ripping his own mask off and throwing it at the opponent was a nice touch.)
(6) BLUE DEMON JR. & DMT AZUL vs. RUSH & L.A. PARK – Guerra de Rivalidades first round
This match was fifteen minutes of a brawl broadcasted from a bar that just happened to be in a ring. All four men went for knockout shots early. L.A. Park, DMT Azul, and Blue Demon's masks were torn during the match, and all three men bled quite heavily. The finish came when Bestia showed up (as one would expect) to assist Rush, but that set off L.A. Park who went to war with his partner and his dad. Rush punched the ref in the face as retaliation for stopping Rush's advance on Blue Demon. The ref then returned the favor with a lightning three count that sent Rush & L.A. Park to Tijuana for the loser's final.
WINNER: Blue Demon by pinfall (***)
(Fann's Analysis: Blue Demon & DMT Azul were gifted the win after Rush punched out the ref, L.A. Park hit Rush with a low blow, and the ref gave the quickest three count I've seen in a while. Madness and blood were the entirety of this match.)
(7) HIJO DEL VIKINGO (AAA MEGA CHAMPION) vs. RICH SWANN vs. SWERVE vs. KOMANDER – AAA Mega Championship Four Way Match
Main event time.
The match started with the four men testing each other out. Swann and Swerve eventually powdered out and left the finish to the two lucha talents.
Vikingo and Komander fought to the end, where Komander set up for a rope walk shooting star press, that only got a 2 count. Vikingo rolled through the kick out and drove Komander into the corner, followed with a double knee in the corner and a 730 splash for the win.
Post match, Konnan came out to the ring and presented a new version of the AAA Mega Championship to Vikingo. The announcers highlighted how much Konnan believed in Rey Mysterio and now similarly believes in Vikingo. The show ended with all four competitors and Konnan raising their arms in celebration of the show and July 15th's show in Tijuana.
WINNER: Hijo del Vikingo by pinfall (730 Splash) (*****)
(Fann's Analysis: Outstanding match. Swerve served as the "big base" in the match, and all four men came out looking well. Komander and Swann had a delightful mid-match sequence that I thought was fun. Overall, a great match you have to see. I hope that these sorts of interpromotional match-ups continue with AAA as the focus.)
Overall thoughts (7.5): Okay show from top to bottom, with a main event that was well worth the price of admission/pay-per-view. While you have to be "in" on the staples of Lucha (ref 15 counts for 3, clear cheating, some hilariously botched spots by vets because reasons) you will get a good idea of the reasons why via the announce team. The only issue was the audio – the English commentary was superimposed over the Spanish commentary and the crowd, so at times you heard the Spanish during a quiet moment, or lack of crowd reactions to the level you'd expect for big babyfaces like Pentagon Jr or Psycho Clown. Looking forward to the next iteration!
Contact Rich at EverythingWithRich@gmail.com. Follow him on Twitter at twitter.com/rich_fann.
---
CATCH-UP: Further news on CM Punk returning to AEW