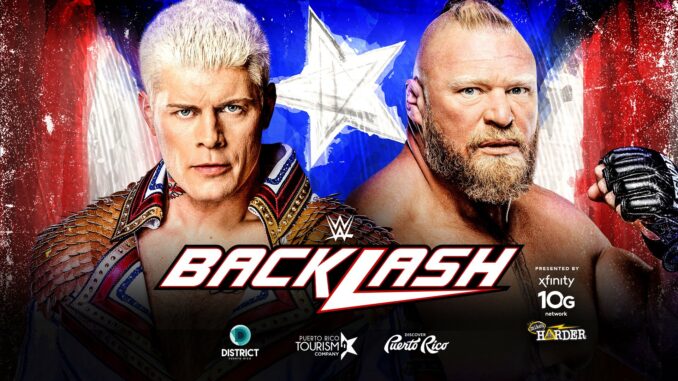 ---
SPOTLIGHTED PODCAST ALERT (YOUR ARTICLE BEGINS A FEW INCHES DOWN)...
---
WWE Backlash will be held on May 6, 2023, in San Juan, Puerto Rico at the Coliseo de Puerto Rico Jose Miguel Agrelot. It is the first time since New Year's Revolution 2005 to be held in Puerto Rico. Originally, Bad Bunny was supposed to host it, but as it sometime happens, he has instead become embroiled in a fight against Damien Priest.
Zelina Vega hopes to use the support of the crowd to propel her to win the WWE Smackdown Women's Championship from Rhea Ripley. The Bloodline having suffered two recent high profile losses tries to keep things together as Jey and Jimmy Uso and Solo Sikoa take on a returning Matt Riddle, Sami Zayn, and Kevin Owens. WWE Raw Women's Champion, Bianca Belair has been playing mindgames with Iyo Sky, furthur driving a wedge between Iyo and Bayley.
Austin Theory must find a way to survive two big meaty men in Bronson Reed and Bobby Lashley if he hopes to retain the WWE United States Championship. Cody Rhodes seeks to avenge the brutal beatdown he received at the hands of Brock Lesnar, and Seth Rollins faces Omos for… reasons.
---
Cody Rhodes vs. Brock Lesnar
Story in a nutshell: After failing to win the Undisputed WWE Universal Championship at WrestleMania due to Bloodline shenanigans, Brock Lesnar agreed to team up with Cody Rhodes to get revenge on Roman Reigns only for Lesnar to betray and brutally attack Cody.
Cody Rhodes confronted Undisputed WWE Universal Champion Roman Reigns on the Raw after WrestleMania, accusing him of cheating to win and demanding a rematch. The rematch was denied. Wanting a piece of Reigns anyway. Cody then suggested a tag team match against Reigns and Solo Sikoa instead. Paul Heyman got Reigns to agree when he added the stipulation that Cody's partner could never again challenge Reigns for his title in the hopes that no one would agree to partner with Cody. Instead, Brock Lesnar, who is already under a stipulation that he can't challenge Reigns for the title, appeared to agree to join Cody. Later that night, the match never started since Lennar brutally attacked Cody, supposedly because Lesnar was upset that he was in the opening match of the second night of WrestleMania. Cody then asked for, and was eventually given, a match against Lesnar on Backlash.
Analysis and Predictions: After losing to Reigns at WrestleMania, a big win over Brock Lesnar is just what Cody needs.
---
Rhea Ripley (c) vs. Zelina Vega, WWE Smackdown Women's Championship match
Story in a nutshell: Partly because the L.W.O and Judgment Day are feuding and partly because she is the only female wrestler on the roster of Puerto Rican decent, L.W.O member Zelina Vega was granted a shot at Rhea Ripley's WWE Smackdown Women's Championship in Puerto Rico.
Rey Mysterio has been feuding with his son Dominick Mysterio and has had to deal with Domminick's faction mates in the Judgment Day. Santos Escobar and his faction, the Legado de Phantasma came to Rey Mysterio's defense due to Santo's respect for Rey Mysterio. Rey bequeathed the name of the defunct Latino World Order on Escobar and his group. Zelina Vega, member of the new L.W.O asked Adam Pearce to be given a shot at Raw's WWE Smackdown Champion, Rhea Ripley who is a member of Judgment Day. Zelina wanted the match at Backlash since it is being held in Puerto Rico and she is of Puerto Rican decent. Pearce agreed.
Analysis and Predictions: While I'm sure Zelina puts on a valiant fight, Ripley comes out on top.
---
Bianca Belair (c) vs. Iyo Sky, WWE Raw Women's Championship match
Story in a nutshell: Iyo Sky won a triple threat match to become the number one contender for Bianca Belair's WWE Raw Women's title after Bayley gave Iyo Bayley's spot in the match.
Bayley went to talk to Adam Pearce about getting Iyo Sky and Dakota Kai a shot at the WWE Women's Tag Team Championship only to come out with a spot in a triple threat that would determine the number one contender for the WWE Raw Women's championship. Having it pointed out to them in an earlier feud that Bayley was holding them back, Iyo and Dakota were upset that the opportunity wasn't gong to one of them. Bayley said she didn't realize that they felt that way, so she got Iyo the match instead. Iyo won the match and now Smackdown's Iyo Sky faces Smackdown's Bianca Belair for the WWE Raw Women's Championship at Backlash. Meanwhile, Belair has continued to widen the rift forming between Bayley and her group.
Analysis and Predictions: I'd like to see Iyo win so she has to deal with Bayley's jealousy, but Bianca retains further driving Damage CTRL into a split.
---
Bad Bunny vs. Damian Priest, San Juan Street Fight
Story in a nutshell: Bad Bunny prevented Dominick Mysterio from cheating in his match against Rey Rey Mysterio at WrestleMania leading to Damien Priest attacking his former friend.
Damien Priest were friends and even tag teamed against the Miz prior to priest joining the Judgment Day. Fast forward to WrestleMania where Bad Bunny was a guest on commentary for the match between Rey and his son, Dominick Mysterio in order to promote Backlash which Bad Bunny was hosting. Bad Bunny prevented Dominick from cheating paving the way for a Rey victory. On the following Raw, Dominick got into it with Bunny leading Priest to put Bunny through the announcer's table. Later, when Bunny made his return, he attacked Priest with a kendo stick and declared that he wasn't hosting Backlash anymore but would be facing Priest in a San Juan Street Fight instead.
Analysis and Predictions:  I expect the L.W.O and Judment Day to be heavily involved in this one and for Bad Bunny to ultimately win. Commentary brought up Abdullah the Butcher in promoting this match and I highly doubt the match would come 10% of the way to that level of carnage, so I probably would not evoke that specter and get fans of blood and gore's hopes up.
---
Austin Theory (c) vs. Bobby Lashley vs. Bronson Reed, WWE United States Triple Threat Championship match
Story in a nutshell: After Bronson Reed interfered in Bobby Lashley's WWE United States Championship match against champion Austin Theory, leading to a no contest, a triple threat match was announced for Backlash.
Bobby Lashley won the Andre the Giant Battle Royal when he eliminated Bronson Reed at the end. This led to a feud between Lashley and Reed. Reed interfered in a match between Austin Theory and Lashley for the WWE United States Championship and as punishment was added to the do-over match at Backlash.
Analysis and Predictions: The two meaty men take each other out and Austin Theory steals the win.
---
Seth Rollins vs. Omos
Story in a nutshell: WWE booked this match with no preamble and then patched it up by saying it was MVP's idea to get Omos a big win.
This match was just announced despite Seth Rollins and Omos never crossing paths. Later, MVP said that the match was his idea, that since Seth Rollins is one of the greatest wrestlers of all time, Omos beating Rollins would be huge for Omos. Rollins for his part said that he wasn't afraid to carry Omos to a good match.
Analysis and Predictions: Rollins will get the "huge" victory since he's the most likely to be the one to win the WWE World Heavyweight Championship.