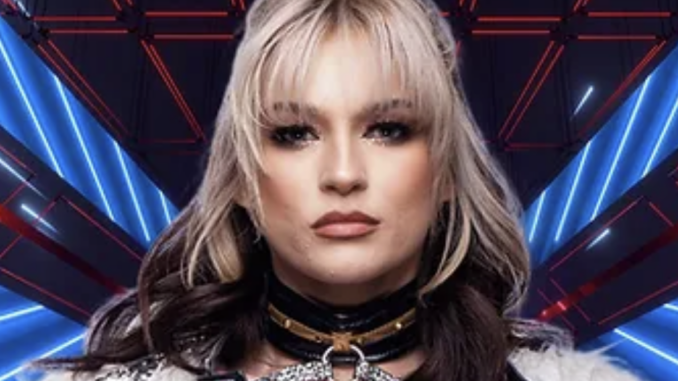 ---
SPOTLIGHTED PODCAST ALERT (YOUR ARTICLE BEGINS A FEW INCHES DOWN)...
---
Firstly, my condolences to the family, friends, and fans of both Terry Funk and Windham Rotunda. Both were standout figures in the industry, beloved by many and revered by their peers.
AEW All In is now well and truly upon us. In just a few days AEW will hold its biggest show since inception. Indeed given the projected attendance as well as international PPV buys, All In is in line to become one of the most lucrative wrestling shows of all time.
In celebration of all things All In, and more specifically the UK wrestling scene (full disclosure, I'm British myself and will be one of the 80,000 plus rabid fans packed into Wembley Stadium), this All Elite Assessment will focus on two UK born talents, Jamie Hayter and Kip Sabian.
---
Jamie Hayter
Paige Wooding, better known by her ring name Jamie Hayter, is a former AEW Women's Champion unlucky enough to suffer injury so close to a UK homecoming. The Eastleigh, Hampshire native has competed since 2015, making her debut at the age of 20 years old for a local promotion. Like many European contemporaries, Hayter traveled the burgeoning UK independent scene in the next few years. Competing most notably for Revolution Pro, Hayter would also journey east and make her name on the international stage as a member of the popular Stardom roster in Japan.
Debuting for Stardom in 2018, Hayter would first compete in the 5 Star Grand Prix tournament before forming a tag team with fellow Brit, Bea Priestley. The duo would win the companies Goddess of Stardom Championship, historically the first non-Japanese team to do so. The hot streak would continue just days later as Hayter would capture Stardom's World Title. Unfortunately, both titles would have to be vacated in early 2020 due to the COVID pandemic affecting international travel. Hayter herself would be left in wrestling limbo as many of the industry's smaller companies would be forced into hiatus.
Interestingly, Hayter did experience both major U.S. companies before the international shutdown. She did wrestle her one and only match on the WWE NXT brand in 2019, losing to Piper Niven. Hayter also competed for AEW in 2019, leaving such an impression that, when restrictions eased, she would be called back to the fold and soon become a permanent AEW roster member.
Journey
Hayter did initially debut for AEW in October 2019, ironically losing to future stablemate Britt Baker. Hayter would then be attacked during a backstage segment by Brandi Rhodes. A feud would not develop between the two due to the aforementioned pandemic shutdown. Another opportunity though was on the horizon.
Hayter would re-debut for AEW in August 2021, this time coming to the aid of Baker. The two would then form a mutually beneficial alliance. Baker was the braggadocios heel whilst Hayter would be the intimidating woman of few words, glaring in the background of interviews. Much like Diesel to Shawn Michaels, Hayter's purpose was to be a physical distraction aiding Baker in her quest to regain the AEW Women's Title.
That's not to suggest that Hayter wasn't seeking singles success in her own right, though tournament success eluded her. A quarter final loss to Thunder Rosa in the TBS Title brackets as well as a defeat at the same stage in the Owen Hart Foundation Tournament to Toni Storm defined Hayter as a steady hand. Something, though, was happening amongst the live crowds. Although positioned as a second to Baker, Hayter was organically growing fan support in the arenas.
With a Thunder Rosa injury meaning the AEW Women's Title was in flux, Hayter was seemingly the fans' choice to take the mantle in her absence. Although Hayter would lose a four-way at All Out 2022, she (nor the fans) would be denied. At Full Gear 2022, Hayter would reach the mountain top, defeating interim champion Storm to a thunderous ovation.
Although a rivalry had been teased between Hayter and boss Baker in the past, the two would remain a united front. Strength in numbers would be needed in the following weeks as a new threat emerged. Saraya and Storm would simultaneously turn heel (and later align with Ruby Soho) to form the Outcasts. Hayter and Baker would be the targets of the new group's wrath as gang-attacks became the norm.
Injury would then intervene as Hayter would lose her Women's Title to Storm at Double or Nothing in a surprisingly short match. Rumors leading into the event had speculated that Hayter was carrying an injury, but it was a shame for her 190 day reign to end so unceremoniously.
Future
The title loss to Storm due to injury was a double-whammy of bad luck. Not only was Hayter now a former champion, but an in-ring appearance at the upcoming All In show in her home country seems unlikely. There is a way, though, to still spotlight Hayter in a significant way at the monumental Wembley show.
A four-way battle is set for All In between several wrestlers related to Hayter through storyline. Imagine a victorious Saraya or Storm cheating their way to victory. A surprise appearance by a native Hayter would be a boon for the crowd and surely lead to a huge live reaction. Alternatively, friend Baker could regain the gold and be confronted in-ring by a returning Hayter. A show of respect could follow but with the implication that Hayter is back for the title she lost in nefarious circumstances.
AEW fans are awaiting the return of several key female talents. Rosa, Hayter, and Jade Cargill have all had lengthy hiatuses and would inject new energy into a stalling division. Hayter's first title reign felt cut short and there is certainly potential in another run for the Eastleigh native on top.
Injury may have interrupted plans to have a Hayter vs. Saraya showcase at All In, but the rivalry could be revitalized. If Saraya were to win her first AEW Women's Title at All In, then a path could be laid out for Hayter to chase down her adversary. Place Soho and a rejuvenated Storm in her way as obstacles before a PPV showdown opposite Saraya in the Autumn.
Verdict
Jamie Hayter is one of the few AEW talents to garner a truly organic reaction from the fanbase without a prior mainstream resumé. The 28 year old Brit could be a cornerstone for the AEW Women's Division for years to come if relaunched properly.
---
Did you know that PWTorch VIP membership gives you access to an ad-free version of this website (mobile and desktop versions), an unmatched 35 year library of insider wrestling content in newsletter article and podcast formats, dozens of new VIP-exclusive podcasts throughout the month (that are easily compatible with Apple Podcasts App, Apple Car Play, and many other popular podcast apps), and more benefits. Check out details and sign up HERE.
---
Kip Sabian
Background
Simon Kippen, better know as Kip Sabian, has been a peripheral figure for much of AEW's existence, but has ironically been featured in several of the company's milestone moments. Sabian was born in Great Yarmouth, Norfolk and trained under the World Association of Wrestling banner. The British independent is famously the company owned by the family of AEW compatriot Saraya and featured in her biographic feature film "Fighting with my Family."
Sabian would compete for many of the British independents in the late 2010's as the scene skyrocketed in popularity. Whilst WWE swooped in and contracted many of the country's top independent wrestlers, Sabian would journey to ROH before signing for AEW in 2019.
Journey
Fun Fact! Kip Sabian competed in the first official singles match on AEW PPV opposite future pillar Sammy Guevara. Sabian would even defeat the "Spanish God" and appeared to be placed for a sustained push. A notion further cemented with matches opposite EVP's Kenny Omega and Cody Rhodes (albeit both were losing efforts).
Real life would soon infringe on the narrative universe as Sabian's real-life partner, Penelope Ford, would accompany the Brit as a valet. This would lead to Sabian's only significant main roster storyline. All Out 2020 saw Sabian and Ford announce their engagement and upcoming nuptials.
Bizarrely, this storyline was also used to introduce Miro. The former Rusev was debuted as Sabian's "Best Man," though no context was given other than the two's shared love of video games. The development would lead to a feud with the babyface Beat Friends stable culminating in an admittedly entertaining Arcade Anarchy match on Dynamite.
The aforementioned wedding would take place (another first for AEW) on an in-ring Dynamite segment and predictably finish in the manner which all wrestling weddings conclude – cake to the face of the happy couple. The feud, though, did little for Sabian as the spotlight was aimed at a rampaging Miro, a point further reinforced when Miro would snap on his cohort, injuring Sabian for a lengthy amount of time.
Sabian's bizarre booking would continue as, whilst injured, he would sporadically appear on AEW television. This was usual enough for an injured competitor, but Sabian would be spotted amongst the live crowd with a cardboard box on his head. Perhaps this display was an attempt to create intrigue or viral moment, but the idea fell flat. Mostly ignored by the commentary team and dropped without conclusion, Sabian would return to in-ring competition by attacking then-International Champion Pac. Sabian would lose the following match before falling back into the lower card.
Future
Sabian has undoubted talent and has clearly been hampered by unfortunate injuries. He also displays an obvious chemistry with his real-life wife (not often the case in popular media) and recent trios partners, Butcher and The Blade.
In a roster as crowded as AEW's, Sabian is a sound utility player and still has age on his side if he is to ascend up the card. The cardboard box gimmick flopped, but at least showed willing to think outside the box (sigh – pun not intended).
Verdict
AEW will always need capable competitors to highlight its many uppercard talents, Sabian is one of these utility players. A spell on the ROH side of the ledger for a lengthy period of time could be an option.
---
RECOMMENDED NEXT: AEW ALL ELITE ASSESSMENT: "Hangman" Adam Page, once a centerpiece of AEW stories, needs a reboot this fall to reconnect with fans
OR CHECK THIS OUT AT PROWRESTLING.NET: McGuire's Mondays: Drama sells in pro wrestling, but at what cost?