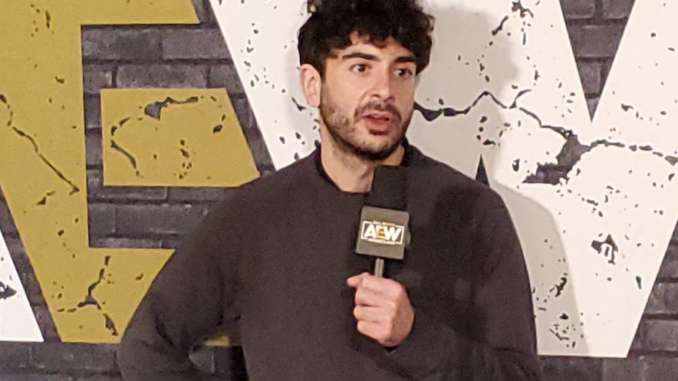 ---
SPOTLIGHTED PODCAST ALERT (YOUR ARTICLE BEGINS A FEW INCHES DOWN)...
---
On the latest episode of the VIP-exclusive podcast, "The Fix with Todd Martin" (hosted by Wade Keller), Todd answered a VIP member question about what he'd suggest Tony Khan do to try to steer his locker room in a new direction.
To point it's gotten to here, my eye wouldn't be on C.M. Punk and Jack Perry specifically. … To me, it is a much wider problem. Number one, I would treat this as a full-fledged crisis, not a mini-crisis, something that needs to be resolved in a major way. I would call a full locker room meeting where you bring everyone on the roster to the same show.

I, as Tony Khan, would take full responsibility for letting things get to this place. That may not be true, but it's for the good of the entire situation. If everybody is fixated on blaming each other and the person on top says, 'No, this is my fault,' you can move beyond the finger-pointing. You see this with CEOs and head football coaches. You take responsibility at the top and you don't turn it into a public game of blaming people who are in other positions. … I need to be clear on what is okay and what is not okay, and to emphasize that this can't continue. We can't continue operating this way where people are working against each other rather than working together.

Talk about what the company means to me, cover all the great moments in the company, try to highlight positive contributions of people who were caught in the middle to remember the good times. … Make people feel good. … Talk about a great thing it is for the industry to have a second company so everybody can get paid and how it'll be great for the next generation if we can keep moving positively rather than negatively… Emphasize that we have this television contract coming up.

This doesn't mean we all have to like each other and I'm not expecting you call to like each other, but this means we all have to work toward a common goal. It means we can't be trying to sabotage each other, whether it's actively or passive-aggressively. That means I, as a leader, have to stop this stuff as it happens and lay down the law.
The above written excerpts are just highlights of less than half of Todd's recommended approach for Tony Khan. Listen to Todd's complete detailed plan of action for Khan by clicking here…
You can hear the full episode of The Fix – the current events analysis and the mailbag sessions – every week as a VIP member. The Fix is typically around 3-4 hours in total length each week.