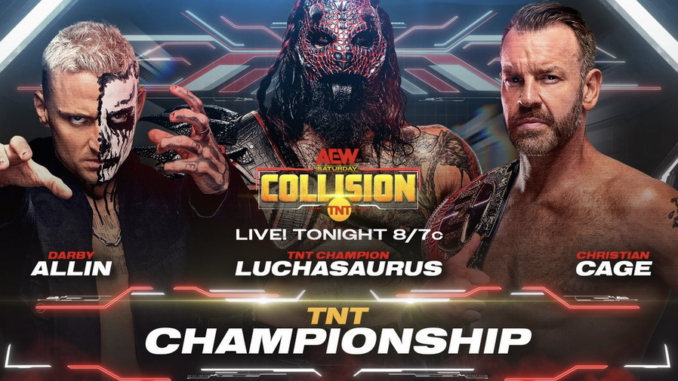 ---
SPOTLIGHTED PODCAST ALERT (YOUR ARTICLE BEGINS A FEW INCHES DOWN)...
---
– If you like reading my work (or even if you don't), I'd love for you to join me tonight (Sunday Night) as I make my PWTorch podcast cohosting debut on Greg Parks's "Wrestling Night in America." You can listen to us live at 8 p.m. by visiting PWTorchDailyCast.com. You can also call into the show at (515) 605-9345, or you can email questions for the show to WNIALivecast@gmail.com. I cannot promise to know the answers to your questions, but I can promise to string together words that may or may not make sense.
---
– Hey! Welcome to another Collision Hits & Misses column, which sounds like the title of a column about Angry Birds, but it is, in fact, not. I hope you all had a great week, and I hope you got a chance to check out my latest editorial. If you missed it and would like to read it, CLICK HERE.
If you missed it and would not like to read it, CLICK HERE.
---
COLD OPEN — HIT 
As always, these segments did a good job of setting the tone for the show, and I especially enjoyed Christian's portion, in which he set the tone of someone telling a "Yo, mama" joke at a funeral. Instead of wasting your time with a bunch of filler words about Christian's new persona, I'll just say this: Christian Cage's 2023 run is outdoing Edge's 2023 run, and I never thought we'd live in a universe where that sentence made sense.
Also, during the Ricky Starks portion of this week's cold open, he promised to put Bryan Danielson "six feet under." This threat was then called back to later in the night when Starks cut a mid-match promo (which sadly aired during one of Collision's commercial breaks) to brag about how he was fulfilling his promise to put Danielson six feet under. I appreciate that kind of attention to detail, and having spoken to someone else who saw the same mid-match promo, I know I'm not alone in appreciating it.
LUCHASAURUS VS. CHRISTIAN VS. DARBY ALLIN — HIT 
Despite looking forward to this match even more than the Danielson vs. Starks match, I would have been happy with almost any ending because nearly every option would have furthered Christian's storyline. That said, having Christian Cage steal back the title he currently held by pinning the person who never held it at any point in time except in reality was the best option they could have chosen.
I don't want this storyline to end anytime soon, but when it does, my one request is that Christian Cage gets what is coming to him in a clear, unequivocal, and humiliating way. I want Christian to beg for it to stop, and then I want it to continue. When you do this, please do not do this on a Collision, Dynamite, or even a lesser PPV. Do this on one of your biggest stages, and make sure everyone he has ever hurt is watching it happen.
CALLIS & TAKESHITA & GUEVARA INTERVIEW — HIT 
While we only have a limited amount of data so far, this is looking like the most effective version of a "heel" Sammy Guevara to date. Just the fact that Sammy matched his shirt to his sunglasses and his underwear to his shirt is a level of obnoxiousness equaled only by the fact that he matched his gum to his underwear (I assume).
CHRISTIAN CAGE & LUCHASARUS POST-MATCH INTERVIEW — HIT 
Schiavone interviewed two-time TNT Champion and MILF-Porn-Aficionado, Christian Cage. While celebrating his evilness, Christian dedicated his win to Nick Wayne's mom, and I hope she is also present for whatever awful things happen to him.
MATT MENARD & ANGELO PARKER VS. HOOK & RVD — HIT
During this match, fans chanted, "You've still got it!" at RVD, and RVD proved them right.
We also got a chant about nipples.
EDDIE KINGSTON VIDEO PACKAGE — MINOR-HIT 
In my opinion, Eddie Kingston is one of the best promos in AEW, and his passion lights up everything he does. The only reason I'm giving this video package a minor-hit instead of a mega-hit is because AEW is choosing to continue their trend of putting together random matches without significant storylines. Both Kingston and Shibata deserve a compelling storyline going into their World Title match at a fifty-dollar PPV that is literally one week away.
DARK ORDER VIDEO PACKAGE — MISS 
This felt like watching a music festival starring all of "American Idol's" worst auditions.
BENNETT & TAVEN PROMO — HIT 
Bennett and Taven celebrated Neck Health Awareness Month by promising to donate piledrivers for neck health.
KEIRA HOGAN VS. JULIA HART — MINOR-HIT 
Finally free of being the sidekick to a person whose name was being carefully avoided on commentary, Keira Hogan celebrated her bright future by losing to Julia Hart.
SKYE BLUE CONFRONTS HART — HIT 
Hart darkened Blue's sky with a mouthful of mist, and Skye Blue did a fantastic job of selling the horror of having her eyeballs poisoned by a poison that is devastating when it touches your skin but harmless when it touches your mouth.
THE RIGHTEOUS IN A VIDEO SEGMENT — MINOR-MISS 
This was one of The Righteous's better segments, and it wasn't a "minor-miss" because of anything The Righteous did or did not do. This was a "minor-miss" in my eyes because it still left me with several burning questions, such as: Who are these people? What company do they work for? How does a cult have only one member? When will The Righteous be disappeared like Willow Nightingale, Lance Archer, Kip Sabian, Luther, Scorpio Sky, Stu Grayson, Wardlow, Tony Nese, Brock Anderson, The Butcher, The Blade, The Bunny, Mark Henry, Paul White, and half of the women's roster?
JAY WHITE VS. ANDRADE EL IDOLO — MEGA-HIT 
This was an absolutely fantastic match based on a storyline about nothing.
THE LACK OF BUILD-UP TO WHITE VS. IDOLO — MISS 
Even the greatest match in the world is less thrilling without a reason to exist.
SANTANA & ORTIZ IN A VIDEO PACKAGE — HIT 
Much like this video, I know the match these two put on will be fantastic. However, I do wish that Santana and Ortiz had wrestled together as an on-screen tag team for more than one match in the past two months. Doing so would make their split feel more dramatic. That said, I've read that Santana & Ortiz have IRL heat with one another, and depending on how significant that heat is, teaming together for multiple matches might have been too much to ask of them.
That said, now that AEW has pulled the trigger on this feud, I hope they don't rush the payoff. Give this story time to breathe and give Santana and Ortiz's characters time to explain their motivation. Make this break up a planned-out journey rather than a singular dot on a map.
SHANE TAYLOR CUTS A PROMO — MEGA-HIT 
Shane Taylor wowed me with his mic skills last week, and he did it again this week. I feel like Taylor has done more to define himself in two weeks than some wrestlers have done in two years.
FTR VS. THE WORK HORSEMEN — HIT 
Another great match by FTR featuring random people.
AUSSIE OPEN & FTR'S POST-MATCH PROMO — MEGA-HIT 
This promo featured strong mic-work from Kyle Fletcher and Herculean mic-work from Dax Harwood.
C.J. PERRY & MIRO PROMO — HIT 
I find this storyline fascinating because I feel like there is a lot more I'm going to learn about these two characters, and the acting by Miro and Perry has been good enough to keep me guessing as to what that is. However, being strung along is only fun for as long as it remains fun, and because that kind of "fun" varies from person to person, it can be a dangerous tightrope to walk — just ask "The Walking Dead," "The X-Files," or all five people who watched "Saved by the Bell: The College Years."
PERRY'S NEARSIGHTEDNESS — MISS  
Due to lacking 100 percent of her peripheral vision, binocular vision, and actual vision, C.J. Perry was startled to learn her husband was standing slightly off-screen.
RICKY STARKS VS. BRYAN DANIELSON — MEGA-HIT 
This was a PPV-quality match, and it exceeded my already high expectations. In a previous Hits & Misses column, I said this match should have been on the WrestleDream card instead of Bryan Danielson vs. Zack Sabre Jr., and now, having seen the match take place, my opinion on that issue has calcified.
This match was a work of art and easily a four-star match for me. You should go out of your way to see it. The imagery and callbacks during this match were numerous, and the action was hard-hitting and brutal. I hope that both men are okay, and I was sincerely worried for Starks's head near the end of the match.
FINAL THOUGHTS…
I gave last week's episode of AEW Collision the second lowest grade that I have given to any episode of Collision to date, but this week's episode was a huge step up. If you don't have the time to watch the entire show, at least carve out time to watch the TNT Title match, White vs. Idolo, and Danielson vs. Starks; you will not be disappointed.
SHOW GRADE: A- 
Thank you all for reading. I truly appreciate it. And as always, I'm still working on my sign-off, but until next week, remember, I will be appearing on this week's edition of Greg Park's "Wrestling Night in America," and I hope you will check it out.
(David Bryant's obnoxious amount of self-promoting retweets can be found on his "Artist Formerly Known as Twitter" account @IamDavidBryant; a video of David Bryant spinning plates can be found on his Instagram account @IamDavidBryant, and David Bryant's Threads account is threadbare and also located @IamDavidBryant. David is a published author, circus artist, drag promoter, male pageant winner, unrenowned musician, sloppy figure skater, and the inventor of the world's first air guitar tuner. Less impressively, he studied screenwriting at the University of North Carolina School of the Arts.) 
---
RECOMMENDED NEXT: AEW DYNAMITE HITS & MISSES (9/20): Kingston's win, Guevara's turn, MJF getting series, Toni Storm's entrance, Moxley concussion
OR CHECK THIS OUT AT PROWRESTLING.NET: AEW Collision results (9/23): Powell's live review of Bryan Danielson vs. Ricky Starks in a Texas Death Match, Luchasaurus vs. Darby Allin vs. Christian Cage for the TNT Title, Andrade vs. Jay White